No-Fail Rye Flour Pizza crust! Make your own topping pizzas allow for picky palates while the special ingredient in these pizza's crusts make them so much better than your average pizza crust or anything you can get at your local pizzeria~
This recipe was inspired by Cooks Illustrated/Serious Eats pizza crust. I can't tell you how many times I have used this recipe. (I even used it at my own wedding?!?!) My sister in law was the one who originally found it but of course I had to play around with it a little.
We've been trying to eat more whole grains and since I had rye flour laying around after making these pretzels I decided to see what happened with subbing out some of the all purpose flour and using some rye in its place.
Ok, wow. It really worked out really well. This No-fail rye flour pizza crust now has a very distinct nutty flavor but it maintains the parts of this crust that I loved. Crunchy on the outside, but tender and moist on the inside. Great flavor intensified with the rye flour. Adding a generous dusting of fresh Parmesan was the icing on the cake (or pizza so to speak!) Yum.
You do need to make this dough at least a day ahead to allow for it to rise. But don't let that intimidate you. There's no real kneading of this crust. The fact that it's all done in a food processor (Cuisinart link) is great for easy cleanup. You can make it several days ahead and just keep it in the fridge until you need it.
You can use these no-fail rye flour pizza crusts for individual pizzas for each guest or you can make one bigger pizza and have each person top a section of the pizza. Either way, when you cut it up be sure to cut small pieces so everyone is welcome to try someone else's creation.
Want a fun way to boost the flavor a little bit?
Before placing the decorated pizza in the oven brush the edges of the crust with a little olive oil then dust the crust with a hearty dusting of freshly grated parmesan. Seriously? There won't be anyone leaving the crusty edges with this pizza!
Use whatever toppings you like, or your guests like. The crust is so delicious; it's fine with just a little sauce and cheese.
These pizzas are great appetizers for a party or you can serve a full meal with them by just tossing a salad to go along with them!
Serve the pizza with an iced cold beer, a chilled Riesling or a good Chianti. It works with anything!
Yield: 4
No Fail Rye Flour Pizza Crust!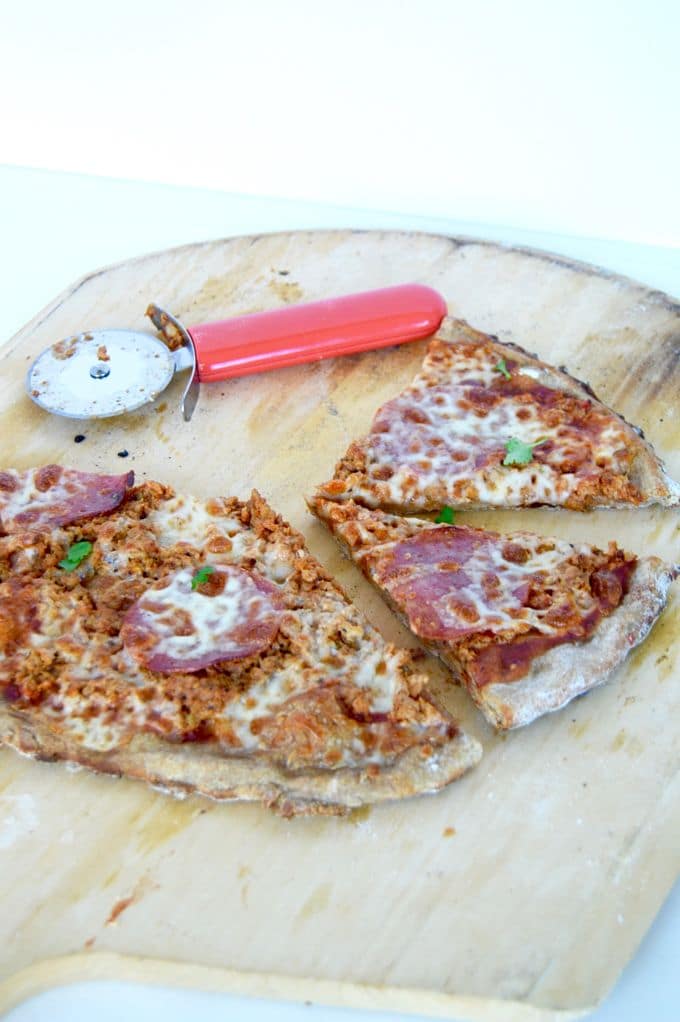 No Fail Rye Flour Pizza crust! Make your own topping pizza's allow for picky palates while the special ingredient in these pizza's crusts make them so much better than your average pizza crust or anything you can get at your local pizzeria~
Total Time
1 day
1 hour
30 minutes
Ingredients
2 1/4 cup All Purpose Flour
2 cups Rye Flour, Bob's Red Mill works great!
11 ounces Ice cold water
2 Teaspoon Sugar
1/2 teaspoon rapid rise yeast
1.5 Tablespoon Olive Oil
2 teaspoons salt
Tomato Sauce, your favorite kind
1 cup Whole Milk Mozzarella
Fresh Grated Parmesan Cheese
Instructions
In food processor (using the metal blade) pulse 5 times the flour, sugar, and yeast to combine.
Then while processor is running slowly add iced water until dough is just combined. (about 15 seconds)
Leave dough in processor and let rest for 10 minutes.
Add oil and salt and process for about one minute until dough is in ball form, kind of shiny and spinning around the bowl.
Take dough and place it on a floured piece of parchment paper.
Knead until dough is smooth(about a minute or so) then shape into a ball.
Oil a small bowl and place dough ball in the bottom of bowl.
Seal Bowl with plastic wrap and place in refrigerator for 24-96 hours.
When ready to bake pizza, remove dough from fridge and split into 2 -4 pieces. (depending on if you want 4 - 6 inch individual pizzas or 2 -12 inch larger pizzas.
On a generously floured surface, shape dough pieces into round shapes as desired.
Let sit for 1 hour.
Preheat oven to 500*
Using a small amount of olive oil, brush edges of crust and then dust generously with parmesan cheese.
Then top your pizza with sauce, cheese and toppings.
Bake on pizza stone, or back side of flour dusted cookie sheet for 10-12 minutes for the larger size (6-8 minutes for the smaller pizzas) or until pizza cheese is melted and crust is a golden brown. (Every oven varies somewhat.)
Rotate pizza at 5 minutes for larger size and 4 minutes for smaller size.
Remove pizza and allow to cool for 5 minutes before slicing and serving.
Nutrition Information:
Yield:
4
Serving Size:
4 Servings
Amount Per Serving:
Calories:

615
Saturated Fat:

5g
Cholesterol:

26mg
Sodium:

1742mg
Carbohydrates:

98g
Fiber:

9g
Sugar:

5g
Protein:

22g
Enjoy!
This site uses affiliate links, such as Amazon which pays this site a small commission if you purchase at no additional cost to you. As an Amazon Associate I earn from qualifying purchases. Read full info
here
.