Simple coconut shrimp that taste even better than what you get at a restaurant. They are juicy on the inside, crunchy on the outside. A must make for a casual dinner alongside a salad or as an appetizer with your favorite tropical cocktail!
These Simple Asian Coconut Shrimp are delectable! They are juicy on the inside and light and crunchy on the outside. Using beer and baking powder gives the coating a very light feel so you don't feel like you overindulged after eating them. The baking powder is the secret behind tempura, these aren't as light as tempura but are so much lighter than most fried shrimp recipes.
This recipe is adapted from a cooking class I took with Jet Tila. Now he's a world-famous chef who appears on the Food Network all the time and has several restaurants including Stir Market in Los Angeles.
When I took his class he hadn't become famous yet. He's amazing to learn from. He has this infectious attitude that makes you LOVE him and his cooking is out of this world. Everything he makes is delicious and has the added bonus that the recipes are usually pretty easy to make.
We eat a lot of fake-out takeout recipes at home like this Spicy Thai Shrimp Soup or these better than a restaurant Steamed Chinese Dumplings.
His trick to making great Thai and Chinese food at home? It's so simple…….Use the right ingredients. Sweet Soy, Dark soy and Light soy each have their place in making the right dish. Fish Sauce is imperative to give dishes a depth of flavor.
They aren't in the recipe, but buy the right noodle. While spaghetti noodles have their purpose in pasta, they aren't the right noodles for Ramen or Pad Thai.
I think the best advice he imparted was to not waste your money on an expensive wok. The cheap ones are much better because they are thin and the heat conducts like it is supposed to in traditional Asian cooking. (this one is what I use: Best Wok)
Chinese Coconut Shrimp Ingredients
1 Egg
Beer
All Purpose Flour
Baking Powder
salt
Flaked Coconut, – the longer pieces look prettier and are great after frying for texture
Medium Shrimp – you can use any size shrimp, but these are economical and are on sale often
Peanut Oil
The shrimp also work as an appetizer served with a cocktail. (They are perfect with Trader Vic's traditional Mai Tai)
I love that I can make these ahead of time. It makes it easy to prepare them early in the day up until they are ready for frying and then chill them until I'm ready to make them.
MORE APPETIZER RECIPES
Yield: 8 svgs 3 shrimp each
Crunchy, Tasty Simple Coconut Shrimp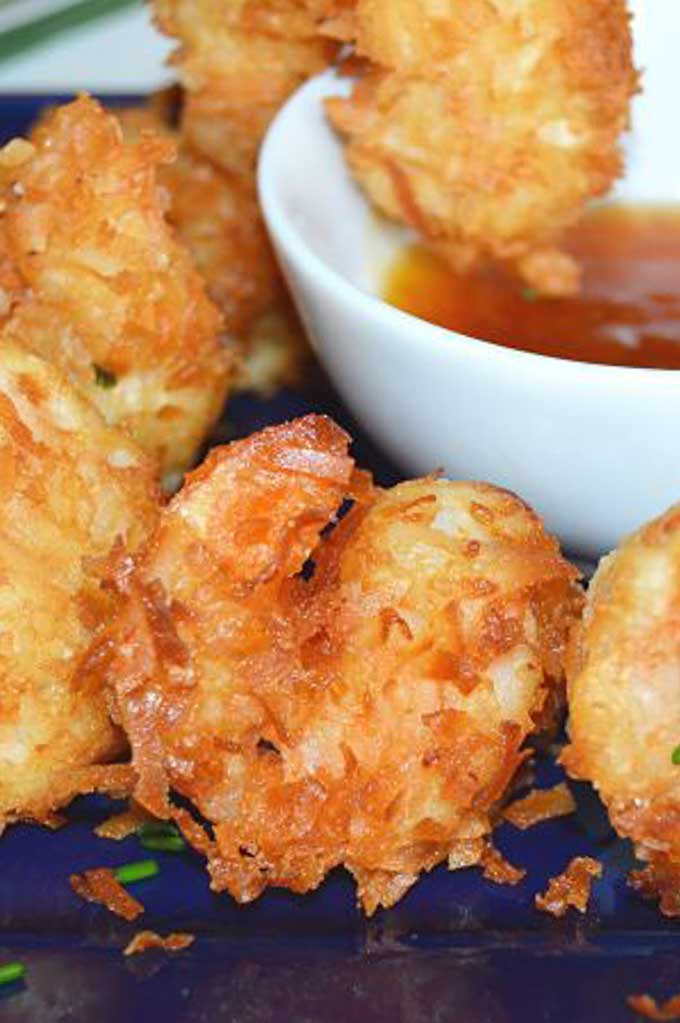 Crunchy, simple handmade coconut shrimp! An excellent choice for easy appetizers when entertaining!
Ingredients
1 Egg, large
2/3 cup Beer, any to your liking
1/2 cup All Purpose Flour
1 1/2 tsp Baking Powder
1/2 tsp salt
1/4 cup All Purpose Flour
1 cup Flaked Coconut, see note #1
24 medium Shrimp, peeled and deveined
3 cups Peanut Oil, for frying
Parchment paper lined tray to fit fridge to chill coated shrimp.
Apricot Dipping Sauce
12 Tablespoons Apricot Jam
3 Tablespoons Rice Vinegar
2 Cloves Garlic, grated
1 ounce ginger, grated
Instructions
In a small bowl place egg and beer and mix thoroughly.
In a medium bowl mix 1/2 cup flour, baking powder and salt and whisk until blended.
Add egg/beer mixture to flour mixture and combine completely.
Set up a dipping station in this order: shrimp, flour bowl (1/4 cup), wet flour mixture, coconut, parchment-lined tray. (see note #2)
Dip shrimp in dry flour, then wet flour mixture. Be sure to let excess flour mixture drip off before then dipping it into the coconut mixture. Press the coconut into all crevices of the shrimp.
Place onto the parchment-lined tray.
Coat all shrimp then place the tray in the refrigerator for 20 minutes to have coating "set" to shrimp. (see note #3)
Heat oil to medium-high. (approx 350°)
Fry shrimp in small batches, turning once for 2 - 3 minutes. The shrimp should gradually get golden brown. If your oil is too hot they will brown as soon as you drop them in and then the center will be partially raw.
I use a spider to remove them from the oil to maintain as much coating as possible. I also use the spider to remove any excess crumbles in between shrimp batches.

Apricot Sauce:
Add all ingredients except green onions to small saucepan.
Bring to a boil while stirring.
Remove from heat and place in serving dish.
Add green onion garnish at the last minute before serving.
Notes
1. In the pictures you see, it is sweetened coconut. But unsweetened works just as well. This coconut is what I had on hand and I liked the long lengths of the coconut when it was fried. It made the shrimp look even better.
2. Set up your dipping station is the order you will be dipping them. So in this instance you will take the shrimp, dip it into the dry flour, then the wet flour, then into the coconut to coat and finally onto the pan to place in the refrigerator. Use one hand only to dip the shrimp so you always have a clean hand available. It sounds silly, but it will make your life easier.
3. Do not skip the chilling step. The coating will fall off in the oil if you do.
If you want to make these ahead of time, make them up to the chilling of coated shrimp. You can chill them in the morning then fry them when you are ready to eat!
Nutritional and Caloric information is calculated using My Fitness Pal using ingredients/brands I used to make this recipe. Your caloric info will vary according to the brands you purchase to use. Please take this into consideration if you are following a strict diet.
Nutrition Information:
Yield:
8
Serving Size:
8 svgs 3 shrimp each
Amount Per Serving:
Calories:

154
Carbohydrates:

10g
Fiber:

1g
Sugar:

1g
Protein:

2g