---
Chinese Pork meatballs: Char Seiw like charring on the edges with flavors hitting notes of sweet and salty in each that are ideal for delicious Asian meatball appetizers in about 20 minutes.
When you are looking for fun appetizers these will also go well with Steamed Pork Dumplings and Easy Coconut Shrimp!
Chinese Pork meatballs are full of all of the flavors you love in Chinese food takeout. Salty, sweet, smoky, charred edges with juicy tender pork inside.
You can make them in about 20 minutes in a skillet or a wok so they can be made at the last minute for you or your guest's enjoyment.
These meatballs have been on my site for several years and are one of the most pinned and made recipes on my site. As of the the writing of this update it has been pinned over 698,000 times. There is not a week that goes by that someone doesn't send a message about how good they are! I love it when people enjoy the recipes we share!
You know with all of the interaction the recipe has to be good! This recipe can be served on it's own as an appetizer or with some fried rice (recipe coming soon) or along side a vegetable like our sugar snap peas with garlic!
Why the Pork Meat Balls Work
This recipe is super easy to get onto the table in about 20 minutes, but you can also make it ahead of time. (Winning!)
I also love that if I want to use them for a dinner party appetizer I can make them ahead of time and just toss them into a slow cooker to heat them up on the day of my party
---
---
Ingredients to use
ground pork – pork has just enough fat to keep them from drying out
cornstarch –
ginger – I highly recommend fresh ground ginger – you can just grate it on your cheese grater- the flavor is the BEST!
garlic cloves – chop them super fine so the flavor spreads out and doesn't overpower
brown sugar
soy sauce
Chinese five-spice powder– gives the recipe a little umami – or just what you think of when you taste asian spices!
white pepper
peanut oil
---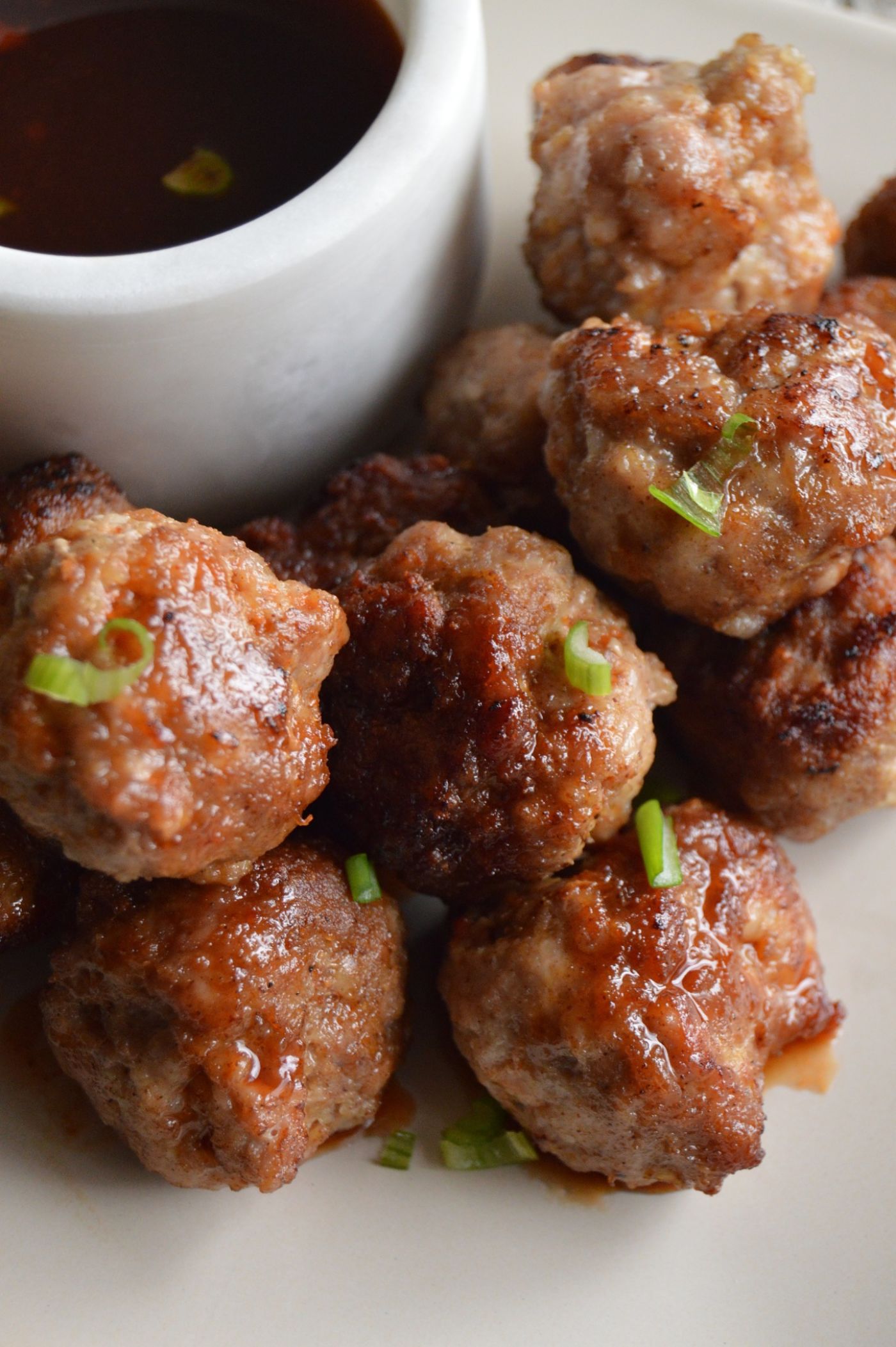 As most of you know, I kind of have a meatball addiction, thus I have a lot of meatballs on my site (check out a few of them like Gouda Cheese Meatballs, IKEA Copycat Swedish Meatballs, Buffalo Chicken Meatballs and BBQ Bacon blue Cheese meatballs.)
What pork to use for these Meatballs?
This recipe for Chinese Pork Meatballs is the first meatball I've made that is primarily made from pork. Pork meatballs tend to be really juicy and full of flavor. For time-saving purposes, I purchased ground pork with full fat.
You can purchase the low-fat option, but I find that when I do that the meatballs are really dry.
Because you cook them in a skillet using the regular ground pork you will be able to leave the fatty oil that cooks out in the skillet.
If you wish to grind your own pork you can use pork belly, pork shoulder or pork butt.
I highly suggest you don't use a pork loin as there is not near enough fat to pork ratio for juicy tender meatballs.
We have LOTs of easy delicious appetizers — You can find them all right here!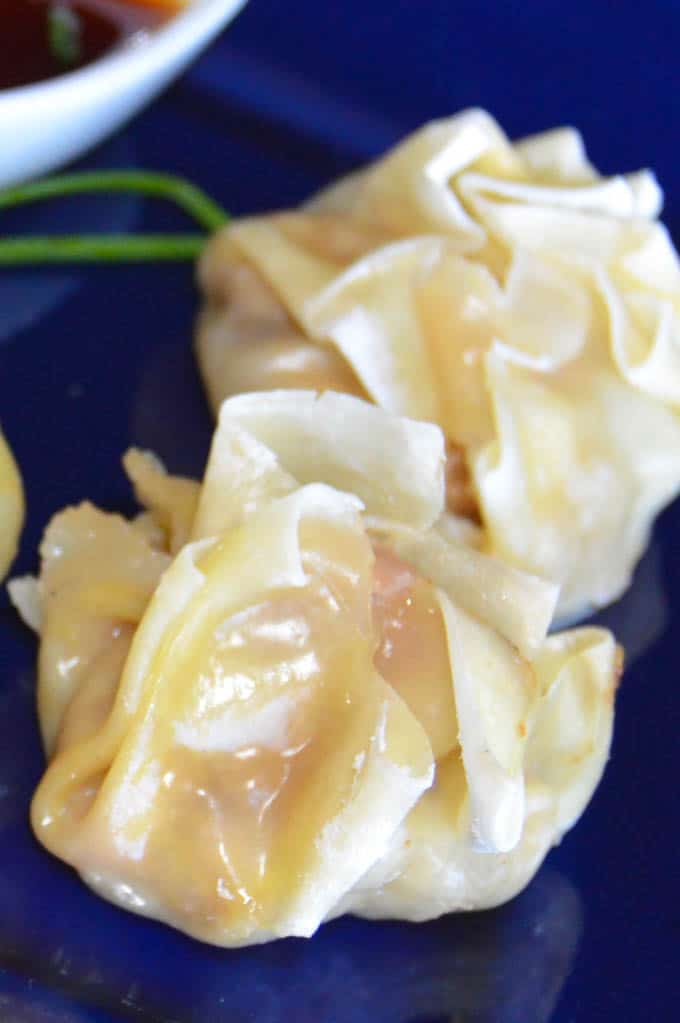 What is Char Siew? (char siu)
Char Seiw (sometimes spelled siu) is a Cantonese dish that translates to "fork roasted." Usually, there are cut strips of marinated pork skewered then "roasted" over an open flame.
The marinade caramelizes as it cooks. Most times you see it a red color when you get it in dishes at restaurants. (That red color comes from using bean paste in the marinade.)
How to cook Chinese Pork Meatballs
You'll first want to make the meatballs all in a similar size. I find using a scoop like this one guarantees they are all the same size and shape and thus cook evenly.
The recipe calls for cooking them in a wok, and they were easy to roll around in the wok for even cooking.
ALTERNATIVE TIP: You could also make them in a skillet if you don't have a wok. I found that a cast iron skillet worked really well. The pan got hot enough to really get a nice sear on the edges and the pork charred very nicely.
Either way, you will love the way the edges almost taste like they have been grilled but when you bite into them they are juicy and flavorful.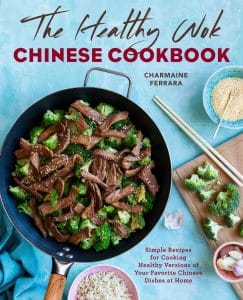 This recipe is from one of my foodie friends Charmaine Ferrara who writes at Wok and Skillet.
Char wrote a cookbook called "The Healthy Wok." A cookbook about simple, healthy versions of your favorite takeout meals.
Here is the link to Amazon for you to purchase your own, or to give your favorite someone a cookbook they will use for years to come. The healthy recipes can be our secret. No-one will miss the take-out I promise!
Other Meat Options for Asian Meatballs
If you don't want to use pork, you can use ground beef or ground lamb. You can use ground turkey or ground chicken but if using those meats be sure and use a combination of the light and dark meats and make sure to have a little extra fat in them so they don't dry out.
Freezing Instructions
These can be made ahead either completely cooked, or rolled into balls and frozen until you are ready to cook them. Around Christmas, New Years and game day parties I often make them ahead of time.
You can cook them (let them cool completely) then place them on a tray in a single layer to freeze them. Once they have frozen, I drop them into a large ziplock bag, place them back into the freezer until I need them.
I make the sauce the day I serve them. Let them thaw out, and either warm them on the stovetop or place them into a crock pot with the sauce to keep them warm for serving to my guests.
You can find just the mini crock pot perfect for warming them up and keeping them hot for your party right here on amazon. (affiliate link)
Need more Asian Recipes to make at home?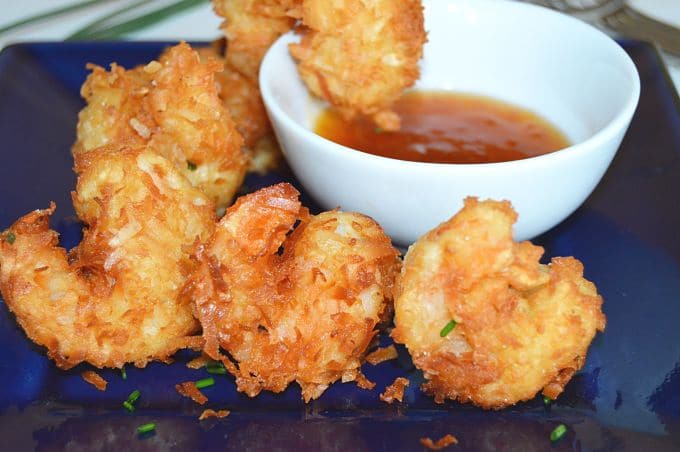 Looking for elegant serving spoons or trays for a party?
---
---
Pin this to your Easy Appetizer Board on Pinterest!
Sign up for the mailing list here where it says "join the west via midwest community" for more recipes for entertaining without any stress!
---
---
~ Instagram ~Pinterest~ Twitter~Facebook ~
---
---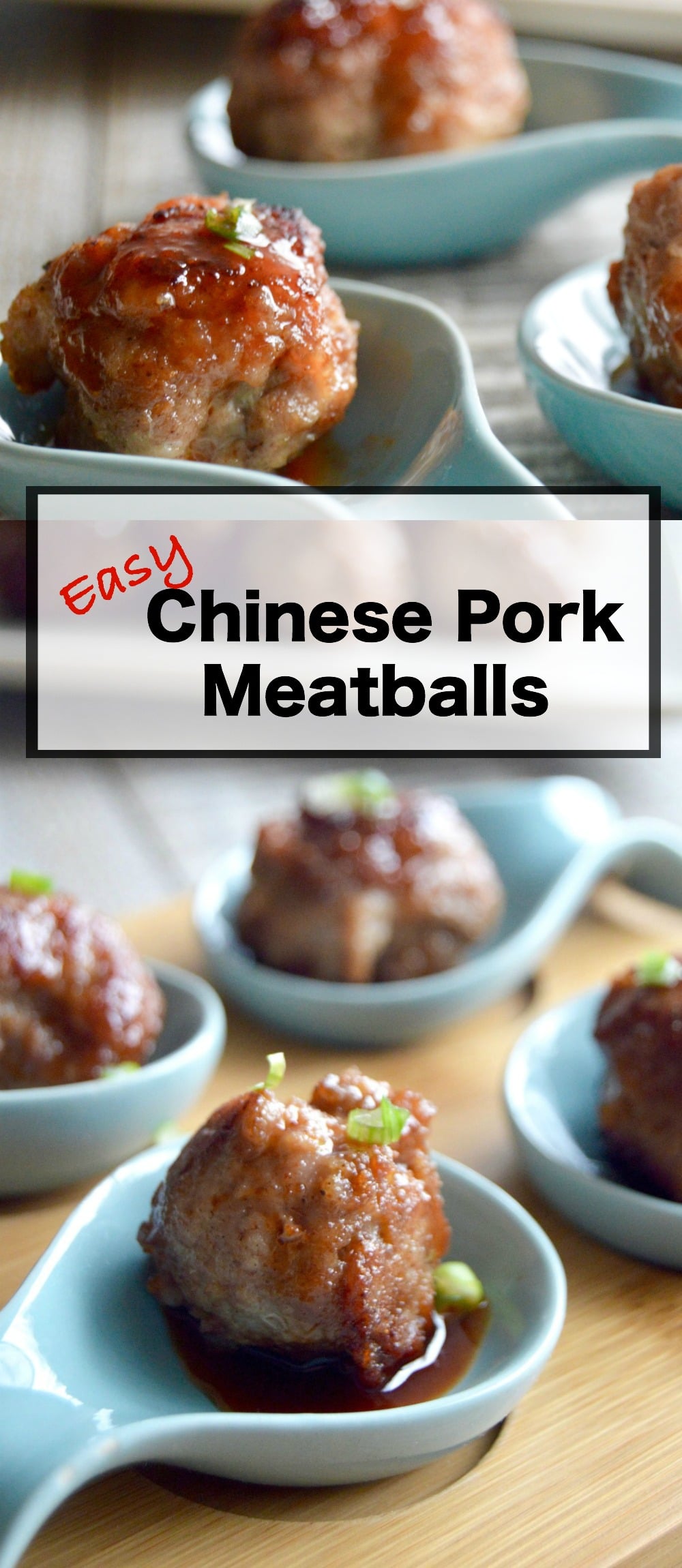 Yield: 20 meatballs
Chinese Pork Meatballs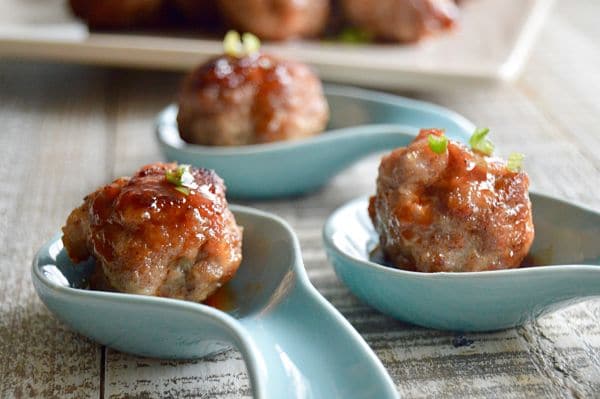 These meatballs are a slightly different take on the giant pork meatballs so popular in China. They are inspired by Chinese barbecue pork, or char siew, and their smaller size means they can be pan-fried in a wok. The five-spice powder infuses the char siew with its unmistakable flavor, and I love charring the outside just a bit for that seared barbecue crispness.
Ingredients
1 pound ground pork
1 teaspoon minced ginger
3 garlic cloves, , minced
2 teaspoons brown sugar
3 tablespoons peanut oil
Sauce
Green onions or chives for garnish, (cut green ends to get tiny circles
Green onions or chives for garnish
Instructions
In a large bowl, combine the pork, cornstarch, ginger,garlic, brown sugar, soy sauce, five-spice powder, and pepper, and mix well.
Roll 1 heaping tablespoon of pork mixture into a ball and continue until all the pork mixture is used. (about 20 small meatballs)
In a wok or skillet over medium heat, heat the peanut oil. Using a wok spatula, spread the oil to coat enough of the wok surface to fry about 10 meatballs at a time. Lower the meatballs into the wok in batches.
Cook without moving for about 2 minutes, or until the bottoms are cooked through. Use the spatula to carefully rotate the meatballs to cook on the other sides.
Keep rotating the meatballs gently until cooked through.
Sauce
Combine all ingredients except garnish and stir to mix well. Sriracha sauce can be adjusted to get as spicy as you wish.
Cut chiffonade (small circles from green onion to float in sauce.) Serve sauce in dipping bowls on the side, and/or drizzle lightly over the top of meatballs. Sprinkle additional green onion circles over the top for presentation.
Notes
---
All recipe calorie information was calculated on what I purchased to make this recipe. When you make the recipe, the calorie content could vary depending on what specific ingredients/brands you actually use. Please take that into consideration if you are following a strict diet.
---
The sauce recipe is not from Char's book but from a cooking class I took many years ago with Jet Tila. You may find his recipe on my site under Chinese Pork Dumplings.
Nutrition Information:
Yield:
20
Serving Size:
20 meatballs
Amount Per Serving:
Calories:

91
Carbohydrates:

1g
Protein:

6g
‬‬‬‬‬‬‬‬‬‬‬‬‬‬‬‬‬‬‬‬‬‬‬‬‬‬