Chinese Pork meatballs: Char Seiw like charring on the edges with flavors hitting notes of sweet and salty in each that are ideal for a delicious appetizer in 20 minutes.

I'm super excited to share today's recipe for Chinese Pork meatballs with you. It's a recipe from one of my foodie friends Charmaine Ferrara who writes at Wok and Skillet. Char has been working on a cookbook which will be released this month called "The Healthy Wok."  A cookbook about simple, healthy versions of your favorite takeout meals.
This Chinese Pork Meatballs recipe is one I was able to test while she was developing the recipes for the book. I had the easy part: while she was creating over 85 recipes for pure delicious enjoyment,our family got to test out three other recipes in the book (Mongolian Beef and Chow fun.)
Each time I cooked from it my family and friends raved about them. It goes without saying we ENJOYED them all.
If you love Chinese food this book is a must for your collection. There hasn't been any takeout in our house since the advance copy arrived because I have been serving so many of the recipes from the book.
Included in the book are all of your favorite choices for Chinese food with a healthy spin on them. All of the recipes are using ingredients that are easily found at your local grocery store.
Every single dish tastes like they are from a restaurant. All are easily made with straight forward instructions that everyone can make. My 14 year old niece was able to follow one with success and she's just learning to cook!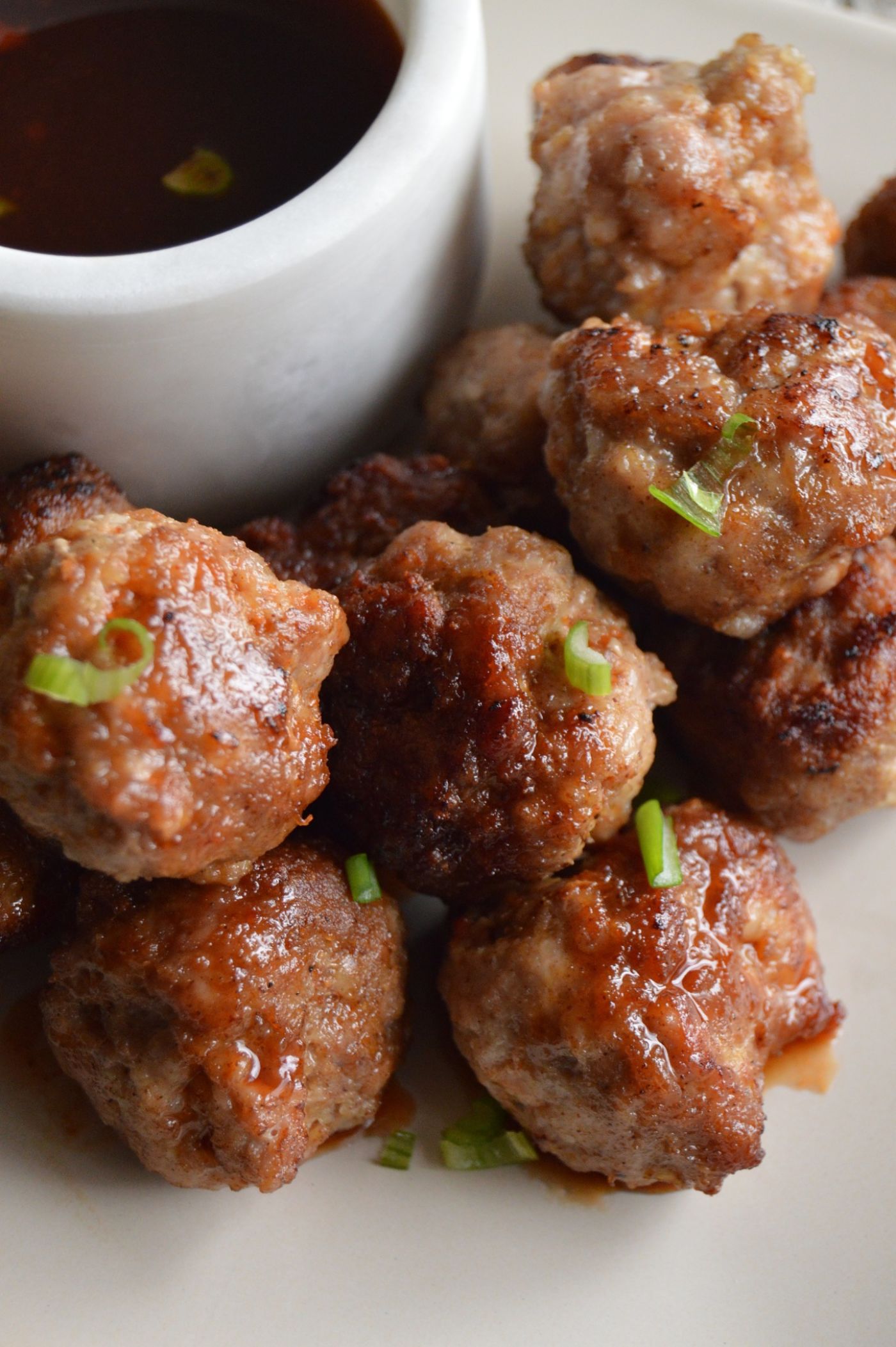 As most of you know, I kind of have a meatball addiction, thus I have a lot of meatballs on my site (check out a few of them like Gouda Cheese Meatballs, IKEA Copycat Swedish Meatballs, Buffalo Chicken Meatballs and BBQ Bacon blue Cheese meatballs.)
This recipe for Chinese Pork Meatballs is the first meatball I've made that is primarily made from pork.  Pork meatballs tend to be really juicy and full of flavor. These were recommended to make in a wok to allow for a slight Char Siew charred crust and I wasn't disappointed.
ALTERNATIVE TIP:  You could also make them in a skillet if you don't have a wok, either way you will love the way the edges almost taste like they have been grilled but when you bite into them they are juicy and flavorful.
Here is the link for you to purchase your own, or to give your favorite someone a cookbook they will use for years to come. (Not a sponsored link, I simply love sharing a healthy version of Chinese takeout recipes!
Need more Asian Recipes to make at home ?
Chinese Pork Meatballs
These meatballs are a slightly different take on the giant pork meatballs so popular in China. They are inspired by Chinese barbecue pork, or char siew, and their smaller size means they can be pan-fried in a wok. The five-spice powder infuses the char siew with its unmistakable flavor, and I love charring the outside just a bit for that seared barbecue crispness.
Cuisine:
American, Chinese
Ingredients
1

pound

ground pork

1

tablespoon

cornstarch

1

teaspoon

minced ginger

3

garlic cloves

, minced

2

teaspoons

brown sugar

2

teaspoons

soy sauce

1

teaspoon

five-spice powder

2

pinches

ground white pepper

3

tablespoons

peanut oil
Instructions
In a large bowl, combine the pork, cornstarch, ginger,garlic, brown sugar, soy sauce, five-spice powder, and pepper, and mix well.

Roll 1 heaping tablespoon of pork mixture into a ball and continue until all the pork mixture is used.

In a wok over medium heat, heat the peanut oil. Using a wok spatula, spread the oil to coat enough of the wok surface to fry about 10 meatballs at a time. Lower the meatballs into the wok in batches.

Cook without moving for about 2 minutes, or until the bottoms are cooked through. Use the spatula to carefully rotate the meatballs to cook on the other sides.

Keep rotating the meatballs gently until cooked through.


Serving Tip

For a heavenly dipping sauce, combine equal parts

low-sodium soy sauce and honey.
Recipe Notes
---
All recipe calorie information was calculated on what I purchased to make this recipe in My Fitness Pal. When you make the recipe, the calorie content could vary depending on what specific ingredients/brands you actually use. Please take that into consideration if you are following a strict diet.
‬‬‬‬‬‬‬‬‬‬‬‬‬‬‬‬‬‬‬‬‬‬‬‬‬‬

SaveSave
SaveSave
SaveSave
SaveSave