Grilled Hasselback Potatoes are ideal for entertaining. Easy to prep ahead, crunchy on the edges, lightweight centers drenched with bourbon garlic butter for lots of flavor.
Grilled Hasselback Potatoes are a fancier way to serve potatoes for any BBQ you need something a little out of the ordinary. These will disappear quickly because they are cooked to a crispy edge with bourbon butter dressed centers.
They were originally created as a side dish at a restaurant in Stockholm Sweden called Hasselbacken.
The seasoned potatoes turn out crispy on the outside and tender on the inside. They are most like thick potato chips, but all still connected at the base.
I'm sharing them with a Bourbon Garlic Butter as I used in my recipe for a perfectly Grilled Steak here. (You can see that recipe in a photo at the bottom of this post!)
Make these for Father's Day, an easy 4th of July recipe or keep them to have for a casual outdoor dinner.
Bottom line here— your going to love these potatoes on the grill and don't be surprised when there are absolutely no leftovers– everyone loves a good potato!
Be sure and check out our list of the 101+ recipes for all of your BBQ Side dish needs for summer entertaining!
How to cut BBQ Hasselback potatoes?
The trick to making Grilled Hasselback Potatoes is to use thinly sliced potatoes and to make sure that they are all the same width.
Cut a slice off of any side of the potatoes to give the bottom of the potato a firm steady base.
Use chopsticks alongside each side and when cutting through the potatoes~~~ the chopsticks stops you from cutting all the way through allowing the fanning of the potato to stuff with the Bourbon Garlic Butter.
Need more Potato inspiration for what to serve along side your meal? Find all of our POTATO recipes you need here!
Points of interest for Grilled Hasselback Potatoes:
Nervous about how to cut the potatoes? This video from Rhee Drummond (aka, the Pioneer Woman) on the food network site shows you exactly how to cut one!
If you don't want to grill them, they are easily done in an oven at 400° for 45-50 minutes. Spray the pan with olive oil to prevent sticking.
You can use any size of potatoes. For a tailgating party you could use very tiny potatoes and serve them with a dip alongside as an appetizer.
Cook them on a piece of aluminum foil. Make sure to season with salt and pepper which will help keep them crispy on the outside.
These Grilled Hasselback Potatoes are served with melted butter– or more specifically a Bourbon Garlic butter. But any sauce would work. Other seasoning ideas Hatch Chili Salsa, an El Pollo Loco Avocado Salsa, and a Chimichurri Herby Sauce that would all work really well for flavoring the potato slices.
Don't want to make your own sauce? Go ahead and buy store-bought pest or storebought herbs and stuff them with those!
These can be cooked on a gas grill or a charcoal grill. Using the aluminum foil to put them on will allow you to catch the melted butter as they cook.
Air Fryer Hasselback Potatoes
This recipe can be easily made in the air fryer. Follow the instructions to cut them and season them.
Cook in an air fryer for 40 minutes at 390°. Please note if you use large potatoes the cooking time may be longer.
Classic BBQ Sides (with several Potato Recipes)
More Grill Food Ideas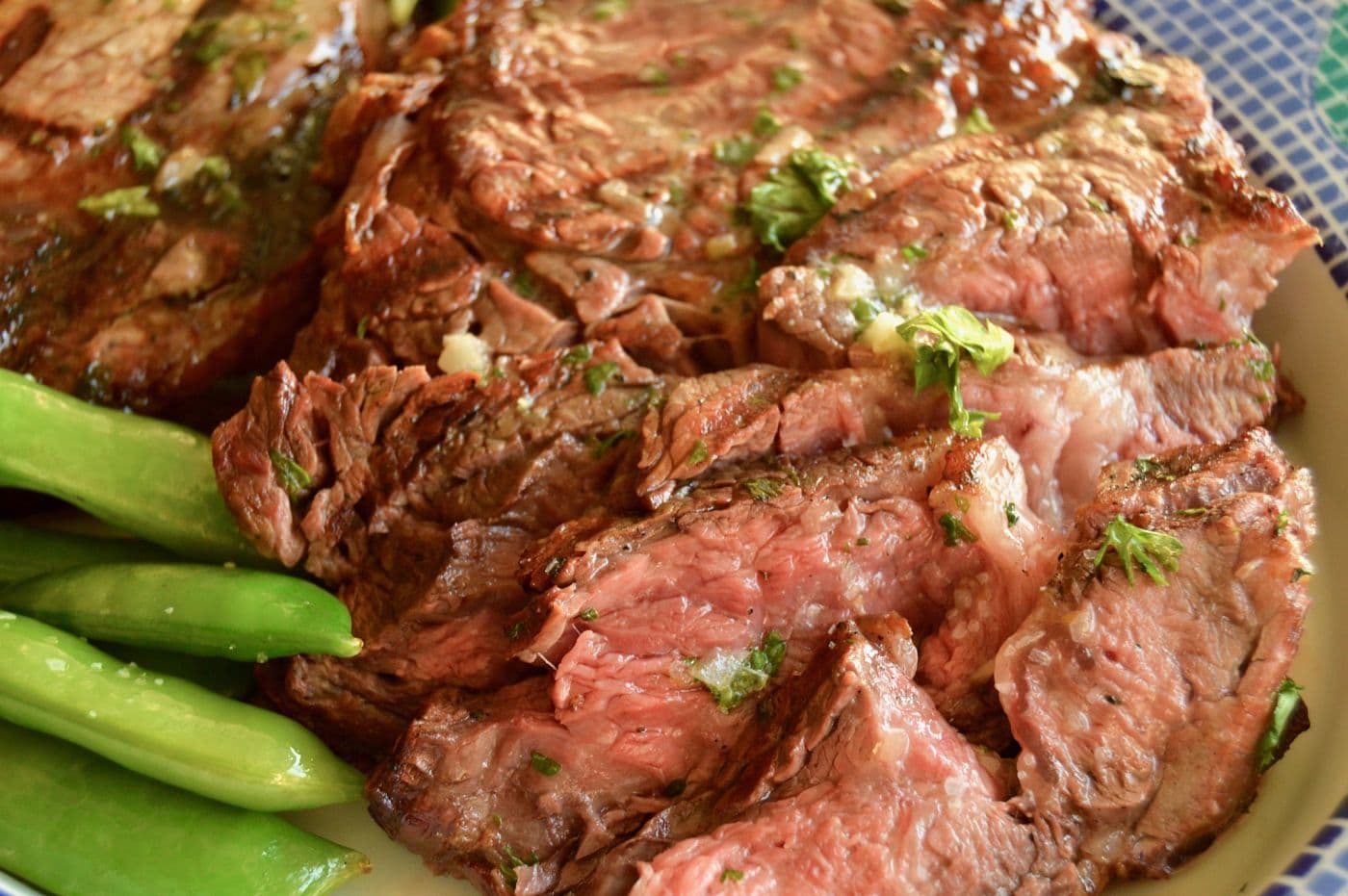 Grilled Steak with Bourbon Garlic Butter
Yield: 8 Servings
Grilled Hasselback Potatoes
Grilled Hasselback Potatoes are ideal for entertaining. Easy to prep ahead, crunchy on the edges, lightweight centers drenched with bourbon garlic butter for lots of flavor!
Total Time
1 hour
15 minutes
Instructions
Place the potatoes on a cutting board and cut a narrow 1/4-inch slice from the bottom of each potato; discard the slice (this helps the potato lie flat and provides a sturdy base).
Place two long handled wooden chopsticks on each side of the potato along the longer side of the potato.
Slice each potato crosswise, making 1/4-inch apart slices, cutting down to the cutting board. (The chopsticks stops the knife from cutting entirely through the potato. )
Completely rinse and dry potatoes after cutting. While rinsing, fan apart potatoes to rinse out starch so butter will be able to get down in there.
Divide butter among all potatoes and stuff it down In between all of the slices
Prepare a foil packet to go on the grill. Brush the bottom or spray the bottom with olive oil. Place potatoes on the foil packet, seal.
Heat Grill to High. Place Potatoes on grill while grill is heating up off set of the flames. Open Foil packet with 15-20 mins remaining to allow edges to really get crispy. Potatoes will need to cook for 45-60 minutes total.
You can make the potatoes early in the day and then just rewarm them before serving. They are better served hot so you get the crispy edges and moist insides.
Nutrition Information:
Yield:
8
Serving Size:
8 Servings
Amount Per Serving:
Calories:

251