Grilled Chimichurri Steak, an authentic Argentinian recipe that uses a 5-minute simple sauce-marinade made of fresh herbs, garlic, lemon juice and olive oil. Marinate for concentrated flavor or brush on as its grilling!
Grilling Season is just around the corner and nothing is easier than today's recipe for Grilled Chimichurri Steak. Chimichurri is from South America, most often thought from Argentina. It is a super versatile sauce that can go on anything. I have made it with Grilled Shrimp here.
It's as common in South America to have a chimichurri sauce on the table as it is in the US to have BBQ sauce or Ketchup. Fresh bold herb and citrus flavor in olive oil that you can add a little heat too with chili flakes if you want.
What Is Chimichurri Sauce
In Argentina, they consider it more of an herb salsa. It can be made with many variations but the most common variation is Cilantro, Parsley, garlic, onions, vinegar and some citrus with olive oil. The trick to chimichurri is to not puree the sauce. You want the flakes of the herbs and larger bits of onions and garlic.
You can either marinate the steak ahead of time by pouring some of the sauce into a ziplock back and letting it do its thing for an hour or you can spoon the sauce over the top after grilling. (Or in my case, I did both!)
What is the best way to make Chimichurri?
Before you begin you will want to pull by hand the leaves of the herbs from the stems. Nothing is worse than getting a bitter-tasting stem in your bite of salsa. A few stems are ok, but do your best to remove them all.
You can use a food processor or cut the ingredients with a knife. If you are using a food processor (which I do) you will have to pulse, not let the machine run constantly. Remember you don't want a puree, you want more of a salsa with full pieces of the ingredients visible.
What steak is the best for Grilled Chimichurri Steak?
There are two cuts of meat that will work very well with this recipe; flank steak or skirt steak. Both are very economical and a great option to be able to make a delicious meal to entertain within a budget without breaking the bank.
What is the difference between flank steak and skirt steak? Both cuts of meat are from the same area. Flank steak is cut a little thicker by the butcher and is leaner than skirt steak. A skirt steak is thinner but has more fat, which also is a plus when grilling because you can cook it quickly at a high temp, and the fat forms a beautiful crust from the grill.
I tend to grill whether it's hot or cold out, but if you don't have a grill or would like an option to cook the flank steak/skirt steak chimichurri in the oven there is a great video tutorial on the kitchen here.
There are two things that are very important when using either flank steak or skirt to avoid it becoming tough and dry.
Don't overcook it. Cook it to no more than medium temperature, ideally more to medium rare for a juicy cut.
Cut the meat 1/4 " thick across the grain to keep it nice and tender.
To know what way the grain is you can look at it and see. You will want to cut across (not parallel to the grain you see.).
What else can you use Chimichurri Sauce for?
Dipping sauces for bread
Roast vegetables such as green beans, asparagus and Brussels sprouts
Stir 1/4 cup into cooked pasta or cooked rice right before serving for a fresh side dish.
Use the sauce as a salad dressing.
Any other grilled meats, especially chicken or shrimp.
If you are looking for other Grilling recipes these are always popular!
---
---
Pin this recipe to your Grilling Board or your FOOD TO MAKE FOR A CROWD board!
---
For more recipes that are easy to make sign up for easy recipes that you can feel confident in making to entertain on this page where it says "join the west via midwest community!" )
---
---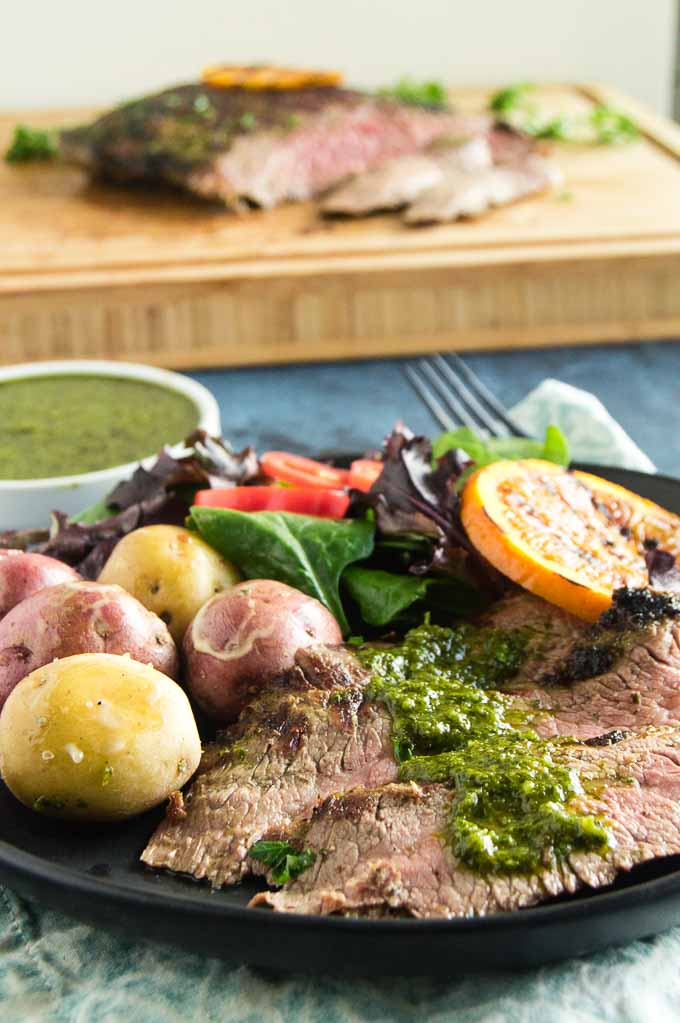 Yield: 8 6 oz steak, 2 TBS sauce
Grilled Chimichurri Steak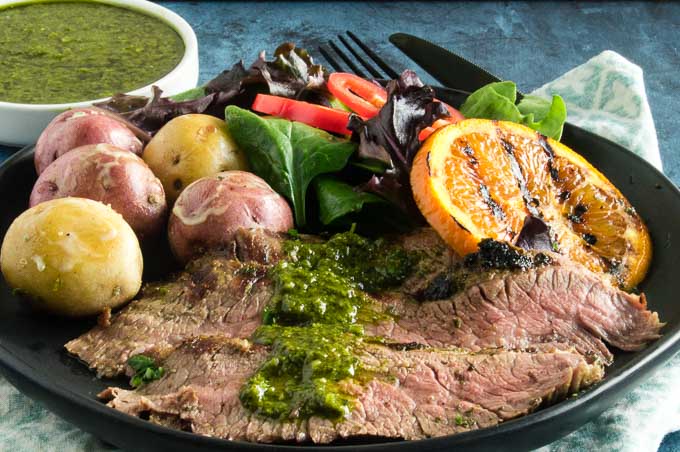 Grilled Chimichurri Steak, an authentic Argentinian recipe which uses a 5 minute simple sauce-marinade from made of fresh herbs, garlic, lemon juice and olive oil. Marinate for concentrated flavor or brush on as its grilling!
If marinating steak/ marinate for
15 minutes
Ingredients
Chimichurri Sauce
1/2 cup red wine vinegar
1 teaspoon salt
4 garlic cloves peeled
1/2 sweet onion outer layer peeled away and ends removed
2 bunches cilantro most stems removed
2 bunches flat leaf italian parsley most stems removed
1 tablespoon fresh lemon juice
1 teaspoon lemon zest
1 teaspoon red pepper flakes optional
3/4 cup olive oil
2-3 tablespoons water optional
Steak
Instructions
Chimichurri Sauce
Place the vinegar, salt, garlic and onion in the cuisinart. Pulse until garlic and onion are finely minced.
Let all those flavors meld together.
While they vinegar mixture is resting, rinse the cilantro and parsley and pull the leaves off of each bunch. A few stems are fine, but cutting off the bottoms and pulling most of the leaves will get the best results.
Add cilantro and parsley to cuisinart and mix for 2 minutes until fine.
Add lemon juice, lemon rind and red pepper flakes and pulse for another minute.
Slowly add olive oil, running cuisinart until well combined.
If sauce is a little thicker than you like it, add water one tablespoon at a time, whirling food processor to blend well and check the consistency.
Transfer to a container to store in fridge for at least 3 hours before serving.
Season with salt as needed.
Let come to room temperature before serving.
Can be stored in an airtight container for up to a week.
Steak
Optional, you can place steak in a plastic bag. and marinate with 1/2 cup chimichurri sauce for 1 hour up to overnight .
Turn on grill to high heat. Let get hot for 10 minutes. (If using a charcoal grill, allow coals to be fully hot and flaming.
While grill is getting hot, remove steak from plastic bag (if marinating) or from packaging and season with salt and pepper generously.
Once grill is hot place steak on the grill and cook until your desired doneness. It is recommended that both of these cuts of meat cook no more than medium rare to avoid toughness and being dried out. Every grill is different, our grill cooked the meat for 5 minutes on the first side, 4 on the second side and was a perfect medium rare. The meat will char slightly on the high heat which will give a great flavor.
When meat comes off the grill place on a plate and allow to rest for 10 minutes.
Slice meat 1/4" thick across the grain for the most tender cut. Spoon chimichurri sauce over the top and serve immediately.
Notes
This recipe yields about 2 cups of Chimichurri Sauce. The calories account for 2 tablespoons per serving. The calorie count will vary depending on how much sauce you use.
Nutrition Information:
Yield:
8
Serving Size:
8 6 oz steak, 2 TBS sauce
Amount Per Serving:
Calories:

356
Saturated Fat:

6g
Cholesterol:

107mg
Sodium:

261mg
Carbohydrates:

1g
Protein:

36g