Juicy, tender, with hints of garlic and citrus this Grilled Cuban Mojo Pork Roast Recipe is an easy, yet impressive meal to serve for company.
If you love this Cuban Roast Pork Recipe be sure and see our other ones for Kalua Pork and our simple pulled pork. We're a big fan of pork recipe because all of them are great for entertaining!
Grilling Season Recipes are some of my favorites and I'm excited to share this recipe for Grilled Cuban Mojo Pork Roast. This recipe is an adaptation from the 2014 movie Chef. The original recipe is done in the oven, but since it's starting to get warm out, I wanted a version we could do on the grill.
This Cuban mojo pork recipe is easy enough you won't be intimidated but is impressive enough you can use it for special occasions. The mojo sauce makes the pork just sing! It's bright, fresh and gives the pork a delicious crust that you will love!
Mojo marinated pork is a traditional dish in Cuba that you can serve simply with black beans and rice or plantains if you want to keep the traditional Cuban vibe going. But if you want something a little different you can pair it with simple vegetables like garlic snap peas or creamy cauliflower puree.
What does Mojo mean in this recipe for Grilled Cuban Mojo Pork Roast?
Mojo in a Cuban recipe means it is marinated in garlic, olive oil and citrus, in this case, both lime and orange. Orange is the most common citrus flavor used in Mojo.
In Cuba, they often use sour oranges which are not readily available here but in this Cuban mojo sauce, it is achieved by mixing lime juice and orange juice.
What is in Mojo Sauce:
Orange Juice
Lime Juice
Orange Zest
Olive Oil
Brown Sugar
Cilantro
Mint
Garlic
Oregano
Cumin
Salt and Pepper
How to Prepare Grilled Mojo Pork
Prepare the sauce a day ahead so you have time to marinate the pork.
You can use a pork roast, pork shoulder, pork butt or pork tenderloin but you want the roast marinade at least 12 hours. The more time it has, the more time it has to seep deeper into the meat.
Use a food processor to puree everything, It gives a nice texture to the Cuban sauce.
Place the marinade in a ziplock bag, then place the pork into it and seal and store in the fridge for 12-24 hours before grilling.
Cuban Mojo Sauce is great for this recipe but it also works as a dipping sauce for bread or a marinade to toss over chicken wings.
Grill the pork roast by preparing the grill for indirect heat. Have the burners going on one side, but place the pork roast over the grates that are not actively heated.
Use a thermometer to cook the pork to the right temperature. Grill the pork until it reaches an internal temperature of 140°. (I highly recommend this thermometer to test the temperature.)
Common Questions you might have with Mojo Pork Roast
What kind of pork can I use for Mojo Pork? My recipe uses a grilled pork loin roast but you could use a pork tenderloin easily. You will need to reduce the cooking time for Cuban pork tenderloin since tenderloins are thinner and smaller in diameter. Pay attention to finish the cooking at 145-150° and you will still have a very succulent pork meal.
Can I use a pork shoulder for Cuban pork? I've done this mojo pork slow cooker recipe with success with a bone-in pork shoulder too and it is fall off the bone tender. Prepare the marinade, and pour over the pork in the crockpot and place on low for 8-10 hours until it falls apart easily using a fork. (There is no need to marinate for 12 hours since you are cooking it for such a long time.
If you want to make this in the oven, which is how the original recipe from the movie is done it is easily adapted. To make it in the oven, you would heat the oven to 425° and place the pork roast on a wire rack over a baking sheet. Roast the pork for 30 minutes at which point it will be lightly browned. Then reduce the heat to 375° and roast for another 30 minutes or until the meat thermometer reads 150°. You will then rest the meat the same as in the recipe.
What can I do with the leftovers of this Cuban dish? If you have leftovers you could make sliders with the pork on Hawaiian rolls with a tangy Carolina mustard sauce or Cubanos sandwiches. The mojo roast pork is the perfect roast pork to serve on them.
What can I serve with a grilled pork loin roast? This mojo grilled pork roast goes great with rice, simple green beans or cheesy mashed potatoes found in the Shepherds Pie recipe. It also pairs well with grilled cheesy endive.
Add this recipe to your repertoire for summer grilling season when you want to entertain but don't want to spend hours in the kitchen. You can marinate this the day ahead, get home late from work or a long day of weekend activities and just slap it on the grill. You have to watch it the first little bit while it's searing, but after that, you can sit back and let the grill work its magic!
Love Pork Recipes? Here are a few more you might enjoy!
Other Easy Gourmet Comfort Recipes for Entertaining:
No- Fail Grilled Lamb Chops ~ West Via Midwest
Fancy Bouillabaisse ~West Via Midwest
Lemon & Herb Roasted Chicken Thighs ~ Lemon Blossoms
Grilled Steak with Bourbon Butter ~ West Via Midwest
Healthy Chicken Picatta ~ West Via Midwest
Pork Medallions in Blue Cheese Sauce ~ West Via Midwest
---
PIN THIS TO YOUR GRILLING BOARD OR EASY DINNER RECIPES FOR ENTERTAINING BOARD so you can find it easily when you need it.
You can also follow me on Facebook here for more easy recipes for entertaining!
(Facebook not your thing….. thats ok too! I have you covered with a mailing list that shares easy recipes for entertaining on this page where it says "join the west via midwest community!" )
---
Yield: 8 servings
Grilled Cuban Mojo Pork Roast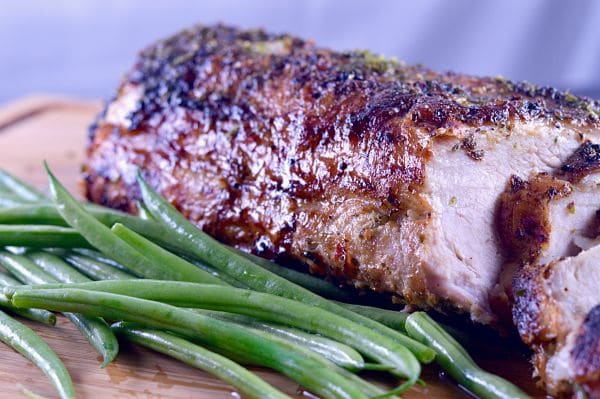 Juicy, tender, with hints of garlic and citrus this Grilled Cuban Mojo Pork roast Recipe is an easy, yet impressive meal to serve for company.
Prep Time
1 hour
10 minutes
Cook Time
1 hour
10 minutes
Total Time
2 hours
20 minutes
Ingredients
3/4 cup Olive Oil, (save 1 teaspoon for sauce)
1 tablespoon orange zest
3/4 cup fresh orange juice
1/4 cup lime juice
1 cup cilantro (stems removed), finely chopped
1/4 cup mint leaves (stems removed), finely chopped
8 cloves garlic, minced
2 teaspoons dried oregano
2 teaspoons ground cumin
1 tablespoon brown sugar, packed tightly
1 teaspoon salt
1 teaspoon pepper
2 1/2 pound boneless pork roast, fat trimmed closely
Instructions
Remove pork from packaging, rinse and pat dry with a paper towel. You want to trim away big pieces of fat from the roast if there are any. When cooking on the grill the fat will cause flame ups and burn quite quickly.
Into a ziplock bag, place olive oil, orange zest, juice, lime juice, cilantro, mint, garlic, oregano, cumin and brown sugar. Mix well. Then place pork roast into the bag and seal removing out as much air as possible. Make sure to move the marinade around to cover the entire pork roast.
Place bag in a bowl in the refrigerator and let marinate for at least an hour, up to overnight. The longer the more flavor is imparted.
When ready to grill, remove pork from the bag and save marinade. Pat the roast dry and season with salt and pepper.
Preheat gas grill to high(450-500°), using all burners. Once grill is hot, sear all sides for 7 minutes browning well. Then turn off one section of the grill to leave the pork on. Ideally it will be the middle of the grill, but if you only have 2 gas knobs to use, just turn one off and place the pork on the side that is turned off. Using this indirect heat cooking method you will not overcook and cause the pork to be dried out.
Reduce heat to medium high(350°) and close the lid. Cook for about an hour or until pork reaches 145-150°. Remove from grill, and let rest for 10-20 minutes to allow juices to remain in the pork. If you cut into it right away, all of the juices will pour out onto your plate. By waiting, the pork juices remain in the meat for the juiciest, most tender bites of pork.
While the pork is grilling, place the marinade in a small sauce pan, add one teaspoon of olive oil and bring to a boil for 10 minutes. Remove from heat and bring to room temperature.
Cut the pork against the grain and serve with a spoonful of the cooked marinade over the top.
Nutrition Information:
Yield:
8
Serving Size:
8 servings
Amount Per Serving:
Calories:

381
Carbohydrates:

5g
Fiber:

1g
Sugar:

4g
Protein:

30g