Homemade Teriyaki Sauce Marinade is a sweet and salty, thick and tangy sauce used for everything from marinating and glazing to dipping and coating. Make this simple sauce from scratch using a handful of pantry staples and perhaps some sake! This easy, Asian inspired sauce comes to life in minutes and is so versatile, you'll want to keep this delicious marinade on hand all year round!
Sauces, dressings, and marinades are so much better from scratch. Two of our most loved recipes are basics such as our Huli Huli Hawaiian BBQ sauce and our homemade buttermilk ranch dressing.
Forget the storebought stuff! Making your own teriyaki sauce not only comes with a flavor that is fresh and pure, but it's cost-effective as well. This is a pantry version of Jet Tila's Teriyaki sauce to be used as coating for meats or as a marinade before cooking.
While you can buy Kikkoman Teriyaki Sauce, Costco Teriyaki, or La Choy Teriyaki sauce, making it homemade is too easy not to do it yourself. Thicker, lip-smacking taste and texture is just something you can't get out of a bottle.
Works great on grilled meats, chicken, pork chops, and steak kabobs. Use it as a teriyaki stir fry sauce in all kinds of chicken, beef, or veggie stir fry. Glaze your chicken wings and salmon or use it as a dip for appetizer meatballs. Talk about versatility!
Ingredients
Sake – This is an alcohol made from fermented rice. Typically used in Japanese cuisine. The alcohol will be burned off during cooking, leaving a lovely deep flavor.
Mirin – It's what gives the sauce a lovely sheen. Similar to sake but has a higher sugar content, which will add to the sweetness.
Soy sauce – A familiar ingredient in a lot of Asian recipes, this gives another added flavor and of course, salt.
Light brown sugar – You can also use dark brown.
Sesame oil
Garlic & ginger– Both to be finely grated.
Water – Can use lime or orange juice instead to create a brighter burst of flavor. Its other purpose is to blend with the cornstarch before being added to the sauce.
Cornstarch – Used as a thickening agent to create a thicker consistency.
Optional – Sesame seeds and thinly sliced green onions.
How to Make Homemade Teriyaki Sauce
Heat all ingredients (with exception of cornstarch and water/juice) in a small saucepan over medium heat. Stir until sugar has dissolved.
In a separate small bowl, add water and cornstarch and stir to combine. Take a bit of the sauce from the stove and add to the cornstarch mixture and stir. Combine well.
Add the cornstarch/teriyaki mixture back into the saucepan to join the remaining teriyaki sauce and stir to combine everything. Whisk with the heat on until sauce starts to thicken.
Once it is thick, remove it from the heat and allow it to cool. Enjoy on chicken, shrimp, pork, wings, fish, you name it!
Tips for Variations on DIY Teriyaki Sauce
Honey Teriyaki Sauce – Simple to adapt this recipe by cutting the brown sugar in ½ and replacing the quantity with honey. This is great for using on BBQ ribs that you might want a more finger-licking thick sauce.
Hawaiian Teriyaki Sauce – If I'm making something, I usually opt to have hints of Hawaiian style teriyaki. In which case I'll use my Huli Huli Teriyaki BBQ recipe. If you don't want to whip that together you could make a pared-down version by adding ¼ cup pineapple juice instead of the amount of water listed to make the slurry. Making the slurry with the cornstarch and pineapple will give you a definite Hawaiian feeling!
Stir Fry Teriyaki Marinade – Use the exact same recipe except don't add the slurry to the sauce right away. You can marinate the meat in a small amount of the marinade minus the slurry for a minimum of 30 minutes. Then You'll Saute/Stir fry your vegetables and meats then add the rest of the marinade and cook until it's just about ready. Right before serving it, you'll add the slurry to thicken up the marinade.
Common Questions you may have
How long will this teriyaki sauce keep? If you store it in an airtight jar or container it will keep in the refrigerator for up to 2 weeks. After that the garlic and ginger change the texture of the sauce and it's not nearly as pleasant.
Can I marinate my chicken, beef, or pork in this sauce? You can easily marinate your meats in this sauce. Bear in mind if you are grilling or sauteing the sugar will caramelize when in contact with the sauce so you'll want to be there to avoid any burning. Turning the temperature down or moving the meat off to the side can help too.
What's the best way to use Asian Sauce on Salmon? I suggest cooking the salmon in a little olive oil, salt and pepper then in the last 5 minutes of cooking brush the sauce on. I love flaky salmon, with a sweet sticky sauce, that caramelizes just right.
Recipes to use this Homemade Teriyaki Sauce on
More Homemade Basics you will enjoy. (More DIY Condiments!)
Yield: 2 1/4 cups
Homemade Teriyaki Sauce Marinade recipe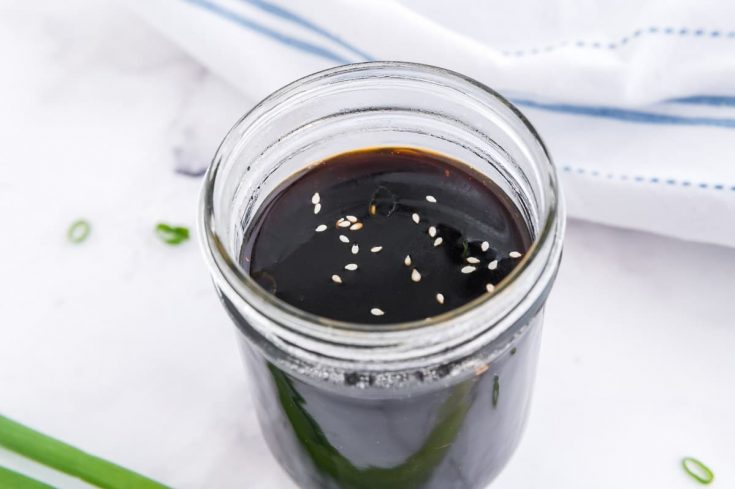 Homemade teriyaki sauce is an easy recipe with ingredients you have in your pantry. Lasts for 3 weeks and is so much better than storebought.
Ingredients
6 ounces Sake
9 ounces Mirin or Rice Wine Vinegar
12 ounces Soy Sauce
3/4 Cup Packed Light Brown Sugar (dark ok too)
1 Tablespoon Sesame Oil
1 Clove Garlic grated fine
1" Fresh Ginger, grated fine
2 Tablespoon Water (sub lime juice or orange juice for brighter flavor)
1 Tablespoon Cornstarch
Optional
1 Tablespoon Sesame Seeds or 1 Tablespoon sliced green onions
Instructions
Add all ingredients but water and cornstarch to a small sauce pan. Turn heat to medium and stir to combine.Stir often until sugar has disolived and its evenly mixed.
In a small bowl add water and cornstarch and stir to ccombine. Then take 3 tablespoons of teriyaki sauce from pan and add to the small bowl stirring to mix well.
Once it's mixed, then add all of that mixture back into the teriyaki sauce. Whisk and keep on the heat until the sauce starts to thicken.
Once sauce is thick, remove from the heat and allow to cool.
Store in an airtight container in the fridge for up to two weeks.
Use on grilled chicken, shrimp, pork or chicken wings to flavor.
Nutrition Information:
Yield:
18 (1 tablespoon)
Serving Size:
1
Amount Per Serving:
Calories:

112
Total Fat:

1g
Saturated Fat:

0g
Trans Fat:

0g
Unsaturated Fat:

1g
Cholesterol:

0mg
Sodium:

1171mg
Carbohydrates:

18g
Fiber:

0g
Sugar:

16g
Protein:

2g
This recipe was calculated using the exact brands and measurements I used to make this recipe. If you are following a strict diet please note changing anything will cause the nutritional info to change. Please calculate your own nutritional information if you want it exact to what you make and use my calculations as a guide only.