Grilled Hawaiian Chicken on skewers along with sweet red and green peppers, tangy juicy pineapple and just a little heat from red onion pieces all brushed with the best Huli Huli sauce for a tropical themed BBQ!

Grilled Hawaiian Chicken Kabobs will make you feel like you are on a tropical island! Sweet and tangy sauce brushed over tender chicken, green peppers, red peppers, sweet onions and small bite sized pieces of fresh pineapple.
The Hawaiian sauce has a teriyaki feeling with a little heat that caramelizes all of the edges while its grilling over the hot flames.
These barbecue pineapple chicken skewers are a favorite for entertaining out on the grill. It pairs with simple coconut rice, watermelon salad, sliced fruit or a simple green vegetable. It's super versatile for entertaining.
The best part about this comfort food chicken recipe is how simple it is to make to entertain for a crowd. You can make everything way early in the day, plop them on the grill and brush them with sauce just before its time to eat!

What is Huli Huli Sauce
These Hawaiian Skewers are basted with a Hawaiian BBQ sauce often referred to as Huli Huli Sauce. It's the thickness of a great teriyaki sauce but has a little more zing to it. Sweet, tart, tangy and a little spicy!
The Huli Huli sauce was first made by Ernest Morgado from a company called Pacific Poultry at their company picnic. He had two grills going and would flip the chicken and baste with this sauce.
Huli means turn… so he called it Huli Huli Sauce. You can buy it bottled in Hawaii but it's so easy to make at home and I truly believe everything is better homemade!
What ingredients are needed for Hawaiian BBQ Sauce
Soy Sauce
Fresh Ginger
Fresh Garlic
Pineapple Juice
Ketchup (balances the sauce!)
Brown Sugar
Sesame Oil
The sauce is a little bit thicker than the ketchup and gets thicker by boiling it down just a bit. The sauce itself comes together faster than it takes you to boil it.
How easy is this teriyaki Hawaiian sauce to make? Add all of those ingredients into a bowl, whisk them together and heat it on the stovetop to thicken for just a bit! (a mere 5 minutes!)
You can use the sauce as a marinade if you are using it in a slow cooker or in the oven, but in todays recipe for grilled pineapple chicken I baste it on as it grills so it gets super sticky and caramelizes as it cooks! When you take a bite you'll get this delicious charred edge on tender juicy vegetables and moist chicken.

Chicken Pineapple Kabobs Ingredients:
Chicken (breast or thigh works !!)
Peppers: red, yellow, green or orange
Red Onion
Sweet Onion
Pineapple Chunks
Huli Huli Sauce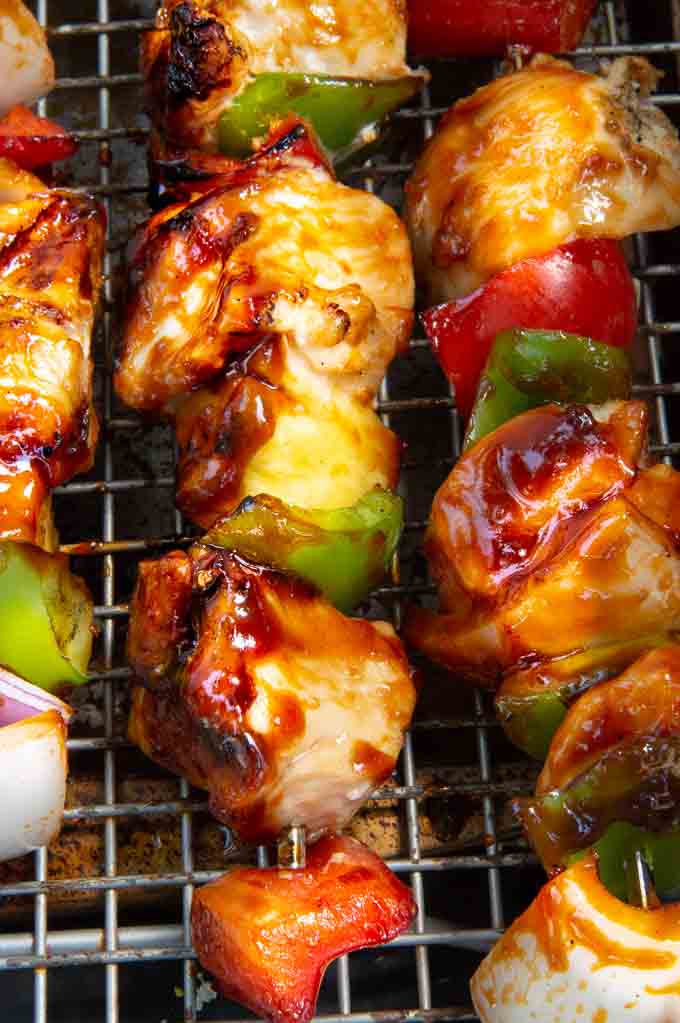 Tips for making Chicken Skewers
I like using chicken breasts because most people like breast meat in my family. Cutting them to bite size pieces, similar in size and shape will help you get even cooking.
I prefer a boneless skinless chicken breast piece because the skin tends to start on fire and the grill gets too hot to be around.
I highly recommend metal skewers for kabobs because I'm terrible at remembering to soak the wood ones in water for an hour so they don't start on fire when grilling.
I LOVE these metal skewers and personally own them… they are lightweight and have a nice end piece to be able to grab onto with my tongs when I need to move them on the grill.
I also like that they slide off super easily. There is nothing worse than a skewer that rips the meat and veggies once they are done cooking.
When cutting your ingredients cut every ingredient to a similar size and shape. All of the onions should be one way, the peppers the same, the chicken and pineapple. This will ensure that everything is cooked evenly.
Brush the kebobs with barbecue sauce as they are grilling. Depending on how big your chicken pieces are it usually about 8 minutes per side.
So that I feel super confident in serving chicken I always use a meat thermometer to check the temperature of the chicken before removing it from the grill. Chicken should be cooked to 165 degrees to be safe for eating.
What side dish can you serve with Grilled Hawaiian Chicken?
Lime Rice (recipe coming next week!
Hawaiian Chicken Kebobs Common Questions
We like chicken thighs can I use those for this Hawaiian chicken recipe? You sure can, the cook time might be a little faster but use the thermometer to cook the chicken to 165° and you're good to go!
I can't get any good pineapple do you have anything I substitute for Hawaiian Chicken? You could use mango chunks on these chicken shish kabobs as a simple swap!
How hot is the chili garlic sauce on these, Im nervous about having super spicy chicken kebobs? The chili garlic sauce is super mild, but if you are concerned about it on the Hawaiian chicken, feel free to leave it out!
FREE TIPS FOR ENTERTAINING WITH EASE AND FUN DELICIOUS RECIPES WHEN YOU SIGN UP FOR THE MAILING LIST BELOW THE RECIPE!
Yield: 6-8 servings
Hawaiian Chicken Kebobs Recipe
Grilled Hawaiian Chicken on skewers along with sweet red and green peppers, tangy juicy pineapple and just a little heat from red onion pieces all brushed with the best Huli Huli sauce for a tropical themed BBQ!
Ingredients
2 pounds Skinless Boneless Chicken Breasts
1 Red Pepper
1 Green Pepper
1 Yellow Pepper
1 Large Red Onion
3 Cups Pineapple Chunks (1"pieces)
Instructions
Cut Chicken into cubes of similar sizes.
Cut the peppers into 1" pieces, removing the inner membrane, stem and seeds.
Peel the onion, cut into like sized square pieces (about 1" pieces)
Remove the skin of the pineapple and cut to 1"cubes.
Place the chicken, peppers, pineapple and onion onto the skewers alternating each piece. Place the pieces next to each other closely, but not so tightly that the flames can't get into cook them.
You can prepare the kebobs to this point up to a day ahead. Wrap in plastic and place into the fridge until ready to grill.
When ready to grill turn on your grill to high. Once hot, reduce flames to medium and place skewers with the nob side closest to you onto the grill diagonally.
Leave at least an inch or two in between for the flames to be able to get at them.
Brush with Huli Huli sauce and grill for 5-8 minutes per side (flipping over one time) until the veggies are softened and the chi cken is 165°
If you have extra BBQ sauce, you can boil it in a sauce pan for an additional 5 minutes to avoid any residual raw chicken juices that may have transferred from the skewers when brushing.
Serve with rice immediately and boiled bbq sauce.
Recommended Products
As an Amazon Associate and member of other affiliate programs, I earn from qualifying purchases at no additional cost to you.
Nutrition Information:
Yield:
8
Serving Size:
1
Amount Per Serving:
Calories:

326
Total Fat:

4g
Saturated Fat:

1g
Trans Fat:

0g
Unsaturated Fat:

2g
Cholesterol:

96mg
Sodium:

449mg
Carbohydrates:

34g
Fiber:

2g
Sugar:

27g
Protein:

37g
This recipe was calculated using the exact brands and measurements I used to make this recipe. If you are following a strict diet please note changing anything will cause the nutritional info to change. Please calculate your own nutritional information if you want it exact to what you make and use my calculations as a guide only.