Hawaiian BBQ sauce is super easy to make and yields a sticky glaze with hints of teriyaki from the fresh flavors of pineapple, soy sauce ginger and garlic. Tropical flavors that work great on any grilled chicken, pulled pork or all ribs!

This Hawaiian BBQ Sauce Recipe is finger licking good! It's easy to make (in about 15 minutes) and it works great on, Hawaiian grilled chicken kebobs, baby back ribs, and you will LOVE it as a barbecue sauce slathered onto pulled pork!
What's not to love? This homemade teriyaki sauce is slightly sweet, countered with a little soy sauce to give it balance. The pineapple juice gives it a tangy bright note. All in the a nice thick, but not too thick sauce that works as a marinade and to baste while cooking.
Everyone I know who goes to Hawaii comes home with how they had the greatest sticky teriyaki BBQ sauce ever while they were there.
The grocery stores sell a bottled version of Hawaiian BBQ Teriyaki sauce, (sometimes called Huli Huli sauce) but its just not the same.
I remember the last time I was in Hawaii I saw it on EVERY single restaurant menu. With all the talk and memories of it I had to give it a whirl and come up with a homemade version.
What is the Origin of Huli Huli Sauce?
I had to do a little research on this to find out. Several Hawaiian magazines share the origins of the Hawaiian sauce and who came up with it.
In 1955 Ernest Morgado of Pacific Poultry had a barbecue for the workers and made Teriyaki Chicken that he called Huli Huli Chicken.
His marinade and sauce had all the ingredients that we come to love in Huli Huli sauce: pineapple juice, ketchup, soy sauce and brown sugar along with garlic and ginger.
He cooked it on two grills basting the chicken each time he turned it. He also happened to have to grills that he cooked it on so it went back and forth.
Which leads me to what does Huli have to do with this bbq sauce?
What does Huli Mean?
"Huli" is the Hawaiian word for turn. He turned it often so he called it Huli Huli Chicken.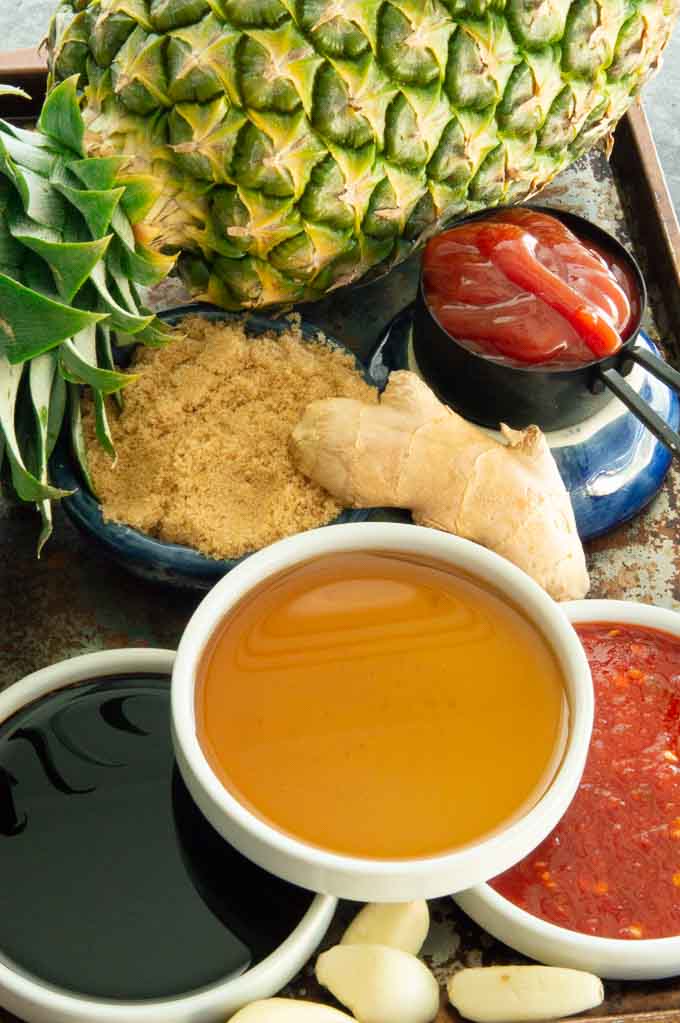 What goes into Hawaiian BBQ Sauce?
Soy Sauce
Pineapple Juice (fresh or canned!)
Ketchup
Vinegar or Lemon Juice
Brown Sugar
Ginger
Garlic
Red Pepper Flakes (optional for more heat)
This teriyaki glaze recipe comes together in mere minutes. It's better if you heat it for just 5 minutes to help the brown sugar dissolve and reduce it just a little bit.
The ketchup and chili garlic sauce gives it a nice consistency but if you bring it to a boil for a few minutes to reduce down it gets a crazy delicious rich texture. It's SO good that you'll be dragging those chicken pieces all along your plate to get every last drop of it!
Pin this to have when you need a change up to your regular BBQ Sauce!

Recipes to Use Hawaiian Teriyaki Sauce on:
Grilled Hawaiian Chicken Skewers (recipe coming later this week!)
Grilled Pork Chops ~ replace the honey mustard with this sauce!
Tip for using the Huli Huli Sauce
You can use the Huli Huli sauce as a marinade overnight before cooking. You'll get these super yummy caramelized dark bits when it grills so you'll want to watch it closely so it doesn't burn.
I usually baste my grilled meats, ribs often while it's grilling so it gets a nice thick crust while it cooks.
If you want to cook chicken in a slow cooker you can dump the sauce in the slow cooker over the chicken and let it cook all day. To get the crunchy caramelization like you get on a grill you can pop them in the broiler for 5 – 10 minutes watching to make sure they don't burn.

---
---
FREE TIPS FOR ENTERTAINING WITH EASE AND FUN DELICIOUS RECIPES WHEN YOU SIGN UP FOR THE MAILING LIST BELOW THE RECIPE!
Yield: 1.5 cups (2 tbs/svg)
Hawaiian BBQ Sauce: Huli Huli Sauce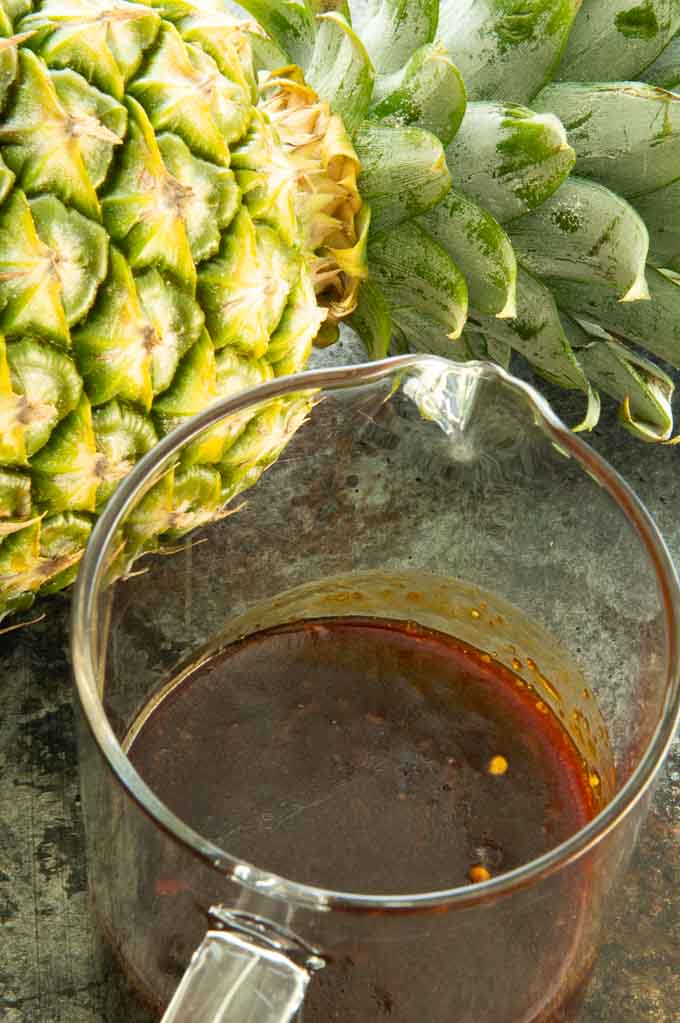 Hawaiian BBQ sauce is super easy to make and yields a sticky glaze with hints of teriyaki from the fresh flavors of pineapple, soy sauce ginger and garlic. Tropical flavors that work great on any grilled chicken, pork or wonderful on beef ribs for entertaining!
Ingredients
1/3 cup Ketchup
1/3 cup Brown Sugar
1/4 cup Soy Sauce
1/4 cup Pineapple Juice
2 Tablespoons Sesame Oil
4 Garlic Cloves, Grated on a microplane or minced fine
1" Fresh Ginger, grated on a microplane
1 Teaspoon Rice Vinegar
Instructions
Grate garlic on a microplane or chop to a very fine mince.
Peel 1" of a piece of fresh ginger, then grate on a microplane. See notes about storing fresh ginger.
Place all ingredients into a pan and stir to mix well.
Bring to a boil and stir constantly until thickened and reduced, about 5 minutes once boiling
Store in airtight container up to a week.
Can be used as a marinade or brushed on while grilling or baking.
Reserve some sauce to serve on the side for people to be able to apply at the table themselves.
Notes
Ginger freezes well. If you only use the one inch knob and have some leftover you can wrap it in plastic wrap and then store in a plastic bag for extra protection. Keeps up to 6 weeks without losing flavor or texture.
Recommended Products
As an Amazon Associate and member of other affiliate programs, I earn from qualifying purchases at no additional cost to you.
Nutrition Information:
Yield:
12
Serving Size:
1
Amount Per Serving:
Calories:

55
Total Fat:

2g
Saturated Fat:

0g
Trans Fat:

0g
Unsaturated Fat:

2g
Cholesterol:

0mg
Sodium:

400mg
Carbohydrates:

8g
Fiber:

0g
Sugar:

7g
Protein:

1g
This recipe was calculated using the exact brands and measurements I used to make this recipe. If you are following a strict diet please note changing anything will cause the nutritional info to change. Please calculate your own nutritional information if you want it exact to what you make and use my calculations as a guide only.