Subtle flavors make this recipe for Grilled Coconut Lime Chicken Kebabs perfect for a casual BBQ. Juicy, tender and a slight smokey flavor they are ideal for grilling for last minute entertaining.
If you love grilled chicken you could serve a trio for a summer cookout. Our Thai BBQ Grilled Chicken and the Hawaiian Huli Huli Chicken would be a fun trio to try!

This recipe for Grilled Coconut Lime Chicken Skewers kicks off the summer barbecuing season! Over the next few weeks, I'll be sharing many recipes for barbecues that are perfect for entertaining!
What is the difference between a Shish-kebob and a Skewer?
I started off the BBQ season with this recipe for Grilled Coconut Lime Chicken Skewers. It led to a lengthy discussion in our house about whether they should be called Kebob's (shish-kebob) or skewers.
A "sis" (shish) is a Turkish word for sword and a kebab is usually small pieces of marinated meats on a skewer. Depending on the country or area the recipe originates usually determines if there are vegetables on the skewer.

Grilling foods for entertaining is an easy method that usually requires little clean-up as you've done all of your cooking on the grill.
What ingredients are in a Coconut Lime Marinade and Sauce
Coconut Milk
Lime Juice (fresh is best)
Ginger
Brown Sugar
Fish Sauce
Garlic
These ingredients are a take away from some Thai Food that I had recently. It has a lot of similar ingredients to my Thai Red Curry and Thai Shrimp Soup so if you enjoy those you will love how healthy and fresh these skewers are.
Helpful Tips when Making Chicken Kebobs
These Grilled Coconut Lime Skewers are marinated ahead of time so all you have to do when your guests arrive is throw them on the grill and serve. You can't beat that for low maintenance entertaining.
This grilling method is easily adapted by using different sauces and marinades. If you want something different you could try this Hawaiian BBQ Sauce (Huli Huli) too!
Marinate these the night before making them so the flavors of coconut, lime and ginger have plenty of time to seep into the chicken. While the flavors may seem very strong when you put them in the bag to marinate, they are very subtle when they are done grilling.
Serve these Grilled Coconut Lime Chicken Kebobs over Grilled Lemon Potato slices or a coconut rice. It would work equally as well over a crisp salad! If you need a sauce to go over it you could make a chimichurri recipe as I have here.
Top List of other Skewer/Kebob recipes you need to add to your menu planning:
Points of Interest for the Grilled Coconut Lime Chicken Skewers recipe:
Easy/Hard. Very Easy. Marinate overnight, cut chicken to even pieces and grill when ready.
Make-Ahead: You can marinate ahead of time so you don't have to be away from your guests while cooking except when it's on the BBQ. And honestly, everyone usually gathers around the grill when it's cooking to smell all the wonderful aromas so even then you won't be abandoning your guests!
Serving options: You can make these for the main meal or do really small wooden skewers with smaller bites of chicken to serve as an appetizer. Serve with Rice, potatoes or over a salad if it's for the main course!
Pairing: The coconut and lime lend themselves to something tropical…. like a Mai Tai here.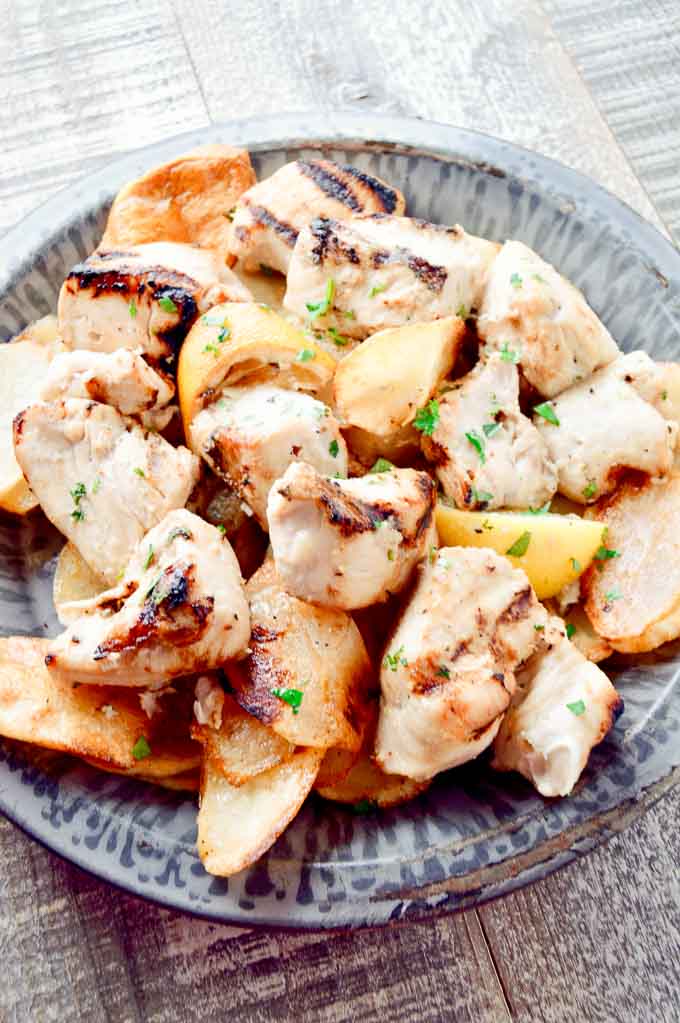 FREE TIPS FOR ENTERTAINING WITH EASE AND FUN DELICIOUS RECIPES WHEN YOU SIGN UP FOR THE MAILING LIST BELOW THE RECIPE!
Hashtag any recipes you make from West Via Midwest #westviamidwestrecipes or tag me @michele_westviamidwest on Instagram to be featured on our stories!

Yield: 8 appetizer portions
Grilled Coconut Lime Chicken Skewers
Grilled Coconut Lime Chicken skewer recipe that can be marinated early in the day and popped on the grill when company arrived. Lightly scented with coconut, lime and ginger this moist tender chicken is a tasty bite.
Total Time
3 hours
18 minutes
Ingredients
1 pound chicken breast, skinless and boneless, evenly cut into small cubes,
2 whole limes,, juiced
1 tablespoon lime zest
1/2 cup coconut milk
2 tablespoons ginger,, grated
2 cloves garlic, peeled and grated
2 tablespoon brown sugar
OPTIONAL TOPPINGS
2 tablespoon fresh cilantro, minced
1 tablespoon coconut flakes
Instructions
Cut Chicken into bite sized pieces, making sure they are all evenly cut. When grilling on a skewer it is VERY important to have the chicken all be the same size to ensure even cooking of all chicken.
Into a large ziplock back add the chicken, lime zest, lime juice, coconut milk, ginger, garlic, fish sauce and brown sugar. Seal bag bag with as little air in bag as possible. Mix to make sure all ingredients are combined. Place bag in fridge to marinate for at least 3 hours.
If using wooden skewers, be sure and soak them in water for an hour before threading the chicken onto them. This will prevent them from disintegrating on the flaming grill.
Remove chicken from Marinade, throwing away any excess. You don't need to dry off the chicken, just gently shaking the marinade excess away is good enough.
Feed chicken onto skewers allowing a small amount of room in-between each piece to allow for the flame to reach all parts of the chicken. It is better to have more skewers, than to pack them tightly onto them. Set
Brush or wipe with a paper towel your grill grates with oil. Alternatively you can use a spray oil, but be sure to do this with out the grill turned on to avoid being burned. Doing this helps the chicken not stick to the grill.
Once grates are treated, preheat grill to hot and flaming. Once grill is hot, place skewers on the grill with ample room in between each skewer to allow for even cooking (at least 3 inches in between. You will grill for about 5 -8 minutes per side turning once. If you have a particular hot area, watch them carefully. Some smoky charring in great for flavor, but you don't want them to burn completely. When grilling, do not leave the grill unattended. Flare-ups are common and you want to have even temperature cooking the entire time so you may need to move the skewers while cooking.
Once chicken is cooked, allow to rest for 5 minutes before trying to remove from the skewer. This will allow juices to settle back into the meat and allow the skewer to cool slightly before having to touch it.
Serve.
Nutrition Information:
Yield:
8
Serving Size:
8 appetizer portions
Amount Per Serving:
Calories:

126
Carbohydrates:

6g
Fiber:

1g
Sugar:

4g
Protein:

168g
SaveSave
SaveSave