This grilled Moroccan Chicken recipe is a healthy option for grilled chicken, comfort food spices flavor the tender chicken for easy, healthy entertaining.
Im always looking for flavorful foods that are somewhat healthy to be able to serve for company. These Grilled Moroccan Chicken Kebobs work beautifully and the fact that they are super easy to make and I can pretty much prepare them ahead of time up until the grilling makes them a natural choice for entertaining.
What is Moroccan Chicken?
Moroccan chicken is usually made in a stockpot by braising whole pieces of chicken for a long time with moroccan spices.
It can have the addition of fruits such as apricots, almonds and vegetables such as carrots, red peppers and zucchini in the braise.
The spices that are common to many Moroccan chicken recipes are cinnamon, paprika, turmeric, cumin and coriander.
Tips to consider when Making Moroccan Chicken Kebobs
Be sure and cut the chicken into equal sizes. This will allow for even cooking. If you have some pieces that are small and some large, the smaller ones will be dry and possibly burnt by the time the larger ones are cooked.





Marinate the chicken in the zip lock bag for a minimum of an hour. This allows the chicken to fully absorb a lot of the spice flavors. (you can leave them in the marinade for up to 24 hours.)

When you are placing the chicken onto the kebabs/skewers place them on gently and don't pack them too tightly.

A little space is ok (even better) but if they touch don't pack them super close. This is so the chicken can be touched by the heat.

If you pack them too tightly, its harder for the chicken to cook evenly.

I prefer metal skewers like these here on Amazon because I don't like to take the time to soak wood ones so they don't burn. But any skewer you have will work.
We have so many popular Chicken Recipes — Check them out here!
More Grilling Recipes you Might Enjoy
Love great flavors? Try these other recipes and Sauces for grilled Kebobs!
If you are looking for easy grilled recipes be sure and sign up for the mailing list here where you see "Join the West Via Midwest Community" Or pin this recipe to your grilling board so you have it when you are looking for things to grill!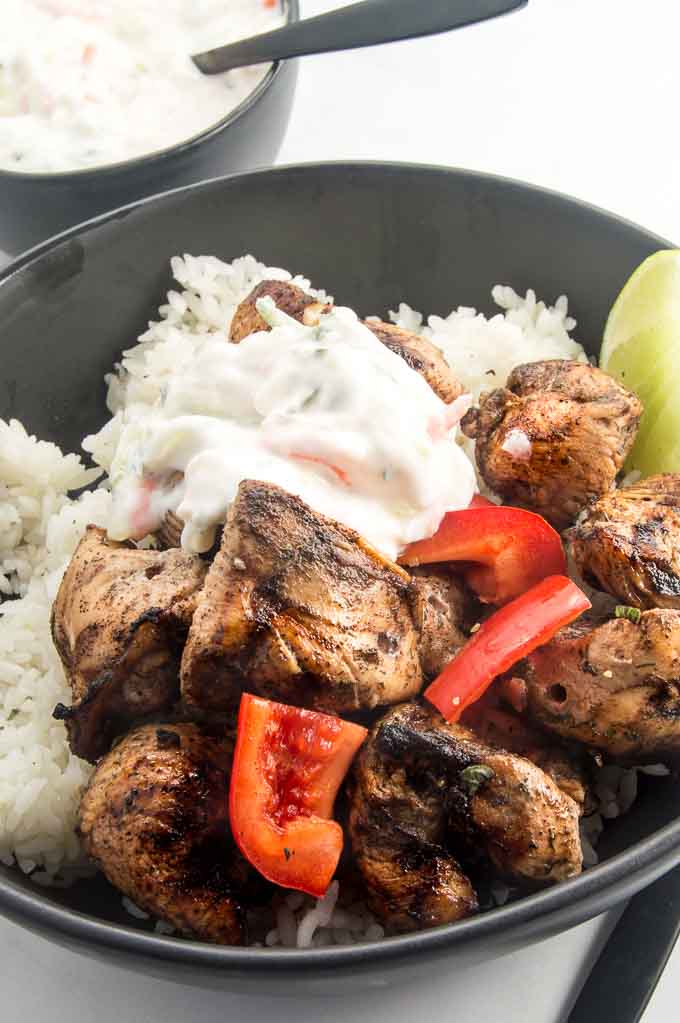 I'd love it if you enjoy this recipe if you'd comment and rate the recipe 5 stars in the recipe card. ⭐️⭐️⭐️⭐️⭐️
Hashtag any recipes you make from West Via Midwest #westviamidwestrecipes or tag me @michele_westviamidwest on Instagram to be featured on our stories!

Yield: 4
Grilled Moroccan Chicken Kebobs
This grilled Moroccan Chicken recipe is a healthy option for grilled chicken, comfort food spices flavor the tender chicken for easy, healthy entertaining.
Ingredients
2 pounds chicken breasts, skinless, boneless
1/4 cup olive oil
1 teaspoon salt
1 teaspoon brown sugar
1 teaspoon ginger, (fresh, grated)
3 cloves garlic, minced
1 teaspoon cumin
1/2 teaspoon coriander
1/2 teaspoon cinnamon
1/2 teaspoon cayenne pepper
Instructions
Cut chicken in to 2" cubes, making sure to cut them all equal in size so they cook evenly. Set aside.
Into a small bowl, combine all other ingredients and stir to mix well.
Into a large ziplock bag, pour bowl of spice/oil mixture. Then place chicken cubes into the bag.
Press all air from bag, then seal the bag. Move the seasoning all around once the bag is sealed so that all chicken is covered with the marinade.
Allow to marinate for at least an hour, up to 24 hours before grilling. (Leave in the fridge during this process.)
Preheat grill to medium high.
While grill is heating up, place chicken cubes onto skewers/kabob sticks. Do not over fill the kebob, you want there to be as much chicken area to be able to be exposed to the flame. The chicken can touch, but don't press it super tightly.
Place the skewers on the hot grill, leaving 2 inches in between the skewers. Watch for hotspot and keep the chicken from flame ups. Every grill heats to different temperature, but I grilled the kebobs for 7 minutes on one side, then 5 on the other. I always cut into a couple of pieces to make sure chicken is fully cooked and that there is no pink remaining.
Serve immediately. (Serving options, serve over rice or along side grilled vegetables. (This marinade also works well with veggies!)
Nutrition Information:
Yield:
4
Serving Size:
4 Servings
Amount Per Serving:
Calories:

273
Saturated Fat:

1g
Cholesterol:

145mg
Sodium:

855mg
Carbohydrates:

3g
Sugar:

1g
Protein:

48g
This site uses affiliate links, such as Amazon which pays this site a small commission if you purchase at no additional cost to you. As an Amazon Associate I earn from qualifying purchases. Read full info
here
.