This easy tomato galette recipe is a great way to use fresh sweet ripe tomatoes in season. Made with a rustic cornmeal crust as the tart shell, the tomatoes are tossed with goat cheese and herbs for a simple summer starter or main course.


One of my favorite things about summer is the fresh fruits and vegetables you can get. Today's recipe for a tomato tart uses the very much in season sweet tomatoes that are everywhere right now.
I love tomatoes as is evident at how often I serve this Fresh Tomato Buratta Salad in the summer. Fresh, juicy sweet tomatoes tossed simply with creamy burrata cheese, topped with crunchy croutons then drizzles with a little olive oil make for a wonderful salad.
But sometimes I like to bake the tomatoes in a crust so it's a little more filling.
I've taken it to potlucks and neighborhood BBQ's to rave reviews. My family loves it along side a steak dinner or with grilled shrimp skewers! I love it for a filling but still light lunch!
My vegetarian friends love it because it's filling enough for a main course when served along side a salad.
The galette, tart, crostata or what ever you want to call it is made with a cornmeal crust which is both light, flaky and has a small crunch to it. It's filled with freshly sliced tomatoes, tart goat cheese and herbs crumbled on top.
What is the difference between a galette, crostata and a tart?
What's a Galette?
A galette is a round cake of pastry and the word is used in France.
What's a Crostata?
A crostata is basically the same thing (a round open faced disk) but the word is used in Italian cooking.
Both of them are usually filled with fruit in the center.
What the galette and crostata have in common is that they are rustic and are free-formed into a shape around the filling.
What's a Tart?
A tart is different than a galette and crostata in that it is made in a fluted edge tin that has a removable bottom. (You can see an example of the one I own here.) I highly recommend if you want one you get one that is nonstick — it will make your life so much easier!
A tart looks much more uniform and the fluted edges are a beautiful presentation!
All of those pesky literal translations but the bottom line… a savory tomato in pastry is a delicious way to make use of all of the tomatoes that are available this time of year.

Tomato Goat Cheese Tart Ingredients
Tomatoes
Honey Goat Cheese
Fresh Basil
The best thing about this easy tomato galette is that it has such a few amount of ingredients.
For the tomatoes buy what you like. Heirloom tomatoes, roma tomatoes, beefsteak, cherry tomatoes, grape tomatoes, even big boy tomatoes will work in this savory tomato recipe.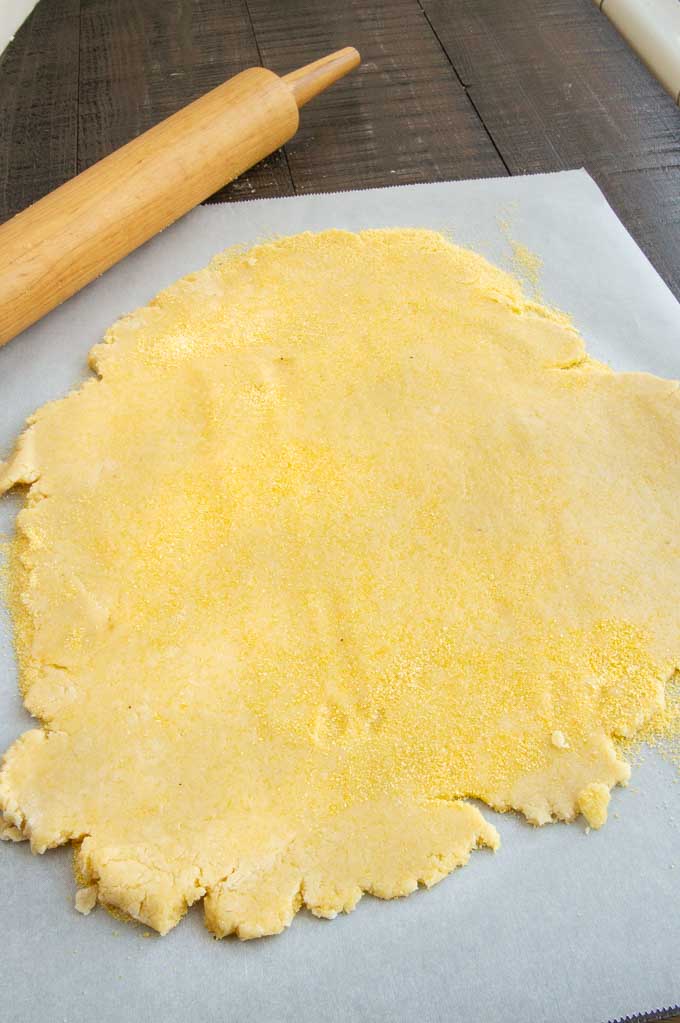 Tips to make the Tomato Galette
Roll the crust to 1/4 inch thickness. It will bake and have a nice crunch on the edges, but still flake and be super light.
I mix up the kinds of tomatoes in the tart; buying whatever looks the best, the right ripeness and mix and match them..
Cutting the tomato slices to an even thickness is helpful when baking to achieve an equal texture throughout.
Laying the tomato slices onto paper towels give the juices a place to drain. It makes clean up easy!
Generously season the tomatoes with salt to release even more of the juices while they rest.
Leave a border of at least 2 inches so you can fold the crust back. This helps keep any juices from leaking out too!
Break the goat cheese into pea size crumbles so every bite can have a piece of cheese in it.
Common Questions with this Savory Galette Recipe:
Can I use a regular pie crust with this galette? Absolutely you can use a home pie crust or a store-bought crust for a tomato tart recipe. You might need to make two of them since store bought crusts tend to be smaller.
I don't like goat cheese is there a substitute I could use? If you want to sub the cheese you can use any creamy cheese like a ricotta or a cream cheese. This savory tart would also work with mozzarella or gouda.
Can I use puff pastry for the crust? Yes, the flakiness of a puff pastry would be lovely with the fresh tomatoes and cheese. I would brush the bottom of tart with a little melted butter before placing the tomatoes on though! Follow the instructions on the box for how long to bake it.
My crust broke/tore as I was folding it, what did I do wrong? Absolutely nothing wrong, the cornmeal crust is prone to tearing. Just pinch it to seal and move on. It's a rustic tart it need not be perfect!

More Fresh Tomato Recipes you might enjoy!
FREE TIPS FOR ENTERTAINING WITH EASE AND FUN DELICIOUS RECIPES WHEN YOU SIGN UP FOR THE MAILING LIST BELOW THE RECIPE!
Hashtag any recipes you make from West Via Midwest #westviamidwestrecipes or tag me @michele_westviamidwest on Instagram to be featured on our stories!

Yield: 8 slices (smaller) 4 dinner 9 appetizer portions
Tomato Galette Recipe (crostata, tart)
This easy tomato tart recipe is a great way to use fresh sweet ripe tomatoes in season. Made with a rustic cornmeal crust as the tart shell, the tomatoes are tossed with goat cheese and herbs for a simple summer starter or main course.
Additional Time
30 minutes
Total Time
1 hour
20 minutes
Ingredients
3 pounds of tomatoes
6 ounces Honey Goat Cheese
1 Tablespoon Basil, chiffonade
1 Tablespoon Olive Oil
Salt
Instructions
Rinse tomatoes and slice them into 1/3" slices. If using bite sized tomatoes just cut them in half.
Take a bunch of paper towels and place them on a cookie sheet. Lay the tomatoes in a single layer onto the papertowels. Sprinkle generously with salt to help release the juices.
Let the tomatoes rest for 30 minutes.
While the tomatoes are resting, make your cornmeal crust. (see notes about substitutions.)
Preheat oven to 400°
Roll out the crust to 1/4" thickness. Don't worry about it being perfectly round, the beauty of a galette is letting it be rustic.
After the tomatoes juices have had a chance to drail, place the tomatoes on the rolled out crust, leaving about a 2" border.
Then sprinkle the goat cheese over the top of the tomatoes.
Gently fold over the edges forming a rough edge. The crust may break, simply patch it and move on--- it's not a problem.
Drizzle the olive oil over the top of the tomatoes.
Bake for 40-45 minutes until the crust is done.
Let rest for 15 minutes.
Sprinkle the basil on just before serving.
Can be baked ahead and served at room temperature too.
Notes
Don't have time to make a cornmeal crust? No Problem, buy a store bought crust then sprinkle 1-2 tablespoons onto the crust before layering on the tomatoes. It will help absorb any remaining juices to help avoid soggy bottom crust at the center.
Nutrition Information:
Yield:
8
Serving Size:
1
Amount Per Serving:
Calories:

175
Total Fat:

3g
Saturated Fat:

1g
Trans Fat:

0g
Unsaturated Fat:

2g
Cholesterol:

2mg
Sodium:

104mg
Carbohydrates:

36g
Fiber:

3g
Sugar:

22g
Protein:

3g
This recipe was calculated using the exact brands and measurements I used to make this recipe. If you are following a strict diet please note changing anything will cause the nutritional info to change. Please calculate your own nutritional information if you want it exact to what you make and use my calculations as a guide only.