This easy cornmeal crust comes together in minutes and gives a rustic looking crust for pies, quiches, tarts, galettes and crostatas. Perfect for savory dishes like tomato galettes or for pie crusts that you would like a light yet with a small crunch.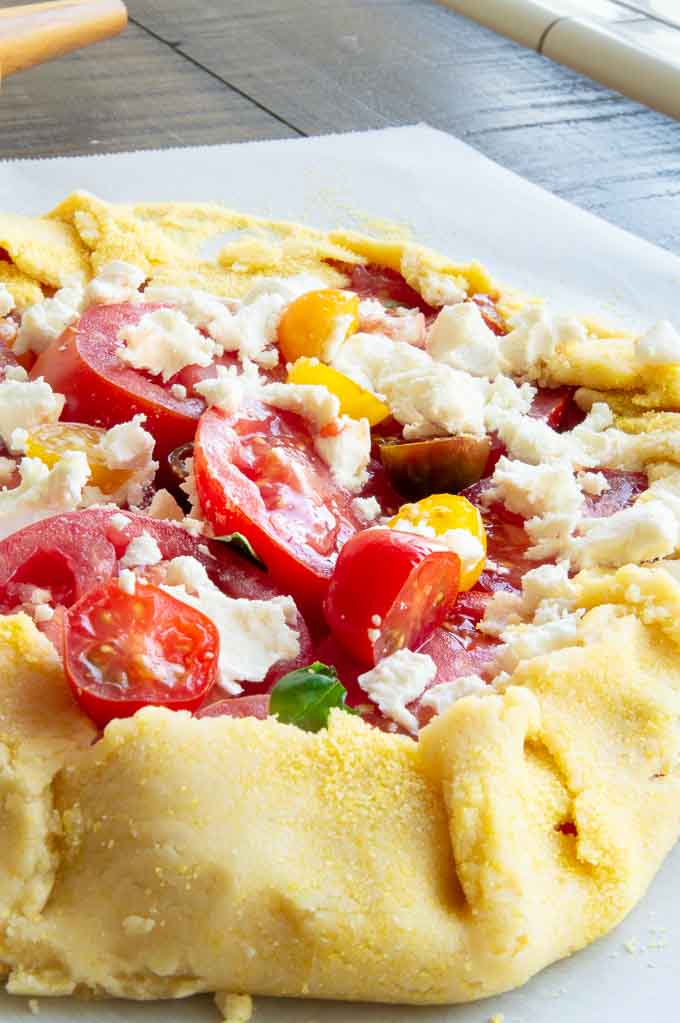 I love all pie kinds of pie crusts. I use my grandma's homemade pie crust recipe all the time. But sometimes you want something that's a little bit different. This recipe for an easy cornmeal crust is one I use for those occasions.
Cornmeal crust is still light, but it has a small crunch when you bite into it. It's delicate and rustic all at the same time.
The cornmeal crust can be used for all sorts of things. Crostatas with summer tomatoes and cheeses, quiche recipes that you want a little bit heartier bite with and tarts that you want a little crunch in.
Galettes and Crostatas are pie crusts that are a little more rustic and are usually not baked in a pie pan. They are often free-formed on their own by hand and have the edges rolled around the fruit/vegetable filling center.
Cornmeal crusts can be used on many tarts that call for a puff pastry crust if you don't have one on hand. The pastry is handy but this cornmeal flour crust you can whip together in 10 minutes and chill so you don't have to go shop for puff pastry.
Pie crusts with flour are delicate, light and flaky. Crusts with added cornmeal are a little bit heartier, yet light enough they still crumble a bit when biting into them.
Not only is the texture of a cornmeal galette a nice change, but it also helps if you have something that is super juicy to avoid soggy bottom pies.
What is cornmeal?
Cornmeal is a meal made from dried corn that is made by grinding down the corn. It can be made into several weights or consistencies: Fine, Medium and Coarse.
Cornmeal is often used in cornbreads or dusting pizzas and other baked items to help them not stick when cooking/baking. Being made from corn there is a natural sweetness to whatever it is added to.

What ingredients are in a Cornmeal Galette, Crust or Crostata
All-Purpose Flour
Cornmeal (medium or coarse grind)
Butter
Salt
Sugar
Olive Oil
Ice Cold Water


How to make a cornmeal crust
Making a cornmeal crust is very similar to making a regular pie crust with just a few other ingredients.
Start by mixing all of the dry ingredients flour, cornmeal, sugar and salt into a small bowl. I use a whisk to evenly incorporate all of the ingredients.
Use chilled butter in small tablespoon pieces. Using your hands you'll want to make a coarse meal with some small pea-size or pebble-sized pieces. You can also use a pastry blender to cut in the butter.
Next, you'll add the olive oil and mix in with a wooden spoon.
Lastly adding the ice water one tablespoon at a time to get the dough until just combined. There might be some pieces with flour mixture not totally wet which is fine. It will totally blend when rolled out after chilling, you don't want to over mix it or the dough will get tough.
Chill for an hour after wrapping in plastic so the smells from your fridge don't flavor the dough before rolling it out.
Roll out parchment paper then top with a dusting of additional cornmeal so the dough doesn't stick to the paper. Rolling the dough to 1/4″ thickness is just the right thickness for the perfect crunchy yet still tender bite! ** learn from my trial and error of forgetting to dust the paper… it becomes a sticky mess to get the rolled out dough if you don't do this step!
Once rolled out, place the crunchy crust in a pie pan or make it free form and place it on a cornmeal-dusted baking sheet.
Common Questions making Cornmeal Pastry
What is the best kind of cornmeal to use for crusts? Feel free to use the medium or coarse ground cornmeal for pie crusts. The fine works but the crunch is not as apparent.
I don't have olive oil can I use something else in the pie crust? Most oils will work just avoid things that are very pungent for your pie crust. I've used coconut oil, canola oil and corn oil with success. I would avoid strong oils such as peanut and sesame for most crusts.
How long do I bake this if I want to sub it for a recipe using puff pastry? Bake 400° for 30 minutes until the crust is golden brown and flaky if using cornmeal pastry instead of store-bought puff pastry. Start peeking in the oven at 15 minutes and flip the pan from front to back to get even coloring.
Can I make a crust in a food processor? You absolutely can make this cornmeal crust in the food processor. Start by adding the dry ingredients and pulse for 15-second increments twice. Then add the butter and pulse for 15 seconds several times until coarse and mealy. While the machine is running add the olive oil for 30 seconds and mixed. Finally, add the water 1 tablespoon at a time and pulse for 10 seconds twice. Wrap in plastic and chill for one hour.
How many crusts does this recipe make? This cornmeal pie crust recipe makes one pie crust. The recipe can be doubled if you need two of them!
---
PRO TIP: This crust is very prone to tearing when you are working with it. Keeping it cold helps avoid that, but when it happens don't fret. You can pinch it back together easily — it's called rustic for a reason!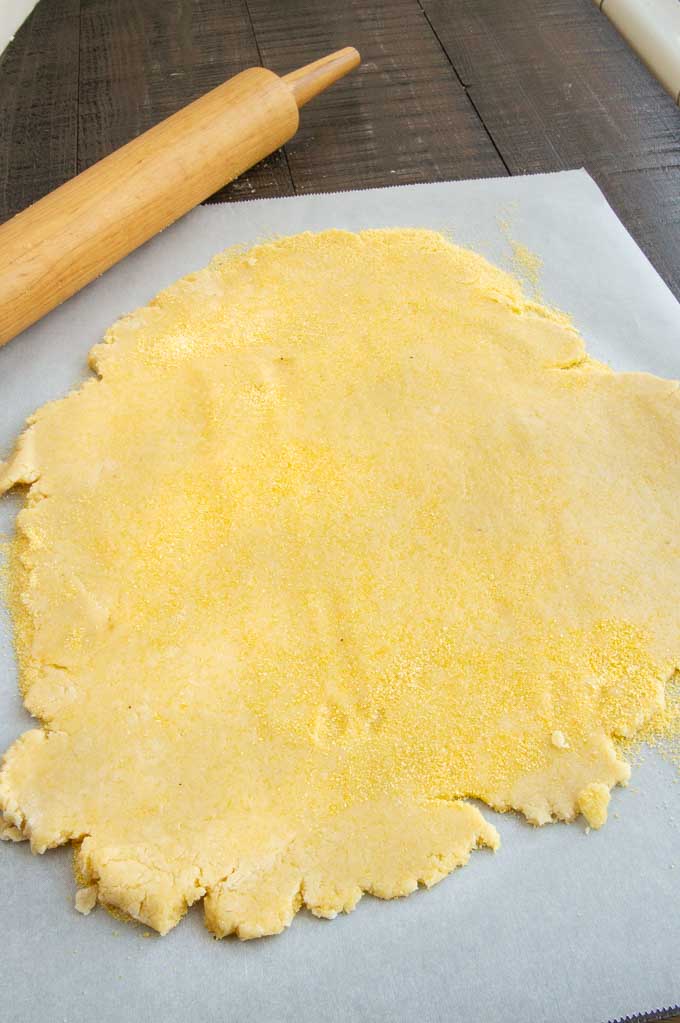 Recipes that are perfect to use a Cornmeal Crust
FREE TIPS FOR ENTERTAINING WITH EASE AND FUN DELICIOUS RECIPES WHEN YOU SIGN UP FOR THE MAILING LIST BELOW THE RECIPE!
Yield: 1 11" in diameter crust
Easy Cornmeal Crust for Pies, Galettes and Crostatas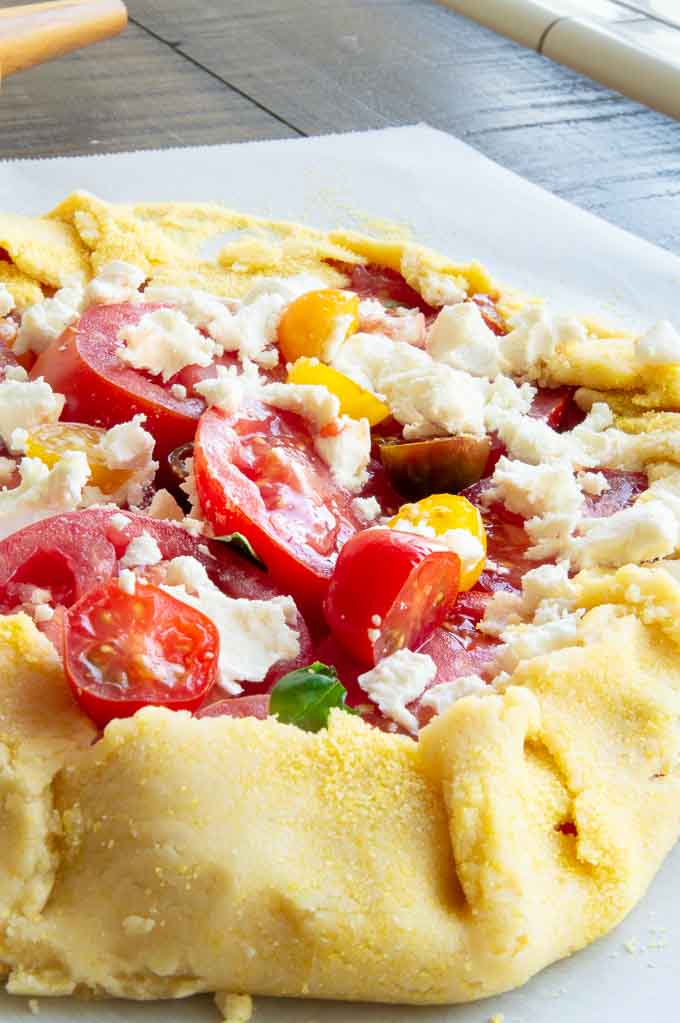 This easy cornmeal crust comes together in minutes and gives a rustic looking crust for pies, quiches, tarts, galettes and crostatas. Perfect for savory dishes like tomato galettes or for pie crusts that you would like light, but crunchy bite with.
Total Time
1 hour
10 minutes
Ingredients
1 1/3 Cup All Purpose Flour
1/3 Cup Cornmeal/medium or coarse grind)
1 Teaspoon Sugar
1 1/4 Teaspoon Salt
6 Tablespoons Butter
3 Tablespoons Olive Oil
2 Ounces Ice Cold Water
2-3 Tablespoons Cornmeal to prevent sticking when rolling out.
Instructions
Place flour, cornmeal, salt and sugar into a bowl.
Using a whisk, mix until well combined
Add butter. Using your hands mix into dry mix, the mixture will be someone mealy looking at this point.
Add olive oil and stir until combined. There will be areas that arent completely combined, don't worry. When you add the water it will meld.
Add as much of the ice cold water to have the dough stick together. It may seem a little stringy at this point but it is fine.
Form into a ball and place in the fridge for 30 mins to an 1 hour until chilled.
Onto a peice of parchment paper, sprinkle a little bit of cornmeal.
Place chilled dough ball into the center and then dust a rolling pin with a little cornmeal as well.
Roll dough out to 1/4" thickness. If the dough starts to stick, sprinkle a little bit more cornmeal on top.
Bake and use according to your gallete, tart, crust or quiche recipe dictates.
You can make this ahead and chill up to 3 days.
Notes
This recipe is based on David Lebovits's recipe in Fine Cooking. Small adaptations were made.
The crust is very delicate and may tear. It's called a rustic dough for a reason! Simply patch/pinch it back together and keep moving.
Nutrition Information:
Yield:
6
Serving Size:
1
Amount Per Serving:
Calories:

279
Total Fat:

19g
Saturated Fat:

8g
Trans Fat:

0g
Unsaturated Fat:

9g
Cholesterol:

31mg
Sodium:

536mg
Carbohydrates:

25g
Fiber:

1g
Sugar:

1g
Protein:

3g
This recipe was calculated using the exact brands and measurements I used to make this recipe. If you are following a strict diet please note changing anything will cause the nutritional info to change. Please calculate your own nutritional information if you want it exact to what you make and use my calculations as a guide only.