It's getting warmer and you need a drink fitting for summer BBQ season! This frozen rum drink is an Icy Rum Slush that you can make in the freezer overnight that's refreshing and thirst-quenching!
Cue the Happy dance, pool parties and great weather~~~ Summer is in full bloom, which means its time for the Icy Rum slush, a frozen rum slush drink that will be the hit of any summer bbq you have!
Made with just a few ingredients, lemonade, limeade and rum this cocktail is one my mom used to make every summer for parties. Even as a child before it was legal we could have a couple of spoonfuls of the icy frozen drink and as we became of age she would serve them along with appetizers when we'd be by in the summer. (Try them with this crack dip for a simple evening with company!)
It's a perfect drink for hot weather, it's refreshing, tangy and just what getting together with friends calls for to get off on the right foot. I mean what could be better than a boozy slushy to enjoy after a long day in the heat!
It does take a night in the freezer to make, you could drink it right away but by prepping it ahead, mini ice crystals form giving you a refreshingly cold drink without any ice watering down the cocktail.
It whips up in a jiffy, and you can make it really far in advance as well if you like to have a cocktail ready in case someone stops by at the last minute.
Literally you just mix all the ingredients together, pour them into a shallow pan and cover. You then stir the concoction after 24 hours and then again at 48 hours. Alcohol won't freeze, but everything else in this drink does so the drink is a soft shaved ice texture. Yum!
Variations on Icy Rum slushes
ALCOHOL OPTIONS: My mom always made this with rum, any rum will do but white rum will give a whiter boozy cocktail and a golden one will be more yellow. If you are using grenadine to make them pink, use white rum for a prettier slushy!
You can also use vodka instead of rum for the same effect and great tasting frozen drink. If you have a gin lover, it will work, but it's a much stronger tasting frozen drink with gin.
FLAVOR OPTIONS: Adding grenadine will add a nice pink color and a slight cherry flavor for more of a pink lemonade icy rum slush! (see photo below!)
NON ALCOHOLIC OPTION: This doesn't work for those that don't want alcohol because the beauty of this drink is that the alcohol not freezing gives it the great soft ice texture. Serve lemonade/limeade over crushed ice for those that prefer a virgin cocktail.
---
---
ENTERTAINING TIPS
---
---
SERVING SUGGESTIONS: Pool Party, Hot Summer evening after a long day of work.
TIMING: 24 hours minimum, but can hold for a couple of weeks in the fridge in a sealed container if you stir it occasionally. (Trust me though, they're hard to keep because they are so refreshing and delicious!) Take the pressure off the day of the party and make them ahead!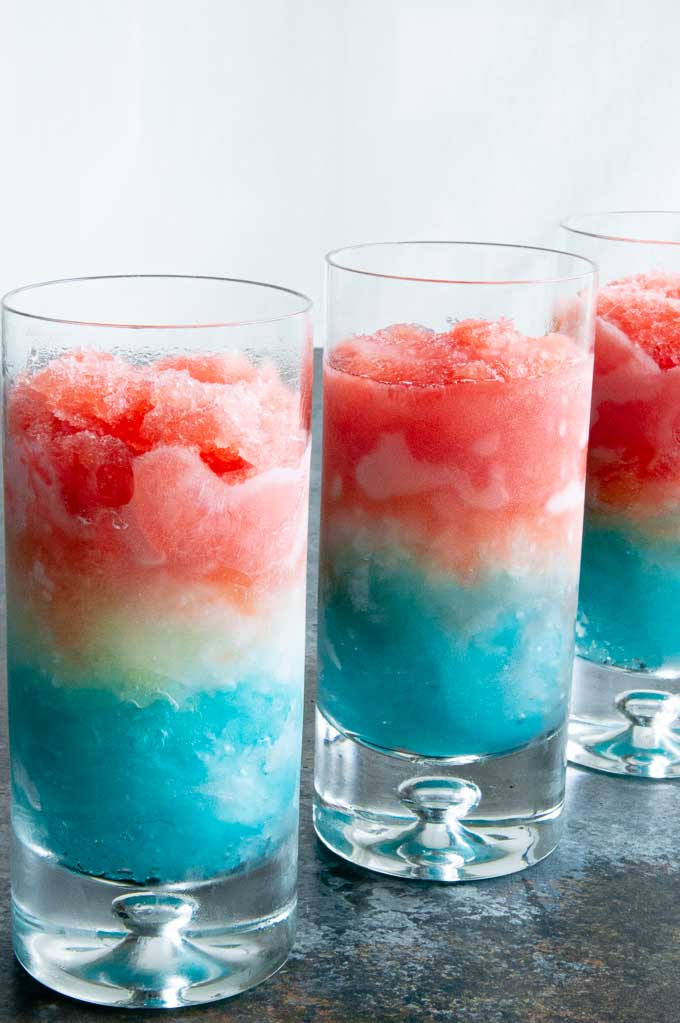 This icy rum slush can also be made into layers like I share here in this Red, White and Blue drink for the Fourth of July!
---
---
Pin this to your Summer Entertaining Ideas Board! Lets Be Friends …. follow me on Pinterest for more ideas for stress free entertaining with confidence!
---
---
~ Instagram ~Pinterest~ Twitter~Facebook ~
---
---
Yield: 8
Icy Rum Slush Cocktail
A summer bbq signature drink! This frozen rum drink is an Icy Rum Slush that you can make in the freezer overnight thats refreshing and thirst quenching! #summercocktails #frozenslushy #slushies #boozycocktail
Ingredients
2 - 12 ounce cans of frozen Limeade, thawed
2 - 12 ounce cans of frozen Lemonade, thawed
8 ounces of Grenadine, see notes
48 ounces of Cold Water
25 ounces of White Rum, Bacardi
Instructions
minutes before mixing together remove the cans of limeade and lemonade from the freezer and allow to thaw to almost all liquid.
Mix all ingredients in a large bowl or pitcher.
Pour into 2 clean 9 X 13 pans. (any size pans will work, just make sure what ever size you use will fit into your freezer easily.) (see notes)
Cover with plastic wrap or foil.
Place in freezer for 12 hours, then scrape up with a spoon. Stir again at 24 hours.
Remove from freezer using a spoon to create the icy texture of shaved ice.
Spoon icy slush into glasses and serve with a lime wedge or a cherry.
Notes
The grenadine makes your drink a pretty pink color. In my pictures I omitted the grenadine in half of the mixture to get a green color.
The size of the pan is more dictated by your freezer space. Make sure to clear off a shelf before you're ready to place it the freezer to avoid spilling. I usually use 2-3 pans and double the recipe because it goes so quickly when I make it.
If you are short on time, you can use several pans. A smaller thinner amount in the pan means it freezes quicker.
Nutrition Information:
Yield:
8
Serving Size:
8 Servings
Amount Per Serving:
Calories:

280
Sodium:

8mg
Carbohydrates:

18g
Sugar:

13g
SaveSave
SaveSave
SaveSave
SaveSave
SaveSave
SaveSave
SaveSave
SaveSave
SaveSave