---
This Cajun Shrimp Mac and Cheese uses all the cajun spices you love to your Mac and cheese sauce and gives loads of added flavor to a comfort food Classic.
If you love shrimp and pasta like this one you'll also want to try our Spicy Asiago Shrimp Mac n Cheese Recipe! More succulent shrimp and spicy sauce you'll LOVE!
Cajun Shrimp Mac and Cheese is a spicier version of your traditional macaroni and cheese. Made in the same way my most popular pasta post Gouda Mac and Cheese is made but with a few simple additions! It takes less than 30 mins to have a comfort food meal on the table everyone will love!
We have two dachshunds and we're really close to our Vet from taking them to him for so many years. We joke all the time that our puppies live a nicer life than some people we know!
We found out late last year our Vet was a total foodie and loves to try new foods and restaurants! We've been trying to go to all the restaurants here in Los Angeles that are either local landmarks or places that Guy Fieri has been to that are nearby.
(side note—I have been to over 20 places that Guy has recommended and honestly I have enjoyed every single one of them. The man is nothing but spot-on for delicious, comfort food dining!)
He mentioned a place that specializes in Cajun Mac n Cheese that we needed to add to our list of places to go. The irony was that his suggestion came right after I had posted my recipe for Homemade Cajun Seasoning Recipe and it got me thinking why don't I try making it myself.
This cajun pasta recipe will make you the most popular person when you take it to a company potluck or neighborhood bbq.
Love Macaroni & Cheese? We have so many variations to choose from here!
The Gouda Cheese sauce is so creamy but has so much flavor with the cajun spices everyone will beg you for the recipe! (true story– I've never made it without being asked for it!)
What is in cajun style foods?
seafood
shrimp
oysters
crayfish
sausages
hot sauce
Cajun seasonings

paprika
onion powder
garlic powder
cayenne pepper
oregano
celery salt
pepper

hot sauce
Cajun seasoning is easily made with spices and seasoning you have in your pantry. It is easily adaptable to accommodate your heat level tolerance. I make a big batch and then store it in my pantry to be able to amp up the flavor of many dishes.
The cajun seasoning mix works beautifully in this dish because it adds a smoky, spicy flavor that compliments the flavor of the gouda and cheddar cheese sauce. By adding it into the cheese sauce you get a creamy velvety sauce in every bite.
If you've got company that likes it even spicer you can serve the seasoning mix in a small bowl along with the dish to sprinkle over the top for amped-up flavorings.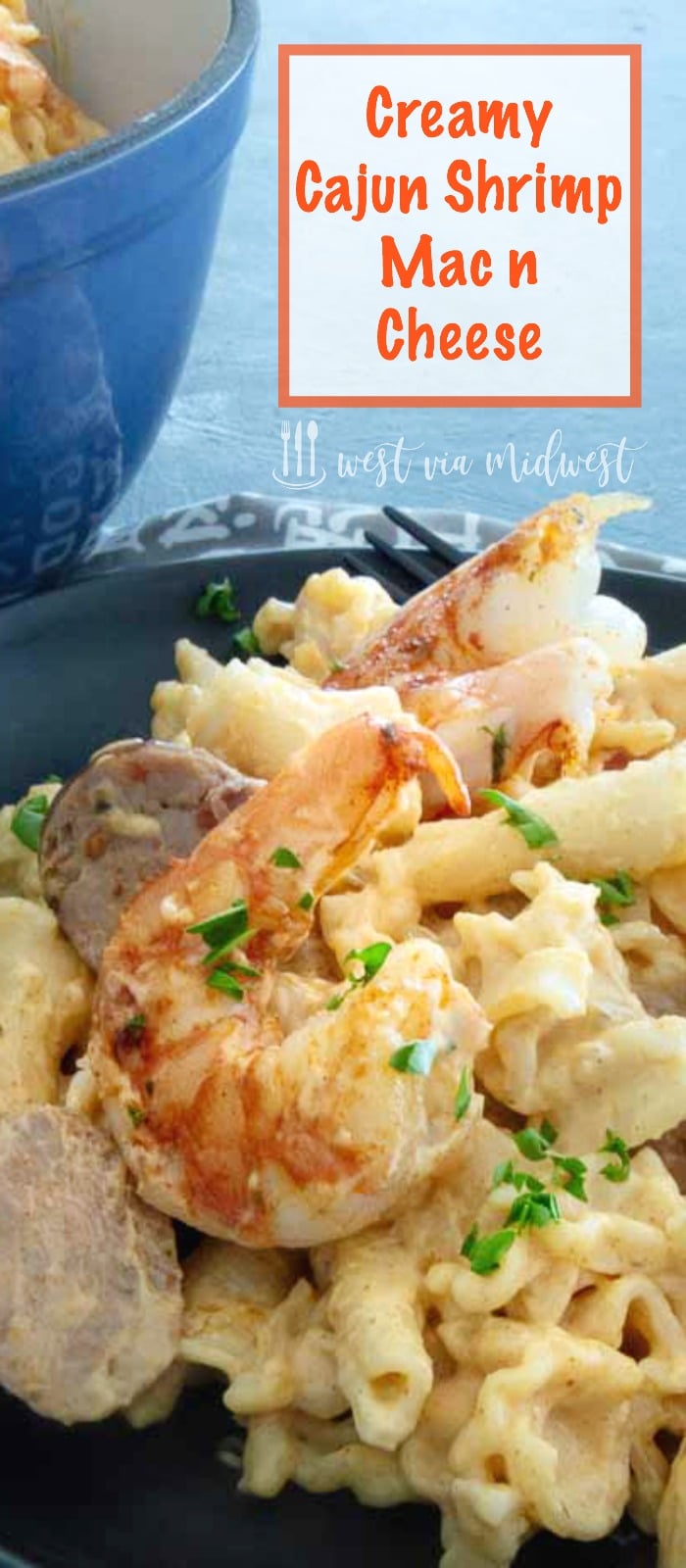 How to make Cajun Shrimp Pasta?
Start by making a cajun seasoning spice mix. My easy recipe with ingredients from your pantry is here, but you can also use your favorite store-bought seasoning.
You'll want to select a pasta that is able to hold a lot of the gouda cheese sauce in all of the crevices. Pasta shapes like the one I have pictured, rigatoni, penne and even shells work well to grab all that sauce for full flavor in each bite.
In my book, the more creamy, velvety, thick cajun cheese sauce in each bite the better my cajun shrimp pasta will be.
You can use spaghetti or linguini in a pinch, but the cheese sauce tends to fall to the bottom of your plate so I try to stay away from using those.
Be sure and cook the pasta to al dente. Al dente means that it still has a small bite to it and is not fully softened. If you overcook your pasta it will become extremely mushy when its added to the sauce.
---
---
PRO TIPS FOR COOKING JUICY SAUSAGES:
First, brown the edges of the sausages to get a nice caramelized flavor and appearance. You don't have to worry about cooking it thru at this point because once all of the sides of the andouille sausage are golden brown you will add about a cup of beer to steam/cook the sausages throughout.
No dried out insides when you cover the sausages and let them continue cooking when there is liquid there to absorb back into the sausages.
Allowing the sausage to cool a little while you cook the shrimp and make the sauce will make for easy cutting of the sausage. By waiting to cut the andouille sausage until its cooled you'll avoid burning yourself and be able to keep all of the juices inside the meat.
Cut the sausages in a 1/4″ diagonal will give you nice bite-sized pieces to toss among the cajun pasta. An added bonus is that these smaller pieces make sure that every single bite of this cajun pasta recipe will have a bite of sausage or shrimp in it!
Cook the shrimp but before you do you'll want to coat the shrimp in some of the cajun seasoning mix. This gives a nice crust and adds a spicy flavor to the shrimp. You'll cook them super quickly and pull them out really quickly, even having them be slightly undercooked.
The shrimp continues to cook even when it's out of the pan so don't worry that you'll be having raw shrimp.
The cheese sauce is so flavorful and is nice and thick but still easily pourable. By making a roux with flour and butter to thicken the milk/cheese sauce and then adding the cajun/creole seasoning you really taste the cajun flavors.
Smoky, spicy, cheesy, velvety all rolled together make for every single forkful one delicious mouthwatering bite!
Substitutions for Cajun Shrimp Mac and Cheese
Can you use any other cheese besides gouda? Yes absolutely. Cheddar, mozzarella, gruyere Colby Jack, Colby, or any hard cheese that you can freshly grate.
Can you use pre-shredded cheese in a creamy Gouda Cheese sauce? I suggest that you not. They add a coating to those to prevent clumping which also prevents the cheese from completely melting. In some brands, there is a very powdery, flat taste to them. Grating cheese takes just a few minutes and is well worth the effort.
Will any sausage work in cajun foods? Yes, by all means, use whatever sausage you like!
Can you omit the beer? You can use water or a cup of vegetable broth without any issue. I like the flavor the beer imparts but it's by no means a deal-breaker!
Can you make this ahead? Yes, Mac n cheese is easily made ahead and served later!
You might have to add a little milk to the cajun Mac and cheese to get it to the just-cooked texture. Place the cajun pasta in a stockpot, add milk 1/2 cup to start and turn the heat to medium-high. Heat until hot throughout!
---
---
Pin this to your Easy Meals for Entertaining on Pinterest! Let's Be Friends …. follow me on Pinterest for more ideas for stress-free entertaining with confidence!
---
---
~ Instagram ~Pinterest~ Twitter~Facebook ~
---
---
Looking for more cajun/creole style recipes?
More Gouda Cheese Recipes
More Creamy, delicious recipes with sauces!
Yield: 8
Cajun Shrimp Mac n Cheese : Cajun Shrimp Pasta
This Cajun Shrimp Mac and Cheese uses all the cajun spices you love in your Mac and cheese sauce that gives loads of added flavor to a comfort food Classic.
Ingredients
1 lb pasta
1 tsp salt
4 tbsp salted butter
6 tbsp All purpose flour
1.5 cups Gouda Cheese , freshly grated
1 cup cheddar cheese, freshly grated
3-4 tablespoons homemade Cajun seasoning mix, mild 2 tablespoons, medium 4 tablespoons total
3 cups Milk, preferably whole
1 pound andouille sausage
1 cup beer
1 pound large shrimp, peeled and deveined
1 teaspoon olive oil
Instructions
Fill a stockpot with water, add salt and bring to a rolling boil.
Once water is boiling, add pasta and cook to package instructions. Do not overcook. You want the pasta to be al dente... not mushy.
When pasta is done, drain and set stockpot aside.
While pasta is cooking in a small bowl add one tablespoon of cajun seasoning to shrimp and mix well.
Heat a skillet to high, add one teaspoon olive oil, swirl to cover the bottom of the pan. Add shrimp and cook until almost opaque (not clear) This should be about 1- 1.5 mins per side. Remove shrimp from skillet and set aside. ** see note 1
Add sausages to pan and sear all edges to get nice golden caramelized edges all around. Then add beer then let the beer finish bubbling up and come to a rest. Reduce heat to medium high and cover with a lid and cook for about 8 minutes until insides are cooked thru. Once sausage cools a few minutes cut the sausage into 1/4" diagonal slices and set aside. See note 2.
In a separate sauce pan, melt the butter on medium high heat.
Once the butter is completely melted, add the flour and whisk until completely combined. Allow flour to cook for 60-90 seconds to allow the nutty flavor of the flour to come out.
Add 2-3 tablespoons cajun seasoning mix to flour and mix well.
While whisking the flour/butter/spice mixture add milk 1/2 cup at a time . The first couple of times you add the liquid, it will take quite a bit of whisking to get it to incorporate. Continue this until all milk has been added.
Continue to stir the milk/flour mixture until the milk thickens. You will know when it is time to add the cheeses when you run your finger on the back of a coated spoon and the milk/flour mixture holds the position. (
Once the liquid has thickened add all cheeses stirring until well combined.
Once cheese is fully incorporated and fully melted, pour over the top of cooked pasta and stir to blend well.
Add shrimp and sausage and stir.
Serve immediately. See note 3 for reheating instructions.
Notes
1. Dont worry that shrimp is slightly seethrough. It will continue to cook after removing from the heat and then again when stirred into the cajun cheese sauce.
2. I prefer a lager beer, but use whatever you like to drink. If you dont want to use alcohol, use a cup of water instead.
3. If making this a day ahead or have leftovers and want to reheat, you will want to add a small amount of milk and warm over medium heat until warmed throughout before serving.
Nutrition Information:
Yield:
8
Serving Size:
8 Servings
Amount Per Serving:
Calories:

613
Total Fat:

36g
Saturated Fat:

17g
Trans Fat:

1g
Unsaturated Fat:

15g
Cholesterol:

215mg
Sodium:

3289mg
Carbohydrates:

32g
Fiber:

2g
Sugar:

2g
Protein:

36g
This recipe was calculated using the exact brands and measurements I used to make this recipe. If you are following a strict diet please note changing anything will cause the nutritional info to change. Please calculate your own nutritional information if you want it exact to what you make and use my calculations as a guide only.