Moroccan Rice Pilaf: Fragrant, Fluffy and Delicious: Super easy to make with fall harvest flavors and impressive enough your guests will love it as a side dish for any holiday party!
Moroccan Rice Pilaf is a fragrant rice dish that is excellent for any entertaining. Its very filling so its ideal for serving guests so they walk away completely full and content. It's also a nicely seasoned rice recipe that provides a tasty option for your friends that are GF, DF, and V. To top it all off it's easy to make which is always a winner in my book!
There is a LOT of information in this post so you can make some substitutions successfully and how to make it completely your own but if you just want the recipe as listed by all means scroll down directly to the recipe below!
There are several things that go into making a rice pilaf successful. It starts with how fragrant everything is and how you go about each step in your preparation.
The best part is this recipe is completely flexible. You can use the rice, berries, dried fruits, nuts and flavor additions that you enjoy.
What is the difference in all the varieties of rice and what works best for rice pilaf recipes
While there are many kinds of rice in the market there are 8 common, recognizable rice varieties. They tend to be classified by their length of grain and the finished texture, bite and whether it sticks together or is stays more individual.
I know 8 is a lot, but I promise you've probably had most of them and nothing is totally weird.
White Rice – all-purpose long grain rice cooked in liquid in a rice maker, stovetop or in the oven. When cooked it tends to be tender, not stick together and fluffy. Ideal uses: plain, seasoned rice or for a pilaf.
Brown Rice– same rice as white rice but the whole grain version. Bran and germ left on for a nuttier flavor. Cooked in boiling liquid mostly, sometimes using more water than necessary and drained off for perfect consistency in all grains. Ideal uses: on its own, in pilaf's, healthier choice recipes and when you want a nuttier flavor to your rice.
Basmati Rice- long grain rice with a nutty flavor, doesn't stick together, firmer texture than white rice. Soaking rice before cooking removes starch and allows even cooking. Ideal uses: pilaf, curry rice, often used in Indian recipes.
Jasmine Rice– originally long grain rice grown in Thailand, floral like flavor, soft stickier texture. Very starchy so it needs to be rinsed before cooking in a pot. Ideal uses: Southeast Asian recipes, great for fried rice.
Japanese Rice– medium grain sticky rice used most often in sushi. (Not to be confused with sticky rice that has rice vinegar in it to make it stickier) Ideal uses: Sushi, under poke bowls and with Japanese foods.
Paella Rice– Medium grain rice that absorbs lots of liquid yet doesn't get sticky. Great for getting very flavorful rice. Ideal uses: Spanish Paella dishes.
Arborio Rice- Short grain rice used in Italian risotto's. Squat fat grains have a starch called Amyplpectin that gives risotto its very recognizable creamy texture. Its cooked by adding boiling liquid in small amounts at a time to get a firm, al dente texture. Ideal uses: risotto.
Wild Rice– Technically wild rice is NOT a rice. It's actually a seed of grass that's deep dark color and finishes chewy and tastes very nutty. It takes longer to cook than other rices. Most wild rice today in stores isn't really grown wild, although in some places like northern MN you can find true rice grown in the wild for sale. Ideal uses: Great on its own, in mixed blends and pilafs.
Check out all of our EASY SIDE DISHES here!
What can go into a rice pilaf?
Use your imagination. You can mix your rice, use your favorite vegetables the possibilities are endless. I love the Moroccan rice pilaf flavors with the subtle heat and underlying sweetness but you can easily customize your rice pilaf recipe.
rice

white rice
brown rice
wild rice
basmati
medley of rices mixed together

butternut squash
kale
apples
dried fruits
dried cranberries
dried blueberries
raisins
currents
figs
walnuts
almonds
carrots
aromatics

cinnamon
cardamom
sage
nutmeg
Tips for Making Successful Fluffy Fragrant Rice Pilaf:
Sauté the veggies to get some color and begin the caramelization process.
Once the veggies are softened and colored, you add in the spices to really add another layer of flavor to the vegetables.
You then add the rice and stir it frequently to do two things. Coating the rice with oil prevents it from sticking together when it's cooking (fluffier) and as you are cooking it you are bringing out the nuttiness of the rice. (Yes, another flavor layer.)
More Rice Side Dish Recipes
More Easy Side Dishes you might enjoy:
---
---
Pin this to your Easy Side Dish Board on Pinterest!
Sign up for the mailing list here where it says "join the west via midwest community" for more recipes for entertaining with out any stress!
---
---
~ Instagram ~Pinterest~ Twitter~Facebook ~
---
---
Yield: 8
Moroccan Rice Pilaf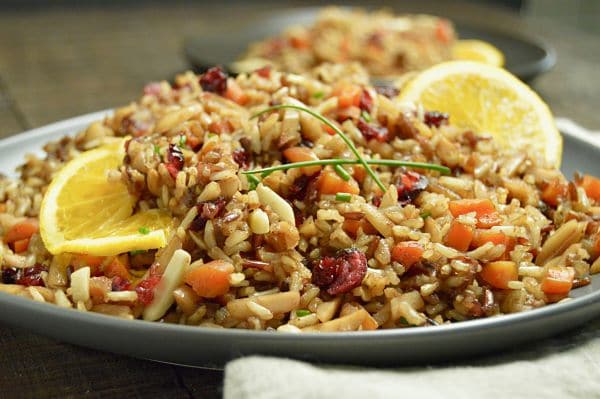 Moroccan Rice Pilaf: Fragrant, Fluffy and Delicious: Super easy to make and impressive enough your guests will love it as a side dish for any holiday party!
Total Time
1 hour
15 minutes
Ingredients
2 tablespoons olive oil
3/4 cup blanched almonds, slivered
2 large carrots, peeled and diced
1 medium onion, diced
3/4 teaspoon ground cinnamon
1 1/4 cup long grain rice , medley is fine!
3 cups vegetable broth
1/2 teaspoon salt
2/3 cup dried cranberries
1 tablespoon orange zest of a whole orange
juice of one orange
1/4 teaspoon cayenne pepper, optional
1 1/2 tablespoon fresh chives, minced
Instructions
Preheat Oven to 375°. Lightly oil a shallow baking dish (1 1/2 quart)
In a large pan heat the pan to medium high, add olive oil and swirl to coat the pan. Then add the almonds, carrots and onions and cook until caramelized. About 5 minutes.
Add the cinnamon and stir for 1 minute. Add rice and toast until translucent about 1 minute.
Stir in broth, salt, orange juice, zest, cranberries and cayenne pepper. Bring to a boil and boil for 2 minutes. Then remove from the heat.
Transfer the mixture to the prepared baking dish and bake uncovered about 45 -55 minutes until all the liquid has been absorbed. Sprinkle with chives garnish and serve.
This rice is also fantastic server warm, or at room temperature. You can make this the day ahead and warm in the oven if you wish.
Notes
This recipe is adapted from the New Basics cookbook by Julee Rosso and Sheila Lukins (1989 edition.)
Nutrition Information:
Yield:
8
Serving Size:
8 Servings
Amount Per Serving:
Calories:

244
Sodium:

512mg
Carbohydrates:

38g
Fiber:

3g
Sugar:

9g
Protein:

4g
‬‬‬‬‬‬‬‬‬‬‬‬‬‬‬‬‬‬‬‬‬‬‬‬‬‬