An Easy Buttermilk Pie recipe that yields a sweet pudding like custard center like a chess pie with a crunchy top like creme brûlée in every bite!
Today is Pi Day! (3.14) so Im sharing an Easy Buttermilk Pie Recipe with you. Ive gotten together with some of my other food writers who are also posting about pie today so you can be completely covered in any flavor of pie your heart may desire!
What is Pi Day? Pi is the ratio of a circle's circumference to its diameter. Pi is a constant number, meaning that for all circles of any size, Pi will be the same. The actual number of Pi is 3.14 and then a ton of other numbers, thus why it's celebrated on 3/14. In the food world, we've taken it to share any and all pies on this day! Isn't that so much more fun than the mathematics of Pi Day?
My husband and I were in Minnesota last fall and this adorable diner called the Barn in Brainerd MN. It had both the famous maid-rite sandwiches and 9 selections of pie on the menu. One of their pies the day we were there was Buttermilk Pie.
I'd never heard of it, but they said it was their most popular pie so we gave it a try. It was heavenly. A beautiful custard center that was sweet, but the lemon in it made it balanced. The top was almost crunchy. The sugar in the pie caramelized when baking so it was like a creme brûlée on the top. We devoured it and knew exactly why it was their most popular pie.
When I came home I found a buttermilk pie recipe in my Grandma Hyde's recipe book. I don't ever remember her making this pie, but she did live in the south so I'm sure that's when she made it. It's so easy to make you can have it ready in 10 mins to go into the oven.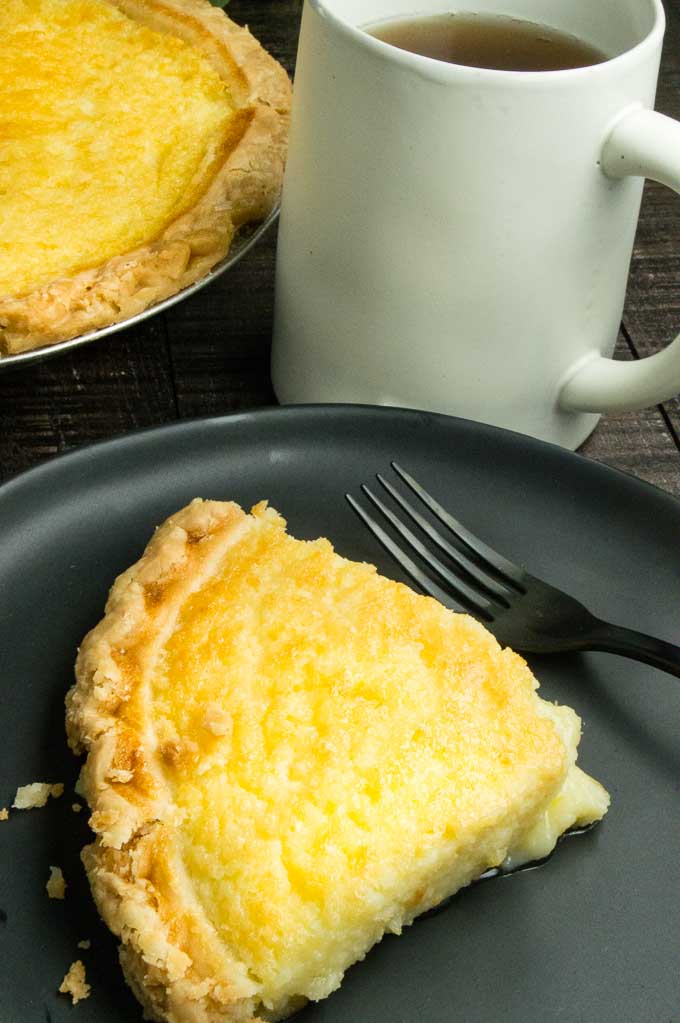 What is a buttermilk pie?
A buttermilk pie has origins in England, but typically today it is known as a southern recipe. It has a custard center and is made with just a few ingredients. Buttermilk gives the pie a unique tart like taste that balances out the sugar in the pie.
Are a Chess Pie and a Buttermilk Pie the same thing?
Often people think that they are. A chess pie does have a custard center but this and other easy Buttermilk Pie Recipe's do not have cornmeal that is needed to be called a Chess Pie. (I'm thinking my next pie will be a Chess pie because adding cornmeal to a pie has to be amazing. Thinking about the texture that adds to a pie sounds wonderful.)
Tips for making this Easy Buttermilk Pie Recipe?
Bring to room temperature the butter and eggs so its easy to cream.
Do the pie in steps, first mix the eggs until frothy.
Add the butter, sugar and flour and mix until fluffy.
Add the rest of the ingredients and make sure the filling is smooth.
Pour into a pie shell. (Store-bought it fine, but if you want to make your own I have one here for the best homemade flaky pie crust!)Bake.Cool. (totally worth the waiting!!)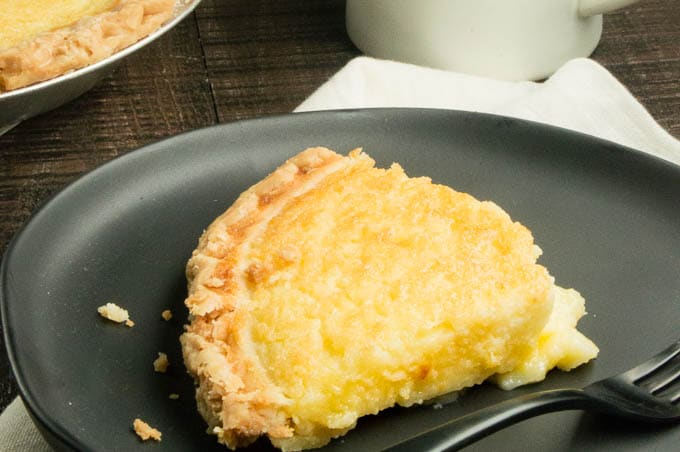 Can making a pie be any easier?
Love Sweet Treats? Check out all of our Dessert Recipes!
---
PIN THIS TO YOUR PIE BOARD OR EASY DESSERT RECIPES FOR ENTERTAINING BOARD so you can find it easily when you need it.
You can also follow me on Facebook here for more easy recipes for entertaining!
(Facebook not your thing….. thats ok too! I have you covered with a mailing list that shares easy recipes for entertaining on this page where it says "join the west via midwest community!" )
---
Be sure and check out these other #PiDay recipes from my food writer friends!
Pi Day Pie Recipes
SAVORY PIES:
SWEET PIES
Yield: 6
Easy Buttermilk Pie Recipe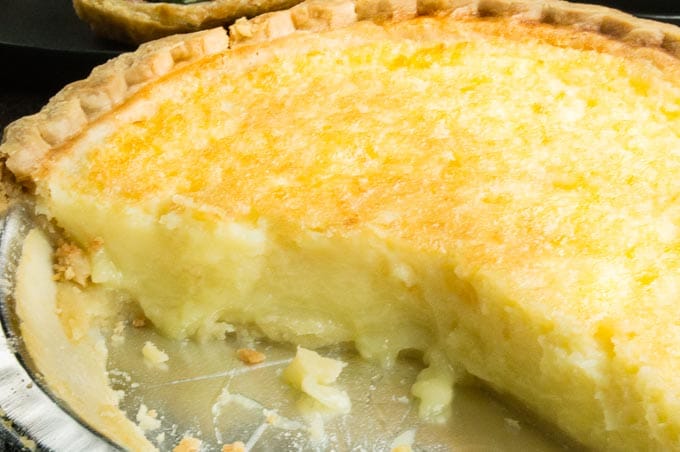 An Easy Buttermilk Pie recipe that yields a sweet pudding like custard with a crunchy top like creme brûlée in every bite!
Ingredients
3 large eggs, room temperature
1/2 cup butter, room temperature
1 1/4 cup sugar
3 Tablespoons all purpose flour
2 teaspoons vanilla
1 cup buttermilk
2 teaspoons lemon juice
1/4 teaspoon nutmeg
Instructions
Preheat oven to 350°
In an eclectic mixing bowl, mix eggs until super frothy and bubbly.
Add butter, flour and sugar and beat for 2-3 minutes until well combined and fluffy.
Add buttermilk, lemon juice, vanilla and nutmeg until very smooth.
Pour into the 9 inch pie tin.
Bake for 40-50 minutes until a knife comes out clean when inserted in the center.
Allow to cool completely (1 hour) before cutting. If making ahead for use later or another day, allow to come to room temperature (3-4 hours.). Then place in the fridge, covered until ready to use. Pie is good for 2-3 days.
Nutrition Information:
Yield:
6
Serving Size:
6 Servings
Amount Per Serving:
Calories:

505
Saturated Fat:

13g
Cholesterol:

138mg
Sodium:

329mg
Carbohydrates:

60g
Sugar:

43g
Protein:

6g
SaveSave
SaveSave