Someone in your family isn't feeling quite up to par. They are craving chicken soup because we all want chicken soup when we don't feel good. This recipe for Chicken and Rice Soup with Avocado can be made in about 30 minutes and tastes better than anything you can get at a restaurant or out of a can. The best thing about this recipe? Even the other members of the family will love this new comfort food because it tastes so good! (No bland diet soup here!)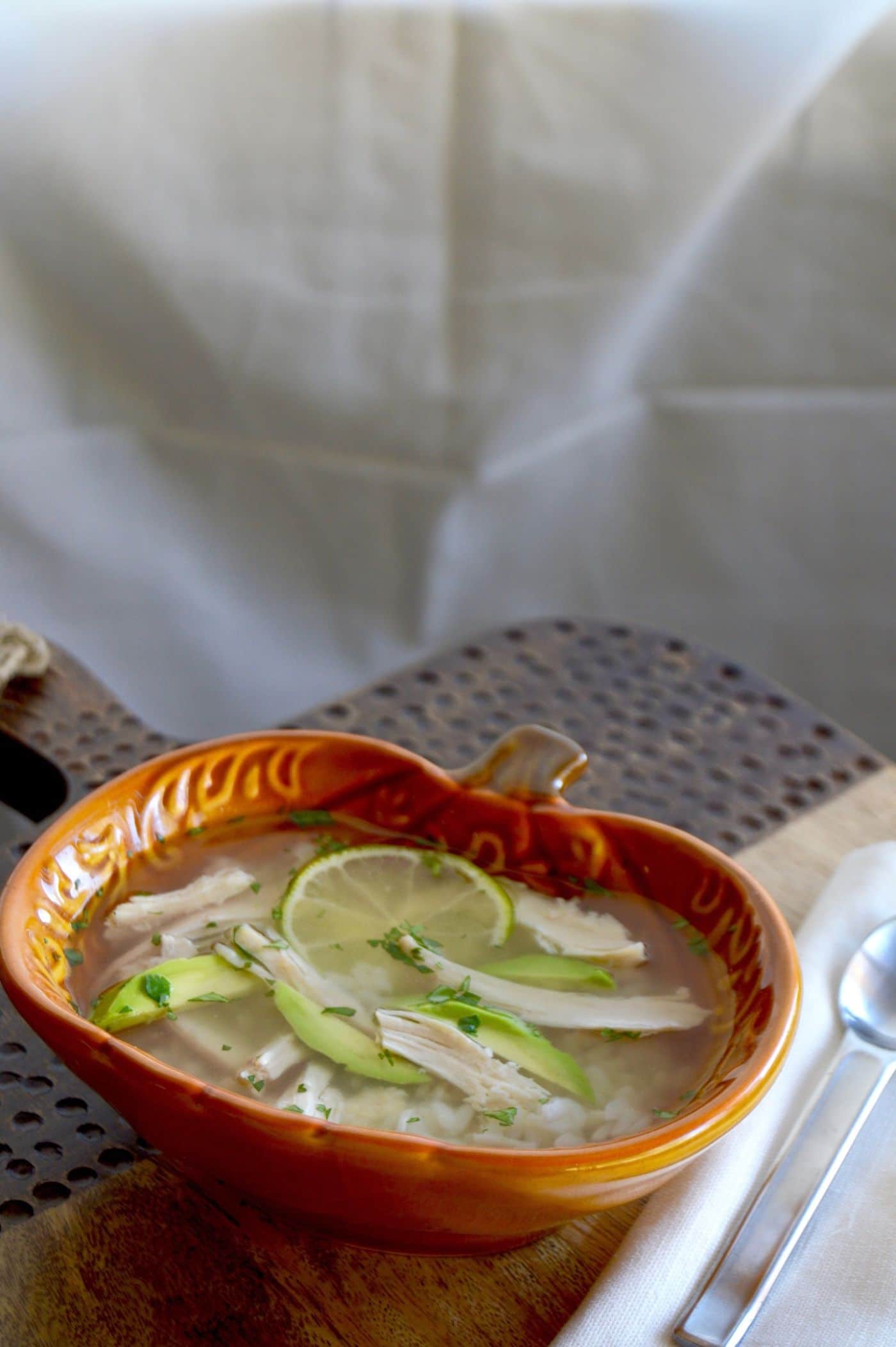 Chicken and Rice Soup with Avocado is the perfect new comfort food soup for when someone in your house is under the weather! I was asked by Fosters Farms to do another recipe for their New Comfort Food campaign (check out my first recipe for Chicken Picatta here!)
I was excited to partner with them again because I always use Fosters Farms Simply Raised Fresh chicken so it's easy to come up with a recipe using their product for you! (I only recommend products I truly love and use regularly in my kitchen. Rest assured while I'm being compensated for this recipe, please know all of the opinions and comments are my true feelings.)
I use Foster Farms Simply Raised Fresh chicken because its raised locally to where its sold and never uses steroids, added hormones or antibiotics EVER in the chicken production. Because the chicken is produced locally I know that it is fresh.
---
What exactly is the definition of a New Comfort Food?
Foods that are free of additives, preservatives, antibiotics and hormones.
Recipes that are made with local seasonal fresh ingredients.
Recipes that use just a few ingredients in them.
Quick, easy steps and fast prep time
This recipe for Chicken and Rice Soup with Avocado fits the definition of a new comfort food. Its a healthier option than a lot of comfort foods and is made with fresh ingredients in about a half an hour. How can you go wrong with great tasting foods made with just a handful of fresh ingredients in such a short time?
The addition of avocado to the traditional chicken soup adds a smooth creamy bite to your soup. It also makes this soup a great choice for a weeknight dinner that your family will request when they are feeling under the weather AND any time they want a nice bowl of flavorful soup.
Points of Interest of Chicken and Rice Soup with Avocado:
Easy/Hard: Easy. Less than 20 minutes with a homemade chicken broth? Can't beat that.
Serving Suggestions: Serve with warmed tortillas if you want something a little extra to go with the soup.
Optional Add ins: You could add cooked garbanzo beans or some shredded cheese for a nice variation.
If you like comfort food soups you may also like this recipe for Ginger Sweet Potato Soup here!
Yield: 4
Chicken and Rice soup with Avocado
This recipe for Chicken and Rice Soup with Avocado can be made in about 30 minutes and tastes better than anything you can get at a restaurant or out of a can. www.westviamidwest.com
Ingredients
2 pieces Foster Farms Simply Raised Fresh Boneless and skinless chicken breast fillets, (about 1 pound total)
8 cups water
1/2 small onion, cut in small pieces
1 carrot, peeled and chopped in small pieces
1/2 teaspoon salt
1 whole avocado, diced, pit and skin removed
1.5 cups cooked rice
Cilantro, minced
Lime
Instructions
Cut each chicken breast into 2 equal pieces.
Bring 8 cups of water to boil in a pan that you have a lid for. Once the water is boiling plop the 4 pieces of chicken into the water along with the onion carrot and salt. Cover with a lid, and remove pan to another burner for 20 minutes.
While you are poaching the chicken, cut the avocado in half. Remove the pit and slice avocado.
Slice limes, and mince cilantro.
Once 20 minutes is up, use a slotted spoon to remove and discard onions and carrots. Also remove chicken breast and use a fork to pull chicken to bite sized pieces.
Place a small amount of cooked rice in the bottom of each soup bowl.
Place a handful of chicken and a few slices of avocado over the top of the rice.
Ladle some broth over the top of chicken and rice.
Garnish with some minced cilantro and a squeeze of lime juice.
OPTIONAL GARNISHES
Garbanzo beans and cheese
Sprinkle the minced cilantro over the top and speed a
Nutrition Information:
Yield:
4
Serving Size:
4 Servings
Amount Per Serving:
Calories:

282
Carbohydrates:

30g
Fiber:

5g
Sugar:

4g
Protein:

25g