Learn tips on how to BBQ prime rib for a perfectly juicy steak just in time for the summer season! This chili-rubbed grilled prime rib roast is seasoned with a blend of cocoa and chili powders, cooked on indirect heat for a melt-in-your-mouth bite, and topped with a pat of dripping whiskey butter!
This recipe is a crowd-pleaser that can be served with easy side dishes like Twice baked Potatoes and Creamed Corn for an elegant, but easy BBQ dinner!
If you've been around for a while, you know I have a plethora of meat dishes to choose from. Each a different type, a different cut, and a different cooking method using a variety of rubs, seasonings, and delicious sauces. If you asked me which I preferred I would have a VERY difficult time choosing!
One of my favorite ways to make beef is to make my mom's version of 4 Ingredient Prime Rib in the oven.
I will say, however, once summertime hits, there is nothing that beats a BBQ steak/rib roast done right on the grill. This BBQ prime rib is the perfect choice for a dish that can be served for a special occasion, but also casual enough for a backyard dinner with the family under the evening sun.
The outer crust on this grilled prime rib roast is formed from a cocoa and chili powder dry rub. It is grilled over indirect heat allowing a slow cook resulting in a juicy, tender steak permeated with immense flavors and a bit of heat. Then, as if the thought of slicing into a piece of that steak wasn't enough to make your mouth water, the melted whiskey butter dripping off your fork from the pad of butter puts it over the top!
Using compound butter
Most rib roasts are served with au jus, but this recipe uses a flavorful compound butter instead. It is definitely possible to get some pan drippings from the tray, but it created such a mess each time when getting them off the hot girl I decided the compound butter was a nice change-up that added a lot to the grilled rib roast.
Prime rib is typically an expensive cut of meat but luckily it goes on sale quite often. Grilling a fresh cut of prime rib is a plus, but when you do find it on sale, buy more than you need and vacuum seal them to freeze for a later date. Costco has it a little cheaper and also offers both choice and prime classification, which is great.
If you absolutely want au jus, you can buy some beef stock or demi-glace and create your own with a few spoonfuls of the drippings.
What is the difference between prime rib roast and choice rib roast?
Prime is a grade of beef that has the highest marbling and quality by the USDA. Marbling happens when the fat creates a marbling effect in lean muscle cuts of meat. Choice has a little less of this marbling.
When selecting a rib roast you'll look for even distribution of marbling because it will be the most tender, juicy, and flavorful.
I use a bone-in roast, but you can select a boneless rib roast. The cooking time will be less. Use a thermometer to check for doneness.
I'll let you in on a little secret. You can buy Choice if you need to save a little money and it will still taste amazing!
Ingredients:
Rib Roast
Beef Rib Roast – bone-in, remove from the fridge one hour before ready to grill.
Coarse salt -Adds a nice salty balance to the cocoa and chili powders. Brings out all the flavors.
Fresh ground pepper – The other half of the salt and pepper duo.
Olive Oil – Used to brush on the beef to help coat the dry rub and prevent sticking on the grill.
Chili Powder – Brings a nice heat with a deep smoky flavor.
Unsweetened Cocoa Powder – Acts in a bit the same way coffee grinds do in a dry rub. It gives awesome flavor and a nice dark crust.
Whiskey Butter
Butter – softened
Shallot – finely minced
Garlic – finely minced or grated
Fresh Parsley -minced
Whiskey – Your favorite kind, Jack Daniels or otherwise!
How to grill prime rib:
To prepare, make the compound butter ahead of time and keep it in the fridge to set. Take the roast out and allow it to come close to room temperature before grilling.
Brush the beef with olive oil and gently coat it with the dry rub making sure to cover the entire surface.
Prepare the grill for indirect grilling. If possible, place a drip pan under the grates to catch any excess fat.
Once the grill is hot, place the rib roast, bone side down, on the grill rack on the section where there are no flames directly underneath.
Cover and grill for 2 or so hours until it's reached your desired doneness. Be sure and stay close to your grill to periodically check on the roast with a thermometer. Grills should never be left unattended.
Remove from the grill and place on a cutting board to rest for 15 minutes.
While the meat is resting pull the compound butter out and let it sit at room temperature.
What temperature is a prime rib on the grill done?
Rare: 120 – 125°
Medium Rare: 130- 135°
Medium: 140- 145°
Well d…no. Just, no.
** If you have someone who would like a well-done prime rib, cook the roast to Medium, cut off a slice for everyone else, and place their cut back onto the grill to finish cooking.
Tips for BBQ prime rib
Buy the best roast you can afford. While Prime is the best, Choice will still taste amazing by grilling the roast on the grill.
It's really important to let the rib roast come closer to room temperature before grilling. Not only will it help the rib roast cook more evenly, but it will also reduce the cooking time.
Creating a spice rub and massaging it into the roast after you have rubbed with olive oil and letting it sit on the roast while it's coming to room temperature lets the aromas and flavors seep into the roast.
While using a drip tray is optional, it helps avoid flare-ups and smokes the next time you use your grill. Even if you do nothing with the drippings, do yourself a favor and definitely use a drip tray pan.
I line the drip tray with foil so that when the grill has cooled, it's easy to just wad up the foil with the fat drippings in them and toss it away.
Resting after removing the prime rib is important. You want to give the roast time to allow the juices to settle in so that when you go to cut it you won't lose all of the juices to the cutting board. By waiting, the juices (or most of them) remain in the meat!
What to serve with grilled roast:
Hashtag any recipes you make from West Via Midwest #westviamidwestrecipes or tag me @michele_westviamidwest on Instagram to be featured on our stories!

Yield: 12
Chili-rubbed Grilled Prime Rib Roast with Whiskey Butter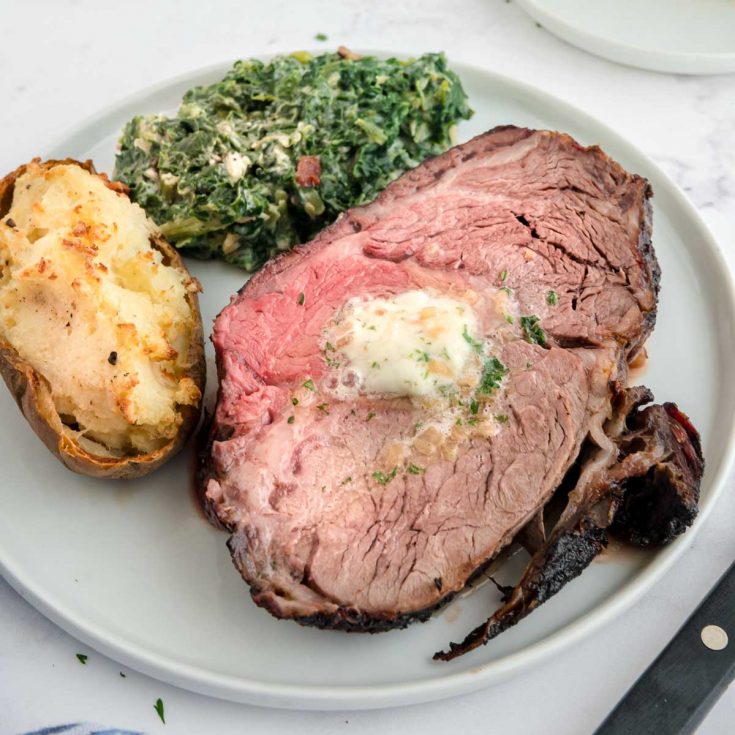 Grilled Prime Rib is a special restraunt quality dinner that is made special with a whiskey butter. Take your BBQ to the next level or make this for a special occasion, rib roast never dissapoints. ANd you'll love how hands off the meal is!
Additional Time
15 minutes
Total Time
2 hours
35 minutes
Ingredients
1- 4 pound Beef Rib Roast, bone in, remove from fridge one hour before ready to grill.
1 Teaspoon Coarse Salt
1 Teaspoon Fresh Ground Pepper
1 Tablespoon Olive Oil
2 Tablespoons Chili Powder
1 Tablespoon Unsweetened Cocoa Powder
Whiskey Butter
2 Sticks Butter, softened
1 Shallot, finely minced
2 Cloves Garlic, finely minced or grated
1 Tablespoon Fresh Parsley, minced
1/4 Cup Whiskey
Instructions
Brush the beef with olive oil.
In a small bowl mix the salt, pepper, chili powder and cocoa powder until well combined.
Gently rub the seasoning mix into the beef, coating every surface.
Prepare the grill for indirect grilling. Heat either one side, or the two outer gas sections on a 3-5 gas burner grill. If possible place a drip pan under the grates to catch any excess fat.
Once the grill is hot, place the rast on the grill rack on the section where there are no flames underneath.
Place it bone side down, directlly over the drip pan. Cover and grill for 2 or so hours until an instant read thermometer reads 125 for rare, 135 medium rare, 155 for medium well.
Remove from the grill and place on a cutting board to rest for 15 minutes.
While the meat is resting pull the butter out and let it sit at room temperature.
While the Prime rib is cooking you will prepare the whiskey butter.
Heat a skillet to medium, add 1 teaspoon of olive oil then once hot add the shallots and garlic and cook until softened.
Add the whiskey and stir until completely absorbed by the shallots and garlic pieces.
Turn off the burner and remove the pan to a cold burner.
Into a mixing bowl add the 2 sticks of softened butter. Add 1 teaspoon of warm water to the butter and mix on high until the butter is light and fluffy, about 3 minutes.
Add the sauteed shallots and garlic, along with the parsley and beat until well combined.
Onto a piece of large parchment paper, use a spatula to place a the butter into a long log shape. Gentely roll up the parchment creating a log by tightly compressing it as you roll.
Place the log into the freezer to set while the meat is grilling.
After resting,
Once the meat has completely rested, slice and place onto a plate. Cut a 1" piece of the butter for each slice of prime rib and serve.
Nutrition Information:
Yield:
10
Serving Size:
1
Amount Per Serving:
Calories:

814
Total Fat:

69g
Saturated Fat:

32g
Trans Fat:

1g
Unsaturated Fat:

30g
Cholesterol:

199mg
Sodium:

518mg
Carbohydrates:

2g
Fiber:

1g
Sugar:

0g
Protein:

42g
This recipe was calculated using the exact brands and measurements I used to make this recipe. If you are following a strict diet please note changing anything will cause the nutritional info to change. Please calculate your own nutritional information if you want it exact to what you make and use my calculations as a guide only.