This one-pot 30-minute beef stroganoff is a classic comfort dish made with seared strips of beef and sautéed mushrooms with garlic and onions in butter, simmered in a thick, rich cream of mushroom sauce.
Some of our most popular recipes are retro classics — recipes like our Chicken Divan with curry and Quiche Lorraine so in continuing with providing what you like today this Stroganoff (with sour cream) is on the menu today!
Beef Stroganoff is made with just a few simple ingredients. That's why it's important to use quality ingredients whenever possible. This Americanized version of Beef Stroganoff was made popular in the 1950s and I remember my mom making it for us growing up.
It's just one of a number of different versions that have been created since the original Russian recipe dating back to the 1800s!
She used this recipe and all the neighborhood kids would want to come to eat dinner at our house when she made it!
When it first became popular in America in the '50s a lot of the recipes used ground beef, but my mom used and preferred strips of tenderized beef.
When someone serves Stroganoff today it is generally understood to be beef, mushrooms, onions in a sour cream sauce. It can be served over rice or the way my mom did with egg noodles!
While ground beef is still an option, this recipe is versatile in other meat choices too. If pork loin, pork chops or chicken breasts, chicken thighs are on sale they will substitute easily in this recipe.
It's become a true homestyle comfort dish and this quick beef stroganoff with cream of mushroom soup is a lovely dinner idea for weeknights and cozy weekends. A simple easy dinner, ready and on the table in about 30 minutes. Since you can use so many different meats, flap meat, tri-tip, sirloin, etc., you can make it budget-friendly by buying what is on sale!
Beef Stroganoff Origin
The general consensus is that Count Pavel Alexandrovich Stroganov's Frech chef created and named it after the family. It was a recipe of the wealthy who could hire chefs, his being from France.
Supposedly the original recipe was based on french mustard marinating the beef and a dollop of "Russian Sour Cream" (aka Smetana) was added to a broth made from a roux which helped thicken it up. There were no mushrooms, no onions, and definitely no alcohol (some currently like to add a bit of white wine to their sauce).
Isn't it neat to see how dishes evolve over time?
Beef Stroganoff Ingredients
Beef – Boneless sirloin trimmed of the fat. Cut into strips against the grain.
Onion & garlic – Aromatic ingredients that add a humble yet powerful flavor profile to this dish.
Butter – Will be used to sauté the garlic and onions as well as the beef. There's nothing better than the smell of butter and onions cooking away!
Mushrooms – the one add on to Mom's recipe- more texture, more flavor!
Beef Broth – thinning agent, but still adds flavor – can sub water in a pinch!
Cream of mushroom soup – If you're feeling fancy and want to level up to gourmet status make this incredibly delicious condensed homemade cream of mushroom soup. Otherwise, a can of storebought will do.
Worcestershire sauce – To be added to the cream of mushroom soup to give it another layer of flavor.
Sour cream – A rich creamy addition to the sauce towards the end. Beef stroganoff with sour cream has a nice finish and helps thicken it up.
Salt & pepper – To taste and round out the flavor of this amazing dish.
Variations
Beef Stroganoff no mushrooms – I hated mushrooms as a kid (what was I thinking? They are so good!), so my mom would make mine using the cream of chicken soup and cream of celery soup. While I highly recommend using mushrooms, it is absolutely possible to not use any in the stroganoff. My mom's original recipe had no extra mushrooms in it, but as an adult now, I always add lots of sliced mushrooms along with the onions and garlic.
Don't have any cream of mushroom soup? Make the sauce with butter, beef broth, and heavy whipping cream. Deglaze the pan of the beef bits at the bottom and thicken it up with a little flour.
Different beef options – I love using sirloin (top sirloin when possible), but I am also not opposed to using whatever is on sale. Tenderloin, ribeye, chuck beef, and even ground beef are all good choices.
Different Protien Options – This recipe works really well with pork or chicken too.
Tips
When slicing your meat, make sure to cut against the grain. There are some cuts of beef that are chewier and tougher, so cutting against the fibres cuts them shorter. This helps to make a more pleasant bite.
Use a skillet large enough to hold the entire dish. It really is a one pot meal, so you want a big enough skillet to contain everything and be able to serve directly from it, if desired.
If the meat is still pink once you've cooked it initially, that's ok. It will continue to cook as it simmers in the sauce.
Storebought cream of mushroom is definitely convenient but if you're serving this to guests, or if you have some extra time to put in the extra effort, I highly recommend using a homemade cream of mushroom soup. It's fantastic!
Easy 30 Minute Budget Friendly Meal for Entertaining
This Stroganoff recipe is not only easy to make, but it comes together quickly— about 30 minutes. It's a great meal for entertaining on a weeknight, because you can get the casserole on the table quickly.
It is so versatile in what meat is in it you can buy the meat that is on sale that week to have a budget friendly meal and still feed a lot of people! Winning!
FAQs
What to serve it with?
My personal favorite is to have them overtop delicious buttery egg noodles or white rice. You can also enjoy them overtop mashed potatoes or polenta.
What sides go with beef stroganoff?
As filling as it is, it's always nice to have a little something extra on the side for when company comes over. It's a rich creamy dish, so I like to serve lighter side dishes like green salads, roasted veggies, and a glass of wine.
More Casseroles and Classic Recipes you might enjoy:
Hashtag any recipes you make from West Via Midwest #westviamidwestrecipes or tag me @michele_westviamidwest on Instagram to be featured on our stories!

Yield: 8 Servings
30 Minute Beef Stroganoff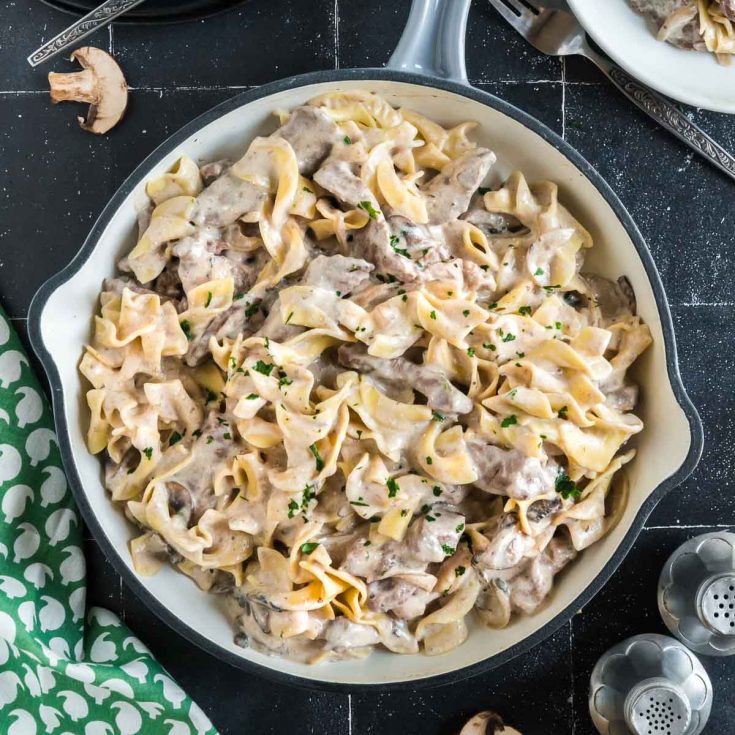 This retro classic casserole is not only easily made in one pan, but can be on the dinner table in 30 minutes. Simple pantry ingredients combined with beef, pork or chicken make this dinner a comfort food dream! (Budget friendly pot luck meal!)
Ingredients
2 Pounds Boneless Sirloin, trimmed of fat
8 ounces Mushrooms, any kind
1 Medium Onion, chopped fine
3 cloves garlic, peeled and chopped fine
3 Tablespoons Butter, divided
1 can Cream of Mushroom soup
Up to cup Beef Broth (or water)
1 Tablespoon Worcestershire Sauce
1 cup Sour Cream
Salt and Pepper to taste
1 package egg noodles, boiled to package directions to al dente.
Instructions
Slice the sirloins against the grain into 2-3" pieces long,and about 1/4" thick. Set aside.
In a large skillet melt 1 Tablespoon of the butter on medium-high heat, then add the chopped onions, sliced mushrooms and garlic. Cook 7-9 minutes until onions are golden and mushrooms are softened. Remove from the pan to a side bowl for later. Be sure and save any liquid released from the mushrooms for later as well.
Raise heat to high, Add the remaining 2 tablespoons of butter to the pan to melt, about 1 minute, then add the sirloin strips to the pan to brown. Flip the meat once making sure to brown both sides-- about 5-7 minutes total. Don't worry if the meat isn't cooked thru, it will continue to cook in the sauce.
Once the meat has browned, add the cream of mushroom soup, (if making homemade, you'll want to add 1.25 cups of my recipe) 1/2 cup beef broth, Worcestershire sauce and then add back in onion/mushroom mixture and liquids.
Bring heat to medium and simmer (soft rolling boil) then cover and cook for 10 minutes.
Remove the lid, add in the sour cream and stir to combine and heat until heated through. If you feel the stroganoff is a little thick, you can adjust the thickness by adding the rest of the beef broth in 1 tablespoon increments until it is the thickness you desire.
Toss with Egg Noodles and serve.
Notes
The trick to super tender meat is making sure to buy beef with lots of marbling and then cutting it against the grain. To cut it evenly, place it in the freezer for about 20 minutes before you are ready to cut it and it will hold steady when cutting.
Nutrition Information:
Yield:
8
Serving Size:
1
Amount Per Serving:
Calories:

468
Total Fat:

29g
Saturated Fat:

13g
Trans Fat:

0g
Unsaturated Fat:

12g
Cholesterol:

142mg
Sodium:

559mg
Carbohydrates:

14g
Fiber:

1g
Sugar:

5g
Protein:

35g
This recipe was calculated using the exact brands and measurements I used to make this recipe. If you are following a strict diet please note changing anything will cause the nutritional info to change. Please calculate your own nutritional information if you want it exact to what you make and use my calculations as a guide only.