This bacon cheeseburger casserole recipe has all of the makings of a delicious juicy cheeseburger but in the form of a casserole. Right down to the pickles! It's rich, hearty, cheesy, and loaded with the signature flavors of everyone's favorite comfort classic. This cost-effective way to feed a crowd is always a hit at potlucks, picnics, and it's a low-fuss meal around the holidays!
Some of our most popular recipes are twists on recipes… paella with pasta instead of rice, taco flavored pasta… so I know you'll enjoy this twist with cheeseburgers and noodles!
A casserole is always a guaranteed crowd-pleaser and definitely kid-approved. This one tastes like a cheeseburger but with a little added pasta in place of the bun. You can even serve it with fresh chopped tomatoes, shredded crispy lettuce, and thousand island dressing for a full cheeseburger effect. So good!
Bacon cheeseburger pasta is rich, hearty, and meaty, as a cheeseburger should be. It's gooey and cheesy with salt from the bacon and tang from the pickles to balance it out so nicely.
This recipe is pretty flexible too which is nice because you can make it over and over again tweaking it however you'd like. Don't like pickles? Leave them out. Prefer a lower carb option? Don't use the pasta, use zucchini spirals. And of course, serve with whatever toppings and add-ons you normally like on your cheeseburger.
I love that this one, in particular, comes together in 30 minutes because at the end of a long day, it's a no-fuss, low energy way to get a healthy, comforting, and complete meal on the table with leftovers for tomorrow's lunch or dinner.
Cheeseburger macaroni casserole is just one of many casseroles I love making all year round but especially when things get busy around the holidays or during the cooler months. It's easily accessible, cheap to make, and feeds large crowds in one go.
It's comforting, delicious, and keeps well in the fridge for up to a week which means no waste and lots of leftovers. You can reheat it again until cheesy and bubbly or it can also be enjoyed cold the next day!
Ingredients Needed for Cheeseburger Pasta
Pasta – Dried pasta will be cooked according to package directions to al dente. Elbow pasta, fusilli pasta, or any of your favorite short to medium pasta will work.
Bacon – The texture of the bacon can be made to your liking. I prefer crispy bacon but if you like a little less crispy, keep an eye on it while it's cooking, depending on your microwave.
Ground beef – Lean ground beef is great for flavor without too much grease from the extra fat.
Onion – Used as an aromatic diced and cooked with the beef. Will impart wonderful flavor as onions always do.
Diced tomatoes – Canned tomatoes, drained. You can find low sodium or diced tomatoes with herbs for extra flavor. Any will work.
Pasta sauce – Your favorite jarred or canned pasta sauce will work. If you have some homemade on hand, use that.
Dill pickles – You'll need about 4 pickles chopped fine.
Seasoning salt – I use Lawry's but whatever you use is great.
Pepper – Used in conjunction with the seasoning salt to balance out the saltiness in the bacon and pickles as well.
Worcestershire sauce – Adds a nice sweet and salty flavor commonly used in meat dishes and sauces.
Cheese – Equal parts freshly shredded cheddar and mozzarella.
How to Make Cheeseburger Bake
Cook the pasta according to package directions until they're al dente then drain and set aside.
Place bacon on a microwave-safe plate stacked with paper towels and cover with an extra paper towel. Cook until crisp, allowing the paper towels to absorb excess grease.
Cut cooked bacon into bite-size pieces and set aside.
Using a skillet, brown ground beef, and onions over medium-high heat while breaking down the meat into tiny pieces. Season with seasoning salt and pepper.
Add the pasta sauce, tomatoes, and diced pickles to the skillet with the beef and onions. Add half of the bacon and most of the cheese (reserving some for the top). Give everything a stir to combine.
Transfer the entire mixture to a baking dish, top with remaining cheese and bacon, and bake in a preheated oven until everything is heated through and the top cheese is golden brown and melted.
Tips
Cooking the pasta just to al dente means they'll still have a bit of a bite to them. They will continue cooking in the casserole, so this will help keep the pasta from becoming too soggy.
Once the hamburger is browned, if there is a lot of oil, you can either drain it off or take a paper towel, and using your cooking utensil press the paper towel to absorb any excess oil. (see photo above)
Whenever possible, shred your own cheese from a block. Buying prepackaged shredded always comes with anticlumping agents (the reason it's never stuck together when you sprinkle it out of the package). It doesn't melt as easily and some find the taste isn't as sharp.
Serve with a side salad for a complete meal.
To make this a gluten-free meal, opt for gluten-free pasta.
Make this a one-skillet dish by using a cast-iron skillet or any large skillet that can be transferred into the oven and bake right in there.
FAQs
Can I freeze it?
Normally I love to freeze casseroles, but because of the pickles in this one, I would say to leave the pickles out and add those in right before serving of you want to freeze it!


What are some additional ways I can add a little spice to this casserole?

If you like a little jalapeno on your cheeseburger by all means add it to your casserole for some added heat. You might consider a dash of red pepper flakes, or switching up the cheese by incorporating a little jalapeno Havarti in there.
More Old Fashioned Comfort Food Dinners
Make the retro classic Beef Stroganoff Recipe (with mushroom soup) in 30 minutes!
Chicken and Dumpling Casserole ~~recipe coming soon!
Chicken Spaghetti Bake ~~recipe coming soon!
Hashtag any recipes you make from West Via Midwest #westviamidwestrecipes or tag me @michele_westviamidwest on Instagram to be featured on our stories!

Yield: 6 servings
Bacon Cheeseburger Casserole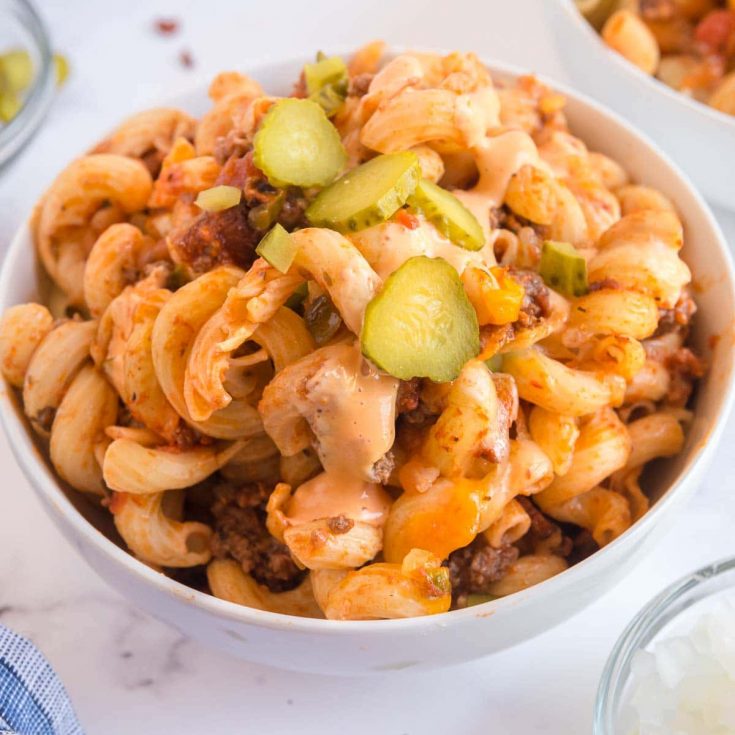 Bacon Cheeseburger caserole is a budget friendly meal that can feed a crowd. Great for potlucks, or simple weeknight dinners. Ground beef, bacon, cheese, pickles and pasta in a delicious sauce--- a simple dish that will become a family favorite comfort food dinner!
Ingredients
16 ounces dried pasta
8 slices bacon
1 pound lean ground beef
1 small onion diced
14.5 ounce canned diced tomatoes, drained
14 ounces pasta sauce canned/jarred
4 medium dill pickles, chopped fine
1 teaspoon seasoning salt (Lawry;s or any you have on hand)
1/2 teaspoon pepper
1 teaspoon Worcestershire sauce
1 cups cheddar cheese
1 cup Mozzerella cheese
Instructions
Preheat the oven to 375°
Cook the pasta according to the package directions, paying attention to cook to al dente, where there is still a little bite to the pasta. Drain the water and set aside.
Fold 3-4 paper towels to cover a microwave safe plate. Place the bacon on the plate, cover with another paper towel and cook for 8 minutes or until the bacon is crisp. (Note all microwaves are different, you may need to adjust the timing based on the power of your microwave.
Once the bacon is cooked, using a knive cut it to small bite sized pieces, set aside.
In a skillet on the stovetop cook the ground beef and onions on medium high. Use the edge of an offset spatula help the ground beef to break down to tiny pieces. Once the hamburger is browned, if there is a lot of oil, you can either drain it off or take a paper towel and using your cooking utensil press the paper towel to absorb any excess oil.
Once there is very little oil, season the ground beef with seasoning salt and pepper.
Add the pasta sauce, tomatoes, diced pickles cooked ground beef and onions to the pasta and stir to combine. Add 1/2 of the chopped bacon then after saving about 1/2 cup of cheese for the topping, mix the rest into the ground beef mixture.
Place the entire mixture into a 2 1/2 quart baking dish.
Top with remaining cheese and bacon.
Bake at 375° uncovered for about 15 minutes for casserole to heat and the cheese to melt. The top should be golden brown and melted.
Serve with a salad for a complete meal.
Notes
Note- buy the cheese in blocks and shred your own. Preshredded cheese has anti clumping additives that prevent melting evenly.
Nutrition Information:
Yield:
6
Serving Size:
1
Amount Per Serving:
Calories:

562
Total Fat:

28g
Saturated Fat:

12g
Trans Fat:

0g
Unsaturated Fat:

12g
Cholesterol:

119mg
Sodium:

1442mg
Carbohydrates:

35g
Fiber:

5g
Sugar:

7g
Protein:

42g
This recipe was calculated using the exact brands and measurements I used to make this recipe. If you are following a strict diet please note changing anything will cause the nutritional info to change. Please calculate your own nutritional information if you want it exact to what you make and use my calculations as a guide only.