Sloppy Joe hot dip is hearty, filling, and exactly what you'd want at a game day party, birthday party, or anytime there's a hungry crowd. Sloppy Joes have always been popular with kids growing up, so to turn this classic family favorite meal into a dip is a fun little twist!
I love all kinds of homemade dips, creamy, chunky, cold, or warm, there's never a dip I won't try. Making a dip from scratch is always the best way to go if you ask me. There are no hidden ingredients, preservatives, additives, or crazy amounts of sodium to worry about. You get to control what goes into it and customize it to your tastes.
This sloppy Joe dip ranks high on my list of delicious homemade hot dips. It's made with traditional sloppy Joe ingredients such as ground beef, ketchup, Worcestershire sauce, brown sugar, and loads of tasty spices for flavor. The inexpensive ingredients make this a budget-friendly appetizer and more than likely you've already got most of the stuff in your kitchen!
It's a thick, meaty, cheesy dip with sweetness and tang in every scoopable bite. You can either serve it in the cast iron skillet you cooked it in or transfer it to a baking dish for easy transport to a potluck or BBQ.
No bun here, but you can use bread to scoop out the goodness. Melted cheese and crumbly meat are easily spreadable. However, truth be told, if you really wanted to, you could turn this right back into a cheesy sloppy Joes by scooping the dip onto a bun!
It's filling and easy to make so it's only natural that it would be great for game day snacking. Never mind thinking about what to make for dinner, though, no one will be hungry after this!
What is a Sloppy Joe?
Essentially it's ground beef paired with tomato sauce and usually green peppers for a sandwich. It's loose meat so there is no binding agent like there is in a hamburger. You'll need to know how to make sloppy joe sauce to go with it which makes it messy and so tasty!
There are many different stories of where this idea came from, but being from Nebraska I was always told that a restaurant in Iowa adapted the Iowa-made famous loose meat sandwich by adding tomato sauce to it. The cook was named Joe and they were messy thus the "sloppy joe."
However, there are many origins when looking into it. It's called many things, dynamite, sloppy jane, wimpies, just to name a few. They became so popular, that a food company created the store-bought version and called them Manwiches, which is basically sloppy Joe in a can.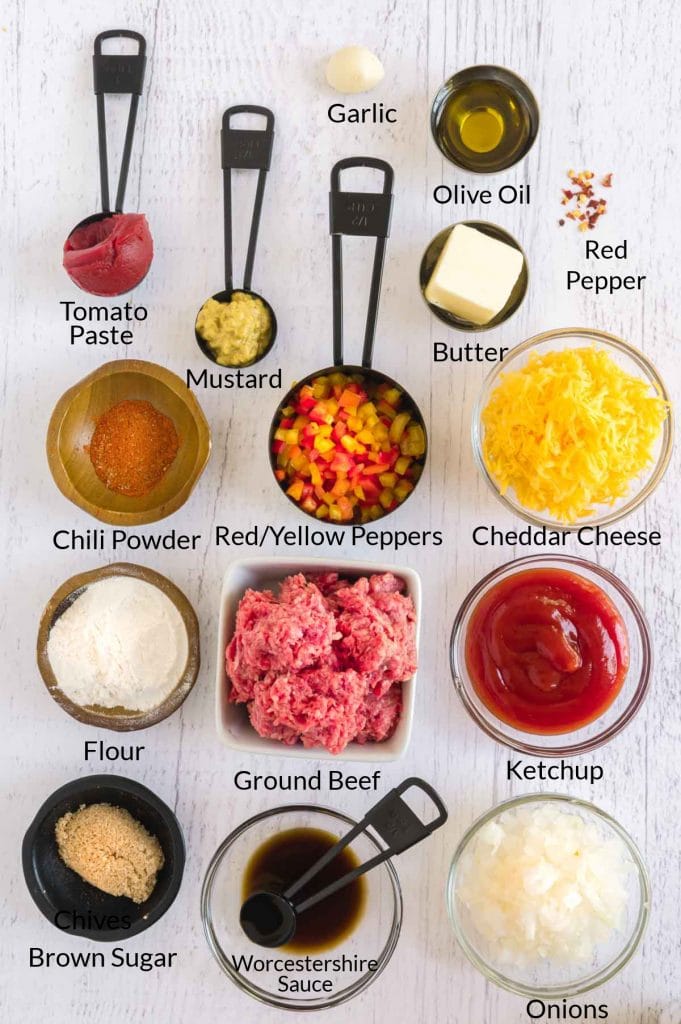 What You'll Need To Make This Dip
Unsalted butter & olive oil – To be used to cook onions and garlic initially before adding remaining ingredients. Using both butter and oil will help prevent burning while they sauté.
Grated garlic & minced sweet onion – Aromatics that are sautéed until soft and add so much flavor to ground beef.
Red pepper – Minced red pepper is a common ingredient in sloppy Joe. It's the sweetest of all the bell peppers and adds a nice flavor.
Ground beef – Lean ground beef or 90/10 ratio of meat to fat.
Salt & pepper – To add a depth of flavor and enhance the taste of the other ingredients.
All-purpose flour – Needed as a thickening agent, otherwise, it would be more the consistency of a stew or chili. It's messy, but not runny!
Spices – Red pepper flakes (or cayenne), chili powder – Gives the sloppy Joe incredible mouthwatering flavor and heat without overpowering anything.
Brown sugar – The signature sweetness usually comes from brown sugar, molasses, or maple syrup. In this case, we're using brown sugar which also gives it a bit of color.
Tomato paste – A concentrated tomato flavor and acid to cut the sweetness and the fat. It's also thicker than tomato sauce, which helps to avoid adding too much liquid.
Ketchup, water, mustard, & Worcestershire sauce – Liquid ingredients that each impart their own sweet and tangy flavor to create the base for the saucy goodness. Will simmer for a while to thicken up.
Cheddar cheese – Used in pocket areas in the dip as well as a sprinkling on top until golden brown and bubbly.
Tips for Making Sloppy Joe Dip
Cooking the meat may release excess grease. I like to use a crumple of paper towel to blot up grease, carefully, using a new one when it becomes fully saturated. Use the spatula to sop it up when full toss the towel.
Using leaner ground beef will help alleviate the amount of extra grease.
I find the cheese melts better in this dip if the cheese is on the micro-fine grade versus the shred.
Grate your own cheese rather than buying prepackaged. It melts better than processed grated cheese which has anti-clumping which when melted is odd. In both texture, and flavor.
Serve with sturdy chips such as corn or tortilla chips, crusty bread, or crackers.
When serving young people, I like to scoop out the dip and give them their individual portions.
Make this dip in a slow cooker and keep warm until guests arrive
FAQs
How do I make this dip using a slow cooker?

Once you've browned the meat and spices, transfer to the slow cooker and add the remaining ingredients. Cook on low for a couple of hours and add the cheese at the end once the sloppy Joe mixture is all cooked and allow the heat to melt it. It won't be brown and bubbly under the broiler, but it will nice and gooey and melty.
Can this dip be made ahead of time?

This is a great dip to make in advance. All you need to do is prepare the sloppy Joe mixture and keep it stored in the fridge in an airtight container. When you're ready to use warm it in a skillet or in the microwave before adding the cheese pockets. Place it under the broiler to melt the cheese.

More Game Day Hot dips you might enjoy:
Shrimp Scampi Dip (recipe coming soon)
Mississippi Sin Dip — this southern dip favorite is a hot ham and cheese dip!
Hashtag any recipes you make from West Via Midwest #westviamidwestrecipes or tag me @michele_westviamidwest on Instagram to be featured on our stories!

Yield: 12
Sloppy Joe Dip: Hearty Party Dip
Hearty Sloppy joe dip inspired by your love of sloppy joes. Super cheesy, melty cheese and all the spices you love. Made this for a backyard pool party and use it for every game day party. It's filling and very budget-friendly! No one goes away hungry!
Ingredients
2 Tablespoons Butter, unsalted
1 teaspoon olive oil
4 cloves garlic, grated fine
1 small Red Pepper, minced
1 small onion, (sweet) minced
2 Tablespoons Flour, all purpose
2 Pounds Ground Beef (90/10)
1/2 teaspoon salt
1/2 teaspoon pepper
1/2 teaspoon red pepper flakes/ or cayenne pepper
1 tablespoon chili powder
1 tablespoon brown sugar
2 tablespoons tomato paste
3/4 cup Ketchup
2/3 cup water
1 tablespoon mustard
1 teaspoon Worcestershire sauce
1.5 cups cheddar cheese, divided
Instructions
In a large skillet melt butter and olive oil on medium high, then add onion garlic and red pepper and saute until softened for about 5 minutes.
Sprinkle the flour over the top and stir to mix in well.
Add the ground beef, salt pepper, cayenne, chili powder, brown sugar, mustard, 2 tablespoons of the ketchup and the tomato paste cook until meat is browned about 15 minutes. Use a spatula to break up the meat while its browning so the meat pieces are very small.
If the meat releases a bunch of oil, carefully use a crumbled up paper towel in the bottom of the pan and using the utensil you are breaking up the meat with to blot away any excess grease. I'll repeat this if the towel becomes saturated.
Add the rest of the ketchup, water, worchestershire sauce, and mustard and bring to a simmer -- you may need to raise the heat depending on your stovetop. It should have small bubble in the liquid. Allow to simmer for 30 or so minutes until thickened. Stir occasionally so it doesnt stick to the bottom of the pan.
Preheat the oven to broil.
Remove from the heat and place in an oven proof dish, or leave in your skillet if you are going to serve from that.
Using a small spoon create little holes polka dotted over the top of the dip and place cheddar cheese in each little hole. You'll use about 1/2 cup of the chedder cheese in these cheese pockets.
Sprinkle the rest of the cheese over the top of the dip.
Place in the oven for 5-7 minutes until the cheese is melted and golden brown.
Serve with slices of toasted bread or sturdy chips.
Notes
To make this ahead of time you will prepare the sloppy joe mixture then store in the fridge in a sealed container until ready to use. Warm the meat either in a skillet on top of the stove or in the microwave. Once hot, place in the baking dish, add the cheese pockets and broil to melt the cheese.
You could also bake the meat topped with cheese in the oven for 30 minutes at 300° or until the cheese is golden brown and the sloppy joe dip is heated throughout.
Nutrition Information:
Yield:
12
Serving Size:
1
Amount Per Serving:
Calories:

322
Total Fat:

21g
Saturated Fat:

9g
Trans Fat:

1g
Unsaturated Fat:

9g
Cholesterol:

88mg
Sodium:

434mg
Carbohydrates:

9g
Fiber:

1g
Sugar:

5g
Protein:

25g
This recipe was calculated using the exact brands and measurements I used to make this recipe. If you are following a strict diet please note changing anything will cause the nutritional info to change. Please calculate your own nutritional information if you want it exact to what you make and use my calculations as a guide only.