Parmesan Panko Breaded Pork Chops are an ideal meal for easy weeknight entertaining. Breaded with panko breadcrumbs and tangy parmesan they have a crunchy outside crust and juicy tender pork chop inside.
An easy comfort food for weeknight entertaining for having a few friends over or a casual Saturday night evening with family this recipe for Panko Breaded Pork Chops is a meal that you can have on the table in about 30 minutes.
Simple pork chop seasoning fried in a skillet gives a crunchy breaded outside with a succulent pork center.
Here in the USA, we call this breaded pork chops but it's actually a variation on Wienerschnitzel that is also a family favorite. But who wouldn't like crispy coated meat… it's like a pork version of fried chicken!
The term Wienerschnitzel translated to "Schnitzel from Vienna" (Austria). Viena in Austria is actually referred to as Wien. Although technically if you are calling something a Schnitzel in Austria it is required to be made with Veal and no substitutions.
It's also similar to the Italian version of what they refer to as Milanese which translated to a thin bread coating over meat. Bottom line its' a true comfort food that your family and company will eat every last bite of.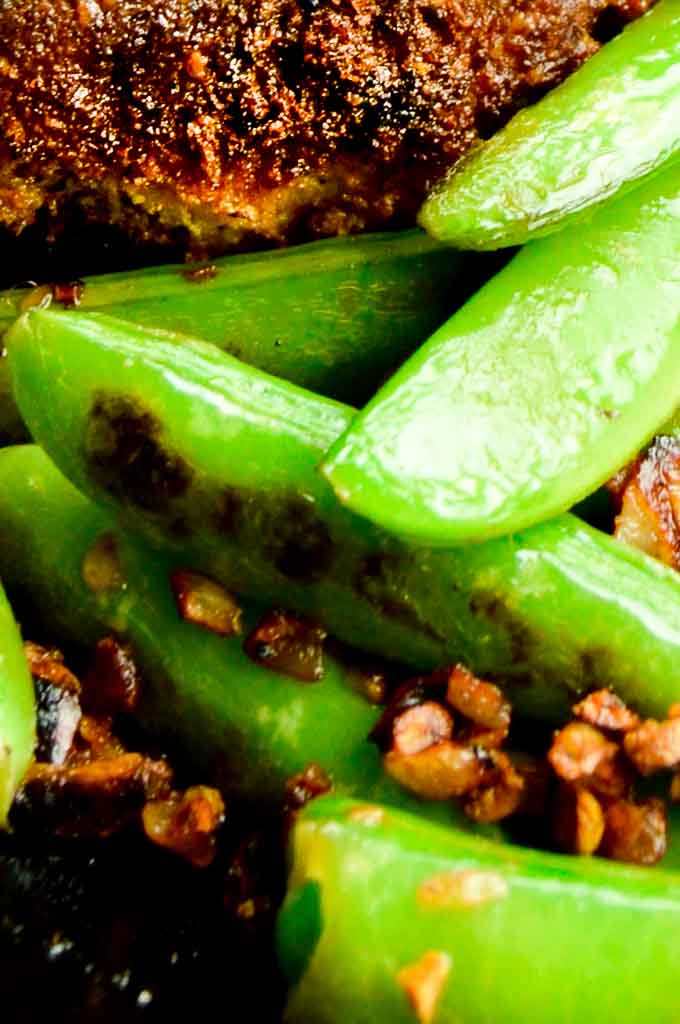 How do you make the best fried pork chops?
To ensure that the coating sticks and stays crispy and doesn't get soggy, rinse the pork chops then pat them dry with a paper towel. This not only helps the flour stick well, but it also makes sure no water is in the coating so it doesn't pop back at you when frying them.
The pork chop seasoning is very simple here. Salt, pepper and little tarragon go along way to flavor the breaded pork chops but what makes this the best pork chop recipe is the addition of the parmesan to the panko breadcrumbs.
Combine the panko with the parmesan so it's mixed evenly when dipping them. This guarantees that every single bite will have a tangy cheesy crunch. Anyone I've made this for says it's the parmesan panko combo that makes this the best pork chop recipe!
Then you'll set up a dipping station similar to what I have here in this Crispy Southern Fried Chicken recipe.
When frying, use a mild olive oil(not extra virgin) or vegetable oil. Both oils get hot enough to crisp the breaded coating but don't have a super-strong flavor that imparts to the pan-fried pork chops.
Use a cast-iron skillet on the stovetop to cook the pork chops. The cast iron heats evenly so the chops are cooked evenly. You could alternatively use an electric skillet to fry them.
The most important thing when getting ready to pan-fry pork chops is to make certain the oil is hot enough before adding the meat to the pan. You can test the oil by dropping a small piece of panko crumb into the oil and if it immediately bubbles it is ready. Not waiting until the oil is hot enough will give you a soggy, oily coating.
Cook the pork chops, flipping once, until they have reached an internal temperature of 145° and they are golden brown. You'll want to let them rest for 3-4 minutes before serving them. If you don't have a thermometer you can cut into the pork chops and they should be almost white, (a little pink is ok, but the juices should run clear when you cut them.)
Looking for a healthier way to cook pork chops? You can also bake them like I did here in this Panko Baked Chicken. You'll want to bake them a little bit longer if you have a bone in the chops than the baked chicken suggests. You can use the thermometer to check the they are to the USDA recommended 145°
You can also make them in an air fryer — I have a recipe here for air fryer pork chops!
Pro Tips for succesful Breaded Pork Chops:
This easy pork chop recipe is made with a bone-in pork chop for a more upscale presentation. You can sub thin pork chops, chicken or veal that are boneless very easily. If you use a boneless version, you will need to reduce the cook time. You can use a thermometer and cook the meat to its desired doneness or you can do what I do often… I cut into one of the pieces and make sure it is cooked and not raw in the middle.
The trickiest part of making this is not making a mess when you are dredging the meat in egg, flour then panko. Food Network has a great example showing you exactly how to do it here. I use one hand only when doing it so one hand stays clean, it will save you time having to wash up in between.
I suggest serving a white wine or rose with this pork dish. I am really enjoying these California wines from Talley wines. The Bishops Peak Sauvignon Blanc and the Chardonnay would pair well with this for a casual dinner.
This meal pairs well with a simple salad or some sauteed vegetables. I paired it with some garlic sugar snap peas. The garlic caramelizes and the beans char a little. They come together in minutes so you will have more time with your guests (another win!)
Looking for other side dishes to pair with this easy weeknight meal? Try my Cheesy Rice Stuffed Mushrooms, Hasselback Potatoes Creamy Cauliflower Puree or it would also work with this recipe for Pesto pasta Bites but just serve the pasta as a side dish!
---
For More Pork Recipes you can find them all here!
---
More Pork Casual Entertaining Recipes you might enjoy:
---
---
Pin this to your Easy Gourmet Dinner Board on Pinterest! Lets Be Friends …. follow me on Pinterest for more ideas for stress free entertaining with confidence!
---
---
~ Instagram ~Pinterest~ Twitter~Facebook ~
---
---
Yield: 6
Parmesan Crusted Pork Chops
Parmesan Crusted Pork Chops are an ideal meal for easy weeknight entertaining. Panko laced with tangy parmesan, crunchy outside crust over succulent tender pork chops.
Ingredients
6 6 ounces of pork bone in pork chops , 1" thick
1/4 cup parmesan cheese
1 tablespoon tarragon, (any herb you have will work)
1 teaspoon salt
1/2 teaspoon pepper
1/2 cup flour
1/2 cup olive oil
2 eggs
Instructions
Rinse pork chops, and dry with a paper towel. Then with your hands, or a mallet, pound the pork so that it is about 1/2" thick.
Prepare 3 separate bowls for dredging. In one bowl will be the 2 eggs (completely blended.) The second bowl will have the panko, parmesan cheese, Salt, pepper and tarragon(stir to combine.) The third bowl will have the flour.
Line up your assembly line. Plate of pork chops(pounded thin), bowl of flour, bowl of eggs, panko, then a clean plate.
One at a time, using one hand only, take the pork chop, dip it into the flour, flipping to coat both sides. Then move it to the egg bowl, coating both sides. Then finally dredge it into the panko (both sides) then place the pork chop onto the empty plate. Repeat until all chops are coated.
Turn burner onto high. Place skillet on top and let heat for one minute. Then add the oil. Heat to the point when you add a piece of panko it immediately sizzles. (about 1 1/2 minutes). Once oil is ready, take dredged pork chop and add to pan making sure to add the chop going away from you. (This is so that if oil splatters it will splatter going away from you.) Add as many pork chops as will allow there to be about 1 inch in between. Reduce heat to medium high and let brown for 3 minutes until panko is golden brown. Then flip pork chops. Cook for 4-5 more minutes until pork reaches temperature of 140°. Alternatively you can cut into the pork chop and make sure it is cooked through (thats what I do.)
Repeat until all chops are cooked. Serve immediately.
Nutrition Information:
Yield:
6
Serving Size:
6 Servings
Amount Per Serving:
Calories:

493
Saturated Fat:

5g
Cholesterol:

174mg
Sodium:

648mg
Carbohydrates:

16g
Protein:

43g
‬‬‬‬‬‬‬‬‬‬‬‬‬‬‬‬‬‬‬‬‬‬‬‬