Blueberry Lemon Muffins are moist on the inside, packed full of juicy blueberries in every bite. The top is crunchy with glazed lemon butter dipped in sugar. Perfect for taking on the go, getting together with friends or to serve at a morning meeting.
Today I'm sharing a recipe for Blueberry Lemon Muffins with you. This recipe is a variation from a recipe that I learned in a professional cooking class. It starts with a great base and over the course of the years I've tweaked it with many different variations.
This recipe really taught me how playing with the ingredients can affect the end result. Over the years I've tried using different oils versus butter for variations on the moistness. More and less sugar for changing the sweetness. And different ratios of flour and baking powder to change the crumb to the density of the muffins.
I'd like to think this is the best variation of the muffin EVER! But that's today and maybe tomorrow I'll want one that is heavier, sweeter, crunchier, so I'll say that this recipe is the best version for today!
How to make Blueberry Muffins?
These Blueberry Lemon Muffins are moist on the inside, both from using olive oil and the juiciness of the blueberries. By just using baking powder in this recipe, the muffins raise about 1/3 of what they start out with and the tops crackle and split right before they are baked through so they are a little crunchy on the top.
What is the secret to the best texture in a muffin:
When you make these muffins, as in all baking you must measure carefully. The ratios of flour, baking soda to the wet ingredients of milk, olive oil and eggs will greatly effect the texture of the finished muffin. I use a spoon and sprinkle the flour/sugar/baking soda into the measuring cup. Then use a knife to level it. You can see an example of this method on this Easy Cinnamon Coffee Cake.
Lastly, be sure and not overmix them. Stir them just to combine and once you add the blueberries in you stir them around as little as possible to incorporate them. Otherwise the batter turns really blue. But don't worry, even if you do they still taste great!
What is different about this recipe for Lemon Blueberry Muffins?
For me, the best part of this recipe is the last step before eating them: Melting butter and adding lemon zest for brushing the tops with. Then you can either dip/roll/sprinkle the tops in sugar.
Can you use frozen blueberries in Blueberry Lemon Muffins?
Absolutely. You will want to let them defrost if there is any ice crystals on them. Place them in a strainer and run a quick blast of cold water on them. Let them stand for 15-20 minutes. Then spread them onto a paper towel to dry them. (You want to dry them so there is no water in your batter)
LEMON SCENTED BLUEBERRY MUFFINS BREAKDOWN:
EASY/DIFFICULT: Easy. Start to finish time in less than 35 minutes. No fancy equipment, just a bowl and a spoon to mix it up
MAKE AHEAD? Absolutely! Although very delicious if you do everything at the time of baking, if I had the option I wouldn't dip them in butter until close to serving time. The tops will stay crunchier that way.
BONUS: This Lemon Scented Blueberry Muffin recipe makes 12 muffins. You can double it, triple it, etc….. but made as listed, the recipe is great for last-minute baking when you need a little something to take for an event.
SERVING SUGGESTIONS: Great for on the go, perfect for bringing as a thank you gift, easy breakfast/mid-day snack options.
Do you like blueberries as much as I do? Check out my other recipe for Blueberry Mini Tarts Or if you fancy strawberries, check out this one for Strawberry Rosemary muffins!
Love Sweet Treats? Check out all of our Dessert Recipes!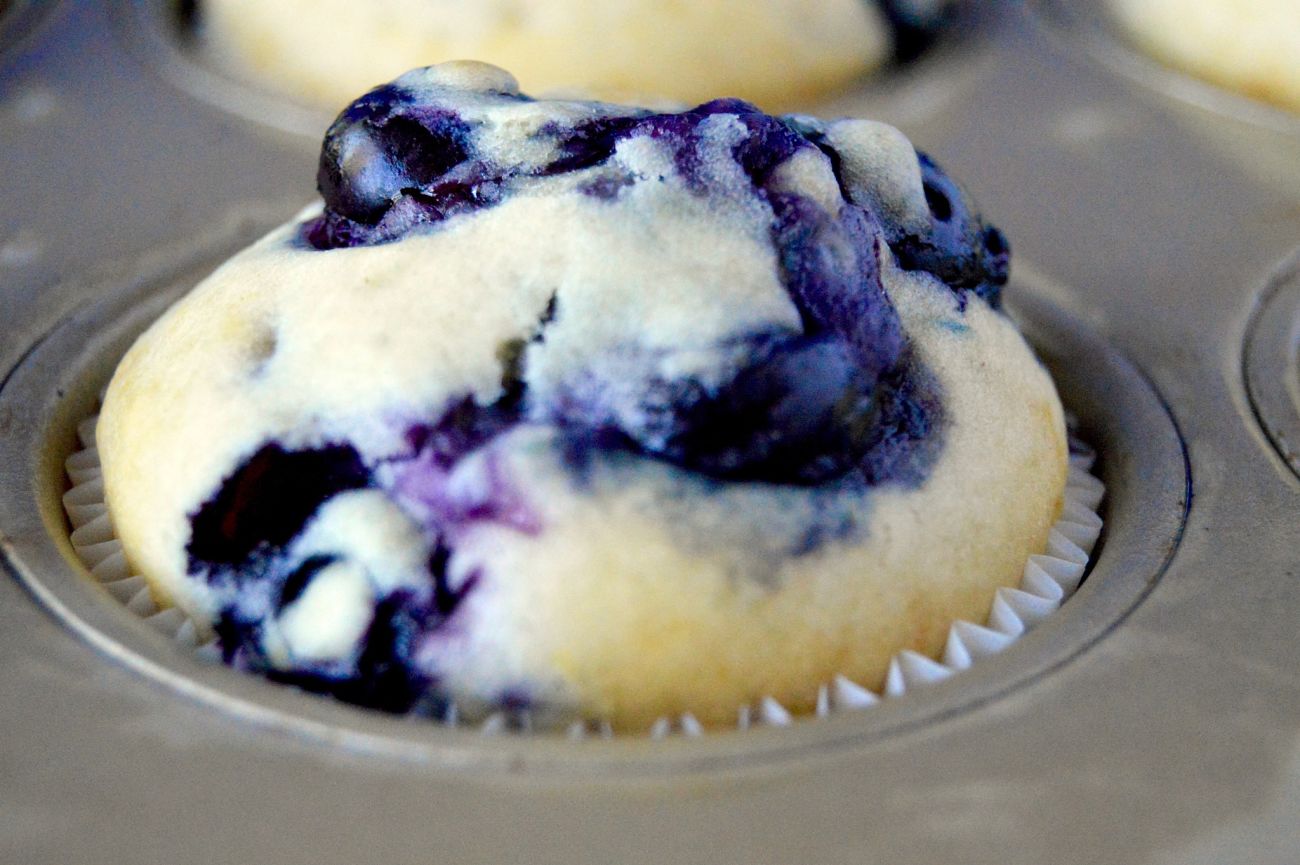 More Blueberry Recipes:
---
---
Pin this recipe to your Muffin Board or your FOOD TO MAKE FOR GIFTS board!
---
For more recipes that are easy to make sign up for easy recipes that you can feel confident in making to entertain on this page where it says "join the west via midwest community!" )
---
~ Instagram ~Pinterest~ Twitter~Facebook ~
---
---
Yield: 12 muffins
Lemon Scented Blueberry Muffins
Lemon Scented Blueberry Muffins are moist on the inside, packed full of juicy blueberries in every bite. The top is crunchy and glazed with hints of lemon butter and lastly sprinkled with sugar. Perfect for taking on the go, getting together with friends or to serve at a morning meeting.
Ingredients
Muffins
2 2/3 cup All Purpose Flour
1 1/2 tsp salt
1 Tbs baking powder
1/2 cup sugar
2 large eggs
1 cup Whole or 2 % milk
2/3 cup olive oil, (vegetable oil ok too)
1 tsp lemon extract
1 1/2 cup fresh or frozen blueberries
2 tsp lemon zest
Glaze
2 oz melted butter
1/2 cup sugar
Instructions
Preheat oven to 400 degrees
Lightly grease top surface of muffin tin.
Insert muffin liners into tin.
Into a large mixing bowl, sift together dry ingredients. **see note 1
In separate bowl blend eggs, milk, oil and lemon extract.
Make a well in the dry ingredients.
Add liquid mix until just combined, do not overmix or they will become tough.
Set aside a handful of blueberries then gently fold in the rest of the blueberries and lemon zest. Stir as little as possible so batter doesn't get tinted blue **see note 2
Spoon enough batter in each muffin liner to be almost full (just a tad below the top of the liner!)
Place 1-2 blueberries on top of each muffin, pressing in slightly to the batter. **see note 3
Bake 15 mins at 400 degrees on the top rack of the oven.
Check at 15 mins, if they are looking too brown move to a lower rack.
Bake 10-15 mins longer.
Muffins are done when a toothpick comes out clean.
Remove from oven and let cool for 10 mins. (take them out of muffin tin to cool)
Glaze Process
Once muffins have cooled for 10 mins, gently dip each muffin into bowl of melted butter then into the sugar.
Set upright on a rack and let cool completely.
Notes
1. If you don't have a sifter use a mesh strainer. Pour all dry ingredients into top and gently shake into large mixing bowl. I usually sift twice to make sure ingredients are mixed evenly thoughout.
2. If using frozen blueberries be sure and rinse if there are any ice crystals on them. It will prevent your batter from getting watery and stop some of the "blueing" of your batter.
3. I add the a few blueberries to the top so they tops look especially full of fruit. This step is completely optional!
Nutrition Information:
Yield:
12
Serving Size:
12 muffins
Amount Per Serving:
Calories:

338
Saturated Fat:

12g
Cholesterol:

39mg
Sodium:

345mg
Carbohydrates:

42g
Fiber:

1g
Sugar:

19g
Protein:

4g
‬‬‬‬‬‬‬