Take advantage of fresh strawberries and make these moist on the inside, crunchy sugar-dusted crust in this Rosemary Strawberry Muffin Recipe. Made even more delicious because they are made with easy, freshly prepared strawberry jam!
This Rosemary Strawberry Muffin recipe is a simple recipe that you can make in no time at all. Tender moist crumb in the center, swirled with a fresh strawberry reduction sauce made with fresh strawberries that will delight anyone who gets one!
Strawberry Season is just around the corner. Well, the traditionally strawberry season anyways, living in California we are lucky to get great strawberries all year long. But this time of year they are crazy wonderfully delicious! Sweet, the perfect texture and ripened to just the right degree. These strawberry muffins will for brunch for Mother's Day, a gift for a neighbor or a mid-afternoon snack.
How do you make Strawberry Jam or Strawberry Compote?
You won't believe how easy making fresh strawberry compote is! It's as simple as cutting the strawberries and placing them in a skillet with a small amount of sugar and a squeeze of fresh lemon juice.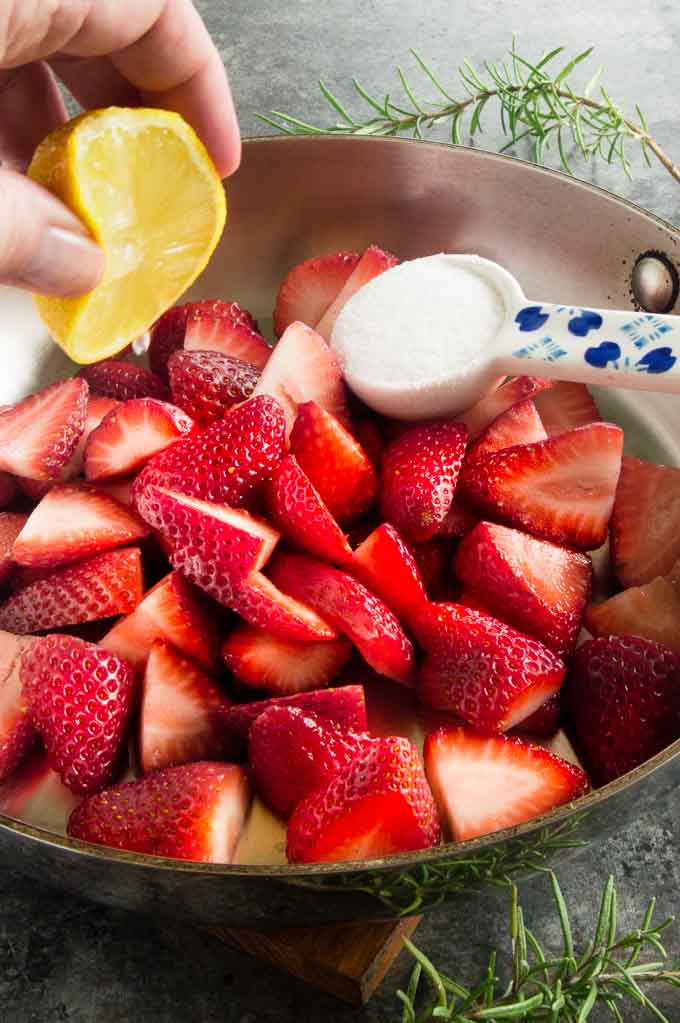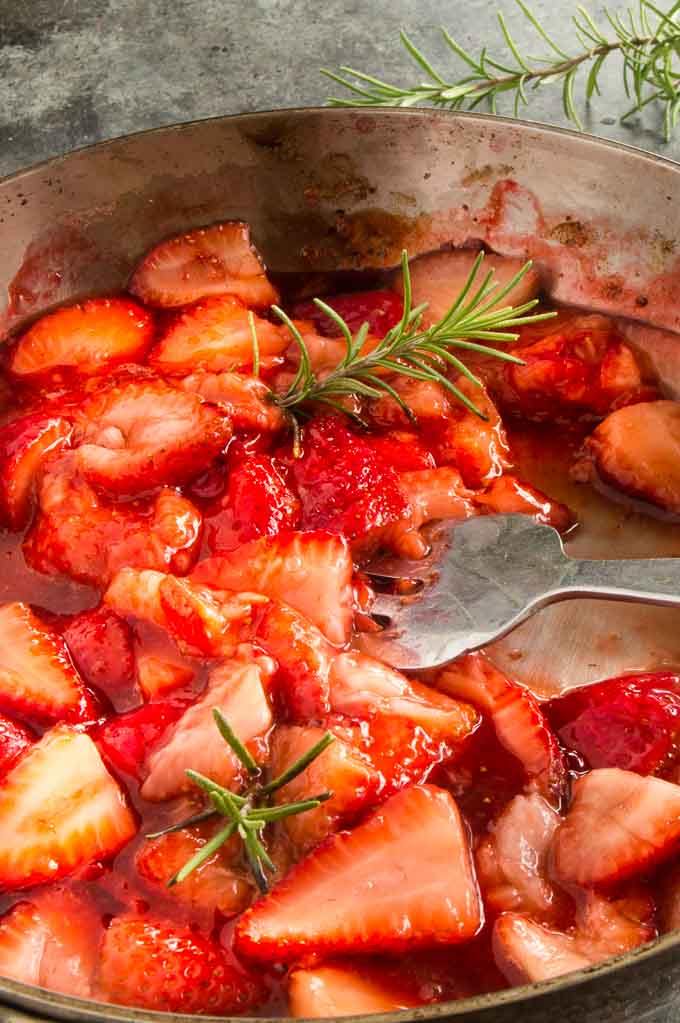 Then you turn the heat and let them reduce down. As they cook, you'll use a slotted spoon or fork to mash them down. Be gentle with the rosemary sprig. You don't want the sprigs to break off. By cooking the sprig with the strawberries the strawberry compote is just slightly scented, not overpowering.
Once its all done you will end up with a reduction that looks something like this!
This recipe will yield a LOT more compote/jam than you will need for these muffins. You can store the leftover in a sealed container in the fridge for up to a week!
What else to use the Strawberry Compote on:
Oatmeal
Toast
Pancakes
Waffles
Fresh Yogurt
Peanut Butter Sandwich
Can I use frozen strawberries instead of fresh in this Strawberry Muffin Recipe?
Absolutely you can! Follow the instructions in making reducing them down but be sure and taste the mixture before stirring it into the muffins. Fresh Strawberries in season are pretty sweet. You may need to adjust the sugar (increase it) just a little to get the desired sweetness!
How do you make strawberry muffins?
This muffin recipe is a great base for any muffin you want to make. The trick to successful muffins is in how you prepare them.
Mix the dry ingredients first then sift them so the ingredients are mixed evenly; it also keeps the muffins lighter and not dense after baking.
Mix the wet ingredients together then stir just enough to just mix the dry ingredients into the wet.
Finally you swirl the strawberry mixture in. You just swirl them in so that you see streaks of strawberries and the batter stays creamy in color, not pink. You can also chop up fresh strawberry pieces and put them in at the same time if you want a couple of different textures in the muffins.
The base of this muffin batter is a great base for any berries you have, blueberries, blackberries, cherries. It's not too sweet and the lemon zest adds just a bit of brightness. The muffins are moist on the inside, but the top crackles and gets a little bit crunchy.
Use muffin liners and fill them 3/4 of the way up. You can also dot the tops with additional jam or strawberry pieces if you want. I do this so every muffin when out of the oven and baked is clearly loaded with strawberries!
Looking for other fruit/berry recipes? Check out these blueberry lemon muffins or this cherry apple pie!
---
---
Pin this recipe to your Muffin Board or your FOOD TO MAKE FOR GIFTS board!
---
For more recipes that are easy to make sign up for easy recipes that you can feel confident in making to entertain on this page where it says "join the west via midwest community!" )
---
---
Yield: 12 -14 muffins
Strawberry/Rosemary Muffins
Take advantage of fresh strawberries and make these moist on the inside, crunchy sugar dusted crust Strawberry Rosemary Muffins. Made even more delicious because they are made with easy, freshly prepared strawberry jam!
Ingredients
1/2 cup Sugar
1 small sprig fresh rosemary, optional
13.5 oz Flour, approximately 2 2/3 cup plus 2 Tablespoons
1 1/2 teaspoon Salt
1 Tablespoon Baking Powder
2 large Eggs
1 cup Unsweetened Almond Milk, or regular Milk ** but see notes
1/3 cup Vegetable Oil
1/3 cup Olive Oil
1 teaspoon Vanilla
2 Tablespoons grated lemon zest.
1/2 cup Fresh Rosemary Scented Strawberry Jam, recipe below
Muffin glaze
2 tablespoons butter, melted
1/4 cup sugar
Fresh Rosemary Scented Strawberry Jam
1 pound Strawberries, about a pound
1/4 cup sugar
2 Tablespoons Lemon Juice
1 sprig fresh Rosemary
Instructions
Rosemary Scented Strawberry Jam
Clean strawberries, removing stems, and andy green parts.
Place strawberries in a small sauce pan on medium heat,
Add sugar and lemon juice to pan.
Gently mash strawberries and stir until they start bubbling.
Then add rosemary sprig to mixture.
Continue to stir, without breaking the rosemary sprig.
Let cook for 10-15 mins until strawberries are completely broken down.
Remove from heat and let cool.
Once cooled remove rosemary sprig and throw away.
Store unused portion in refrigerator in a sealed container.
It should be used within 3-4 days.
Muffins
Preheat oven to 400º
Line muffin tin with paper-liners.
Take Rosemary sprig and sugar and stir for 30 seconds in a bowl. The rosemary oil will impart to the sugar. Let set for 5 minutes. Remove rosemary.
In a large mixing bowl sift together Flour, Rosemary scented sugar, baking powder and salt together.
In separate bowl mix together wet ingredients, eggs, oils, almond milk and vanilla.
Make a well in the dry ingredients and pour the wet ingredients into it.
Mix until it is just combined, DO NOT OVERMIX.
Once combined, add lemon zest with 3-4 turns of the spoon.
Using an ice cream scooper/ or spoon fill muffin liners 1/3 full.
Then put a small spoonful of strawberry jam into the muffin liner.
Cover jam with another scoop of the muffin batter.
Bake for 15 minutes turning the pan at half-way.
Test muffins with a toothpick. If the pick comes out clean they are done.
If the pick comes out wet with batter place muffins back into the oven on a lower shelf for 2-4 minutes until cooked through.
You may want to lower the muffins to a lower shelf if it looks like the muffins are starting to get brown.
Remove from oven and cool in muffin tin for 5 mins, then remove to a wire rack to cool.
When muffins have cooled, dip them in melted butter then directly into sugar.
Serve with leftover strawberry jam and or butter.
Best served warm, so if you make the night ahead you can microwave for a few seconds to rewarm them.
Notes
If you don't have almond milk, you can use dairy milk. But if you do, eliminate 2 Tablespoons of flour from the recipe.
Alternative to having layers of muffin batter, strawberry jam, then muffin batter you can also swirl in the jam to entire muffin batter. Distribute gently through the batter and fill muffin liner 3/4 way full and bake as directed.
If you make these the night before you're going to serve them, wait to dip them until morning. The sugar and butter mixture will present better this way.
Nutrition Information:
Yield:
12
Serving Size:
12 -14 muffins
Amount Per Serving:
Calories:

371
Saturated Fat:

7g
Cholesterol:

36mg
Sodium:

353mg
Carbohydrates:

54g
Fiber:

1g
Sugar:

25g
Protein:

4g