Do you want to make a Turkey dinner that impresses everyone and has them rave about your food? This Easy Herb Oven Roasted Turkey is broken down into the simplest steps to make sure you end up with the juiciest and best Thanksgiving turkey every single time!
Today's recipe for a Juicy Turkey is ideal for anyone hosting their first Thanksgiving holiday. It doesn't have to be for special occasions either. It is perfect for a nice dinner with friends.
I've laid it out from selecting fresh or a frozen turkey, how much to buy, how to season to have juicy turkey meat with a crisp golden skin, how to cook the perfect turkey and how long so you can have delicious turkey every time.
I was so nervous my first time making a turkey. Everyone has had a dried-out turkey with little or no flavor at one time in their life and I didn't want my family and friends to have to suffer through one of those.
Often I make a turkey breast slow cooker versus a whole bird, but this fall we had a lot of people in town so I made this herb-roasted turkey recipe.
A simple herb-seasoned butter is all it takes to give you the most succulent turkey ever. (translation? NO BRINING!!) I knew after doing all the testing it would be a great way to make Thanksgiving turkey.
I did all the testing for you in order for you to know with absolute certainty you will be able to make a juicy turkey with complete confidence. These step by step instructions will make such a wonderful Thanksgiving dinner your company is going to be begging to come back to dinner at your house!
ALL YOUR TURKEY QUESTIONS ANSWERED HERE:
How much turkey to buy to make sure everyone has enough for seconds
What is the difference between fresh or frozen turkeys?
Do you need to brine a turkey?
How long does it take to thaw a frozen turkey?
What to do if you forget to thaw out your turkey to have it ready to eat on time!
How to cook the perfect turkey?
What is the secret for a juicy turkey with crispy skin?
What temperature do you need to cook your turkey so you know it's done!
Fresh Or Frozen
A fresh turkey is purchased at the store never having been frozen. A frozen turkey is flash-frozen almost immediately after they are packaged.
In purchasing and testing both fresh and frozen, there is no difference in the taste of the turkey. There was the tiniest of tiny difference in the texture of the turkey— but the method of making this turkey eliminated any slight change. (Adding tons of butter and basting with broth.)
Buy whatever is easier for you. I often go with a frozen turkey in the interest of cost and because I plan on the defrost time. But if you are short on time and don't have time to defrost go with the fresh one. Either way works great!
How much Turkey to buy per person?
You'll want to figure at a minimum a pound per person. If your family is anything like ours you'll definitely want leftovers. I usually figure 1.5-2 pounds per person. This allows for people to have seconds and still have enough for that leftover turkey sandwich the next day!
All about Thawing your Turkey
The trick to thawing out your turkey successfully is allowing enough time to let it completely defrost. If you have a turkey that has some parts that are still partially frozen you will end up with an unevenly cooked turkey and no-one wants that.
How long to allow a whole turkey to thaw?
Thaw time on average is about 1 day per 5 pounds of turkey. A 10-pound turkey will need to thaw for 2 days in the refrigerator. A 15-pound turkey will need about 3 days to thaw.
Thaw the turkey in its wrapping in the fridge. The wrapping will keep the juices contained. I would suggest placing the turkey in a bowl, plate or roaster for ease of moving it.
PRO TIP: HOW TO THAW OUT A FROZEN TURKEY FAST IF YOU FORGET TO START SOON ENOUGH
You can speed up thawing a turkey by submerging the turkey in its wrapper in cold water.
Depending on the size of your turkey and the sink will determine if you will use this method in the sink or in a large cooler. The cold water needs to be able to cover the turkey.
It will take about 30 minutes per pound to thaw in water so if you have a 10-pound turkey you will need about 5 hours to have it completely thaw.
It's important to keep the water temperature below 40° to maintain a safe to eat turkey. You'll want to change the water every 30 minutes. It's critical to use COLD WATER to submerge the turkey in.
How to Season a Turkey
Use a seasoned butter to boost moisture and flavor. Use a fully seasoned butter to give a delicious flavor and keep your turkey very moist. The butter is a guarantee to make this juicy turkey recipe a winner!
It's super simple to make the butter for the turkey prep. Place the butter, sage, thyme, rosemary, garlic, orange zest, salt and pepper into the food processor and let it whirl. You'll end up with a full-flavored butter mixture you'll slather both under the skin and on top.
TIME-SAVING TIP: You don't need to chop the herbs or the garlic before you put them in the food processor— they will mince perfectly without spending the time!
Double Seasoning
To get the flavor throughout the turkey you'll also fill the inside of the turkey. Placing sliced oranges, garlic, onions and herbs inside the cavity will season the bird from the inside out.
The Secret to crispy golden brown skin and a Juicy Roasted Turkey
Two things need to be done for crispy skin. First, you will be roasting the turkey on a high temp of 450°for the first 45 minutes before lowering it to get a nice crisp start on the skin.
Then you'll lower the oven to 350° and continue to cook until it's done. You'll brush/baste the turkey with chicken broth which will not let the skin dry out, but continue to crisp and brown.
When is the turkey done?
Turkey is done when an instant-read thermometer is stuck into the thickest part of the thigh and reads 165° The cooking time of 15 minutes per pound is only an estimate so you'll want to be sure and use a thermometer when roasting the turkey.
Once the turkey is done you will need to let it rest for 30 minutes under foil before carving. This will give you enough time to make turkey gravy with the pan drippings.
Resting is super important to allow all the juices to remain in the meat so don't cheat and carve too soon! The goal here is that juicy delicious turkey!
PRO TIP: Always use a good quality digital thermometer to check the doneness of your turkey. Be very careful to only touch the meat and avoid the bone for accurate readings. (If you touch the bone, the temperature will read higher than it actually is.)
Need a simple gravy recipe for turkey?
3 tablespoons flour
2 cups turkey drippings, use a fat separator to remove the fat.
3 tablespoons of the strained fat
1/4 cup white wine
The fat separator works great to strain away most of the fat. I have used this one for years and HIGHLY recommend it!
Place the roasting pan over a medium-high burner after pouring the turkey drippings into the fat separator.
Slowly add the white wine to remove the browned bits from the bottom.
Whisk the flour and fat into the browned bits until well combined. Then slowly add the 2 cups of turkey drippings.
If you are short drippings use the leftover chicken broth. Bring to a boil and allow to thicken. Serve with turkey.
Common Questions with this Simple Moist Turkey Recipe
Is there a specific roasting pan to use to roast turkey? Turkey is best if it is in a rack in a roasting pan to have it not roast in its own juices. This roasting pan works well.
I don't have a rack, can I use something else to lift the turkey while cooking? You can make a rack with crumpled up foil to sit the turkey on or you can cut up onions and other vegetables to make a rack to set the turkey on.
Do I need to brine the turkey? This recipe uses all of the seasoned butter, both under the skin and on top so brining is not necessary! This will be very juicy as long as you cook it to 165°
How do I move the turkey without it falling apart or worse falling on the floor? You'll want to use meat prongs to lift the turkey from the roaster to the carving board. These are similar to the ones my mom handed down to me and grab the turkey securely to prevent any disasters.


More Thanksgiving recipes you might enjoy:
Other Popular Recipes:
Yield: 15 servings
How To Cook The Perfect Turkey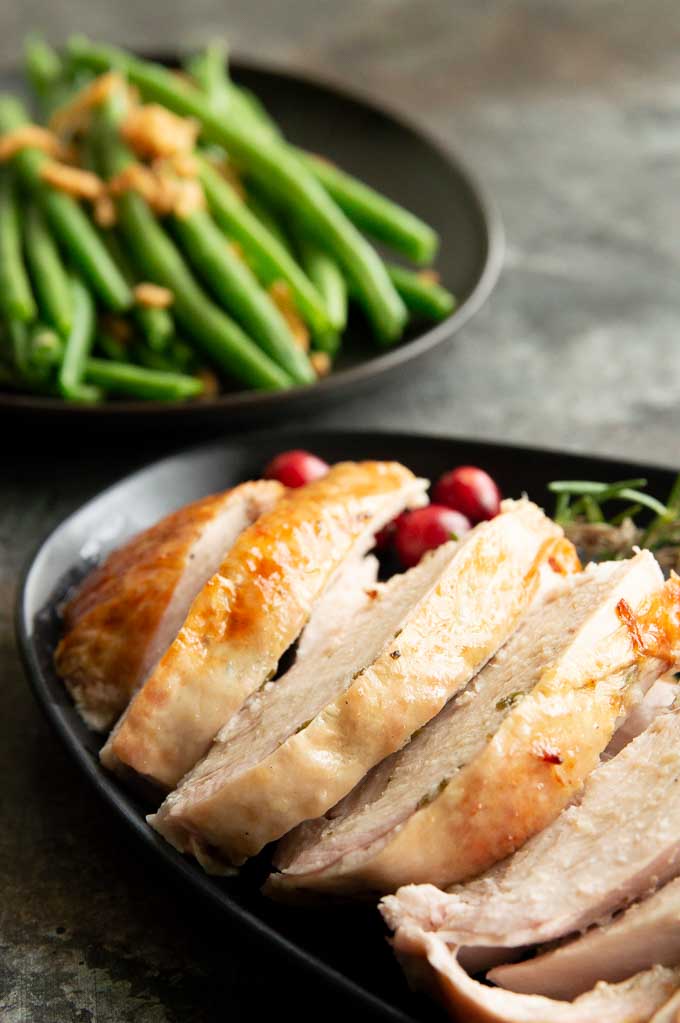 This Easy Herb Oven Roasted Turkey is broken down into the simplest steps to make sure you end up with the juiciest and best Thanksgiving turkey every single time!
Cook Time
4 hours
20 minutes
Total Time
4 hours
40 minutes
Ingredients
15 pound Turkey
4 sprigs Fresh Thyme, leaves removed from stems
4 Sprigs Fresh Rosemary, leaves removed from stem
10 fresh Sage Leaves
12 tablespoons butter (1 1/2 sticks)
salt and pepper to taste
1 Orange
4 cups Chicken Broth
1 Onion
6 Cloves Garlic
Instructions
Preheat oven to 450°
Remove thawed turkey from the refrigerator and let sit on the counter for 30 minutes.
Zest the orange and place the orange zest in the bowl of a food processor.
Remove the leaves of 3 sprigs of thyme, 3 sprigs of rosemary and place them into the food processor
Add 4 cloves garlic, butter, 10 leaves of sage and salt and pepper to taste to the food processor.
Blend all ingredients until completely smooth.
Season generously with salt and pepper the inside cavity of the bird. Cut the onion in half, slice the orange in half and add remaining stems of herbs and garlic inside the bird. Tie the legs together with kitchen twine.
Using your fingers go in at the top of the bird and create a pocket to stuff the butter into. Stuff about 1/3 of the butter underneath the skin around the breasts.
Take the remaining butter and slather it all over the entire bird. Place the turkey breast side facing up, tucking the wings underneath on a roasting pan.
Heat the chicken broth in a small saucepan on the stovetop.
Place the roasting pan in the center shelf of the oven and roast at 450° for 45 minutes.
At 45 minutes, turn the oven down to 350° and brush on the chicken broth on the outside of the turkey.
Brush the turkey every 30 minutes with chicken broth until the turkey is done about 3 hours. You will know when the turkey is done when a thermometer stuck into the thickest part of the thigh reaches 165°. Be careful to not touch the thermometer to a bone with will give a false read.
If at any time you think the bird is getting too brown cover loosely with foil.
Once Turkey is done, remove from the oven and loosly tent with foil. Allow the turkey to rest for 30 minutes before carving.
Notes
Recommended Products
As an Amazon Associate and member of other affiliate programs, I earn from qualifying purchases at no additional cost to you.
Nutrition Information:
Yield:
15
Serving Size:
1
Amount Per Serving:
Calories:

539
Total Fat:

27g
Saturated Fat:

11g
Trans Fat:

1g
Unsaturated Fat:

14g
Cholesterol:

288mg
Sodium:

342mg
Carbohydrates:

0g
Fiber:

0g
Sugar:

0g
Protein:

69g
This recipe was calculated using the exact brands and measurements I used to make this recipe. If you are following a strict diet please note changing anything will cause the nutritional info to change. Please calculate your own nutritional information if you want it exact to what you make and use my calculations as a guide only.