This delicious Sweet Potato Casserole with Pecans is a must-have side dish during the holidays. Soft pillowy yams, sweetened condensed milk, and a pecan and brown sugar crumb topping are just some of what makes this mouthwatering recipe a showstopper!
During the chaos of the holidays, there is nothing better than having low key, easy, and filling side dishes to feed your crowd. Cheesy Gouda Mashed Potatoes and Gouda Mac N Cheese are two dishes that will always have a place on my table.
This Yam Casserole recipe was introduced to me by one of my closest friends, Maria, who calls them Yum Yum Yams. As soon as you try it, you'll know why.
What's not to love about a dish so light it resembles a souffle and one that is a sweet balance to all the savory items that accompany a delicious (and heavy!) holiday meal.
I love Thanksgiving! It is a time for gathering with those you love and this year, more than ever, that feels extra important.
Whether I am doing a small turkey dinner or making a Slow Cooker Turkey Breast for a crowd, I know I will have lots of sides. They are my favorite part of the meal. There is always something for everyone and you can get creative with so many fun options!
This Candied Yam Casserole easily serves a larger crowd but if you are having a smaller Thanksgiving dinner this year, make the full recipe but split it in half and save a portion for another meal!
Fall flavors and textures meet convenience and comfort with this exceptionally easy and delicious casserole!!

This week's posts are all a part of Holiday Side Dish Week! Be sure and check out all of the other ideas below the recipe card!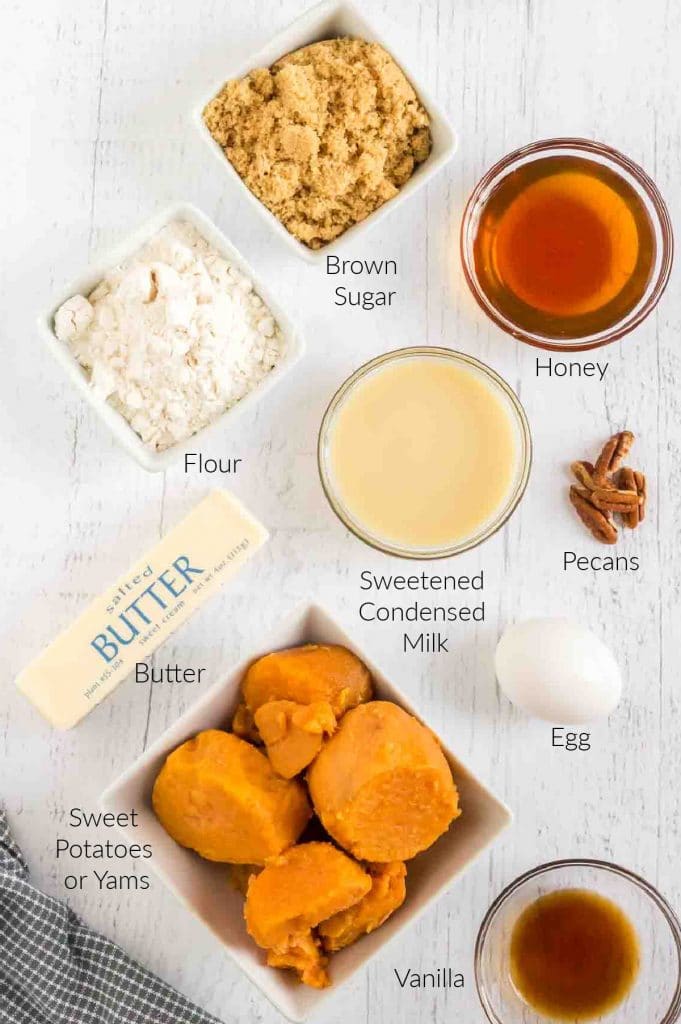 Ingredients
Mashed Yams/Sweet Potatoes – You might be wondering about the differences and whether or not you can use either one. The short answer is yes you can use either one. But also, yes, there is a difference! They are sometimes confused for one another and the names are sometimes used interchangeably but a Yam is more of a starchy root vegetable and yellow on the inside rather than orange.
Honey
Sweetened Condensed Milk – This is thick concentrated cow's milk that has had the water removed from it. It has added sugar which gives it a sweetness.
Eggs
Vanilla
Butter, Salted – There is no other salt called for in this recipe, therefore the salt in the butter will help balance the sweet.
Brown Sugar – Use brown sugar instead of white as it will help give a depth of flavor but also give that nice brown color on top.
Chopped pecans – Will give this delicious crumb topping a lovely crunch.
Flour – This will be used in the crumble topping to help bind the ingredients.
How to Make It
Preheat the oven. Grease a casserole dish.
Using a hand mixer, blend together the yams, honey, sweetened condensed milk, eggs, vanilla, and butter until fluffy. Pour into prepared dish.
Make the topping by adding brown sugar, pecans, flour and butter to a bowl and mix with a fork until crumbs are formed. Sprinkle over yam casserole.
Bake covered, uncovering halfway, until top is brown. Serve warm!
Variations on a Family Favorite Side
Maple Bourbon Yam Casserole
Cut honey to ¼ cup and replace it with real maple syrup. Make the rest of the casserole the same except for the topping. You'll add 1 tablespoon of bourbon and 2 extra tablespoons of flour to the topping mixture. It's just a hint of bourbon, but a delicious hint!
Nut Free Sweet Potatoes
Instead of adding nuts to the topping replace with oatmeal and sprinkle over the top. Turn your crumble into its delicious cousin, the streusel!
Questions and Tips that are helpful for entertaining
Can I make these with potatoes or yams that are not out of a can? Make my own? Yes, you can. Place washed, unpeeled yam/sweet potato on a baking sheet and bake at 350° them until tender and able to pierce with a fork (about 45 minutes.) Once cooled to the touch, cut in half lengthwise and scoop out soft insides and mash them.
All I have is candied yams will that work? Technically yes! Keeping in mind they will be EXTRA SWEET as the recipe already calls for honey and sweetened condensed milk, not to mention the brown sugar in the topping. It is definitely a personal preference as I personally wouldn't use them because we don't like overly sweet dishes, but I have friends who use them and LOVE them.
Can this be a Make-ahead Thanksgiving side? It can be made ahead of time. It will keep in the fridge for about 5 days — Prepare it to the step before adding the topping and seal with plastic wrap in the dish you will ultimately bake it in.
Remove the dish from the fridge one hour before baking and add the topping made fresh that day just before putting it in the oven. NOTE: if you do not let it come to room temperature prior to baking, adjust the bake time to longer.
Want to freeze half for another meal? It will keep in the freezer for about a month without the texture changing. (I'll be using the extra one for our early Christmas dinner with friends)
Make sure to wrap with plastic very tightly so moisture cannot get in. The topping will need to be made on the day that you bake it.
Let the yam casserole thaw overnight in the fridge then remove from the fridge about 2 hours before you will bake it for even cooking. Bake until it is hot throughout. You may need a little extra time with it being cold before baking.
More Thanksgiving Side Dishes
FREE TIPS FOR ENTERTAINING WITH EASE AND FUN DELICIOUS RECIPES WHEN YOU SIGN UP FOR THE MAILING LIST BELOW THE RECIPE!
I'd love it if you enjoy this recipe if you'd comment and rate the recipe 5 Stars in the recipe card. ⭐️⭐️⭐️⭐️⭐️
Hashtag any recipes you make from West Via Midwest #westviamidwestrecipes or tag me @michele_westviamidwest on Instagram to be featured on our stories!

Yield: 12
Sweet Potato Casserole with Pecan Topping
This delicious recipe for Sweet Potato Casserole with Pecans is a must-have side dish during the holidays. Soft pillowy yams, sweetened condensed milk, and a pecan and brown sugar crumb topping are just some of what makes this mouthwatering recipe a showstopper!
Ingredients
3 cups Mashed Yams/Sweet Potatoes
1/2 cup Honey
1/2 cup Sweetened Condensed Milk
2 Eggs
1 Teaspoon. Vanilla
1/2 cup Butter, Salted
STREUSSAL TOPPING (Pecan Topping)
1 cup Brown Sugar
1 cup chopped pecans
1/2 cup Flour
1/2 cup Butter, salted, melted
Instructions
Preheat oven to 350.
Mix yams, honey, milk, eggs, vanilla, and butter until well blended (use a hand mixer to make fluffy) and pour into greased casserole dish.
For the topping: mix remaining ingredients with a fork and sprinkle over yam /sweet potato topping mixture.
Bake for 20 minutes covered and another 20 minutes uncovered until top is browned.
Nutrition Information:
Yield:
12
Serving Size:
1
Amount Per Serving:
Calories:

420
Total Fat:

24g
Saturated Fat:

11g
Trans Fat:

1g
Unsaturated Fat:

11g
Cholesterol:

76mg
Sodium:

161mg
Carbohydrates:

50g
Fiber:

3g
Sugar:

35g
Protein:

4g
This recipe was calculated using the exact brands and measurements I used to make this recipe. If you are following a strict diet please note changing anything will cause the nutritional info to change. Please calculate your own nutritional information if you want it exact to what you make and use my calculations as a guide only.
Holiday Side Dish Recipes: