This Wild Rice Salad is as beautiful as it is delicious. It has rustic fall flavors and crunchy textures such as pecans, apples, celery, and cranberries. Tossed in a herb-infused creamy dressing with crumbled feta on top and tied together with a hint of citrus, this spectacular salad does not miss a beat!
This salad is a completely satisfying meal all on its own. When served in smaller portions, however, it is a fantastic side dish! Much like our Moroccan Rice Pilaf and Gouda Mac and Cheese, this wild salad recipe is a perfect side dish for the holidays.
There is nothing worse than hosting a holiday gathering and being so busy in the kitchen you don't have time to mingle with your guests! It is always nice to be able to cut corners and to find super simple and mouthwatering recipes that do not require too much time and effort.
Make it ahead and give yourself that extra bit of time to mingle with your guests!
This wild rice salad delivers on taste, texture, appearance and convenience. For such a beautiful salad that has so many complex flavors, you wouldn't think it's as easy as it is.
This recipe is inspired by a salad I had in Minnesota where wild rice is very popular. It was at a family member's coffee shop called Jitters Java Cafe, in Sauk Centre. It is light and filling all in one bite. The fresh flavors of apples, grapes, and the crunch of the nuts make it a popular choice!
You can play around with the ingredients a bit as this recipe is quite flexible. Add more, omit, or swap out the nuts or increase the number of colorful veggies!
Use leftover turkey and you'll have lunch for days! Bring this salad to you next potluck and people will be begging you for the recipe.

This week's posts are all a part of Holiday Side Dish Week! Be sure and check out all of the other ideas below the recipe!

What is wild rice?
Believe it or not, wild rice isn't actually rice at all! It is a species of grass, one of the very few native grasses to the US, originally cultivated by Native Americans. It is an aquatic grass with an edible grain.
The hull is longer and thicker than regular rice and takes longer to cook because of that hull. Wild rice can be expensive because of the way its harvested, but it can be used in many ways and has many health benefits such as providing us with protein, fiber, magnesium, and zinc to name a few.
In recent years they have found a way to mechanically cultivate it but many places continue to harvest it mostly by hand. In Minnesota, you have to have a license to harvest it due to strict laws about not destroying the grasses that they come from.
It's done in a canoe or very specific small watercraft and when propelling the boat, they use a special pole with a fork at the end to not damage the root growth.
There is a special tool called a flail that actually harvests the rice, but it must be done by hand. The MN Dept of Natural Resources has more information on this if you're interested!
The BEST way to cook wild rice to perfection
The success of this recipe is cooking the rice properly. All of the amazing add ins will not deliver if the rice is undercooked or if it becomes mushy.
While you can use a steamer or cook the rice in the oven, I recommend cooking the rice on the stovetop. The wild rice keeps its shape and you can closely monitor that it doesn't overcook.
Bringing the liquid to a boil then adding seasonings and the rice then reducing it to a simmer and covering you will yield the best results.
Cook it for 25-40 checking the texture at the 25-minute mark. Some wild rice has a tougher hull so you'll want to taste it to check the texture. Continue cooking as necessary.
PRO TIP
Wild Rice expands as it cooks so you'll want to add twice as much liquid to the amount of rice. One cup of uncooked rice gives you 3-4 cups of cooked rice.

Ingredients
Mayonaise
Salt & Pepper
Sour Cream – Can also use plain yogurt.
Wild Rice
Apples – Granny Smith, cored and cubed are the best to use as they are tart, not too sweet, and can stand up to all of the other flavors.
Pecans – These are a wonderful addition to this salad but you can also swap them out for chopped walnuts, slivered almonds or even pumpkin seeds.
Celery – cut to small 1/4″ pieces
Herbs – Your choice of thyme or sage. Both have their own unique flavor and aroma and both work just as well.
Grapes– I like the purple or red ones for the color but green ones would be fine too
Orange – You will need 2 tbsp of both zest and juice of an orange.
How to make it
Bring the chicken broth to a boil and add in the sage/thyme and stir. Add in rice and reduce the heat to a slow simmer. Cover and cook for up to 40 minutes until rice is tender. Keep an eye out, you don't want to overcook the rice. Allow the rice to cool. You can actually do this ahead of time and have it ready to go later on.
Cut the vegetables into small bite-sized pieces so it's easy to eat.
Everything else can be stirred in together–the rice should be cooled at this point otherwise the dressing will thin out and become runnier than you'd like!
Save a little of the nuts, fruit and veggies to sprinkle on top.
Toss with optional salad greens or serve alone — sprinkle remaining ingredients over top.
Tips and Variations
Broth
I use chicken broth in cooking the wild rice, but you can substitute for vegetable broth if you prefer. You can also add in extra salt and seasonings to your preference.
Additional Flavors
Other ingredients that would work in this salad to add incredible flavor are cranberries, edamame, acorn squash, small bites of roasted yams, cucumbers, orange slices, pistachios, walnuts, butternut squash, dried cherries. The sky's the limit. I've even made this with pomegranates for Christmas Dinner which looked so festive!
Potlucks
This is a great option for potlucks and picky eaters. You could set up little bowls with all of the add-ins and have people pick and choose their own salad toppings.
Leftovers for days!
This is a great way to use up a leftover rotisserie chicken or turkey leftovers after thanksgiving. The salad is light so you won't feel like you are eating Thanksgiving dinner all over again!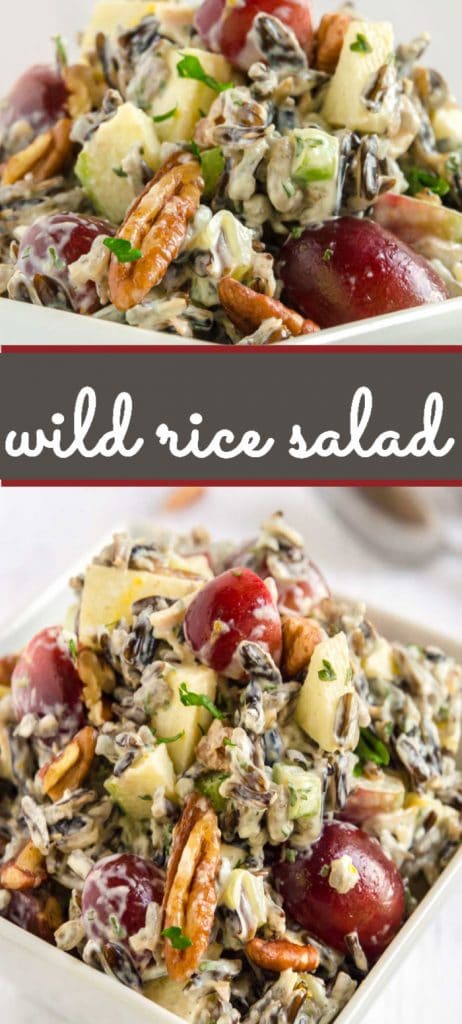 Common Questions
Can I make this ahead of time? This salad will keep for about a week. If you are making it ahead of time wait to add the nuts and feta cheese until the last minute. The texture of things will change slightly being coated in the dressing, but it still tastes amazing.
You can also just choose to cook the rice ahead of time and combine the rest later.
Can I toast the pecans? Absolutely! This will give it an extra bit of aroma and bite. Set pecans on a prepared baking sheet and toast in the oven for up to 10 minutes at 350 degrees until nicely toasted.
More Hearty Side Dishes
FREE TIPS FOR ENTERTAINING WITH EASE AND FUN DELICIOUS RECIPES WHEN YOU SIGN UP FOR THE MAILING LIST BELOW THE RECIPE!
Hashtag any recipes you make from West Via Midwest #westviamidwestrecipes or tag me @michele_westviamidwest on Instagram to be featured on our stories!

Yield: 8
Wild Rice Cranberry Apple Pecan Salad
This Wild Rice Salad is as beautiful as it is delicious. It has rustic fall flavors and crunchy textures such as pecans, apples, celery, and cranberries. Tossed in a herb-infused creamy dressing with crumbled feta on top and tied together with a hint of citrus, this spectacular salad does not miss a beat!
Additional Time
30 minutes
Total Time
1 hour
25 minutes
Ingredients
3/4 Cup Mayonaise
2 Tablespoons Milk (optional if you think it is too thick)
1/2 teaspoon salt
1/2 teaspoon pepper
1/4 cup Sour Cream
2 cups Wild Rice
4 -5 Cups Chicken Broth
2 Granny Smith Apples, cored, peeled and cubed
1/2 Cup Pecans, chopped
3 Celery Stalks, cut to small 1/4" pieces
1 Teaspoon Thyme or Sage
3/4 Cup Grapes, cut into bite sized pieces(quarters)
2 Tablespoons Orange Zest
2 tablespoons Orange Juice
1 cup turkey or chicken, cubed (optional)
Instructions
Bring Chicken Broth to a boil. Add sage/thyme and stir. Add wild rice reduce heat to slow simmer and cook for 30-40 minutes until rice is tender. Do not overcook.
Allow rice to cool- (make this ahead to save the waiting time.)
Prepare Dressing: Mix mayo, salt, pepper, sage, sour cream and Orange Juice until well combined.
Chop celery, pecans and grapes into small bite-sized pieces. Core apple and cut into small bite-sized cubes.
Stir together cooled wild rice and dressing until well mixed. If you think the dressing is a little thick at this point, then add the milk to thin it. Add orange zest and stir again.
If adding chicken or turkey stir in completely.
Add all but 2 tablespoons each of apples, celery, pecans, and grapes and mix until well blended.
Nutrition Information:
Yield:
8
Serving Size:
1
Amount Per Serving:
Calories:

344
Total Fat:

24g
Saturated Fat:

4g
Trans Fat:

0g
Unsaturated Fat:

18g
Cholesterol:

44mg
Sodium:

2608mg
Carbohydrates:

21g
Fiber:

3g
Sugar:

9g
Protein:

12g
This recipe was calculated using the exact brands and measurements I used to make this recipe. If you are following a strict diet please note changing anything will cause the nutritional info to change. Please calculate your own nutritional information if you want it exact to what you make and use my calculations as a guide only.
More Holiday Side Dish Recipes: