Nothing beats a great popcorn ball at a Halloween Party! These Caramel Popcorn Balls are creepy and fun! Both kids and adults will devour them!
Today's recipe for Caramel Popcorn Eyeballs is my last one this year for Halloween Treats Week. I hope you have enjoyed seeing all the creative things all of the festive treats as much as I have.
#HalloweenTreatsWeek not only has tons of Halloween party ideas for you to have the best party on the block but it also has an amazing giveaway too! Be sure to check out all the great prizes below!
This week's recipes were all created for #HalloweenTreatsWeek. Many generous sponsors sent products to use to make festive Halloween treats! As always, all opinions are 100% my own.
This recipe for caramel popcorn is my Grandma's recipe. It's one she always made and we all loved.
We realized a few years ago it was actually directly off of the corn syrup bottle word for word. Shhhhh… I'm sticking with it's my Grandmas recipe… it sounds better than I got it off a label!
This recipe isn't really sticky caramel…. once you've boiled it and poured it over the popcorn you'll need to let it set or dry. The texture is dry, yet a soft crunch…. you have to try it. I promise you this old fashioned caramel popcorn will become a family favorite!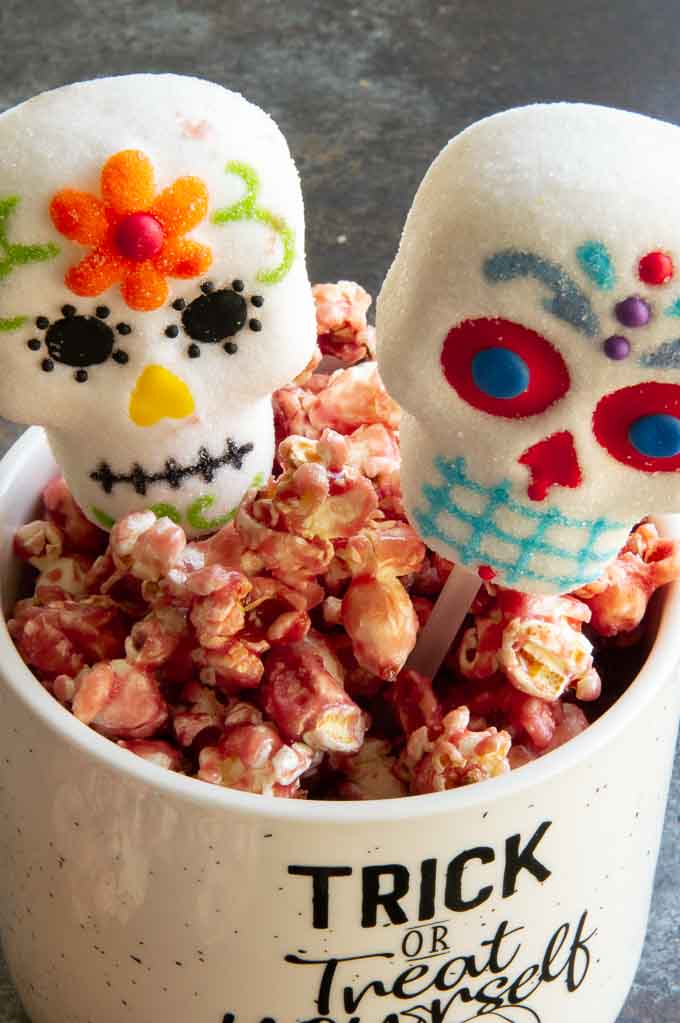 Need More Ideas for Halloween Food Ideas? We have lots of fun ideas! Check them all out here!
How to make Caramel for Popcorn
Use brown sugar to get a great caramel. When boiling it will get an even darker color.
I used some deep red food coloring to give the eyeballs a bloodshot look. These popcorn balls would be good for any occasion, you can just change the color you use.
Use gummy eyeballs and sugar eyeballs to make them creepy.
The sugar caramel is really hot so you'll want to let them cool a little bit before trying to form them
Be sure and let them sit for at least 30 minutes. The sugar will get the most wonderful texture and then the popcorn ball will stay together when you eat it.
Don't like popcorn balls… this recipe is great for just plain caramel popcorn. You can sprinkle on festive sprinkles or just put it in a container and add Halloween treats like I did with the marshmallow sugar skulls!
I'm was thrilled to use products in this post specifically from the following sponsor's Dixie Crystals, Adam's Extract, Wilton, and Treat Street USA.
Dixie Crystals – Brown Sugar
Adams Extract Vanilla (I also made a batch with the cherry extract and OMG!! They were fantastic! )
Wilton – Halloween eyes and sprinkles
Treat Street USA – gummy eyeballs and Skull Marshmallows
More Halloween Recipes you have to try!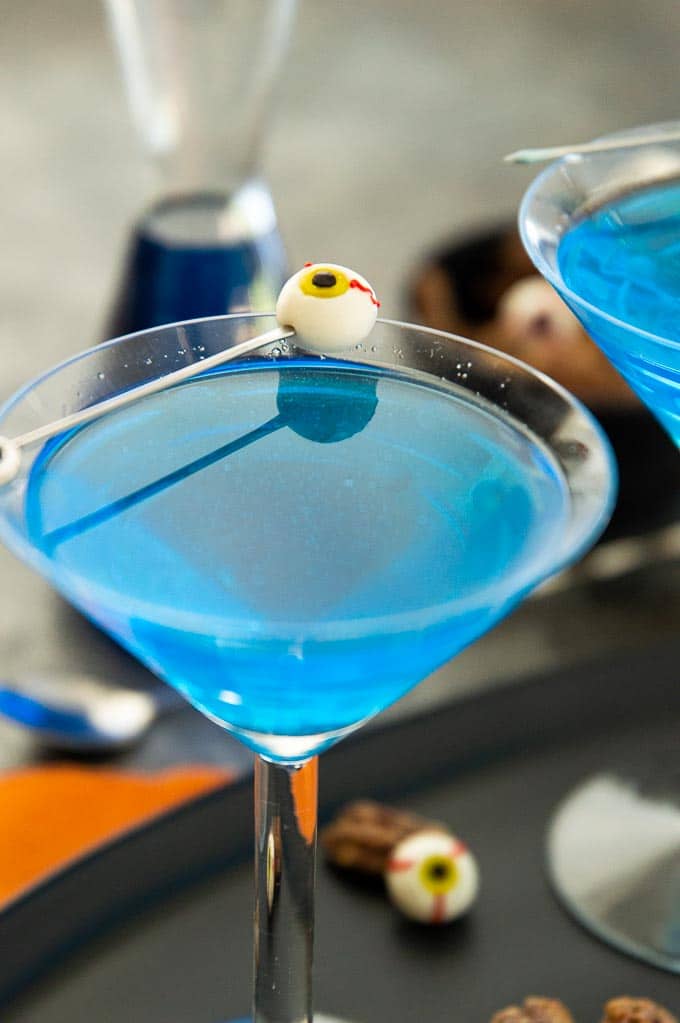 Check out the amazing #HalloweenTreatsWeek recipes from our bloggers today!
Yield: 15 popcorn balls
Popcorn Balls- Eyeball Halloween
Creepy Eyeball Popcorn balls made with olf fashioned caramel! Halloween Treats for all the goblins in your life for halloween parties!
Setting/drying
30 minutes
Ingredients
2 1/2 Cups Brown Sugar
1/2 teaspoon Vanilla (Adams)
2 Tablespoons White Corn Syrup
1/4 Cup Milk
1 Teaspoon Red Food Coloring (Adams)
Gummy Eyeballs, sugar eyeballs
1 cup popcorn, unpopped
1 tablespoon Canola Oil
Instructions
Pour oil into a heavy bottom pan you have a lit for. Heat to high, about 2 minutes.
Add popcorn and pop until all kernels have burst.
If you are uncertain how much you pan will hold, pop the corn in batches so it doesn't overflow.
Line a large jelly roll pan with parchment paper.
Once In a large bowl, place all popped popcorn.
In a second pan, add brown sugar, vanilla, food coloring, milk and corn syrup.
Bring to a boil, let boil for 1-2 minutes until all sugar has dissolved.
Remove from heat and stir until all bubbles have ceased.
Careful of hot sugar, pour caramel over popcorn. Then immediately take a spoon/spatula and stir immediately to coat. Let sit for 5 minutes until cool enough to handle. Sugar will still be hot, but you need to put them into balls while it is still moldable.
Using your hands form loose balls. Immediately place eyeballs around the edges of the ball.
Alternatively, use Halloween colored sprinkles in the bowl when you are stirring the caramel. It also makes a festive popcorn ball.
Place finished balls on parchment paper to set for about 20 minutes.
Serve within 2 days. Store in airtight sealed container on the counter until ready to serve.
Nutrition Information:
Yield:
15
Serving Size:
1
Amount Per Serving:
Calories:

144
Total Fat:

1g
Saturated Fat:

0g
Trans Fat:

0g
Unsaturated Fat:

1g
Cholesterol:

0mg
Sodium:

17mg
Carbohydrates:

34g
Fiber:

0g
Sugar:

33g
Protein:

0g
This recipe was calculated using the exact brands and measurements I used to make this recipe. If you are following a strict diet please note changing anything will cause the nutritional info to change. Please calculate your own nutritional information if you want it exact to what you make and use my calculations as a guide only.