This Ghoul's Blood Cocktail is a sweet and sour refreshing drink for any Halloween Party! Made with bright blue curacao, rum and pineapple juice it's a fun choice for a signature cocktail– the best part? It's a festive Halloween Themed drink you can easily make in big batches for serving a crowd!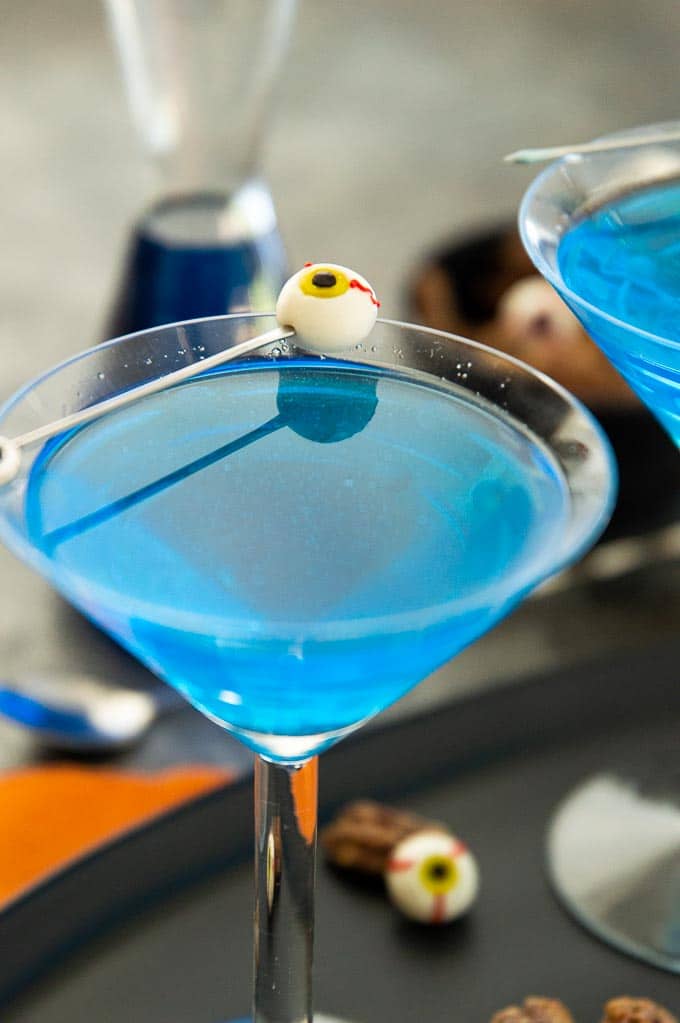 Signature cocktails are all the rage! Today's libation, the Ghoul's Blood Cocktail, is ideal for making as the lone drink to have ready for your guests. You can easily make it ahead of time to pour when your company starts arriving.
#HalloweenTreatsWeek not only has tons of Halloween party ideas for you to have the best party on the block but it also has an amazing giveaway too! Be sure to check out all the great prizes below!
This week's recipes were all created for #HalloweenTreatsWeek. Many generous sponsors sent products to use to make festive Halloween treats! As always, all opinions are 100% my own. This recipe is or adults 21+ and does contain alcohol.
Continuing my tradition of easy-peasy entertaining tips for Halloween I have a 3-ingredient cocktail that can be made in mass!
Today's cocktail came about from loving the signature cocktail I served a few years ago called the Purple People Eater (well, it was really a purple tears cocktail, but the name sounded better for Halloween as a purple people eater so I changed it for the party!)
Why you will love this Halloween Alcoholic Drink?
Easy and festive.
Able to make it in batches so you don't spend a lot of time making them at the party.
It's easy to adapt to a non-alcoholic version if you have company.
The drinks are delicious but still fit the Halloween Theme without breaking the bank.
What's in Ghoul's Blood aka Halloween Rum Cocktail?
Blue Curacao is the liquid that makes this the bright almost glow in the dark blue color! Don't let the color give you pause…. blue curacao is a non-alcoholic sugar syrup that is a blue color.
White Rum is the alcohol in the cocktail, it makes this such a fun boozy halloween drink!
Pineapple juice is the tart part of the cocktail. I used canned pineapple juice but have purchased fresh in the past and everyone LOVED it!
Need More Ideas for Halloween Food Ideas? We have lots of fun ideas! Check them all out here!
Easy ways to Make Halloween Cocktails Festive
When hosting a Halloween party you can do a few simple tricks to make them have a spooky or ghoulish flare. The bright blue sugar syrup does the trick but you can also add fun garnishes.
Gummy eyeballs and gummy ghosts are perfect in place of a traditional martini olive. Just slide them on the end of the martini pic and add one to the martini glass right before serving the drink!
Another way to make them fun and different is to rim the glasses with Halloween colored sprinkles. Cut a slice of lemon or lime then rub the juice along the rim of the glass. Finally, put the sprinkles on a plate then run the rim through the sprinkles.
Non-Alcoholic Ghoul's Blood Cocktail
If you want to serve a nonalcoholic version — you can add blue curacao to lemonade. It's still vibrant in color and very festive for the occasion.
I usually make sure to serve the alcoholic version one way in and the virgin cocktail a different way. Using different glasses makes the designation clear to everyone.
In the photos above the highball glass with the ghost gummy is alcohol-free and the martini glass with the gummy eyeball is the regular version.
More Halloween Party Food Ideas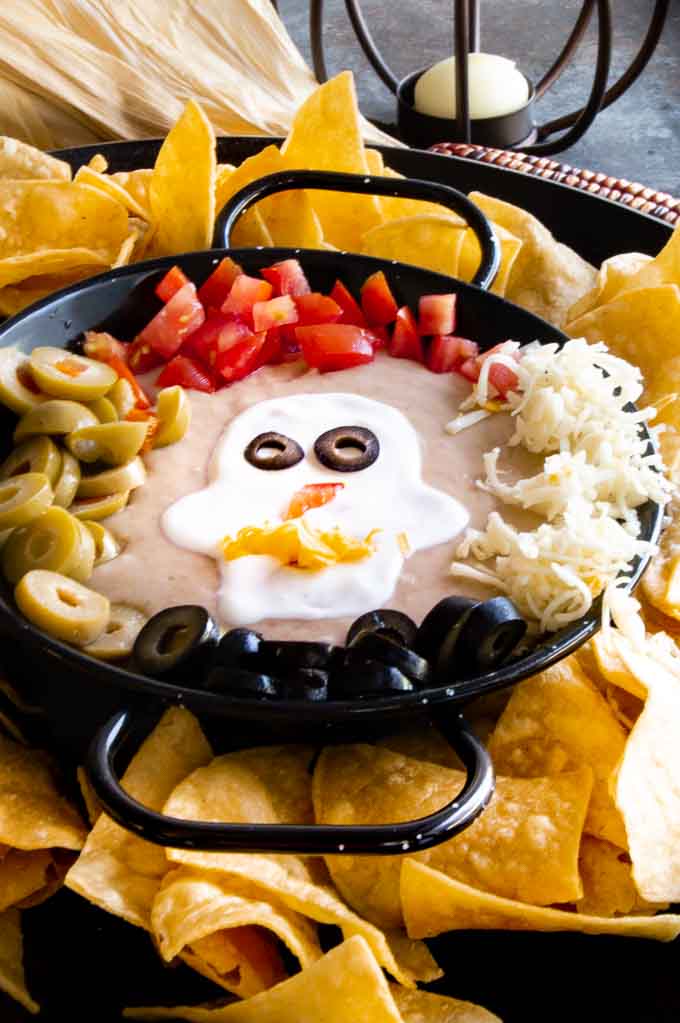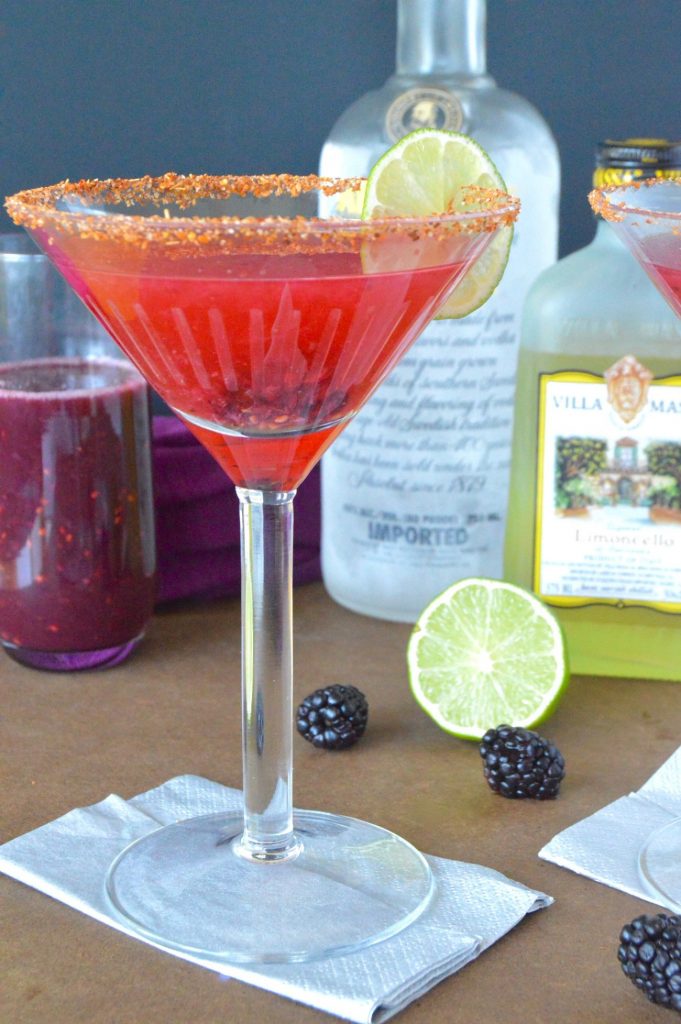 I'm was thrilled to use products in this post specifically from the following sponsors Sweet Treats Shoppe, Wilton, and Treat Street USA.
The products used were colored sprinkles from Sweet Treats Shoppe, ghost gummies from Wilton and the gummy eyeballs from Treat Street USA.
"When witches go riding, and black cats are seen, the moon laughs and whispers 'tis near Halloween."
Yield: 8
Ghoul's Blood Cocktail: Halloween Party Drink
This Ghoul's Blood Cocktail is a sweet and sour refreshing treat for any Halloween Party! Made with bright blue curacao, rum and pineapple juice it's a fun choice for a signature cocktail! It can easily be made in big batches for serving a crowd!
Ingredients
8 ounces White Rum
8 ounces Blue Curacao
10 Ounces Pineapple Juice
Crushed Ice
Ghost Gummies
Gummy Eyeballs
Instructions
Mix rum, blue curacao and pineapple juice in a 32-ounce pitcher.
Keep in the refrigerator until ready to serve.
When ready to serve fill a cocktail shaker with ice and pour 1-2 servings in. Shake well.
Strain out ice and pour into a martini glass.
Serve with gummy eyeballs or gummy ghosts on a martini pick.
Alternatively, fill a highball glass with ice and pour cocktail over the top. Serve with festive martini pic gummies or attach to the rim of each glass for serving.
Notes
This recipe is adapted from the book Halloween Fun & Food, by Sara Lewis.
NON ALCOHOLIC OPTION: Add 8 ounces of blue curacao to 18 ounces of lemonade. -- serve as directed in recipe in martini glass or over ice with festive gummy martini pics.
Recommended Products
As an Amazon Associate and member of other affiliate programs, I earn from qualifying purchases at no additional cost to you.
Nutrition Information:
Yield:
8
Serving Size:
1
Amount Per Serving:
Calories:

107
Total Fat:

0g
Saturated Fat:

0g
Trans Fat:

0g
Unsaturated Fat:

0g
Cholesterol:

0mg
Sodium:

4mg
Carbohydrates:

10g
Fiber:

0g
Sugar:

7g
Protein:

0g
This recipe was calculated using the exact brands and measurements I used to make this recipe. If you are following a strict diet please note changing anything will cause the nutritional info to change. Please calculate your own nutritional information if you want it exact to what you make and use my calculations as a guide only.
Check out the amazing #HalloweenTreatsWeek recipes from our bloggers today!
Delicious Halloween Snacks
More Halloween Alcoholic Drinks
Best Halloween Themed Party Food
Easy Halloween Treats and Sweets