Looking for the perfect signature cocktail to serve for the holidays? The Hard Apple Bourbon Cocktail answers your call for the perfect drink. The hints of hard apple cider mixed with a smooth bourbon are a perfect cocktail to sip on before, during or after the holiday dinner.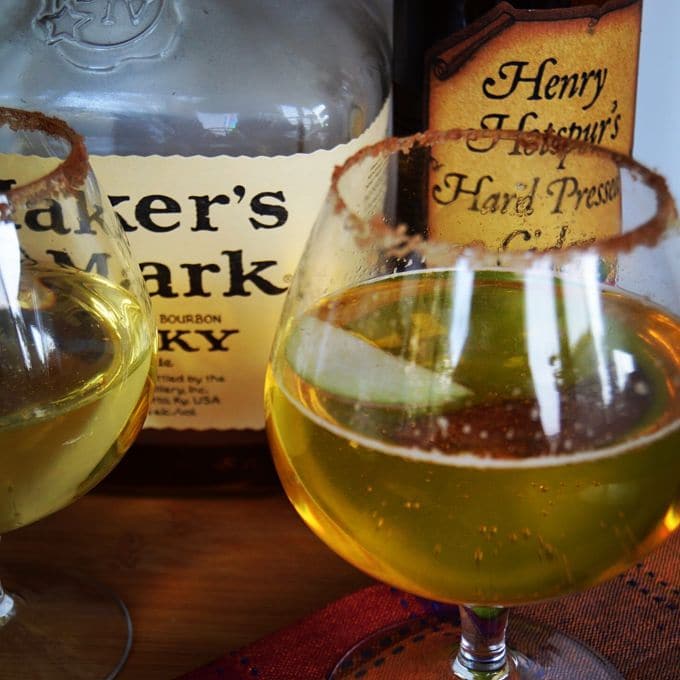 This weeks search for Cocktails was inspired by wanting something special to have besides a really nice wine this Christmas Season. I'd seen so many different hard apple ciders on the market. But alone, they just don't do it for me. I like the acidity and hints of apple aroma, but I just wanted something a little more than a plain hard apple cider. A perfect mix with it… comes the Hard Apple Bourbon Cocktail!
Bourbon is the hot thing among many creative mixologists at the moment. It can be an acquired taste, but this cocktail is the perfect transition to trying a new thing. It's smooth and easy to drink. (In my cocktail I used Makers Mark Bourbon.)
When making a holiday cocktail what is the difference between Scotch, Whiskey and Bourbon?
All of these terms are whiskeys. Whiskey is a spirit distilled with a fermented grain mash. The grains can vary between wheat, rye, barley or corn.
The distinction from there can be determined by either location or what grains are used in making the whiskey. For a whiskey to be called a Scotch, it must be made in Scotland.
Bourbon has very specific rules that must be followed to call it a Bourbon. It must be made in the USA and made with at least 51% corn mash. Among a few other regulations, it must be aged in new oak charred barrels too.
If you would like further details in what the differences are I found some great information here on Mens Journal's website.
When you add honey as a sweetener to the Hard Apple Bourbon Cocktail it braces the acidity of the cider. The Maker's Mark bourbon warms you up as it goes down. I saw so many sugar-rimmed glasses when trying to find something to make with bourbon and cider. I ended up using both cinnamon and sugar… it just made it seem more "holiday" or "special."
What Brand of Bourbon or Whiskey to buy to make the Hard Apple Bourbon: Signature Bourbon Cocktail?
It all depends on what you like in your cocktails because every brand is different. I used Maker's Mark for a couple of reasons. We had it and I like the taste of it. But let me highlight for you some of the options you can look for when making your Hard Apple Bourbon for your Holiday Cocktail
Makers Mark: Is a sweeter whiskey and has vanilla notes that pair well with Hard Apple cider and works well for holiday cocktails
Woodford Reserve is a lighter tasting whiskey but still has a creamy taste that works well with the cooler weather and having a warming drink.
Knob Creek is a very bold taste but has subtle hints of maple and caramel notes that pair well with anything apple.
Bulleit Rye Whiskey is a much spicer whiskey. Its much spicer because of the rye grain that is used in distilling, but it adds some great notes to any cocktail
Note in the picture here the rimmed glasses, I found that raw sugar had bigger crystals and looked so much more festive on the glasses— It worked just as well with regular sugar, but I really liked the way the raw presented. (yeah, it just looks a little more festive!)
This drink does need to be made one by one. The cider has a slight effervescence and if you make it too far ahead it kind of goes flat. The drink is shaken and then the ice is strained out but it's delicious when served ice cold!
Serve this with the Cranberry Pistachio Spread for an easy appetizer to go with this signature cocktail treat!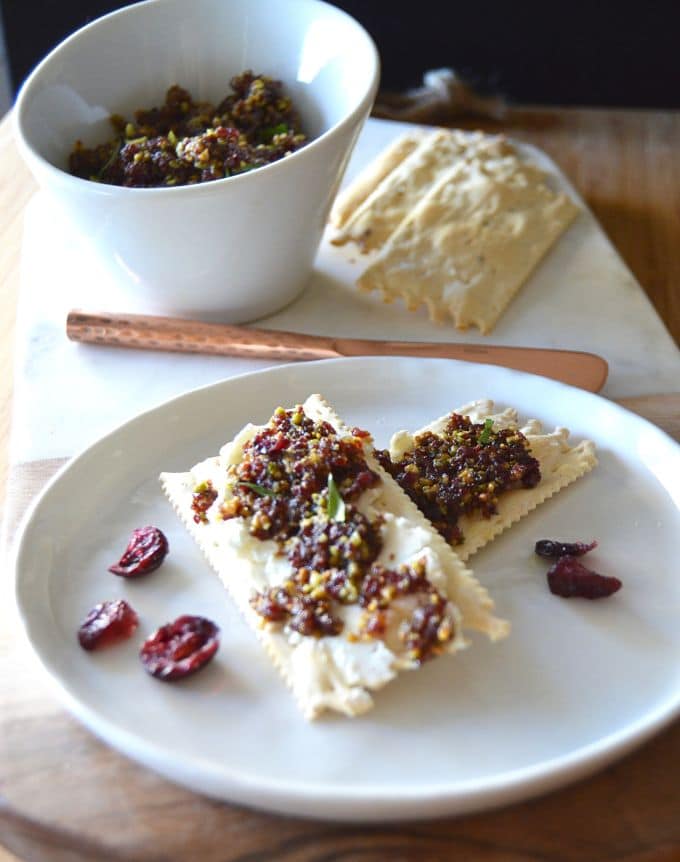 Craving more recipes for Holiday entertaining sign up for my mailing list here at the bottom of the page. or PIN THIS TO YOUR HOLIDAY COCKTAIL or PARTY Board for when you are looking for ideas to serve at Christmas! Also Follow me on Pinterest to get more ideas to have for making easy delicious meals and appetizers for any entertaining!
Yield: 1
Hard Apple Bourbon Cocktail, THE holiday cocktail!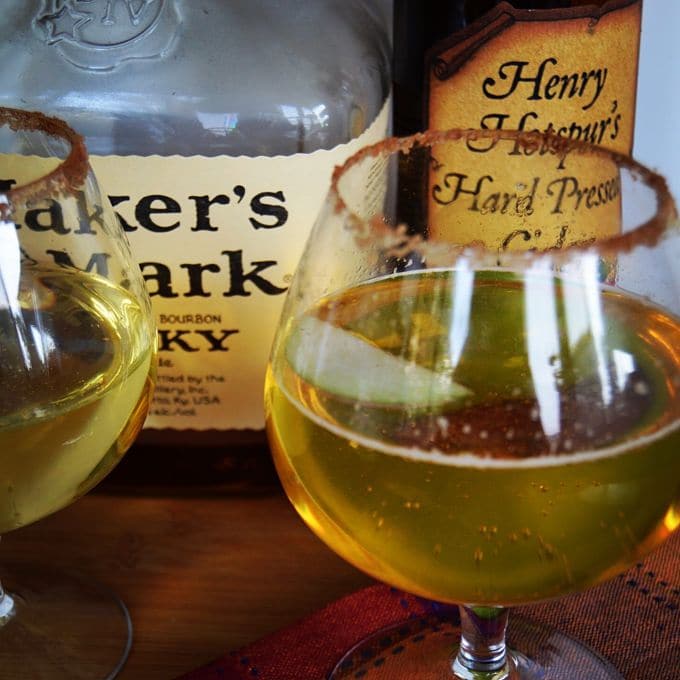 Looking for the perfect signature cocktail to serve for Thanksgiving? Look no further. The Hard Apple Bourbon Cocktail answers your call for the perfect drink. The hints of hard apple cider mixed with a smooth bourbon are a perfect cocktail to sip on before, during or after the turkey dinner.
Ingredients
8 ounces Hard Apple Cider
4 ounces Maker's Mark Bourbon, or any bourbon
2 teaspoons Honey
2 tablespoons Raw Sugar
1 tablespoon Cinnamon
Lime wedge to coat rim
Cocktail Shaker
Apple Slices for garnish
Ice cubes
Cognac glass suggested.
Instructions
Place sugar and cinnamon in large saucer and mix well.
Cut a lime wedge and rub the rim of your serving glass.
Drag edges of glass through cinnamon and sugar coating.
Set aside.
Place Cider, Bourbon, honey and ice in a cocktail shaker.
Shake until ice cold.
Strain cocktail mixture serving glass.
Garnish with an apple wedge and serve!
Notes
Any hard apple cider will work just fine. As well as any bourbon although I highly recommend the Maker's Mark Brand.
Nutrition Information:
Yield:
1
Serving Size:
1 Servings
Amount Per Serving:
Calories:

524
Sodium:

12mg
Carbohydrates:

67g
Fiber:

4g
Sugar:

57g