Hawaiian macaroni salad is a treat for all your senses! This no-frills, creamy, salty, tangy, Hawaiian macaroni salad has an incredible combination of flavors and textures that originated as a staple in Hawaii but has won over the hearts of people everywhere!
This salad goes great with so many things but especially with our Kahlua Pork, our Hawaiian Chicken Skewers with Huli Huli Sauce, or our Sweet Chili Glazed Pork Tenderloin (recipe coming soon).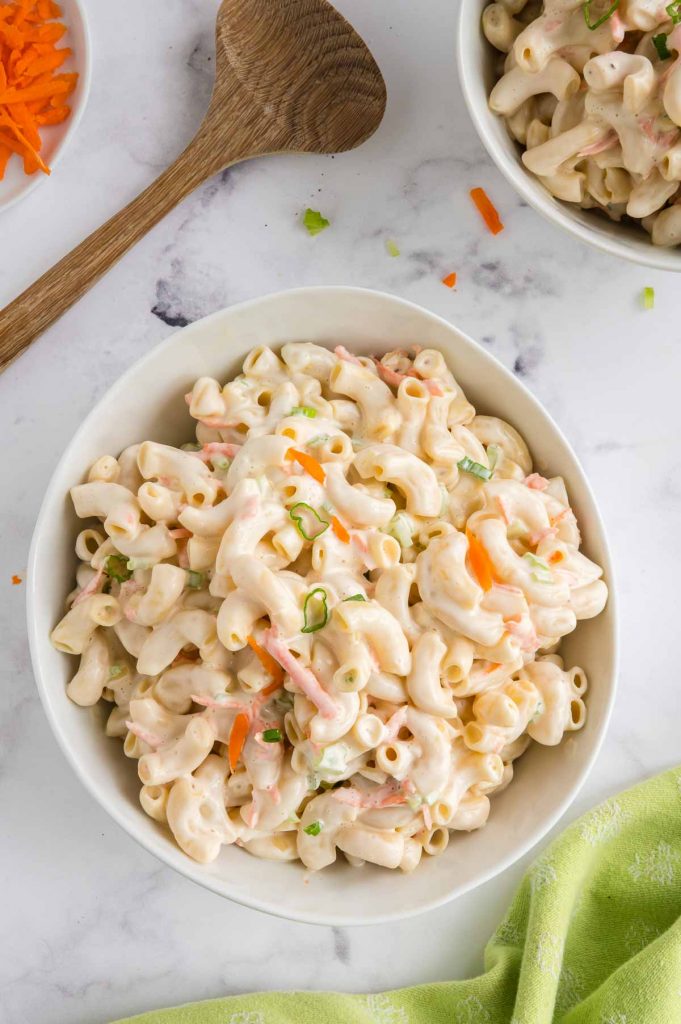 This is not your ordinary macaroni salad. It consists of ingredients that you perhaps wouldn't think to put into your macaroni salad like vinegar, brown sugar or teriyaki sauce, but it works. And not only does it work it creates a beautifully sweet and tangy balance that you can't get enough of.
It's a simple recipe made with very inexpensive ingredients, which is great for summer BBQ side dishes, casual entertaining, as well as cookouts and potlucks. It's also almost always a part of a Hawaii lunch plate if you happen to be visiting Hawaii.
Whether you're new to the world of Hawaiian macaroni salad or it's a longtime favorite, you are going to love this recipe!
History of Hawaii Plate Lunch
If you're not familiar with Hawaiian plate lunches, let's dive in! They originated in the 1800s for the workers in the fields of pineapple and sugar cane plantations. They served a need to feed people inexpensively and easily.
They are kind of like a bento box where there are usually 3 small individual items in a box. Usually, sticky rice, a protein like kahlua pork, or something like a huli huli chicken skewer served off the skewer.
While the history shows that the mac salad wasn't added until a lot later it's simple and budget prices fit nicely with the lunch plate.
Today, of course as it happens with traditionally budget-friendly ways of eating, it has turned into a popular favorite amongst the general population and foodies alike. You can find the lunch plate served on food trucks, poolside, diners, bars even grocery stores!
Ingredients
Macaroni pasta – Also known as elbow macaroni. This recipe will also work with any other short pasta you have on hand.
Carrots – Peeled and grated. Adds a nice crunch!
Onion – Minced. Will be added to the cooked pasta while still warm which will help soften it up.
Apple cider vinegar – A great flavor that gets absorbed into the pasta while it is warm.
Mayonnaise – Must be a good quality mayo like hellman's, Japanese kewpie, or Dukes. Miracle whip is too sweet and won't work with the apple cider vinegar.
Milk – Whatever you have on hand will do.
Brown sugar – Ok to use teriyaki sauce in place of brown sugar as they both give it a sticky sweetness.
Celery – You'll need 2 stalks for this recipe, minced.
Salt & pepper – To taste.
Green onion – Sliced fine, you want to use the green parts only.
How to make Hawaiian Pasta Salad
Cook the macaroni according to package instructions to al dente. Drain and immediately add the apple cider vinegar and onions to the pasta while it's still hot. Let cool for 15 minutes.
In a separate bowl, mix the mayo, milk, and sugar. Once the macaroni has finished cooling, toss the macaroni with the dressing. You do not want to add the mayo while the pasta is hot.
Transfer to the fridge to chill for at least 2 hours, during which time the flavors will meld even more.
When you're ready to serve, add the carrots and give it a good mix. Sprinkle with green onions and enjoy!
Can I make this Hawaiian Mac salad ahead of time?
The salad needs to chill to be served at the optimum temperature and have time to meld. You can make it a day ahead and just add the carrots and green onions at the end. I usually save a little of the mayo mixture in case the pasta absorbs too much you can bring back the creaminess with it.
What are the other (much debated) ingredients to add to the Pasta Salad?
People can agree on carrots and onion but everything else is fair game for discussion. Variations like ham, pineapple, chopped eggs, watercress, tuna, olive peas and bacon are things you will see, but being a traditionalist I prefer the more simplified version.
The one ingredient my family loves that I will often add is Spam. But you do you! IF you want add-ins- go ahead! The creamy dressing makes this mac salad so anything else is icing on the cake.
Can you make this Hawaiian side dish healthier?
I've seen options for using greek yogurt, but the flavor is not the same. It will work, but it's not what most people will associate with the plate lunch version of Hawaiian Pasta Salad.
More Cookout Sides You might Enjoy
FREE TIPS FOR ENTERTAINING WITH EASE AND FUN DELICIOUS RECIPES WHEN YOU SIGN UP FOR THE MAILING LIST BELOW THE RECIPE!
Yield: 16 side servings
Hawaiian Macaroni Salad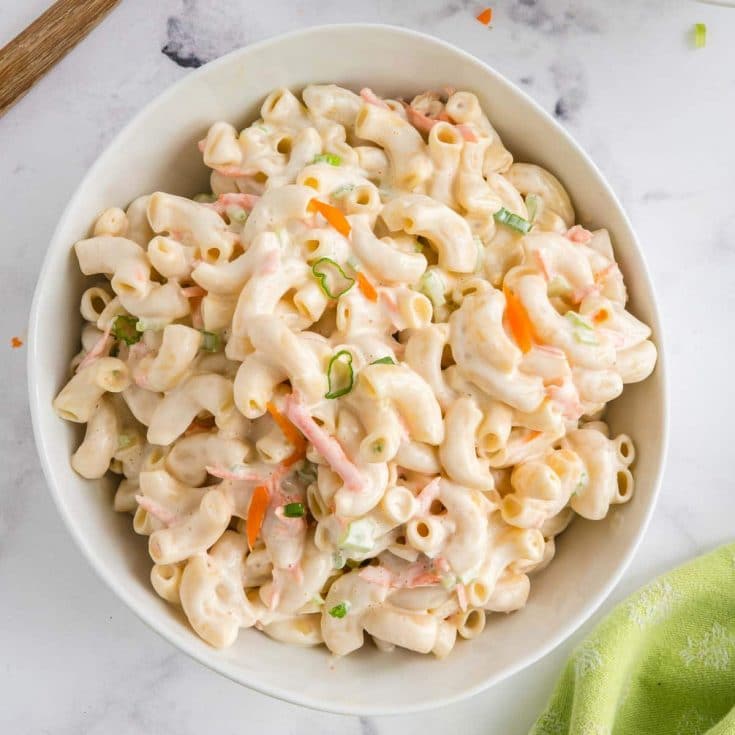 A Hawaiian Plate Lunch star-- this hawaiian Macaroni Salad can be the star of your summer BBQ or an easy to make with pantry ingredient potluck salad.
Total Time
2 hours
42 minutes
Ingredients
1 pound Macaroni Pasta
2 carrots, peeled and grated
3 tablespoons Minced Fresh onion
3 Tablespoons Apple Cider Vinegar
2 Cups Quality Mayonnaise (Hellmans, Dukes, Japanese Kewpie) ** NO Miracle Whip
1 cup Milk
1 Teaspoon Brown Sugar or Teriyaki Sauce
2 Stalks Celery, minced fine
Salt and Pepper to taste
1 Green Onion, sliced fine-- green parts only
Instructions
Cook the macaroni according to the box instructions paying special care to not overcook it. You want it to be al dente.
Once drained, immediatly add the apple cider vinegar and onions to the warm pasta and stir to mix well. The warm pasta will absorb the vinegar better. Let cool for at least 15 minutes, before adding the dressing mixture so it doesnt seperate.
In a separate bowl mix the mayo, milk and brown sugar; mix well.
Once the pasta has cooled toss the macaroni with the dressing. If you are making a day ahead, save 1/4 cup of the mayo dressing to be able to add in case it dries out.
Allow to cool in fridge for at least 2 hours.
When ready to serve add the carrots and mix. SPrinkle the top with green onions.
Store in a sealed container in the fridge. Keeps for up to a week, but it does dry out a little. You can add additional milk to thin it a little if necessary.
Notes
30 minute time in prep includes 15 minutes of rest before adding dressing to the salad as well as the chopping vegetables time. The chill time is merely sitting in fridge chilling time.
Nutrition Information:
Yield:
16
Serving Size:
1
Amount Per Serving:
Calories:

247
Total Fat:

21g
Saturated Fat:

3g
Trans Fat:

0g
Unsaturated Fat:

17g
Cholesterol:

13mg
Sodium:

260mg
Carbohydrates:

11g
Fiber:

1g
Sugar:

1g
Protein:

3g
This recipe was calculated using the exact brands and measurements I used to make this recipe. If you are following a strict diet please note changing anything will cause the nutritional info to change. Please calculate your own nutritional information if you want it exact to what you make and use my calculations as a guide only.