Homemade gouda mac n cheese recipe is creamy, extra velvety and swirls perfectly around al dente pasta with extra cheese sauce in each crevice for pure deliciousness in each forkful.
This homemade pasta dish actually has 2 kinds of gouda and a surprise cheese too! The creamy, smokiness of the gouda combined with the more "tart" goat cheese will become a family favorite! (the fact that it takes less than 20 minutes to make is a bonus too!)
Nothing beats a great mac n cheese and this recipe for Gouda Mac N Cheese is nothing short of perfection!
A savory creamy macaroni is a delicious recipe that perfect for easy weeknight dinners, or side dishes at Thanksgiving and Christmas.
These days I can appreciate really good cheese, and while there are certainly times that call for Kraft (yes I did just say the boxed stuff!!!) most times I would prefer to just make my own. It's crazy how easy it is to do, and bonus? I almost always have everything to make it!
How to make homemade macaroni and cheese
The best cooking method
There are so many ways to make macaroni and cheese. You can even use a combination of two methods in some cases (like start it on the stovetop, then finish it in the oven.)
It can be made in an instant pot but it doesn't really save you any time and often the pasta ends up being too mushy so I don't recommend this method.
A second option for easy mac n cheese is in the crockpot or slow-cooker. You can mix everything up the night before and turn it on when you need it too begin cooking.
This method is perfect if you won't be around to start the cooking and you can direct someone to start it when the time is right!
A crock-pot also travels easily to tailgate parties, all day church events or to a neighbors potluck. (I'll be sharing a recipe using this method for a tailgating party in a week or so)
My favorite method for the best mac and cheese is on the stovetop. It offers several advantages.
Easily adaptable to large or small batches
Easy to achieve the perfect pasta texture
Often one pan process for easy clean-up
To make smaller or larger batches you only need to change the size of your pot.
In my book, there is nothing worse than eating creamy mac n cheese that you can't tell the difference in the creamy cheese sauce and the pasta. The best cheesy macaroni should have an ever so slight firmness to the bite (also known as al-dente) and coated in a rich creamy, velvety sauce.
Cheese Options for Macaroni and Cheese
American
Gouda, Smoked Gouda
Cheddar
Monterey Jack
Colby
Fontina
Pepper Jack
Gruyere
Blend of any of the above
The cheeses below are great in addition to any of the cheeses above depending on your taste and how adventurous you'd like to be
Goat Cheese
Brie
Gorgonzola
Blue Cheese
Buy the block of cheese and grate it yourself!
THE #1 tip for cheese in homemade sauces?
I know a time-saver is to buy the cheese already shredded. But I don't recommend this at all.
Those time-saving packages are not only more expensive, but they have anti-clumping additives on them that when you use them they don't completely melt all the time.
They sometimes have an odd taste as well when melted. It takes just a couple of minutes. Just grate it yourself!!
Best Pasta choices for smoked gouda mac n cheese:
I suggest you use pasta shapes that have ridges and places that the cheesy sauce can get all in to.
But don't worry any pasta will work. I've certainly made homemade macaroni and cheese with spaghetti and it still tastes amazing. But then again it's the cheese sauce and wouldn't most people eat the sauce like a soup if they could!
WHAT IS THE SECRET CHEESE THAT MAKES THIS GOUDA MAC N CHEESE INCREDIBLE?
Today I'm sharing the recipe Gouda Mac n Cheese that uses 2 kinds of gouda. A regular creamy gouda and a smoked gouda cheese.
Combined they are magnificent. I added a small amount of goat cheese (yep, that's the surprise ingredient.) The goat cheese has a more acidic flavor that really balances out the richness of the gouda.
This recipe is so simple. Mac n cheese is really just a béchamel sauce added to pasta. This recipe is from the cooking school I attended.
They gave us a basic formula for the sauce and said to flavor it up with our favorite cheese/cheeses. Over the years I've used lots of cheeses when making this, so its versatility is fantastic.
I made this for our family meal, then got the individual servings all set up the night before I was planning on serving them for a get together.
How to make the right creamy and velvety cheese sauce for the best Mac n cheese?
I'm going to share the best way to make a successful roux for the creamiest yet perfect thickness for the cheese sauce. It's all in the mounting of the sauce.
Cook your pasta in a large pot of water with kosher salt until al dente, then drain pasta and set aside.
Start with melting your unsalted butter in a pan on medium-heat so it doesn't burn. Ideally you would like the butter to remain a light color and not brown. (I like a cast-iron skillet or any large sauce that conducts heat evenly will work.)
Add all purpose flour and whisk until its completely mixed in. Get all the lumps out.
Then let the flour cook for 2-3 minutes to bring out the nutty flavor.
Add whole milk or heavy cream slowly while whisking, Once it thickens add the regular gouda and the smoked gouda cheese and the goat cheese stirring until the cheese melts.
Add any spices you want in (I use nutmeg, black pepper – if you want it a little zesty you could add a pinch of dry mustard. Although my favorite add in is my homemade cajun seasoning mix.
Panko Topping (or breadcrumbs)
Want an easy panko topping for making it a little fancier or adding a buttery texture? Make this easy panko crumb to sprinkle over the top..
In the empty skillet, toast Panko, remove from pan.
Melt 1-2 tablespoons butter in a pan.
Add 1/2 cup panko
1 teaspoon paprika
1 TBS parmesan cheese
1/2 teaspoon minced parsley
Once all are combined sprinkle over top or serve on the side for each person to add their own!
GOUDA MAC N CHEESE RECIPE POINTS OF INTEREST:
Easy/Hard: If you can shred your own cheese without a problem, this will be a piece of cake. Taking care to not overcook the pasta is a critical point too! (setting a timer really helps for those of us get distracted!)
MAKE AHEAD? Yes definitely. It easily warms in the oven. I usually make it the day before, then have it in the individual serving pieces for a party.
IS IT FREEZABLE? Yes, it freezes well, although I must admit there is only some leftover if I plan ahead and make a double portion to be able to have some to freeze. (this is one of my husband's requests to have when I travel!)
Cocktail Pairing: Gouda goes perfectly with any crisp white wine (sauvignon blanc, riesling) or on a hot day it works well with a prosecco or a Cremant. (Actually, I would drink a nice bubbly on any day! )
OPTIONS: Feel free to substitute cheeses if you don't have gouda or goat. Cheddar and a flavored cheddar are great options for the gouda. Cream cheese would be a great substitute for the Goat cheese!
I love anything with bacon so I usually serve a bacon nest on the side like I have shown in the pics. You can make your own bacon nests by checking out my Bacon Potato Nests!
Need ideas for what to serve this Macaroni and Cheese with?
---
---
Pin this to your Easy Meals for Entertaining on Pinterest! Lets Be Friends …. follow me on Pinterest for more ideas for stress free entertaining with confidence!
---
---
~ Instagram ~Pinterest~ Twitter~Facebook ~
---
---
MORE SAUCY RECIPES YOU MIGHT ENJOY!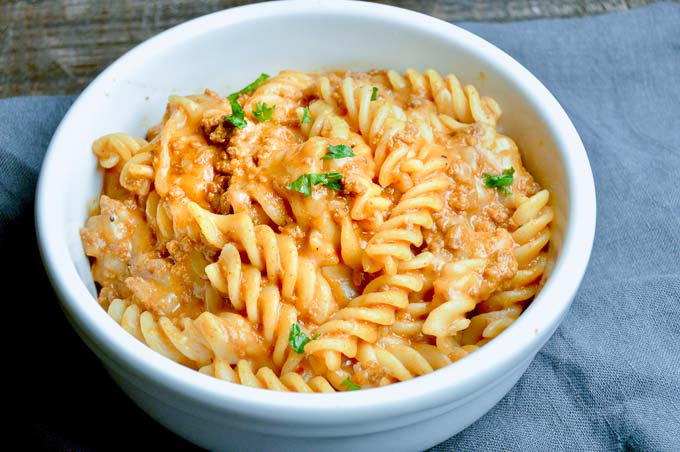 Yield: 16 Appetizer Portions (8 meal portions)
Gouda Mac n Cheese
Homemade gouda mac n cheese recipe is creamy, extra velvety and swirls perfectly around al dente pasta with extra cheese sauce in each crevice for pure deliciousness in each forkful.
Ingredients
1 pound shell or spiral pasta
1 teaspoon salt
4 tablespoons salted butter
6 tablespoons All purpose flour
2 cups Gouda Cheese, freshly grated
1 cup Smoked Gouda, freshly grated
4 ounces Goat Cheese, crumbled
2 3/4 cups Milk, (whole)
1/4 tsp nutmeg, ground
!Topping
1 tablespoon melted butter
1 tablespoon parmesan cheese
1/2 teaspoon parsley , fresh, minced super fine
Instructions
Fill a stockpot with water, add salt and bring to a rolling boil.
Once water is boiling, add pasta and cook to package instructions. Do not overcook. You want the pasta to be al dente... not mushy.
When pasta is done, drain and set stockpot aside.
While pasta is cooking, in a separate sauce pan, melt the butter on medium high heat.
Once the butter is completely melted, add the flour and whisk until completely combined. Allow flour to cook for 60-90 seconds to allow the nutty flavor of the flour to come out.
While whisking the flour/butter mixture add 1/2 cup at a time the milk. The first couple of times you add the liquid, it will take quite a bit of whisking to get it to incorporate. Continue this until all milk has been added.
Continue to stir the milk/flour mixture until the milk thickens. You will know when it is time to add the nutmeg and cheese when you run your finger on the back of a coated spoon and the milk/flour mixture holds the position.
Once the liquid has thickened add the nutmeg, and all cheeses stirring until well combined.
Once cheese is fully incorporated, pour over the top of cooked pasta and stir to blend well.
TOPPING:
Heat skillet to high, add panko, stir constantly until golden brown. remove from skillet and set aside.
Melt butter in same skillet, then stir everything together until all is coated.
Once fully mixed together you can sprinkle over top before serving.
SERVING OPTIONS:
Pour mac n cheese into a large serving dish and sprinkle topping before serving.
You can prepare individual servings and then sprinkle over the top as well.
If you make this the night before, you can heat in a 300* oven for 20-30 minutes if a family portion or 15 minutes for individual portions.
Notes
---
The nutritional information given for this recipe was calculated in My Fitness Pal using the ingredients/brand I used to make the recipe. The calories could vary depending on what brands you purchase to make this. Please take that into consideration if you are following a strict dietary guideline. 🙂
Nutrition Information:
Yield:
16
Serving Size:
16 Appetizer Portions (8 meal portions)
Amount Per Serving:
Calories:

370
Carbohydrates:

30g
Fiber:

1g
Sugar:

3g
Protein:

19g
‬‬‬‬‬‬‬‬‬
As a child I remember my grandma buying the Kraft mac n cheese and I wouldn't want her to make the sauce…. I just used the powder that it came with to dip my macaroni into. What can I say, I was kind of picky.
As I got older Kraft Mac n Cheese was a staple … it was probably one of the first things I cooked on my own. I clearly remember using a hot pot to make it daily when I first went away to college.