Best Deviled Egg Recipe dressed up to look like chicks and roosters for Easter! Super easy to make for an easter food idea these easter deviled eggs will be a cute conversation piece for your Easter Dinner Buffet!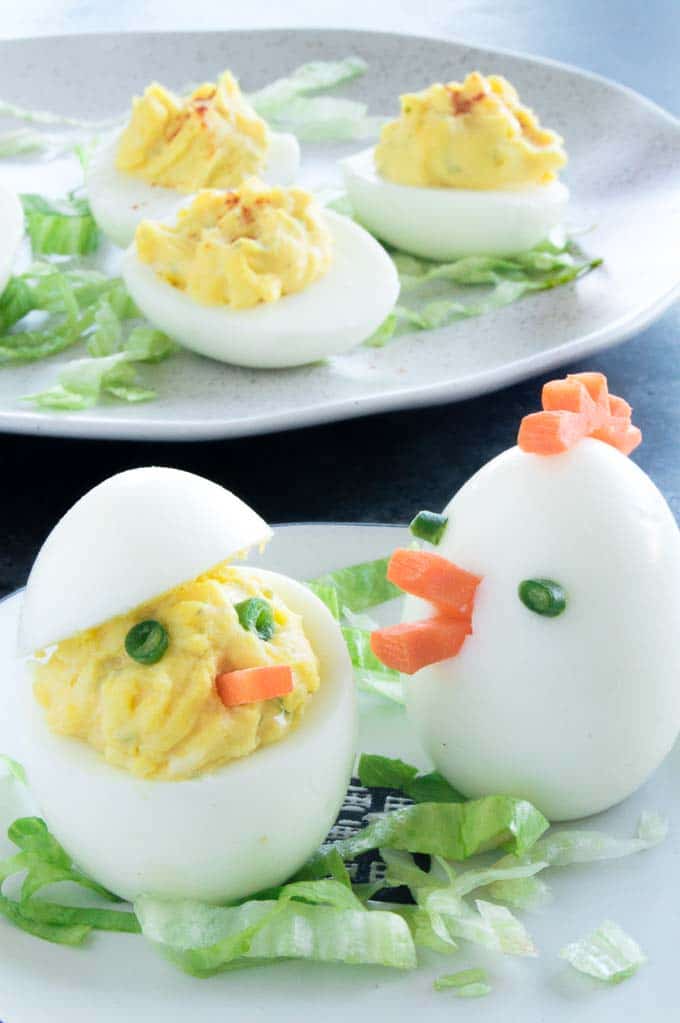 This Easter version of the Best Deviled Egg Recipe is a fun addition to your Easter Buffet Dinner Menu. The recipe is my mom's tried and true classic deviled egg recipe. Trust me, you can't go wrong if you follow the instructions.
How do you make the eggs for deviled eggs?
Buy fresh eggs. This will make them easier to peel.
To get the yolks perfectly centered store the carton on its side overnight before using. (Use a rubber-band to keep it closed.)
Place the eggs in a pan.
Run water to just cover the eggs.
Bring the water to a boil, let boil for 1 minute.
Turn off heat, put the lid on the pan and let sit for 12 minutes.
Drain water and place eggs into an iced water bath for 5 minutes. (this helps with peeling and stops the cooking so the yolks will stay soft and creamy)
Remove from the water bath, store until ready to use.
This boiling method comes out perfectly every time. However, if you have an instant-pot and would like to cook them in there here is a recipe from Delicious Meets Healthy for how to make the eggs in an instant-pot.
How long can you keep a hard-boiled egg?
Hard-boiled eggs will last about a week in the fridge. I suggest peeling them after you remove them from the water bath so they are ready whenever you need them. Hard-boiled eggs are a protein-rich healthy snack that you can reach for at a moments notice.
Can you freeze hard-boiled eggs/ deviled eggs?
Unfortunately no. The yolks would be ok, but the egg whites dry out and become an unpleasant color and texture. Make them in smaller batches so you only have about a weeks worth so you can finish them all.
How do you peel the hardboiled eggs
Tap each end gently.
Then on a cutting board roll the egg crunching the shell on all sides.
Start peeling from the largest end and you will see a slight membrane, if you start pulling on that it should start the easy peeling.
Rinse with water and place on a towel to dry.
Now comes the fun part. Making the noses, mohawk, beaks for the Easter Deviled Eggs!
How to make the easter deviled eggs chicks:
Peel carrots
Cut the carrots into 1/4″ thick coins
Cut that coin into triangles
Cut that triangle in half.

Cut the hard-boiled egg at a diagonal about 1/2″ (make sure to cut the top of the egg. You will know because the egg bottom will actually sit up on its own.
Scoop out egg yolk center from the bottom
Make deviled egg yolks as directed in recipe.
Place deviled yolk mixture back in leaving extra at the top you will be putting the face onto
Using anything that can look like eyes (chives, tips of green beans) place two eyes onto the yolk mixture.
Place a carrot nose on the face.
Tip the top towards the back highlighting the face of the chick.
Now onto the rooster. To make the rooster you will need to make a beak and a little mohawk.
How to cut the mohawk and beak for the rooster deviled eggs:
Cut carrot coins 1/4″ thick
Cut as directed in photos above (beak is left, mohawk right)
Stand egg on the bottom.
Using a whole egg, you will use a small knife to puncture where you will place the beak. This makes it easy to insert.
Insert beak
Place mohawk on the top. I use a little yolk mixture to act as glue to hold it on.
Tips for making Easter's Best Deviled Egg Recipe:
You can just make a couple chicks and roosters and place them among the regular halved deviled eggs on a platter.
Sub anything that you have. I have used mangos as noses, sesame seeds as eyes, sweet potatoes as Mohawks.
The only thing I have tried to use that didn't work was peppercorns for eyes. They did look like eyes, but peppercorn dyed the egg outline black. It looked like the rooster had been punched! Not really pretty!
Make a couple of extra eggs so you will have more yolks. I usually nibble on some leftover egg whites, or share with my puppy. This way the best part has more to go around!
In the recipe, I actually made homemade mayo instead of store-bought. It works both ways, but it's so easy to make and it tastes even better if you want to give it a try you can find the recipe here for Fresh, Homemade Mayo.
More Easter Food Ideas:
---
Pin this recipe to your Easter Board for ease of finding the recipe.
For more recipes that are easy to make sign up for easy recipes that you can feel confident in making to entertain on this page where it says "join the west via midwest community!" )
---
Yield: 12
Best Deviled Eggs Recipe ~ Easter Bunny Deviled Eggs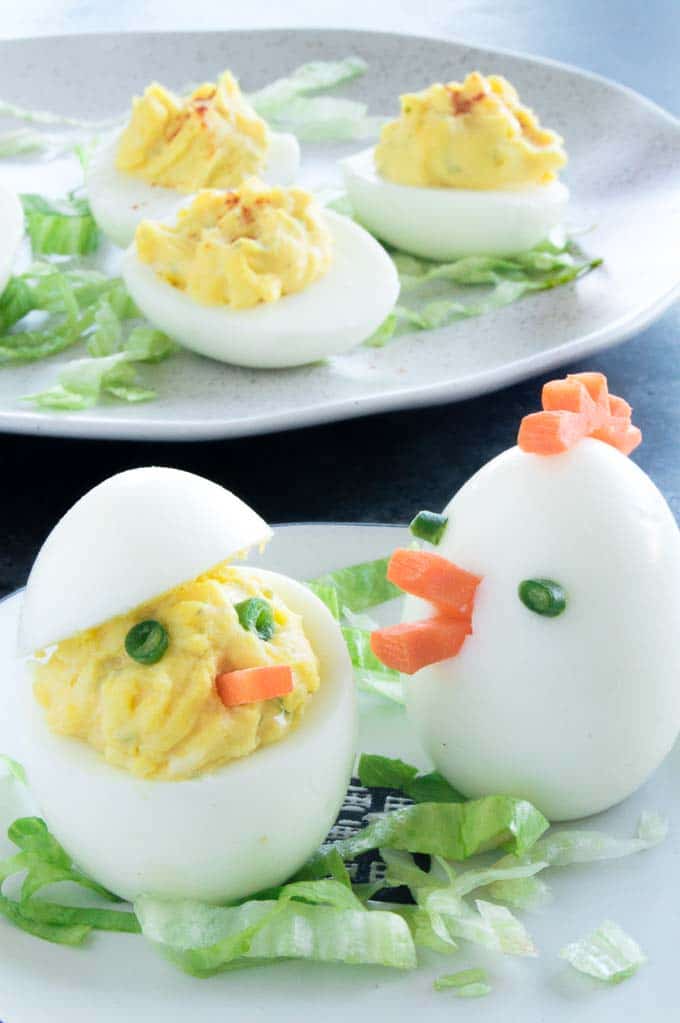 A simple & delicious way to serve a crowd pleaser for the Easter Holiday! This recipe for Easter Bunny Deviled Eggs are tasty and adorable and will be loved by adults and kids alike.
Ingredients
6 large eggs
1 Tablespoon Mustard
1/2 tablespoon onion, optional, minced
1/2 tablespoon pickles, optional, minced
pinch of salt
pepper to taste
Sprinkling of Paprika
Instructions
Place 6 eggs in the bottom of a pan (that you have a lid for.)
Put in enough water to just cover the eggs.
Bring water to a boil at high temperature. Once water is at a rolling boil, let eggs boil for 1 full minute. Then place lid to pan and seal. Let boil for 30 seconds.
Then turn off the heat. Do not open lid for 12 mins. At the end of 12 minutes, remove lid and drain water away.
Place eggs in an bowl of ice and water. Allow to cool for 5 minutes. Drain water and dry. Peel eggs.
Cut eggs in half, and remove the yolk portion of the eggs and place in separate bowl.
Mash yolks with fork until nice and smooth.
Add mustard, dry mustard, salt, pepper and mayo to yolks and mix evenly.
If you want onions or pickles add them once all other ingredients are blended.
Using a spoon, put about a tablespoon amount back into the egg whites pieces.
Sprinkle with paprika if desired.
Eggs keep for 2-3 days if kept in a covered container.
Notes
The caloric info was calculated using the ingredients I purchased to make this using My Fitness Pal. If you are following a strict diet please consider your brands, products may differ than what was used to create this recipe and plan accordingly.
Nutrition Information:
Yield:
12
Serving Size:
12 Servings
Amount Per Serving:
Calories:

67
Protein:

3g