Easter Food Ideas: Easter Bunny BBQ Meatloaf! Let your Easter Buffet or Easter Dinner have a conversation piece! This juicy meatloaf is flavorful and gives a surprise when its cut into!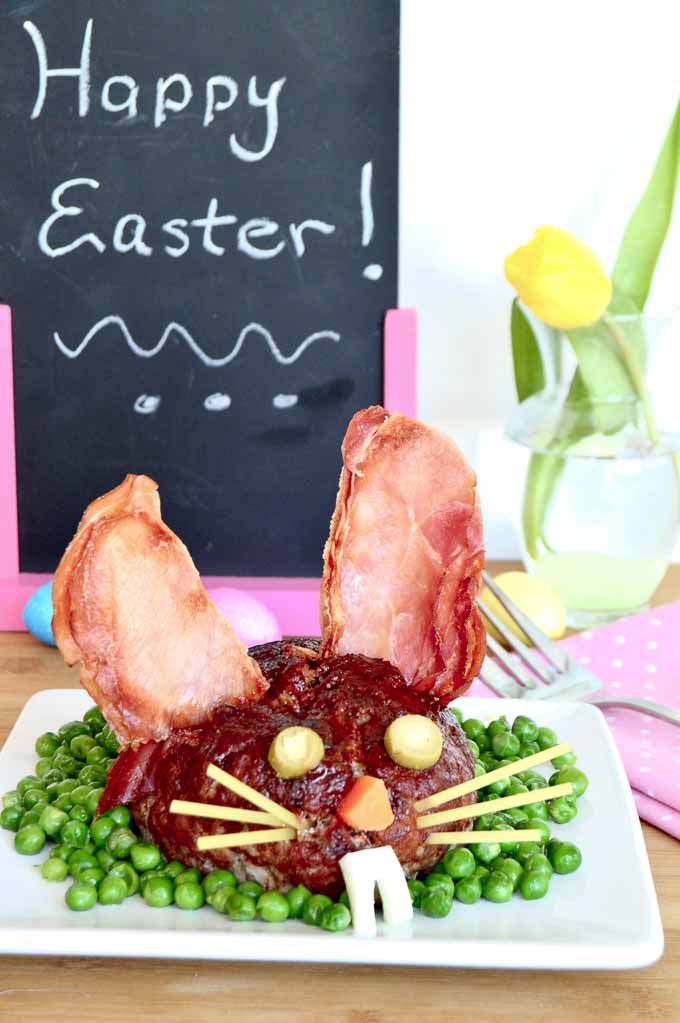 Looking for Easter Brunch Ideas? This adorable Easter Bunny Meatloaf is a recipe that uses my tried and true meatloaf recipe (minus the bacon wrap,) but served for Easter in the shape of a bunny! And in the Easter egg tradition… there is a surprise hidden for you in the middle!
This Easter Bunny BBQ Meatloaf design was inspired by a German Magazine that my husband had several years ago. (I'd credit it but it's long ago thrown away.)
My husband is from Minnesota and learned to speak German when he was a kid. I don't speak a word of German so I could only look at the pictures, but when I saw the bunny meatloaf I knew I would have to make it!
My niece was about 7 at the time and I knew this would be fun to make with her. While I couldn't read their recipe instructions I knew it would work just fine with my meatloaf recipe.
Looking for Easter Food Ideas that are a little different for Easter Brunch?
It's super easy to do. The best part, most things you will probably have in your kitchen and they are all edible in case a little one's hands get to them!
Cut the eyes out of olives then put some yellow egg yolks in the center for color.
Use pasta to make whiskers (3″ long for each whisker)
You can use regular bacon to make the ears but I like prosciutto better because they are shaped more life-like.
A raw carrot cut into a triangle makes the nose
To make the rabbits teeth, you can cut them out of a hard-boiled egg white.
You can also use a hard-boiled egg white to make a tail.
What is the Surprise in this Easter Dinner Idea?
A hard-boiled egg!
You bake the Easter Bunny BBQ Meatloaf with a hard-boiled egg in the center! When you cut into the meatloaf to serve it you have something that looks like this!
We have lots of recipes that would be perfect for Easter Dinner! Check out all of our Easter Food Menu Ideas here!
If you are looking for more fun Easter Food Ideas I also have this recipe for Easter Bunny and Chick Deviled eggs! They are super easy to make with things you have in your house as well.
More Conversational Easter Food Ideas on some of my fellow foodie sites for you to see:
SWEETS:
HOMEMADE CANDY TREATS:
COCKTAILS:
Pin this recipe to your Easter Board for ease of finding the recipe.
For more recipes that are easy to make sign up for easy recipes that you can feel confident in making to entertain on this page where it says "join the west via midwest community!" )
Yield: 6 servings
Easter Bunny BBQ Meatloaf
Easter Bunny BBQ Meatloaf! A recipe that's fun to make, tastes delicious and a crowd pleaser for both kids and adults alike! Brushed with BBQ sauce, the meatloaf is juicy and tangy. The surprise in the middle is just icing on the cake!
Ingredients
1/3 lb Ground Beef 85/15, raw
1/3 lb Ground Pork, raw
1/3 lb Ground Lamb raw
1 small onion, minced
2 tbsp Fresh Parsley, or 1 Tbs dried Parsley
1 egg, beaten
2 eggs for hard boiling
1 tsp salt
1 tsp pepper
1/2 cup of your favorite BBQ sauce, We like Famous Dave's Devil's Spit
1 carrot
2 olives (I used green, but any will work)
3 pieces of dried spaghetti
4 pieces cooked prosciutto
Instructions
Preheat oven to 350°
In a sauce pan place eggs in the bottom of pan, and cover with water.
Bring water to a boil. You have to stay and watch the pan until it boils because as soon as it comes to a boil you will need to cover/seal with the pans lid and turn off the heat.
Let eggs sit in the water, not removing the lid until 10 minutes have passed.
At 10 minutes drain water let eggs cool before peeling.
Peel 2 hard boiled eggs. Set aside.
Mix Ground Meats thoroughly.
Add Onions, Parsley, Salt, Pepper, Panko and beaten egg. Mix Thoroughly.
Form meatloaf into a flat oval shape, placing a peeled hard boiled egg into the center of meatloaf. Then wrap sides to seal egg in the center.
The meatloaf ends up looking oval like the body of a bunny.
Place meatloaf on Broiler Pan (with drainage holes, you want a pan with drainage holes so as meatloaf is cooking the fat drains through to the bottom of the pan)
Brush Meatloaf with BBQ sauce.
Place Pan in oven on shelf closer to the top of the oven for 45 minutes or until temperature reaches 160. Be careful to not puncture the egg when testing the temperature of the meatloaf
Brush Meatloaf periodically with additional BBQ sauce as it is cooking.
Once meatloaf is at 160 degrees, remove from oven.
Place Meatloaf on a cutting board to rest (under foil to maintain heat) for 15 minutes..
While Meatloaf is resting, brush one more time with bbq sauce and decorate to look like bunny.
Cut carrot into triangle shape, about 1/2" long (makes it easy to push into the meatloaf.
Cut olives into 1/4" circles, (In this picture I filled the center with leftover egg yolk, but you could also leave the pimento in the middle.
Break spaghetti pasta into 3 inch pieces to use for whiskers.
Cut the last egg in half.
one half will be used for the "cotton tail".
With the other half I used some of the egg yolk to use for the centers of the eyes. From the egg white I cut out white teeth.
For the ears I used prosciutto and microwaved two pieces for each ear for 1 1/2 minutes after cutting the tops to be pointy like rabbit ears. Once it came time to decorate the meatloaf I cut the ears to the right size.
Once Decorated serve on a platter with a knife to cut to order from the table. When cutting the egg will appear in the center as you are carving.
Notes
---
Nutritional/Caloric information given was calculated using My Fitness Pal with the specific brands of ingredients I used in making this recipe. Please note that your caloric info could be different based upon what ingredients/brands you purchase.
Nutrition Information:
Yield:
6
Serving Size:
6 servings
Amount Per Serving:
Calories:

497
Carbohydrates:

30g
Fiber:

1g
Sugar:

5g
Protein:

41g