Easy Cornbread Tamale Pie is full of bold flavors of a great tamale without all the work. Made with cornbread topped with enchilada sauce and your favorite meat and lots of gooey cheese and you'll have the best party appetizer for a crowd on a late summer evening.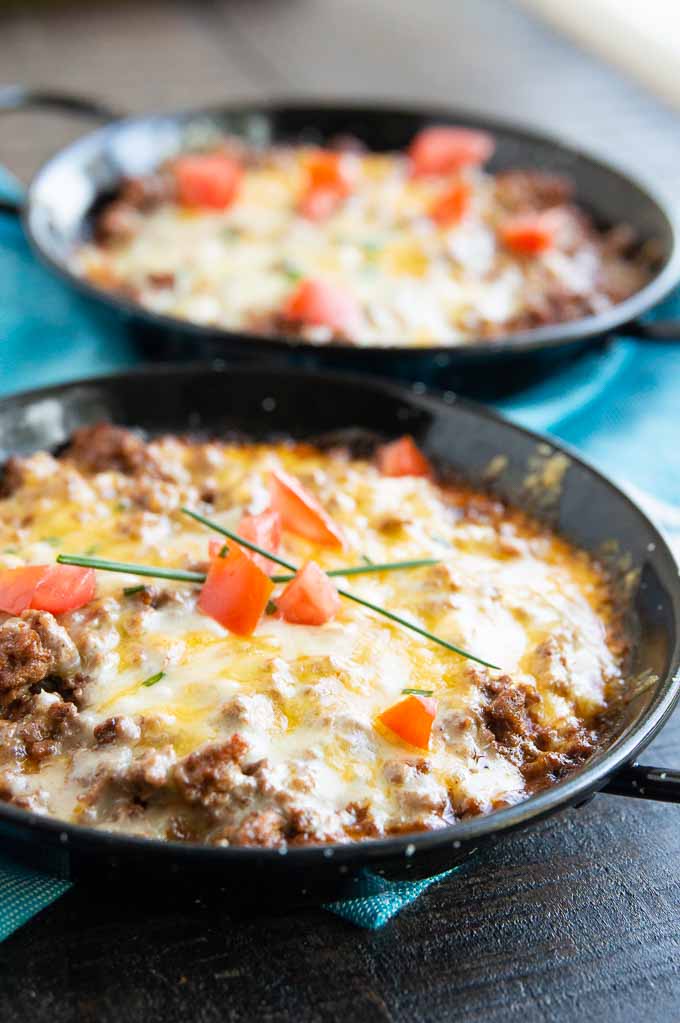 Easy Cornbread Tamale Pie is one of those dishes when you take a bite you wonder why you don't make it ALL of the time! Made with cornbread on the bottom with enchilada sauce drizzled all over the top with bold flavored beef and gobs of melted cheese.
You're craving easy tamale pie right now aren't you?
I can never decide what to call this when I have it. A jiffy tamale pie, a cornbread tamale casserole, corn tamale pie, easy tamale hot dish… it seems like the list is endless.
Bottom line it's the best tamale pie I've ever had. It's a recipe from a friend.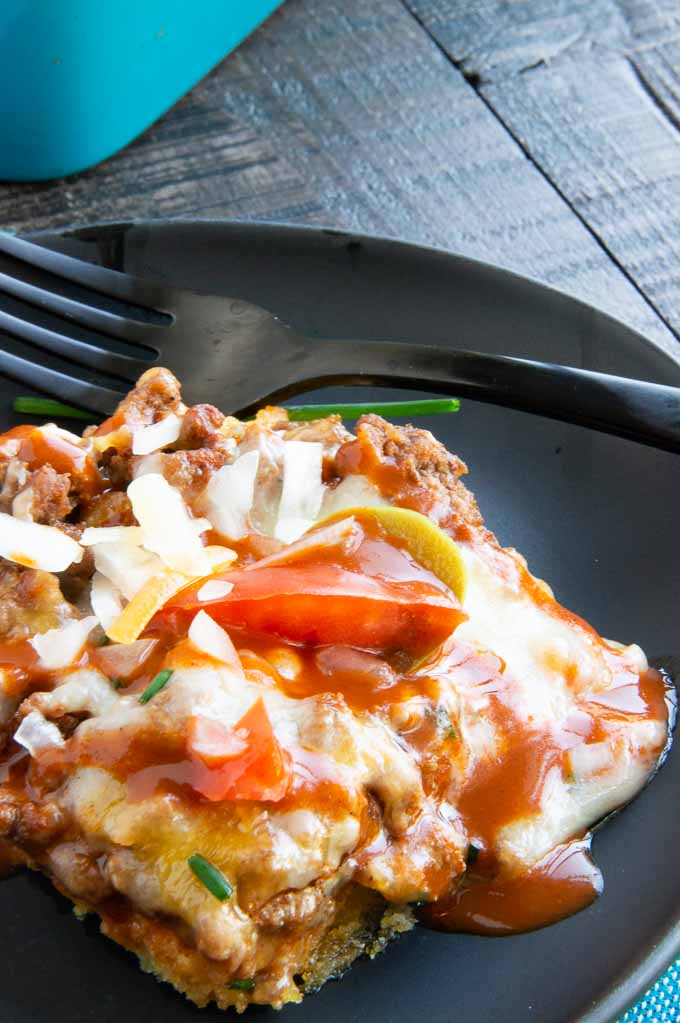 What is a Tamale?
A tamale is a cake made of corn (usually from masa) which is wrapped in corn husks and steamed. They often have meats in with the corn cake and can be served with melty cheese and lots of sauce with them.
What is Tamale Pie?
A tamale pie is a casserole version of a classic tamale. It's an Americanized Mexican food that plays on the traditional tamale. By using baked corn bread on the bottom then drizzling the enchilada sauce over it before baking the "cake" gets nice and steamy moist like a traditional tamale.
Today's recipe is from Brandi over at Aunt Bee's Recipes and it's fan-flipping-tastic!
I knew I'd love it since I love all things with melty cheese—- have you seen my pizza dip recipe? Uber cheesy appetizer alert!
Seriously though, her tamale pie is the easiest recipe ever but it's the best tasting, most well balanced, perfectly made tamale pie recipe you'll ever make!

Today I'm back with the Summer Edition of Freaky Friday! It's a blog hop put on by Michaela at An Affair from the Heart where a bunch of us get together and swap names and share a recipe from the person we drew.
It's super fun to share a recipe that we like from a site you might not have seen before. Added bonus for me is that it's a way for me to be able to cook/bake/create without having to worry about adjusting flavors, textures while I cook!
More about Aunt Bee's Recipes in a bit, but first let's get to this delicious tamale bake she has…….
What's in a Tamale Pie Recipe?
Jiffy Corn Muffin Mix
Large Egg
Sour Cream
Creamed Corn
Ground Beef
Onions
Garlic Salt
Cumin
Chili Powder
Enchilada Sauce
Cheddar Cheese
Cilantro (optional topping)
Jalapenos (optional topping)
Black Olives (optional topping)
Diced Tomatoes (optional topping)
Diced Bell Peppers (optional topping)
I know, I know…. I generally practice making things homemade but there are few things that you cannot make better or cheaper than buying it at the store.
Jiffy Corn Muffin Mix (cornbread) is one of those things. If you've never had it you MUST try it. It's so easy. If you've never had it you'll enjoy the lovely light texture and with just the right sweetness.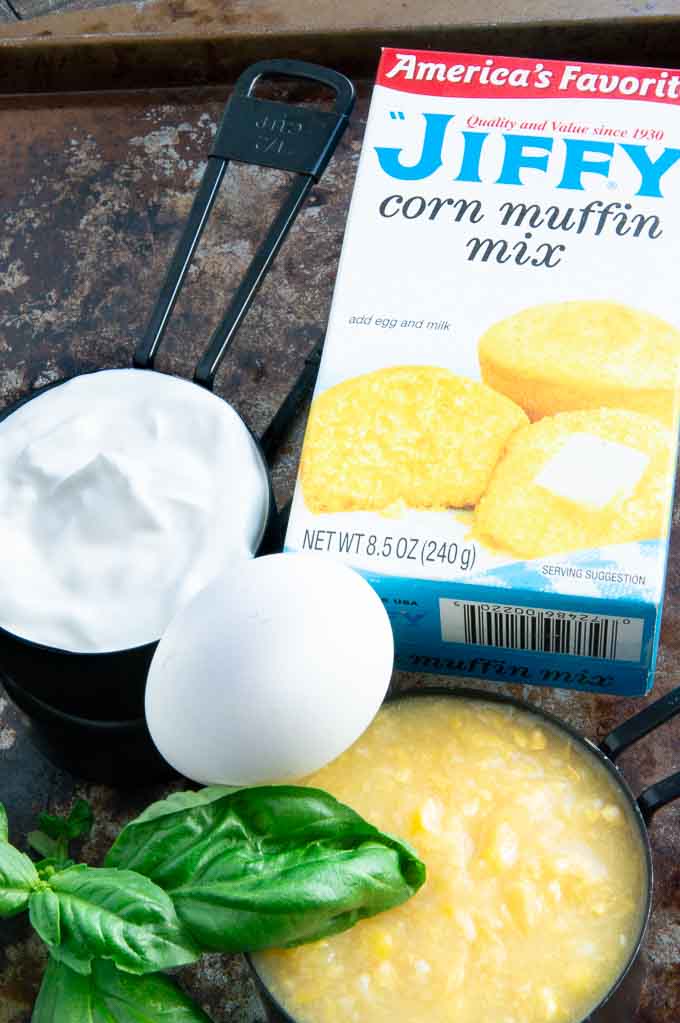 Tips for the Steamed Tamale in the Casserole
Use the Jiffy Corn muffin mix for the base but don't follow the directions on the box. (The sour cream, cream style corn and the egg will give you the best crumb on the pie!)
Beat the egg so it's already well blended. It makes it easy to incorporate it to the batter. It sounds silly but your tamale cake will be much more even and consistent in height during baking if you do this.
Grease the baking dish so the pie comes out easily when you serve it.
Spreading the cornbread batter as evenly as possible will give an level base and consistent bake throughout.
Make it in either an 8×8 pan or a 9X12 pan. I prefer the larger baking dish because I really like the texture of the steamed cake when its a little thinner.
Once it's mixed, you'll bake it for 20 minutes then let it cool. Use a knife around the edges once it's cooled a little bit so it's easy to get out of the pan after the final baking with all the tamale goodness on top.
Poke holes so the enchilada sauce can really get into the cake. This helps give a steamed, moist texture to the cake after the second bake.
---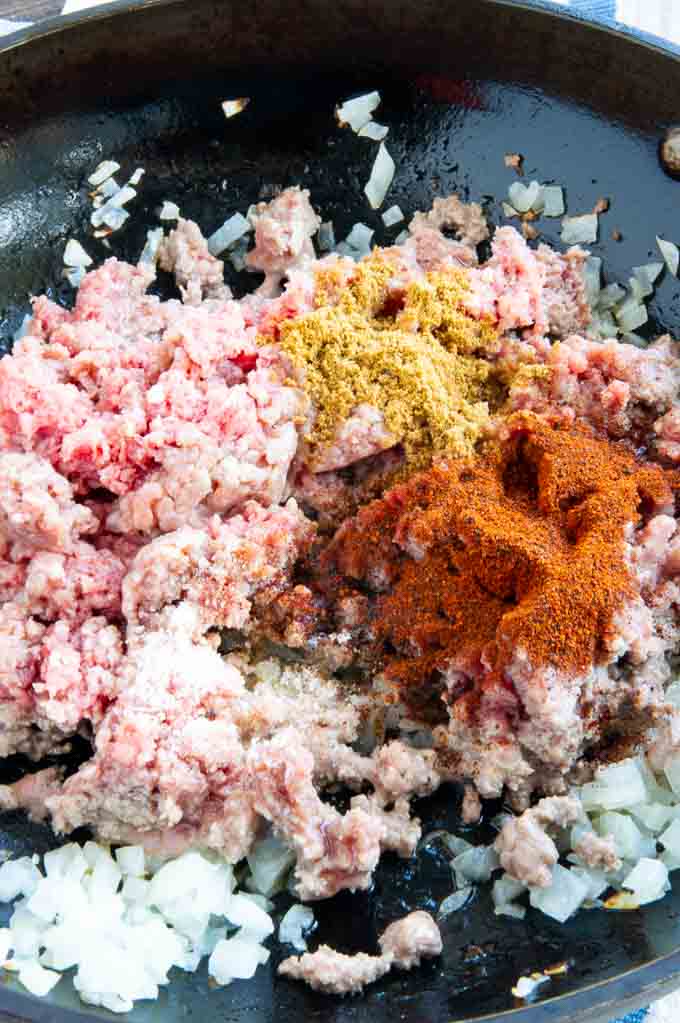 Assembly of Tamale Casserole
Assembling the casserole is as easy as layering all of the bold flavors.
Brown the onions then add the ground beef in small bits so its easy to bite into. Add the spices right into the beef as its browning so the meat is packed full of flavor.
First layer the cake with enchilada sauce (you can also use tomato sauce if you wish, it's not as spicy but it does the trick to steam the cornbread cake.)
Get the sauce right into all of the holes for maximum flavor and steaminess.
Layer the beef mixture over the sauce, then finally the cheeses.
The more cheese the better in my book so if you like it even cheesier by all means ad extra!
More about Aunt Bee's Recipes
I was thrilled to get Brandi's site. Brandi is from Alabama and makes things I grew up with in the South. Total comfort food that families love. She's been blogging forever and has so many things you'll enjoy.
Her recipes are super easy to follow and uses ingredients that are easy to find. You'll find many of her recipes will become family favorites.
She has so many casseroles and slow cooker recipes that are perfect for busy people that don't have tons of time to spend in the kitchen but still want a great home cooked meal.
I know it's a little early for Christmas but bookmark her site for any holiday baking recipes. If there is something you want to make she will have it. For real, she has IT ALL! (full disclosure, you might want to make it all too!)
I fell in love with her instant pot crack chicken, her BBQ chicken Dip and I was seriously drooling over her Red Velvet Cheesecake recipe. Head over to her site and check them all out you won't be disappointed!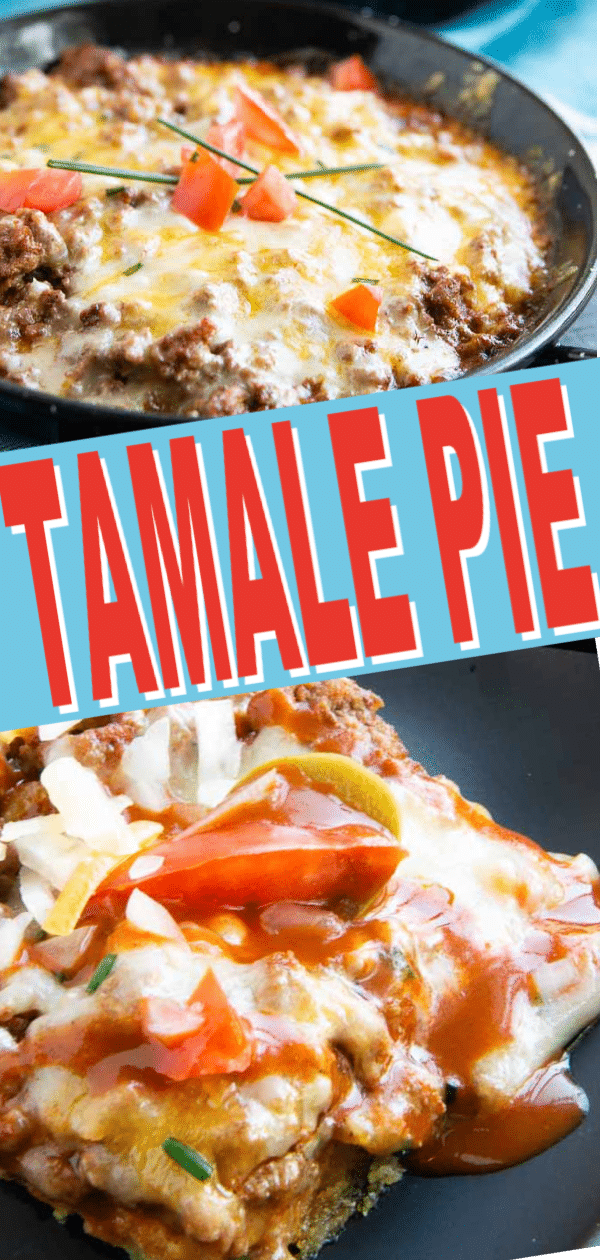 Common Questions you might have with baked Jiffy Tamale Casserole
Can I make my own homemade cornbread instead of using Jiffy Mix? You sure can, I would suggest you try to adapt your recipe to include the creamed corn and the sour cream to lighten the texture but it will absolutely work using homemade cornbread for the tamale pie base.
How can I adapt this to a vegetarian tamale pie recipe? Substitute black beans or pinto beans for the ground beef in the Mexican tamale oven bake. I'd still cook the beans and season them with the onions and spices to maintain the authentic flavors.
We like our food super spicy, can the casserole be made spicier? Sure can. To make the corn tamale pie spicer add green chilies when you are layering the toppings. You can also serve the pie with hot sauce and top with minced jalapeños to raise the heat factor!
We don't eat beef, can you make tamale pie with chicken? Chicken tamale casserole is so easy to make using this recipe. Either buy ground chicken and cook exactly as the ground beef or use already cooked rotisserie chicken. I'd season the rotisserie chicken with the spices and bake the same!
Can this be made as an appetizer version? I love serving these for appetizers! Tamale pie is great as a party food!
Tamale pie at our house this summer is being made for game nights out on the patio. I make them in individual cast iron pans so everyone can have their own.

More Comfort Food Appetizers you might enjoy!
Hashtag any recipes you make from West Via Midwest #westviamidwestrecipes or tag me @michele_westviamidwest on Instagram to be featured on our stories!

Yield: 6 dinner portions 10 appetizer portions
Easy Cornbread Tamale Pie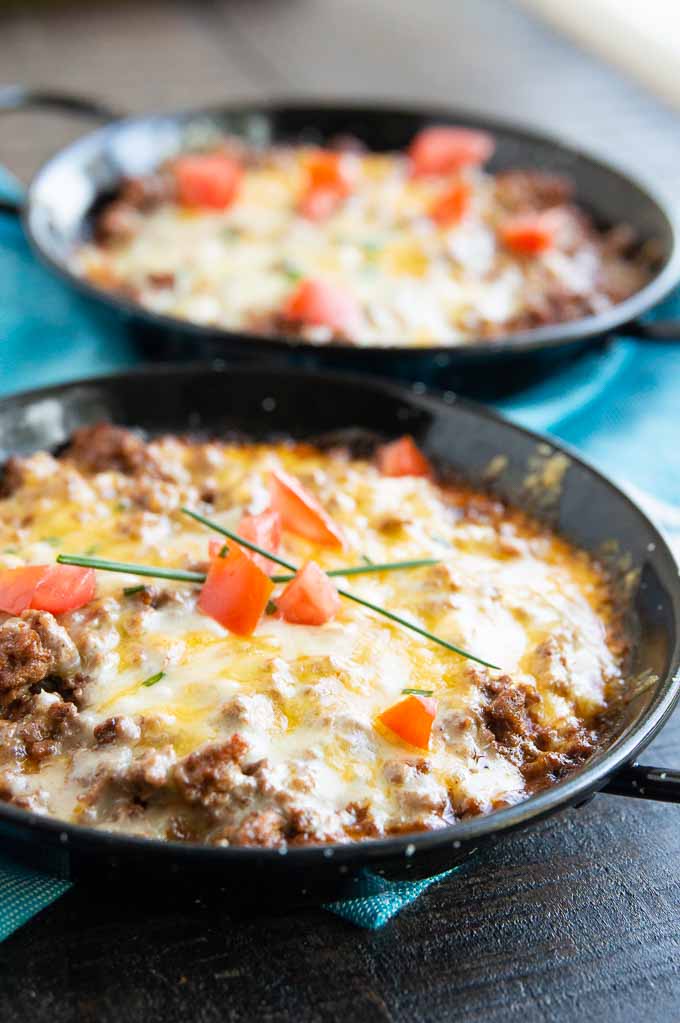 Easy tamale pie is full of bold flavors of a great tamale without all the work. Made with cornbread topped with enchilada sauce and your favorite meat and lots of gooey cheese and you'll have the best party dip for a crowd on a late summer evening
Ingredients
1 box Jiffy Corn Muffin Mix
1/2 Cup Sour Cream
1/2 Cup Creamed Corn
1 Pound 90/10 Ground Beef
1 Small Onion, minced
4 quick sprays of olive oil
1 Teaspoon Garlic Salt
1 Teaspoon Cumin
1 Teaspoon Chili Powder
12 Ounces Enchilada Sauce
8 Ounces Cheddar Cheese (yellow and/or White)
Instructions
Preheat oven to 400°
Crack egg into a small bowl, mix well with a fork.
In a small bowl mix box of Jiffy Corn Muffin Mix, beaten egg, sour cream, and creamed corn until combined.
Grease an 8X8 or a 9X 11 pan then pour cornbread muffin mix in the bottom and spread evenly. (I prefer the 9X11 to get a thinner cornbread crust, but both work fine!)
Bake for 15- 20 minutes until a toothpick inserted comes out clean.
Use a knife to separate the edge of cornbread from the edge of the pan immediately after removing it from the oven. This helps when cutting pieces to serve so it doesn't stick.
While the cornbread is baking, mince the onion and place in a heavy bottom skillet sprayed with olive oil that has been heated to high.
Cook onions until translucent, about 5 minutes.
Then crumble ground beef on top of onions, stirring to brown. After all beef is in the pan, add cumin, garlic salt, and chili powder and continue to stir while browning the meat.
Cook beef until browned through, about 5 minutes. Remove from heat and strain out any leftover grease.
Once cornbread is removed from the oven and cooled for 5 minutes, use your finger to poke holes in the mix. (see the photo in the post.)
Pour all but 1/4 cup of enchilada sauce over the top of the cornbread, then using a spatula spread it evenly getting each hole filled and the whole top covered.
Place the seasoned ground beef over the top of the cornbread/enchilada topping covering evenly.
Then sprinkle the grated cheese across the top.
Bake for 15-20 minutes more until cheese is golden brown and the pie is bubbly.
Allow to cool for 5 minutes, then serve.
Serve with remaining enchilada sauce, sliced jalapenos, sliced olives, sour cream and fresh tomatoes if desired
Notes
Freezer Option: Make ahead and just don't do the last bake until the day you wish to use it. Once assembled, cover with plastic wrap tightly. Freeze for up to 2 months. When ready to use you will need to thaw overnight in the fridge, then allow to come to room temperature for 30 minutes before baking for 20 minutes.
Make Ahead option: Assemble, then place in fridge wrapped in plastic. Remove from fridge 30 mins before you want to bake it. Bake for 20 mins as directed. You can make this up to 2 days ahead of time and leave it in the fridge. Any longer than that use the freezer option for maximum benefit.
Nutrition Information:
Yield:
6
Serving Size:
1
Amount Per Serving:
Calories:

412
Total Fat:

28g
Saturated Fat:

13g
Trans Fat:

1g
Unsaturated Fat:

12g
Cholesterol:

122mg
Sodium:

1179mg
Carbohydrates:

17g
Fiber:

2g
Sugar:

7g
Protein:

24g
This recipe was calculated using the exact brands and measurements I used to make this recipe. If you are following a strict diet please note changing anything will cause the nutritional info to change. Please calculate your own nutritional information if you want it exact to what you make and use my calculations as a guide only.
Take a look at all of our Summer 2019 Freaky Friday Recipes: