The Super Bowl is just around the corner and you're having people over for the big game! Here's a list of 10 Amazing Game Day Appetizers that will be sure fire hits for your party!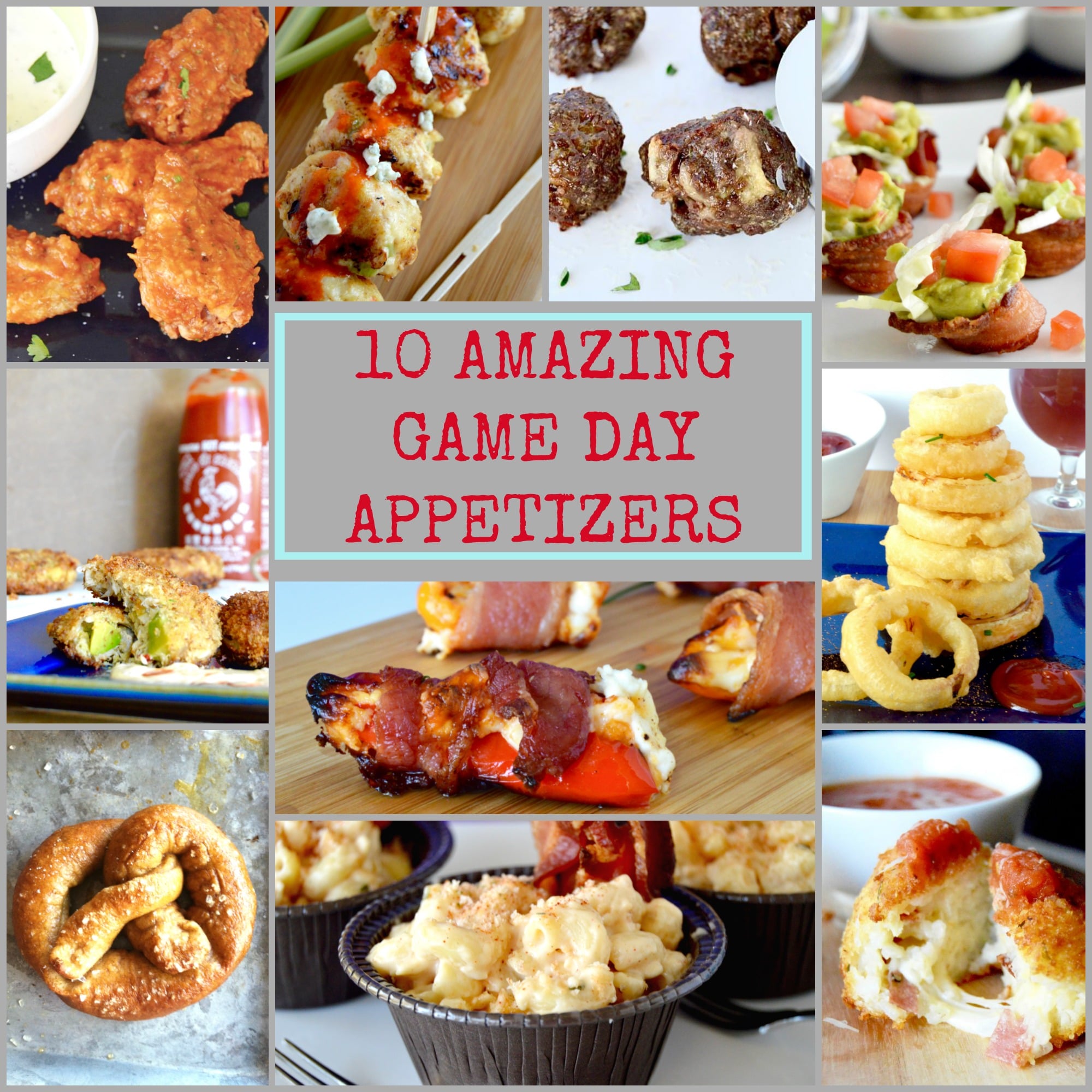 Top 10 Amazing Game Day Appetizers
Bacon Wrapped Shrimp Completely diet friendly (Keto/GF) low carb and high protein weighing in at less than 150 calories for 2 gigantic colossal shrimp!
Baked Wings with Hatch Chili Salsa. Simple Baked wings that are crunchy, tasty and completely not greasy. Perfect served as they are or tossed/dipped in your favorite sauce!
Buffalo Chicken Meatballs. Looking for a lot of protein in your diet…. low carb, easy and healthy and full of flavor? These Buffalo Chicken meatballs are the perfect addition to your healthy eating needs! A healthy chicken wing alternative these are packed full of flavor with out all the extra calories.
Avocado Crab Cakes. Avocado Crab Cakes sends an ordinary crab cake right off the charts! This recipe has big Chunks of crab mixed with cubes of fresh avocado that gives a creamy, full flavor bite! Dip it in a Sriracha dipping sauce for added zing!
Bacon Mac n Cheese Cups This Gouda mac n Cheese actually has 2 kinds of gouda and a surprise cheese too! The creamy, smokiness of the gouda combined with the more "tart" goat cheese will become a family favorite! (the fact that it takes less than 20 minutes to make is a bonus too!)
Crunchy Onion Rings. Better than at a restaurant, these Crunchy Fried Onion rings are light, airy and hold their crunchy without being greasy at all! Simple to make at home for an easy appetizer or as a side to go with a burger!
Bacon Cheese Pepper Poppers Bacon Cheese Pepper Poppers hit on all cylinders. They are tender, juicy, filled with melty cheese, wrapped in bacon with the sweetness of the peppers. Perfect for any game day party or any get together!
Guacamole BLT Bacon Cups! Guacamole BLT Bacon Cups are a low carb appetizer or snack that can be made in about 15 minutes. Crisp lettuce, juicy tomatoes a dollop of Guacamole all in a bite sized crispy bacon cup!
‬‬‬‬‬‬‬‬‬
Gruyere Salami Risotto Balls (arancini). Gruyere Salami Risotto Balls (Arancini): An easy appetizer to make from leftover risotto. These Arancini balls are filled with a melty, stretchy Gruyere cheese and a spicy salami. Those are surrounded by risotto that is rolled in panko and fried for a crunchy bite of deliciousness!
Cheesy Gouda Meatballs Cheesy Gouda Meatballs! This recipe is packed full of so many different sensations… juicy flavorful beef, tangy melty cheese on the inside that crisps up on the outside and it works plain or great in many different sauces. This appetizer will be the hit of any get together!
Homemade Pretzels Served Fresh and arm from the oven with a soft flavorful inside and a slightly crisp bite, these Homemade German Pretzels are perfect for when you want something a little more than just chips and dip!
SaveSave
SaveSaveSaveSave
SaveSave