Avocado Tuna Poke recipe: A restaurant-quality dish that will thrill all who have it. Creamy avocado along with fresh sweet tuna, stirred together with sesame and soy. It's healthy and delicious!
Avocado Tuna Poke is about as simple as it comes to having a sushi quality appetizer at home! I know, I just lost about half of you at the thought of raw fish? I get it, I really do. Until I met my husband I wasn't a sushi lover either!? My idea of a good tuna dish was out of a can, slathered with lots of mayo in between two slices of bread.
But you know how it is. It's the beginning of a relationship, you don't want to seem like you're uncool, so when he suggests sushi you're comfortable enough to admit you haven't had it but have always wanted to try it. (Even if you really don't want to eat it, it/s a new relationship so you go with that story!)
I must admit, the best thing I ever did when we went and tried sushi was to tell the sushi chef to not tell me what I was eating. I don't know why, but if I didn't know I was eating Octopus, sea urchin or eel at the time, it didn't freak me out so much and I was able to judge/enjoy it solely on taste whether I liked what I was eating or not.
I liked the tuna. Correction, I LOVED tuna.
EVERY. SINGLE. TIME.
When they handed me tuna it was a winner! …. its savory, yet sweet. The texture is firm but melts in your mouth as you eat it.
This recipe for Avocado tuna poke is a perfect way to highlight the tuna. It's another recipe that I got from a class with Jet Tila. It has just a few ingredients, but when they meld together they just sing!
It's easy to make, just be sure and purchase a sushi-grade tuna to start with.
Pictured here is ahi tuna. Sushi grade tuna is available at your local meat department, I purchased this at Whole Foods in my area, but in the past, my local Costco has had it as well. It can be a little expensive, but when I serve this, I usually serve it on chips, fried wonton, or on lettuce wraps so the things that go with it are very inexpensive so it balances out.
TIP FOR CUTTING AVOCADO TUNA POKE INTO CUBES:
Here is an example of how I cut the tuna into the cubes. A little tip I've found over the years when cutting the tuna is to place the tuna in the freezer for about 15 minutes before I'm ready to work with it. Because the tuna is so soft, it tends to wiggle a lot when cutting and you can get uneven pieces. By placing it in the freezer it "gels" it a bit to allow for even cutting.
Avocado Tuna Poke Recipe Points:
Easy/Hard: The hardest part of this recipe is cutting the cubes of tuna. If you follow my tip above it should be a breeze. However, even if your cubes are uneven, it will still taste delicious!
Make-Ahead? It's actually better if the tuna/soy/sesame oil has time to meld. You can make this recipe 8 hours ahead minus the nori and avocado. Stir the nori (seaweed) and avocado in at the last minute. This way the Nori doesn't get soggy and avocado won't turn brown. If I'm serving this with fried wonton chips I make those in the morning at the same time I stir the Poke together!
Serving suggestions: Serve the poke alone, or on top of thick-cut potato chips. They also work great with wonton wrappers fried up quickly. This could also be made if you are having a Tiki-themed evening along with coconut shrimp and a mai-tai!
Cocktail Recommendation: Serve these with an ice-cold beer, a Sakitini or a Hard Apple Bourbon! This also pairs well with any Saki (hot or cold)!
Enjoy!
Yield: 4
Avocado Tuna Poke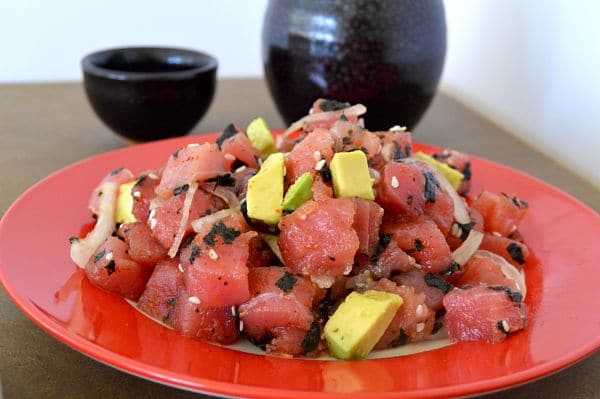 Avocado Tuna Poke recipe: A restaurant quality dish that will thrill all who have it. Creamy avocado along with fresh tuna, stirred together with sesame and soy. It's healthy and delicious!
Ingredients
1 pound sushi quality ahi or yellowtail tuna, , cut into 1/4" cubes
1/2 cup nori chiffonade, (Seaweed paper)
1/2 small sweet Maui or Vidalia- style onion, , very finely sliced
1 Teaspoon Sesame Oil
1/2 teaspoon Chili Flakesor cayenne pepper
1/2 Avocado cut to 1/4" cubes
1 Tablespoon sesame seeds, , plus additional for garnishing
2 ounces Thick cut potato Chips or Wonton crisps for serving.
Instructions
Combine all ingredients except Nori and avocado and stir to mix.
Allow to marinate for 30 minutes up to 8 hours.
Right before serving, add in Nori and avocado.
Place a spoonful on Chip, Wonton or anything you want to use as the"cracker."
Sprinkle with sesame seeds and serve immediately.
Alternatively you can serve this alone and eat with a spoon/fork.
Notes
All recipe calorie information was calculated on what I purchased to make this recipe in My Fitness Pal. When you make the recipe, the calorie content could vary depending on what specific ingredients/brands you actually use. Please take that into consideration if you are following a strict diet.
Nutrition Information:
Yield:
4
Serving Size:
4 Servings
Amount Per Serving:
Calories:

284
Carbohydrates:

16g
Fiber:

3g
Sugar:

1g
Protein:

27g
‬‬‬‬‬‬‬‬‬