Margarita pie is creamy, tart with a hint of tequila all made without an oven (no bake) so it's perfect for not only Cinco De Mayo but all of your BBQ's and pool parties! #boozypie #nobakepie #frozendessert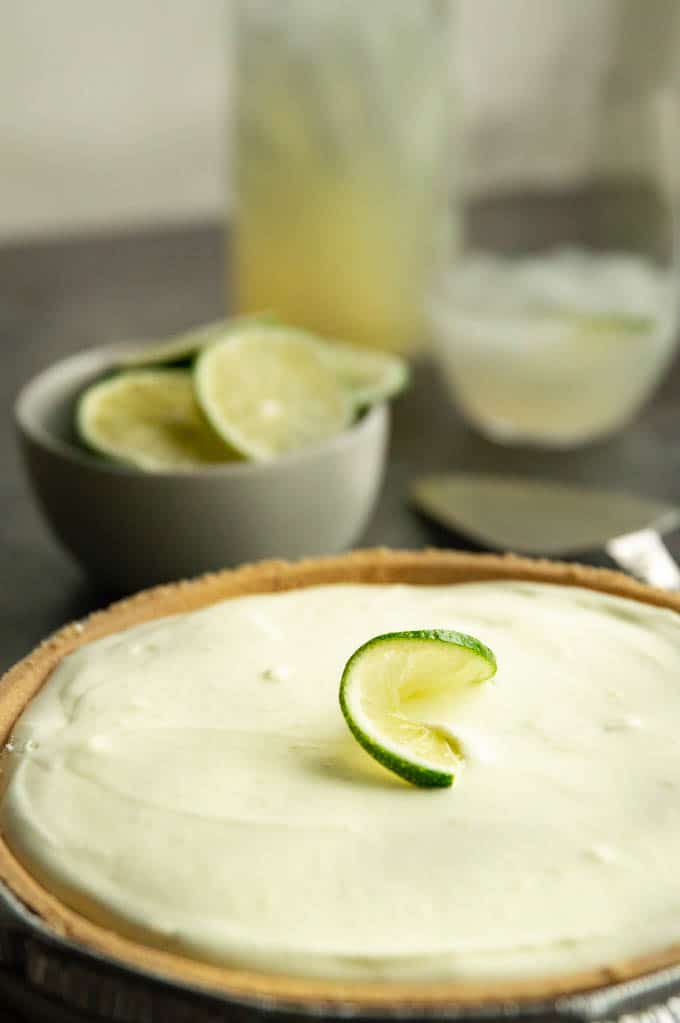 Warmer weather is coming and this Margarita Pie is just the summer dessert you will want to make! No bake pies don't heat up your house like an oven baked dessert will and the cold creamy custard texture is just what you and your guests will love.
Margarita pie is my offering for a Mexican inspired dessert I'll be serving along with some homemade tortilla chips with some hatch chili salsa and a good old fashioned margarita!
Whether you choose to serve this icebox pie as a Cinco de Mayo dessert, a poolside party or an easy BBQ dessert you will love this easy no-bake pie!
Today's recipe is what they used to call an old-fashioned icebox pie! I found it in my Grandma Hyde's recipe box along with a ton of other frozen desserts. It was from the '60s and it was shared in a small cookbook from Eagle Brand sweetened condensed milk.
What is Icebox Pie?
Icebox pie is a pie that is set in the icebox. What is an icebox you ask? It's what we now refer to as a refrigerator! Traditionally these pies are no-bake pies that are placed in the fridge to set (or in the freezer to firm up.)
Over the years there are some icebox pies or refrigerator pies that use a small amount of egg yolks in the custard that require a short bake. For example, a key lime pie is considered an icebox pie, but it's not put in the fridge to chill after a short bake to chill.
The ingredients for Margarita Pie:
Sweetened Condensed Milk
Limeade
Cream Cheese
Lime Slices
Heavy Whipping Cream
A crust of your choice ( homemade pie crust, graham cracker crust or pretzel crust)
Tequila (nothing fancy since it's being mixed with all of the sweet things!)
How to make No-Bake Margarita Pie
Set the cream cheese out about 15 minutes before you are ready to let it soften a little. It makes it cream better.
Keep all of the ingredients nice and cold.
Use a large bowl to mix the ingredients easily.
After creaming the cream cheese you'll add the sweetened condensed milk, tequila and the limeade and blend really well so there are not any lumps at all.
Whip the whipped cream to stiff peaks so its nice and firm before folding it into the cream cheese mixture
Pour into your pie crust and chill
Really, that's how easy it is.
Pretzel Pie Crust Margarita Pie
The photos here show the pie in a regular pie crust but I also have some no-bake desserts coming up that used a pretzel crust. In hindsight I would do the margarita pie in a pretzel crust, the salt from the pretzels makes it a salty/sweet first bite just like when you take a drink of a salt-rimmed glass filled with a refreshing margarita!
How to make a pretzel crust for icebox pie?
You'll want to pulse in a food processor pretzels until you have a coarse meal. When done pulsing you want about 2-2 1/2 cups of pretzels. (I used a whole bag of pretzels)
Add to the pretzels 3 tablespoons of melted butter and 2 tablespoons of brown sugar.
Press the pretzels into the bottom of your pie pan or pie plate into a thin layer. (You should get 2 pie crusts with this amount)
I suggest baking the crust for 10 minutes at 325° to have the shell form. You don't have to, but in doing so it holds together better when cutting the pie. Let the pie shell cool for 15 minutes before adding in the filling.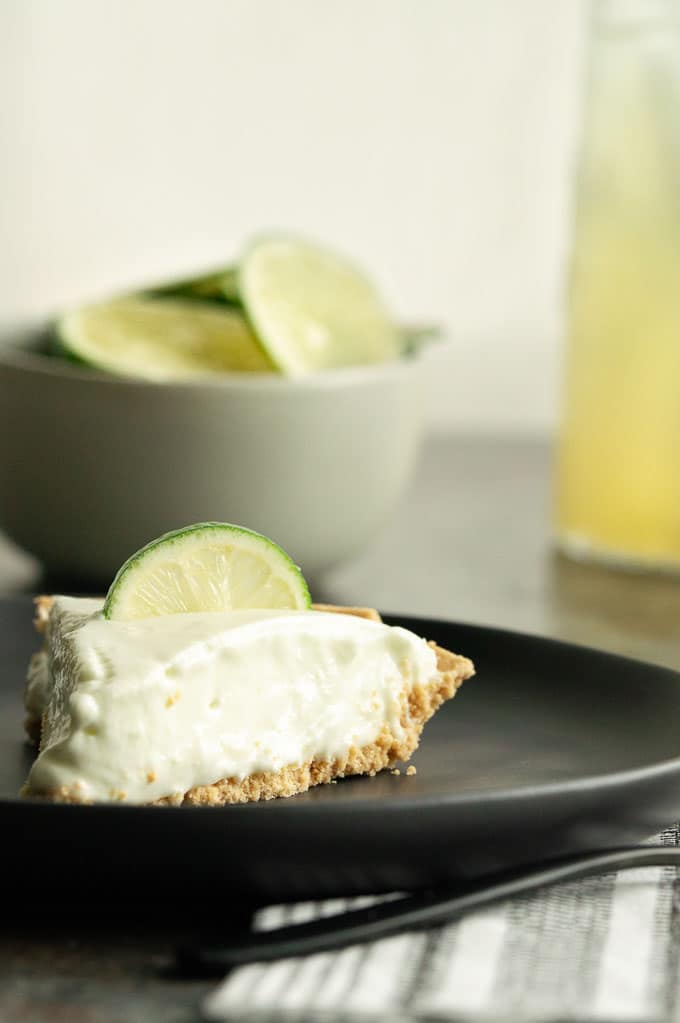 Love Sweet Treats? Check out all of our Dessert Recipes!
Common Questions you might have making a No Bake Pie
I don't want to serve alcohol what can I use in its place? If you would rather not have any tequila in your margarita pie you can leave it out completely. You can just omit the tequila completely, there is no need to replace the liquid amount of the tequila.
Can I use a store-bought pie crust for an icebox dessert like this? You sure can use a store-bought crust for a no bake pie. I suggest baking the crust according to the instructions on the package and let it completely cool before making the margarita cheesecake filling.
How do I know when the no bake pie is ready to serve? You'll know when the pie is done chilling when it jiggles slightly when you shake it. It takes about 4 hours to set in the refrigerator but all appliances are a little different.
It's going to be so hot, can I freeze this pie to serve? Yes, you can make this icebox pie in the freezer …. it works out really really well! It takes 3 hours to freeze. If you are going to leave it in the freezer overnight you'll want to tent the top to protect it.
How do I cut a no bake pie? I usually run my knife under hot water to warm my blade so it makes a nice clean cut. Use a paper towel to clean the knives between cutting if you would like to avoid crust getting into the margarita filling.
Can I make a no bake dessert a day ahead? You can make this version of an icebox pie the day before. If you make it much more than that it will still taste fantastic but the texture changes a little bit…. it's still creamy, but it's a little heavier as the whipped cream starts to collapse.
Looking for more summer desserts?
STAY CONNECTED ON SOCIAL SO YOU DON'T MISS OUT ON THE LATEST RECIPES TO MAKE ENTERTAINING BOTH STRESS-FREE AND DELICIOUS!
---
---
~ Instagram ~ Pinterest ~ Twitter~ Facebook ~
---
---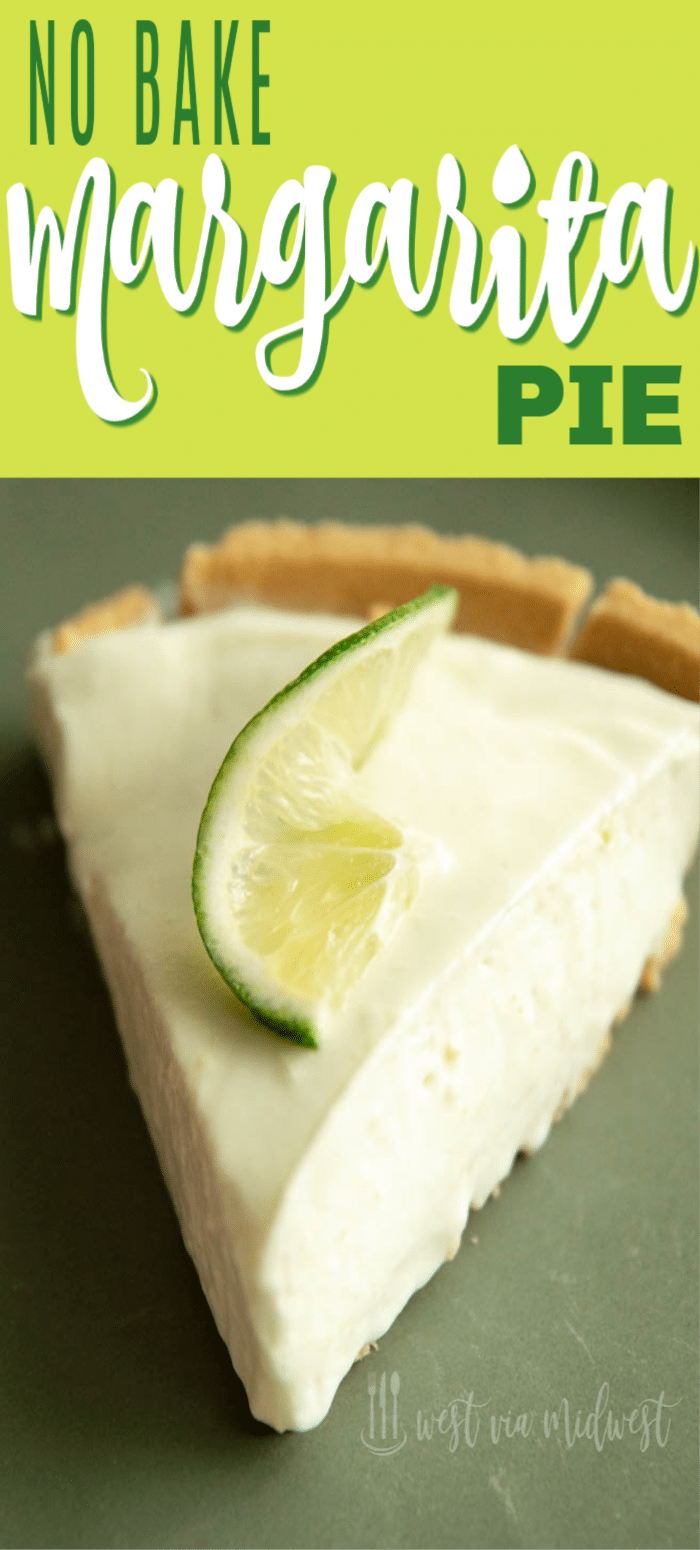 I"ll be sharing several more no bake pies in the coming weeks. So far I have a lemon icebox pie, a peanut butter pie, daiquiri pie and a Mai Tai Pie!
Be sure and let me know if there is another one you'd like to see either in an email or comment below!
I'd love it if you enjoy this recipe if you'd comment and rate the recipe in the recipe card. ⭐️⭐️⭐️⭐️⭐️
Hashtag any recipes you make from West Via Midwest #westviamidwestrecipes or tag me @michele_westviamidwest on Instagram to be featured on our stories!
Yield: 8
Margarita Pie: No bake desserts
Margarita pie is creamy, tart with a hint of tequila all made without an oven(no-bake) so it's perfect for not only Cinco De Mayo but all of your BBQ's and pool parties! #boozypie #nobakepie #frozendessert
Total Time
8 hours
10 minutes
Ingredients
1 9" graham cracker pie crust, see note 1
1 8 ounce package cream cheese, softened, see note 2
1 14 ounce can sweetened condensed milk
1 6 ounce can limeade juice concentrate, thawed, NOT diluted
1/3 cup tequila
1 cup heavy whipping cream
lime twists
Instructions
In a large mixer beat cream cheese until fluffy.
Beat in sweetened condensed milk, limeade juice concentrate until smooth.
In a separate bowl whip the heavy whipping cream to stiff peaks.
Gently fold in whipped cream until combines.
Pour into crust. Freeze or chill until firm. (Freezer 3 hours, 4 hours in fridge.)
Garnish with lime twists.
Refrigerate or freeze leftovers. Will keep a couple of days. (the texture will slightly change, but it will taste wonderful!)
Notes
Note 1. You can use a pretzel crust or a baked 9" pie crust in place of a graham cracker crust. Be sure and let the crust cool completely before adding the filling to it.
Note 2. remove the cream cheese from the fridge about 1/2 hour before mixing. This will make it so it creams super easily!
Nutrition Information:
Yield:
8
Serving Size:
8 Servings
Amount Per Serving:
Calories:

231
Saturated Fat:

7g
Cholesterol:

40mg
Sodium:

110mg
Carbohydrates:

14g
Sugar:

3g
Protein:

1g