Lemon Gooey Butter Cookies are the crinkle cookies you love to get at Christmas- gooey, tart lemon centers that have a light powdered sugar! Made quick and easy that come out perfect every time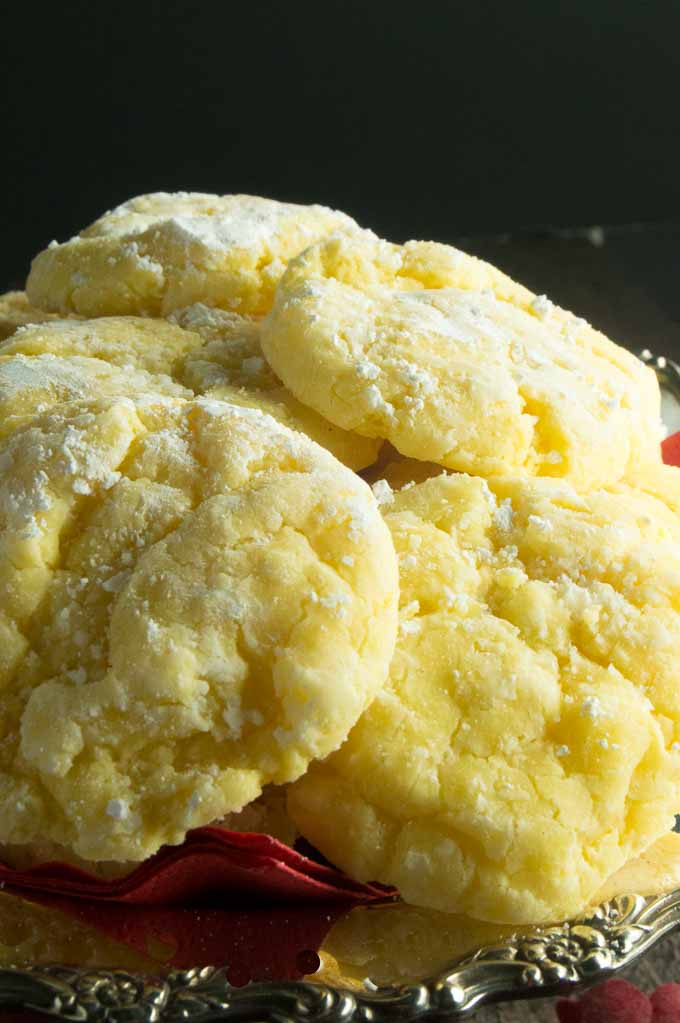 Lemon Gooey Butter Cookies are a soft textured inside, and then crinkle on the outside when baked so you get a crunch and gooey center in each bite. At the holidays you see these cookies in all colors (you can use food coloring to change the color of the cookie.) They are perfect for including in your holiday gift packages for the neighbors or to bring to a Christmas Cookie Exchange!
How do you get your Lemon Gooey Butter Cookies all the same size?
The trick to getting the cookies all the same size is a simple one. Use a cookie scoop, or an ice cream scoop. I have three sizes, one the size of a melon ball, one the size of a golf ball and one gigantic one. In this recipe I used the small melon sized one.
What pan to use to bake cookies on for Perfect Cookies?
You can find various sizes on Amazon here or at any baking supply store.
If you are baking lots of cookies I also highly recommend getting a very large cookie sheet. Buy the biggest size that will fit in your oven.

This cookie sheet pictured below is the largest size that would fit into my oven, and I use it all of the time. Depending on the recipe I can fit up to 30 cookies onto the sheet.

I am partial to sheets with edges because it makes it easy for things to roll off with no sides.
Don't worry about lined sheets or spending a lot of money. In bakeries and professional kitchens they use the most economical ones they can find and make sure when baking things they control the size and constancy to have the cookies come out perfectly.
Are you looking for other ideas to put in your Christmas Food Gifts for the neighbors? Try these Million Calorie Bars (they aren't really a million calories but they are full of goodness!) Or if you want something a little healthier I have these copy cat Kind Bars with Cranberries and nuts that fit the bill. Lastly, if you want something savory you can give this Herb Marinated Cheese from Full Belly Sisters. They are great to bring to a party because your host can serve them right away if she needs another treat!
Craving more recipes for Holiday entertaining sign up for my mailing list here at the bottom of the page. or PIN THIS TO YOUR HOLIDAY and CHRISTMAS COOKIE BOARD for when you are looking for ideas to give at Christmas!
Follow me on Pinterest to get more ideas to have for making easy delicious meals and appetizers for any entertaining!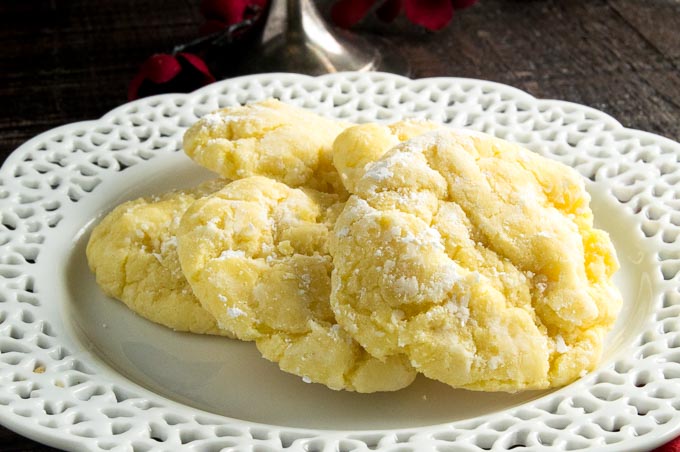 Other sweet treats for a cookie exchange:
---
---
STAY CONNECTED ON SOCIAL SO YOU DON'T MISS OUT ON THE LATEST RECIPES TO MAKE ENTERTAINING BOTH STRESS FREE AND DELICIOUS!
---
---
~ Instagram ~ Pinterest ~ Twitter~ Facebook ~
---
---
FREE TIPS FOR ENTERTAINING WITH EASE AND FUN DELICIOUS RECIPES WHEN YOU SIGN UP FOR THE MAILING LIST BELOW THE RECIPE !
---
Yield: 20 cookies
Lemon Gooey Butter Cookies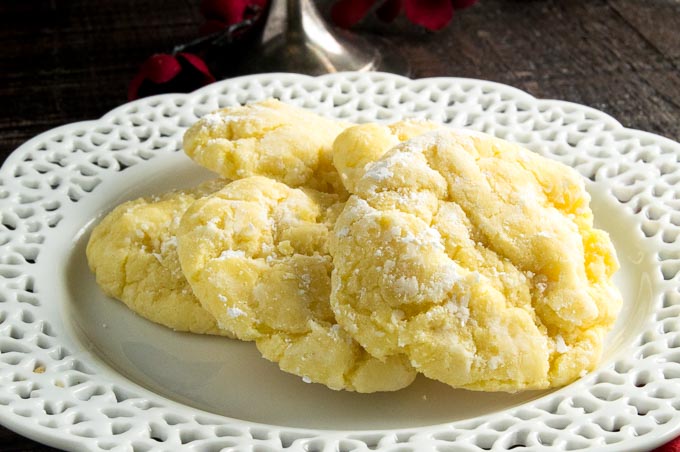 Gooey Lemon Butter cookies are the crinkle cookies you love to get at Christmas- gooey, tart lemon centers that have a light powdered sugar! Made quick and easy that come out perfect every time
Ingredients
2 3/4 cups Flour
2 teaspoons Baking Powder
8 ounces cream cheese
1/2 cup Butter, unsalted
2 tablespoons lemon zest
1 1/2 cup sugar
2 tablespoons lemon juice
1/2 teaspoon lemon oil
1 teaspoon vanilla extract
yellow food coloring, optional(one small drop)
1 teaspoon salt
1 large egg
1 egg yolk
1 cup powdered sugar
Instructions
In a bowl, sift together flour and baking powder until combined completely.
Using a mixer cream together cream cheese, butter and lemon Zest until very well blended. Make sure to scrape down the sides of the bowl as you are working the batter to incorporate all butter and cream cheese. (about 2 minutes)
Beat in on high, sugar, lemon juice, lemon oil, vanilla, food coloring, and salt. Mix until well combined, Dough will be light and fluffy.
Add egg and egg yolk, beat for for 1-2 minutes until light and very creamy.
Reduce the mixer to low and in small batches to avoid flour flying everywhere add the flour/baking soda. The dough will be very sticky, and wet.
Chill dough for 30 minutes.
Preheat oven to 325°. Place a piece of parchment paper onto baking sheet.
Using a small cookie scoop, 1", make cookie balls. Using your hands, roll the edges evenly. Then place powdered sugar into a bowl. Dump each ball into the powdered sugar and roll to coat all sides. repeat until all balls are done.
Place the sugar coated balls 2 inches apart on top of parchment lined baking sheet.
bake for 12-14 minutes. The cookies will spread, and you want them to be barely golden on the edges. This will allow for gooey centers.
Remove from oven and let cool for 10 minutes before moving to a rack to completely cool. Repeat baking instructions until all cookies are baked.
Store in an airtight container.
Notes
This recipe is from my Grandma Oma's recipe file. It was printed in some magazine way back when, but she had cut it out and I have no idea which one! Its covered in buttered fingerprints and you can tell when you look at it that the recipe has been made A LOT over the years.
Nutrition Information:
Yield:
20
Serving Size:
20 cookies
Amount Per Serving:
Calories:

231
Saturated Fat:

5g
Cholesterol:

43mg
Sodium:

198mg
Carbohydrates:

35g
Sugar:

21g
Protein:

2g
SaveSave