Chewy Chocolate Cookies with deep decadent flavor, chewy on the inside with a slightly crispy edge. Great for Gift Exchanges or neighbor gifts because you can make them up in no time!
This Chewy Chocolate Cookies recipe is sponsored by Imperial Sugar. All opinions in using their product are my own. Their motto is "Since 1843, Imperial Sugar has been at the heart of family traditions and celebrations. This holiday season, create some lifelong memories when you bake with love and Imperial Sugar." I must say, these are sweet delicious cookies!
Okay, now down to this over the top chewy chocolate cookies recipe! I like this recipe because they are so chewy, but they have deep chocolate flavor too!
The recipe makes a small amount so you don't feel like you have to spend all day in the kitchen making them but still get to enjoy them! (Don't worry, the recipe is easily doubled/tripled with no variation to get more if you want to make them for a gift for your neighbors or a Christmas Cookie exchange.
Love Sweet Treats? Check out all of our Dessert Recipes!
Tips & Tricks for baking successfully these Chewy Chocolate Cookies:
Here is a graphic showing how the cookies should look at each step. They are really quite easy to make. There is a wait time to let them chill for at least an hour, but other than that they are very quick to make.
Mix the sugars and the butter first. This is what the batter will look like when it is completely mixed. (Use your beater attachment for best results.
Be sure and beat your eggs before adding them to the sugar/butter batter.
By doing that the texture of your batter will be even and somewhat loose as pictured.
Sifting all of the flours, baking powder salt, and cocoa powder before adding them to the batter allows for even distribution and evenly baked cookies in the end
Once the flour mix had been added the dough stiffens up a bit.
You have free reign to add whatever mix-in you like. I used cherry chips in one batch and peppermint chips in another. You will need to stir them in by hand, they don't break as much an you get better distribution this way.
You'll then form a log with them to be chilled. Yes, your hands will get a little messy! But I won't tell if you sample what is on your hands to taste test if you won't!
Rolling the log in parchment paper to chill is the best way to do it. (NOTE, you can freeze the dough for up to a month at this point if you want to have cookies on demand when you want too! Just remove them from the freezer for an hour before you go to use the dough.)
You will cut the log into even slices so all the cookies are of equal sizes.
The last steps are to roll them into a ball then and slightly flatten them before baking!
Are you looking for other Christmas cookie exchange ideas? Check out these Tropical Christmas Cookies or these million calorie bars. I promise you won't be disappointed!
Yield: 16
Chewy Chocolate Cookies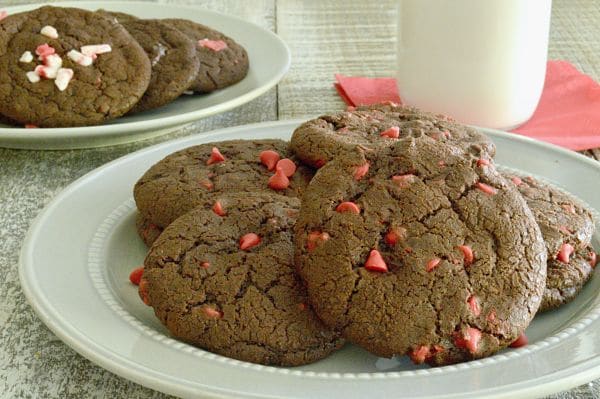 Chewy Chocolate Cookies with deep decadent flavor, chewy on the inside with a slightly crispy edge. Great for Gift Exchanges or neighbor gifts because you can make them up in no time!
Prep Time
1 hour
15 minutes
Total Time
1 hour
27 minutes
Ingredients
4 tbsp butter, softened
6 tbsp sugar, I used Imperial Sugar
4 tbsp brown sugar, I used Imperial Sugar
1/2 teaspoon vanilla
1 large egg
3/4 cup all purpose flour
1/4 cup unsweetened cocoa
1 teaspoon baking powder
1 teaspoon salt
6 ounces cherry chips, (or nuts, peppermint chips, m&m's)
Instructions
Using an electric mixer, beat the butter, both sugars and vanilla. Mix well
In a separate bowl use a fork to beat egg well. Then add to butter/sugar mix and blend well.
Sift together flour, baking powder, cocoa and salt in a separate bowl.
In 3 sections slowly add flour mix to butter mixture incorporating completely before adding the next section.
Once the dough is completely mixed together, remove bowl from mixer stand and grab a wooden spoon/spatula.
Slowly mix in your add in topping by hand to evenly distribute toppings through out the dough.
Using your hands, roll into a log about 2 3/4 in diameter. (TIP: Dust your hands in flour/cocoa powder mixture and the batter will not stick so much to your hands.)
Place log into a parchment paper wrap and refrigerate for an hour up to 48 hours. (You can place it in the freezer and store it for a month. IF you do that, you will need to thaw for one hour before cutting in next step.)
Preheat oven to 350°
Remove log from fridge and cut into 16 slices.
Take each slice and form into a ball, place on a parchment paper lined cookie sheet and place 2 inches apart.
Using the palm of your hand slightly press to flatten.
Bake for 10 - 12 minutes, turning the cookie sheet at 5 minutes to get even baking.
Allow to cool on cookie rack for 15 minutes minimum. Once cooled, store in airtight container.
Nutrition Information:
Yield:
16
Serving Size:
16 Servings
Amount Per Serving:
Calories:

137
Saturated Fat:

3g
Cholesterol:

20mg
Sodium:

183mg
Carbohydrates:

20g
Sugar:

14g
Protein:

1g