When you want a substantial salad but don't want a lot of fuss. This recipe for Bacon & Eggs Frise Salad will fill you up and not break the calorie budget!
I wasn't even thinking of a Bacon & Eggs Frise Salad when I was at my local whole foods the other day looking for something to make for dinner. It's summer, so I want to eat light and not use an oven at all.
I love their produce section. It's colorful and inspiring ……and full of all sorts of inspiration.
I'm browsing all the many choices when a lady right next to me asks what the heck is this? She then points to the Frise' lettuce. We had a 5-minute conversation on Frise'. I felt like I was working for the Frise' lettuce company. I went on and on about it.
It's a peppery lettuce, though much milder than Arugula. It holds its crunch up with any dressing for a long time. Actually, warm dressings work really well with it for this reason. It's a great lettuce for entertaining because of this too; you can make it ahead and have it be completely tossed ahead of time. You absolutely eat all the way to the middle, even the white part(just don't eat the woody core exactly like iceberg lettuce.)
Aha, there it is….I know what I'm going to make….. Bacon & Eggs Frise Salad: crispy bacon, poached eggs, homemade croutons with a salad with that beautiful Frise' that lady pointed out.
I serve the Frise' salad tossed with a tangy vinaigrette dressing, crunchy crumbled bacon and smoky croutons. The ice-cold lettuce with the salty bacon pair nicely with the smoky crouton. Then over the top of the salad is a couple of poached eggs. The warm egg gives a contrast that is just mouth-watering. Then when you cut into the poached egg and the yolk oozes out onto everything it makes for one satisfying salad.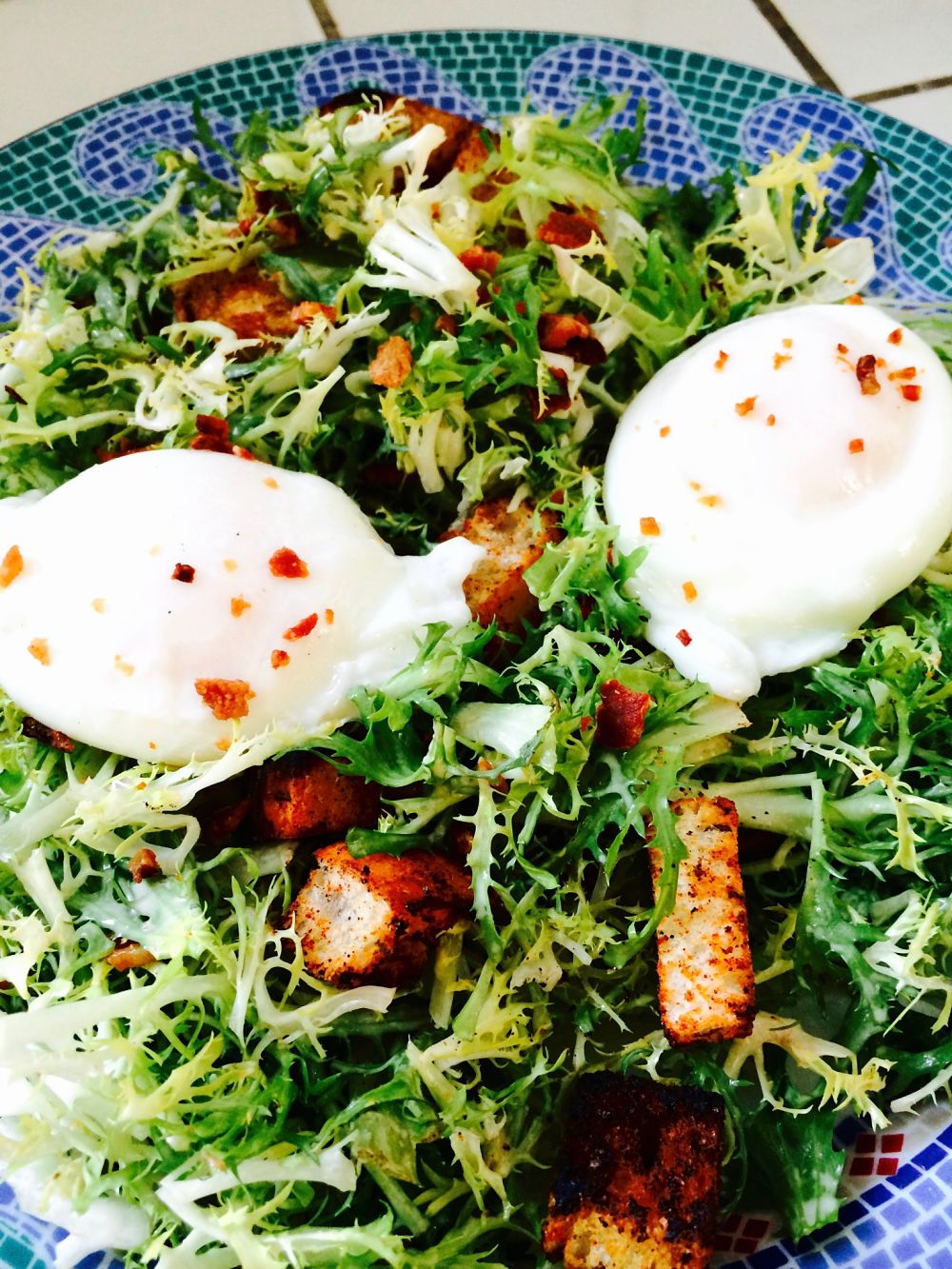 Looking for other salads? Try my Watermelon Salad or this Potato Salad!
Yield: 4
Bacon & Eggs Frise Salad
Crunchy, Crisp lettuce with bacon, croutons topped with poached eggs for a hearty but healthy breakfast!
Ingredients
Salad
3 Heads of Frise' Lettuce, Rinsed well
8 pcs bacon, (I prefer peppered thick cut, but any will do)
8 Eggs
Smoky Croutons
1 tbs butter
1 tbs olive oil
1 tsp oregeno
Salt
Pepper
1 baguette, cut into bitesized pieces, about 2 cups
Basic Vinaigrette
2 tbs red wine vinegar
1 tsp oregano
1/3 cup olive oil
salt and pepper
Dash of dried chili peppers
Instructions
Lettuce
Cut well washed lettuce into bite sized pieces, leaving only the woody core when finished.
Place into salad bowl and put in refrigerator to keep frise' well chilled.
Bacon
On microwaveable plate fold up paper towels several layers thick. This will serve as a base to cook your bacon on.
Place bacon side by side onto paper towels.
Cover top of bacon with one last paper towel.
Microwave on high until bacon is very crisp. **See cooking note 1""
Let cool, then crumble bacon into bite sized pieces.
Smoky Croutons
Heat skillet until hot, then add butter and olive oil.
Once butter has melted swirl mixture to coat the entire bottom of pan
Add bread pieces and toss to coat.
Once croutons are all coated sprinkle with paprika, continuing to toss or stir with wooden spoon.
Cook croutons until cooked to a crunchy bite. (about 15 mins)
Add parsley, salt and pepper to taste before removing from pan.
Let cool on a paper towel for at least 5 minutes.
These can be made up to a day ahead and stored in an air tight container.
Basic Vinaigrette
In a small bowl mix mustard, vinegar and spices thoroughly. (I use a liquid measuring cup so that its easy to blend.
Then slowly add olive oil while stirring rapidly with a fork until well blended.
Poached eggs
Bring a rounded edge pan to a slow simmer. (1-2 bubbles coming to the surface, not a rolling boil.)**See Note #2
Take a slotted spoon and swirl the water right before dropping 2 eggs into pan.**See note #3
Gently stir water a few times to make sure eggs do not stick to the bottom.
Cook for 3 minutes, then remove with a slotted spoon to eliminate any excess water with eggs.**See note #4
Cook eggs in batches until complete.
Salad
Toss salad with crumbled bacon, croutons and vinaigrette and place on individual serving plates.
Place poached eggs atop salad.
Season generously with pepper before serving.
Notes
1. Cooking bacon in microwave on paper towels allows for most of the oil from bacon to be absorbed which allows for less calories in your salad. ** Alternatively you could cook crumbled bacon in a sauté pan making certain to pat out all excess bacon fat once fully cooked.
2. A gentle rolling boil works best, if you have a strong rolling boil, the eggs will cook too fast and get rubbery.
3. I suggest using a stovetop wok pan for making the eggs, but any rounded edge pan will do. The water swirls slowly cooking the eggs in a pan like this, which helps avoid sticking to the bottom when cooking.
4. I cook 2 eggs at time, you could do more depending on the size of your pan, but you need to leave enough room for the eggs to move around while cooking. In doing 2 at a time it also keeps the 3 minute time more accurate for both eggs.
Nutrition Information:
Yield:
4
Serving Size:
4 Servings
Amount Per Serving:
Calories:

401
Saturated Fat:

7g
Cholesterol:

336mg
Sodium:

328mg
Carbohydrates:

10g
Fiber:

7g
Sugar:

1g
Protein:

14g
SaveSave
SaveSave