Steak Tartare, one of the easiest recipes you'll ever make. Perfect for a party, each person can mix their own flavor accents to order… thus pleasing the pickiest, yet adventuresome guests!
This recipe for Steak Tartare is not for everyone. I'm sure many of you are already going nope, not for me? Raw meat? No way, no how. But for those that are a little adventuresome, you will love the simplicity of the appetizer.
My husband and I love this! This is our Birthday dinner every year! Served with an ice-cold Gin Martini straight up alongside hot crispy french fries and we are quite the happy campers.
There are so many funny stories attached to Steak Tartare.
When I was researching this post on the origins of Steak Tartare I found references to people who claimed it was served alongside tarter sauce, (not really.) I also found references in history that the Mongol's (aka Tarter's) would place raw meat under their saddles to tenderize it, then added different spices to disguise the horse sweat? Really, true story….you can read more about that here. (And for the record….ish, that sounds awful!)
A friend of ours who was pretty influential in his business world went out to dinner with some business associates and he tells a story of the first time he ordered Steak Tartare that is especially funny!
He was with some high powered executives who ordered it in a fancy restaurant and when it came to time for my friend to place his order, he exclaimed, I'll have the steak Tartare, but Id like mine cooked medium! He laughs when he tells this story now….as well as anyone else who knows that steak tartare is served raw!
Depending on your tastes you can serve this with Crispy French Fries like they do in Belgium or in Alsace in France, with rye bread pieces like they do in Germany or all by its lonesome!
WHAT ARE THE TWO MOST IMPORTANT THINGS FOR STEAK TARTARE?
There are two things that are critical in making this dish! Buy really good quality meat (prime beef is best) and I recommend the tenderloin/filet. The second thing is to freeze the meat for 15 minutes before beginning the grinding or chopping. You want to keep the meat as cold as possible before serving. I actually put my mixing bowl and serving bowl in the fridge to chill for serving as well.
RECIPE BREAKDOWN OF STEAK TARTARE:
EASY/HARD: If you own a meat grinder (like the one I use that attaches to my Kitchen Aide Mixer here, it is really easy. If you don't, that's fine too. You can just chop the meat finely with a sharp knife, although it will take a little longer.
BIGGEST CON: This dish has a lot of fear for many people so it's not for everyone. Some people don't like to even see raw meat, so you need to know your guests before serving it! However, for those that do like having this in a restaurant you will be able to give them a very tasty and impressive appetizer!
MAKE AHEAD? I ground the beef the same day as I plan on eating it and HIGHLY recommend that, (especially from a safety standpoint.) I do this because I like the ground meat to continue to get as cold as possible but the meat is freshest tasting the closer it is ground to serving. You can prep all the toppings ahead of time too!
PAIRS WITH: As I mentioned before it goes great with a Straight up Martini, but it worked really well last week with the Sakitini and I can't wait to try it with it, because I know how well the flavors will highlight each other!
Yield: 4
Steak Tartare and its storied history!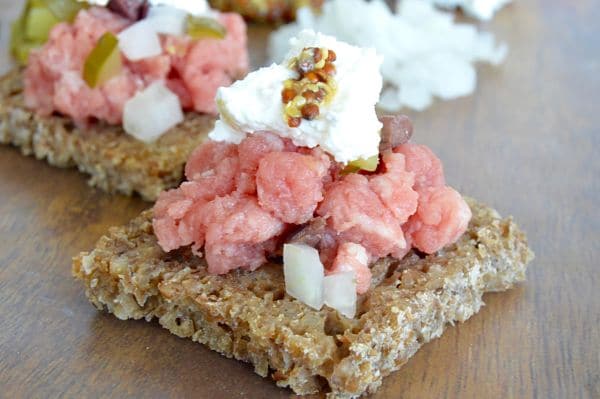 Steak Tartare, one of the easiest recipes you'll ever make. Perfect for a party, each person can mix their own flavor accents to order... thus pleasing the most picky, yet adventuresome guests!
Ingredients
8 ounces Prime or very good quality Filet, , tenderloin trimmed of excess fat
1/2 cup Horseradish Whipped Cream
4 slices Rye Bread, , cut into small squares or triangles (bite sized)
1/4 cup Mustard, (your favorite, we prefer whole grain)
6 small dill Pickles, , minced finely
1/2 small onion, , minced
8 olives, , minced
salt and pepper to taste
Optional add ins:
Shot of cognac
raw egg yolk
Instructions
Cut away any fat from the tenderloin.
Cut meat into large cubes to fit in the tube of your meet grinder.(see notes for alternative to met grinder)
Place tenderloin in the freezer for 15 minutes to flash freeze.
Remove from freezer and place cubes of meat in the grinder, grind meat twice to get a nice even texture.
Immediately place bowl in fridge to keep cold until ready to serve.
Prepare all toppings/mix ins.
Have each guest serve themselves allowing them to mix in their favorite add ins. A raw egg and cognac can be added as a binder as well. (My husband loves the egg, I prefer the cognac, others Ive served this don't want any binder.)
Spread onto rye bread squares and top with the horseradish cream.
Notes
If you don't own a meat grinder, just mince the meat into small pieces. It will not be as fine as going through a grinder, but it will be perfectly fine. You will need to almost mince the meat in order to have the meat tenderized.
All recipe calorie information was calculated on what I purchased to make this recipe in My Fitness Pal. When you make the recipe, the calorie content could vary depending on what specific ingredients/brands you actually use. Please take that into consideration if you are following a strict diet.
Nutrition Information:
Yield:
4
Serving Size:
4 Servings
Amount Per Serving:
Calories:

179
Carbohydrates:

8g
Fiber:

1g
Protein:

9g
‬‬‬‬‬‬‬‬‬