Bruschetta Chicken Zucchini Spaghetti has the pasta you are craving but lightened up with zucchini noodles. Flavored with fresh tomatoes and roasted chicken that fits the healthy comfort food you are craving!
Zucchini is an amazingly versatile veggetable, if you have a lot of it in season you could also make Zucchini Walnut Bread or another healthy option Air Fryer Zucchini Fries.
Bruschetta Chicken Zucchini Spaghetti is a comfort food you can feel good about eating because its healthier since its made with zucchini with just a few pieces of real spaghetti. Eating healthier and yet still being completely satisfied has never tasted so good!
How do you make Zucchini Spaghetti?
On the market there are several different machines that will make the zucchini spaghetti available at any price point that fits your budget and kitchen space.
Plastic Crank Spiralizer – I use the one pictured below. I purchased mine at Sur La Table and it's pretty close to what they currently offer from OXO. It runs about $39 and sits on your countertop. You can store it under your cabinet, but mine is bulky. The hand crank is easy to use and works perfectly for my usage (about once a week.)
Vegetti – a smaller and cheaper option at under $20. You can find this smaller unit on Amazon here or at Bed Bath and Beyond. I've tried this one at a friend's home and love that it fits into the drawer but it's not as easy to use as the spiralizer one above. It's not a deal-breaker, and if my Spiralizer breaks this is what I would replace it with because I don't use it all the time so the added difficulty to use it wouldn't be a big deal.
Kitchenaid Attachment.— this is the cream of the crop. It's super easy to use, and it doesn't take a lot of room to store it. You do have to own the kitchen aide mixer to be able to use it, and if you love all pretty vegetables (potatoes, carrots, beets, zucchini, seriously all things fun!) then this is the one for you. It does all sorts of other things with additional attachments in the price ($110) but essentially it's the same end product you get with the other two above.
This recipe for Bruschetta Chicken Zucchini Spaghetti is so easy to make. The most difficult thing about the recipe is setting up my spiralizer. (If you want to make it even easier you can buy the zucchini already made into zoodles/noodles in your local produce section at the market.
I also buy a pre-roasted chicken instead of roasting my own chicken, the grocery stores are making it hard to justify making them at home because you can get them so inexpensively these days. (If you want to roast your own chicken you can check out Fearless Dining's Herb Roasted Chicken or Wok And Skillets Lemon Roasted Chicken are two excellent choices to try!)
What Is Bruschetta?
Technically Bruschetta is grilled bread served with a tomato, garlic and basil topping. In this recipe, it refers to the topping/sauce on the zucchini spaghetti. The tip to making the bruschetta topping is making it early in the day and letting the flavors meld together. The salt, olive oil and balsamic need time to help the tomatoes release their juices so it gives better coverage to your zoodles (ie zucchini noodles.)
We have so many popular Chicken Recipes — Check them out here!
If you are looking for a variation on the fresh bruschetta in this recipe I also have this Feta Bruschetta that would be a nice treat on top of Zucchini Pasta.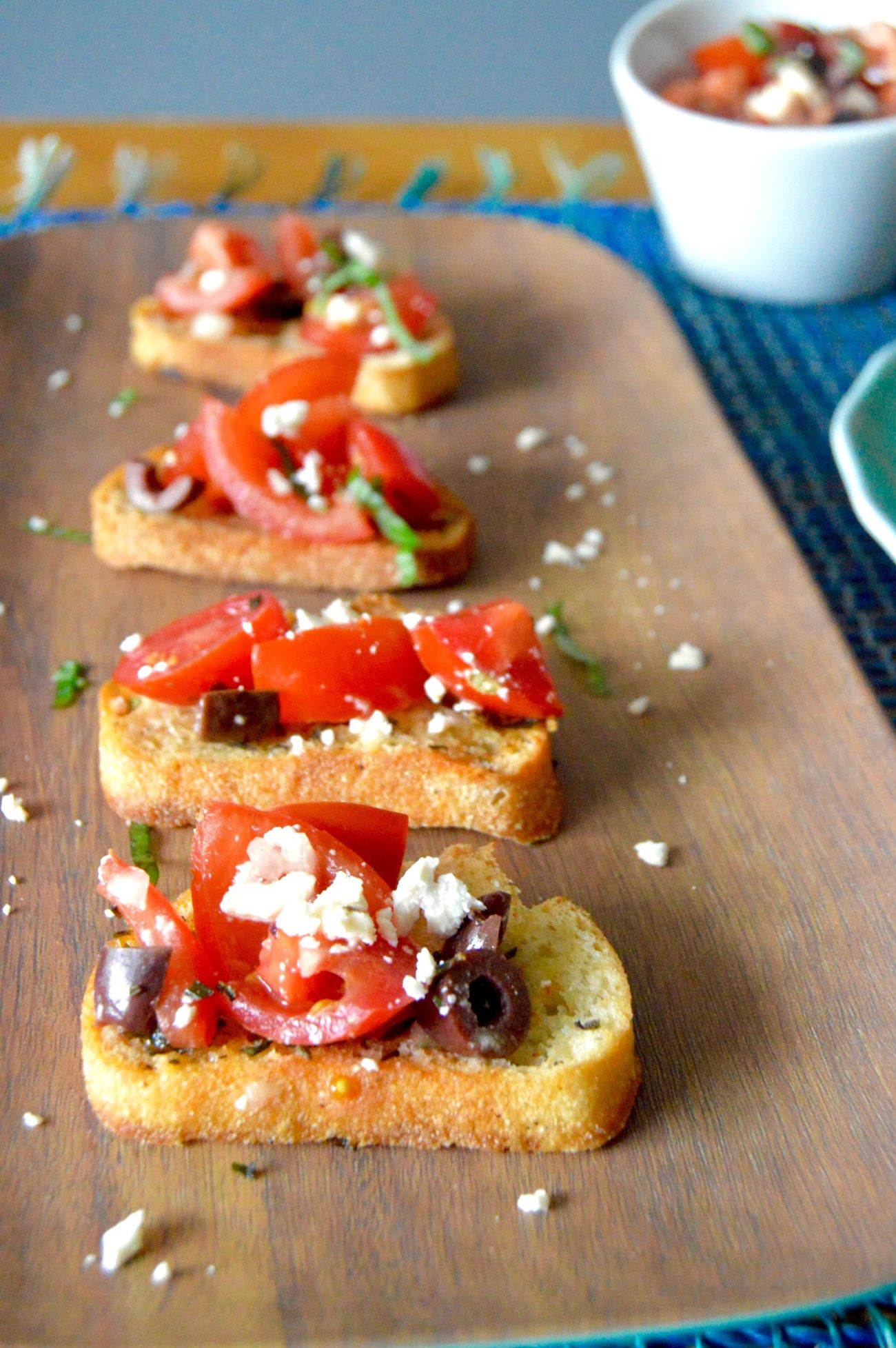 If you are looking for other healthy comfort food recipes check out these: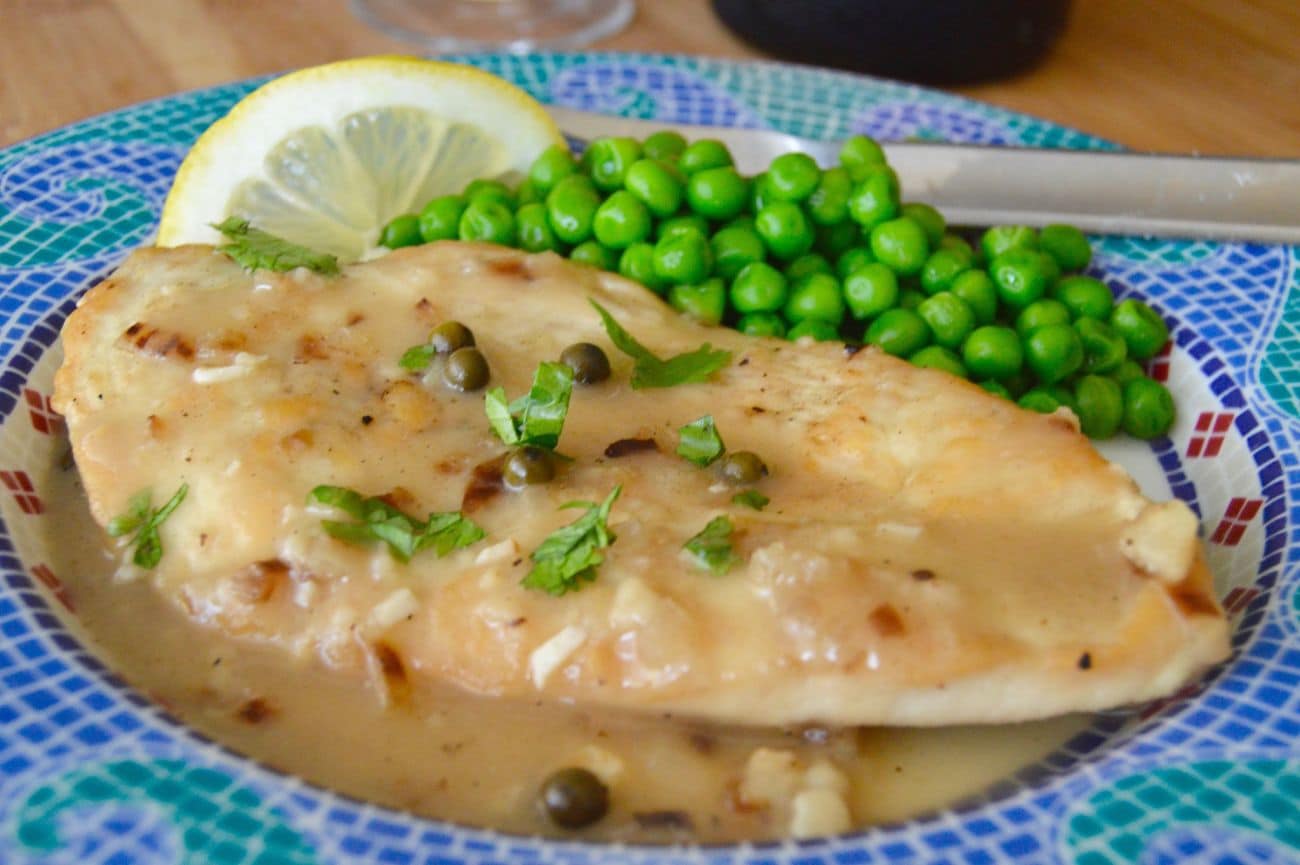 PIN THIS TO YOUR EASY MEALS FOR ENTERTAINING for when you are looking for ideas for serving to company! You can also sign up for emails for other great foods and tips for entertaining friends and family without all the stress on this page here where it says "Join the West Via Midwest Community!"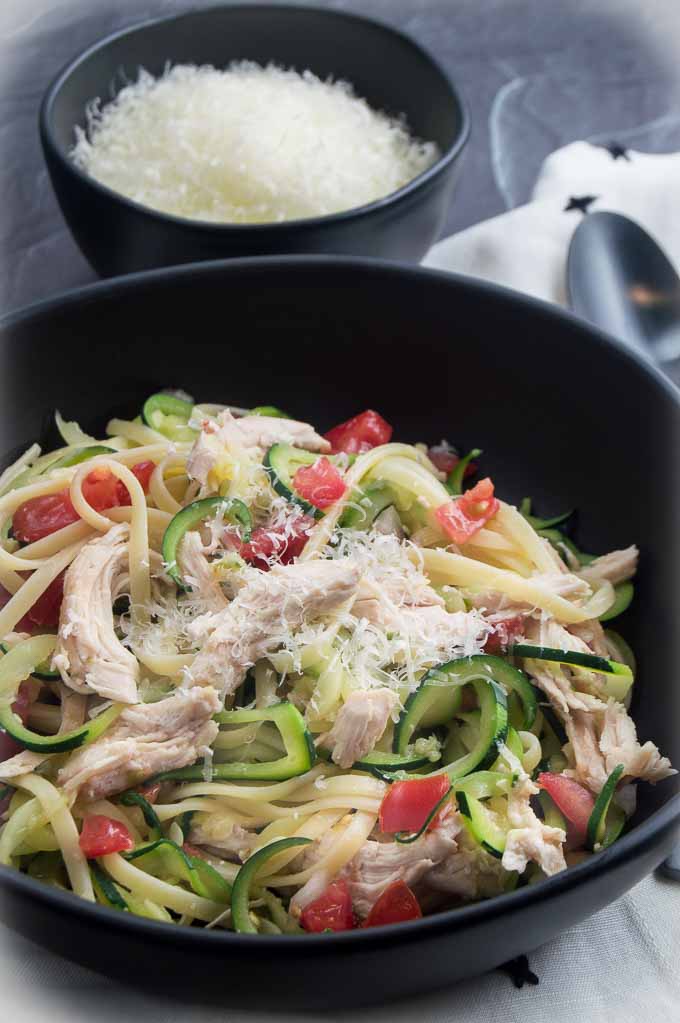 Yield: 6 servings
Bruschetta Chicken Zucchini Spaghetti
Bruschetta Chicken Zucchini Spaghetti has the pasta you are craving but lightened up with zucchini noodles. Flavored with fresh tomatoes and roasted chicken that fits the healthy comfort food you are craving!
Ingredients
Bruschetta
3 cloves garlic, minced
2 tablespoons olive oil
1/4 cup parmesan cheese, grated finely
5 large roma tomatoes, diced (about 3 cups)
1/4 cup basil, minced
2 tablespoons balsamic vinegar
1/2 teaspoon salt
1/2 teaspoon pepper
Zucchini Chicken Pasta
24 ounces roasted chicken, torn into bite sized pieces
3 large zucchini, about 2 pounds
4 ounces spaghetti
1 teaspoon salt
Instructions
Bruschetta
Add all ingredients except the salt and pepper and stir together in a bowl. Mix well.
Over the top of the tomato mixture sprinkle salt and pepper. Place the bowl in the fridge (covered) and let marinate for at least an hour, up to 8 hours.
Pasta/Chicken
Prepare roasted chicken by tearing it into bite sized pieces and set aside.
Using the spiralizer prepare the zucchini noodles.
Fill a stockpot with water and add salt. Bring water to a boil.
Once water is boiling cook pasta to package instructions, one minute before finishing add zucchini noodles. Zucchini only needs one minute of cooking so do not add the zucchini too early or it will turn to mush. Alternatively you can use a mesh strainer to remove the pasta, while leaving the water in the stock pot and then add the zucchini on its own to cook for one minute.
Once pasta and zucchini is cooked return to the stockpot and add chicken and bruschetta topping and mix well.
Serve immediately. Sprinkle with additional parmesan cheese if desired.
This recipe also works well at room temperature or served cold so it works well for luncheon potlucks.
Notes
Recipe times do NOT include the rest time for the bruschetta.
This recipe is adapted slightly from a restaurant in Rome Italy, Abruzzi's. When we were there a few years ago the chef graciously shared it with me saying all great recipes should be shared with those who love it!
Nutrition Information:
Yield:
6
Serving Size:
6 servings
Amount Per Serving:
Calories:

301
Saturated Fat:

3g
Cholesterol:

75mg
Sodium:

926mg
Carbohydrates:

20g
Fiber:

2g
Sugar:

5g
Protein:

26g
SaveSaveSaveSave
SaveSave
SaveSave
SaveSave
SaveSave
SaveSave