Overwhelmed with life, no time to plan and cook a meal for your family? When that happens you should try Barber Foods Chicken Cordon Bleu. I'd like to thank Barber Foods for sponsoring today's post. All opinions and content expressed here are completely my own.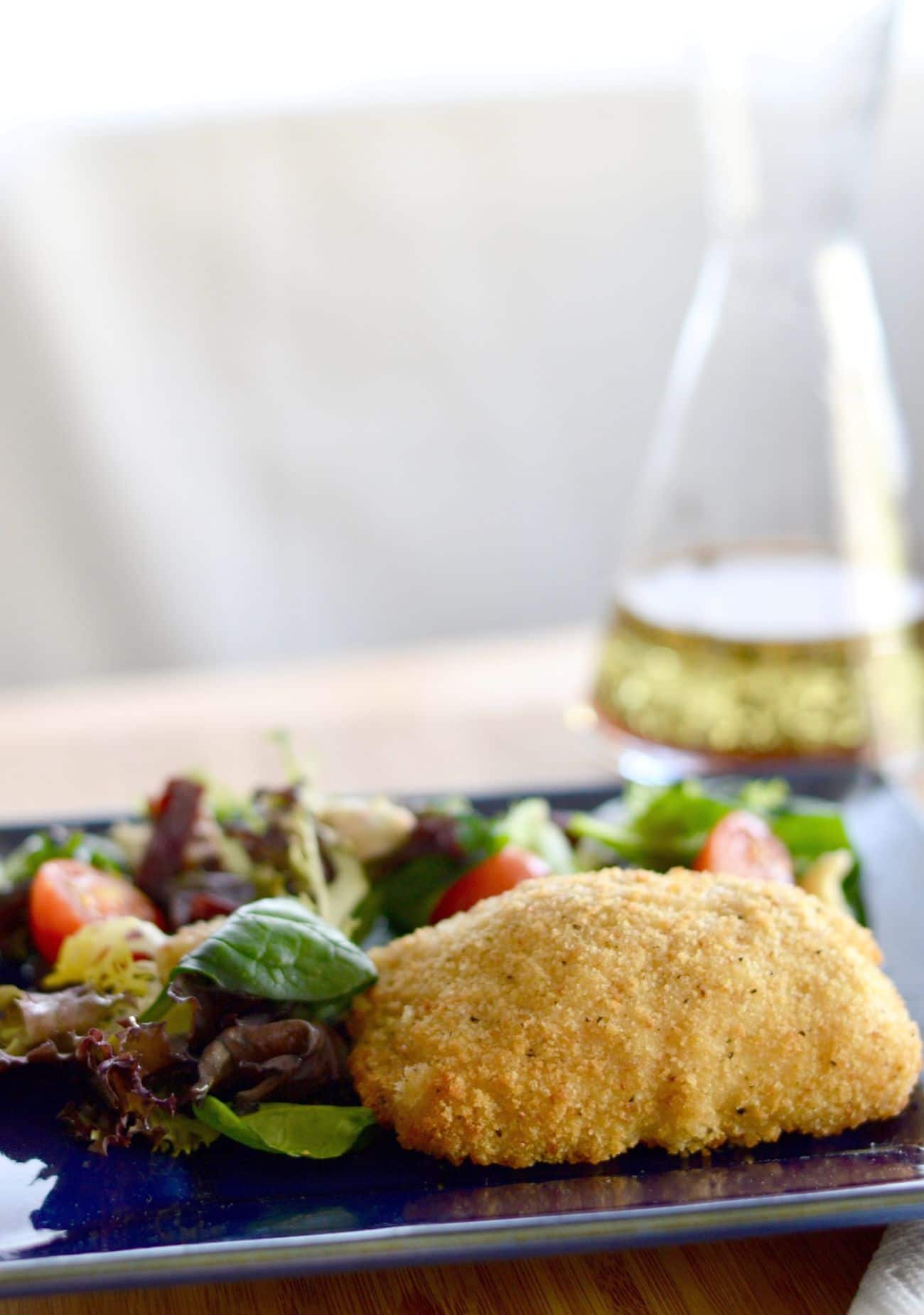 Sometimes the world gets super busy. You have every intention planning, shopping for and preparing a home-cooked meal for your family. Then work projects take a little longer, a friend needs you to do them a favor or even something as small as bad traffic cause your plans to go out the window.
When that happens you can count on Barber Foods Chicken Cordon Bleu for the main part of your dinner meal. I like having them on hand for last-minute dinner emergencies. Each piece of chicken comes in a box, but each stuffed chicken breast is individually wrapped for freshness. (Added bonus~~~ you can make just one if you want to and have the rest stay nice and fresh.)
Each Stuffed Chicken breast comes out of the package raw, but is pre-coated in breadcrumbs that turn golden brown and crisp up nicely when baked. The Chicken is stuffed with a piece of ham and cheese that after baking, when you cut into it, melts to a melty goodness for each and every bite.
There are only four steps to make these for your dinner. Seriously, how easy are they? Preheat the oven, remove the plastic wrapping cover and place the chicken breast on the baking sheet and bake. Bake them for 35-40 minutes depending on how many you are making, then allow them to cool slightly before serving.
I paired them with a simple salad. My family got a warm and delicious meal with the Chicken Cordon Bleu and also had a balanced meal by having the salad with it. I'm sharing with you this simple salad recipe so you too can have a delicious and filling meal when your world gets a little behind schedule.
You could also pair this dish with Bacon Potato Nests if you are in the mood for potatoes with your meal.
Barber Foods calls this meal Barber Night! The next time your are rushed and not sure how you are going to get dinner on the table, pull one of the packages out of the freezer and have your own Barber Night. (Barber Foods also makes a version that is stuffed with Broccoli and Cheese if you're looking for some additional options for a delicious quick dinner!)
I found the Barber Foods Chicken Cordon Bleu in the frozen food section in the frozen meat section aisle, then in the section marked chicken. I found them here in southern California at my local Ralph's store. You can find them near you by going to Barber Food site and searching with your zip code.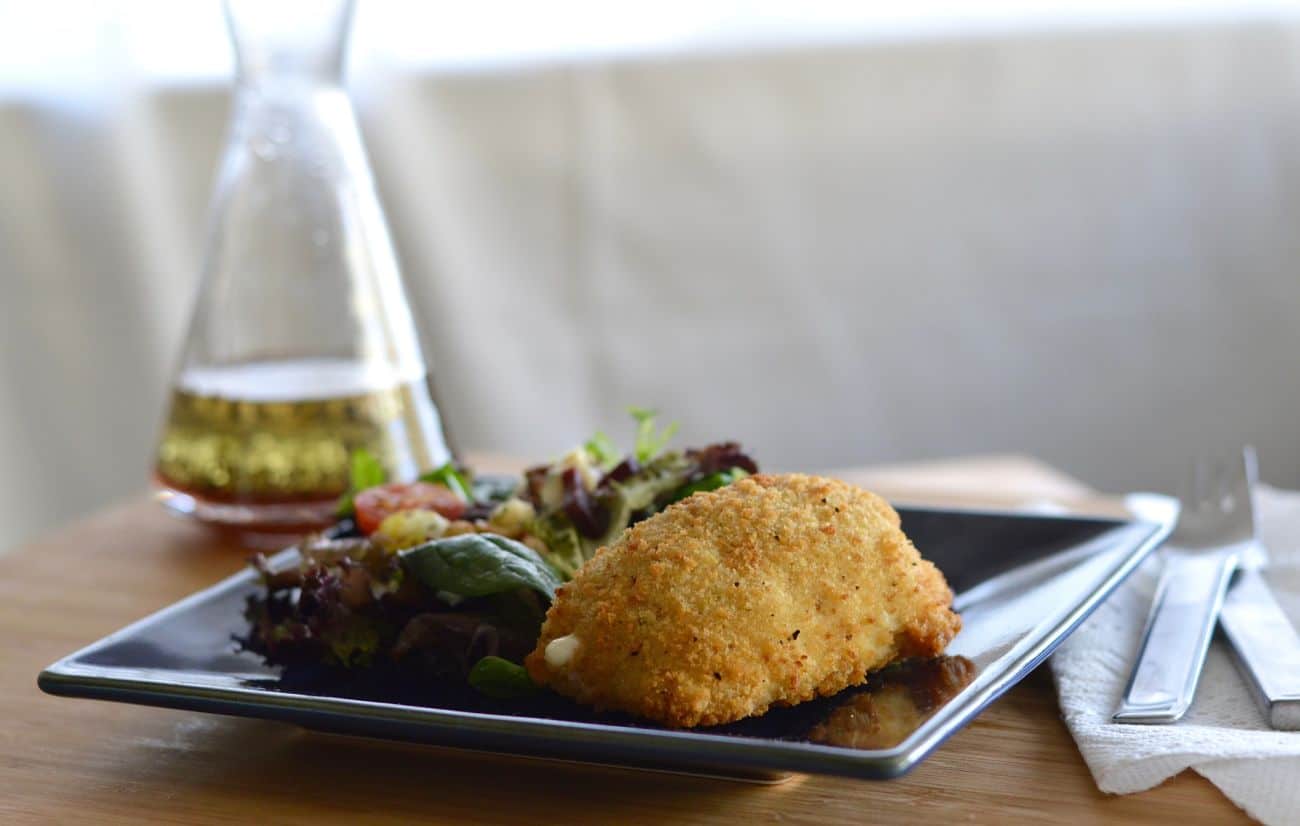 Yield: 4
Simple Balsamic Vinegarette dressing/Salad
An easy salad to pair as a side dish for your main course meal.
Ingredients
Dressing:
3 Tbs Olive Oil
1 teaspoon Balsamic Vinegar
1 Teaspoon Honey
1/2 teaspoon dried Tarragon
Salt and Pepper to taste.
Salad:
4 cups mixed Greens
4-6 cherry tomatoes, cut in half
1/4 cup walnut pieces
1/4 cup blue cheese, crumbled
Instructions
Place all ingredients in a bowl, beat vigorously until completely blended.
Toss with salad greens and tomatoes.
Sprinkle Walnuts and blue cheese over the top.
Serve as a side dish.
Nutrition Information:
Yield:
4
Serving Size:
4 Servings
Amount Per Serving:
Calories:

187
Saturated Fat:

3g
Cholesterol:

6mg
Sodium:

145mg
Carbohydrates:

5g
Sugar:

2g
Protein:

3g