Beef Wellington Appetizers: Tender steak smothered in mushroom pate wrapped in prosciutto then surrounded by Puff Pastry that is baked to light and flaky deliciousness. Perfect for all special occasion entertaining this holiday season, but easy enough to have just because they are delicious!
With the holidays approaching I've been trying to come up with recipes that are packed full of amazing flavors and look super impressive when I serve them. I also want them to be very easy and stress-free to make. This recipe for Beef Wellington appetizers delivers on all counts.
Id like to thank Pepperidge Farm® Puff Pastry for sponsoring today's post. I've worked with them often and they are my go-to brand for Puff Pastry Sheets. They make using Puff Pastry easy. You thaw it out, roll it out then use it. I love that it comes out consistently every single time. I mean what's not to love when it comes out light, airy, and golden flaky delicious in all of your favorite recipes?
I'll share a little tip with you when you use it (I also recommend doing this in the recipe for the Beef Wellington Appetizers too.). If you brush the Puff Pastry with egg wash right before baking it will help with the color to come out even more golden and delicious!

I love making recipes such this Beef Wellington Appetizers during the holidays. I can make these in about an hour…. with a lot of that time being resting time while chilling. They may look elegant and impressive, but they are easy to put together.
How do you make Beef Wellington appetizers using Puff Pastry?

The trick to make a successful Beef Wellington Appetizers is to wrap it tightly with flavorful additions. I find the best way to get a tight seal is to use an outer layer of prosciutto to seal it with. By using plastic wrap you can build the layers of mushrooms, spinach and the beef tenderloin then use the plastic wrap to pull them all tight and not rip the prosciutto. Here are all of the steps you will follow when putting it together…
The next tip I have for you: Chilling it in the fridge.
When the log is wrapped in plastic you need to place it in the fridge. This allows everything to set and meld a tight seal so when it bakes it stays together when you cut it.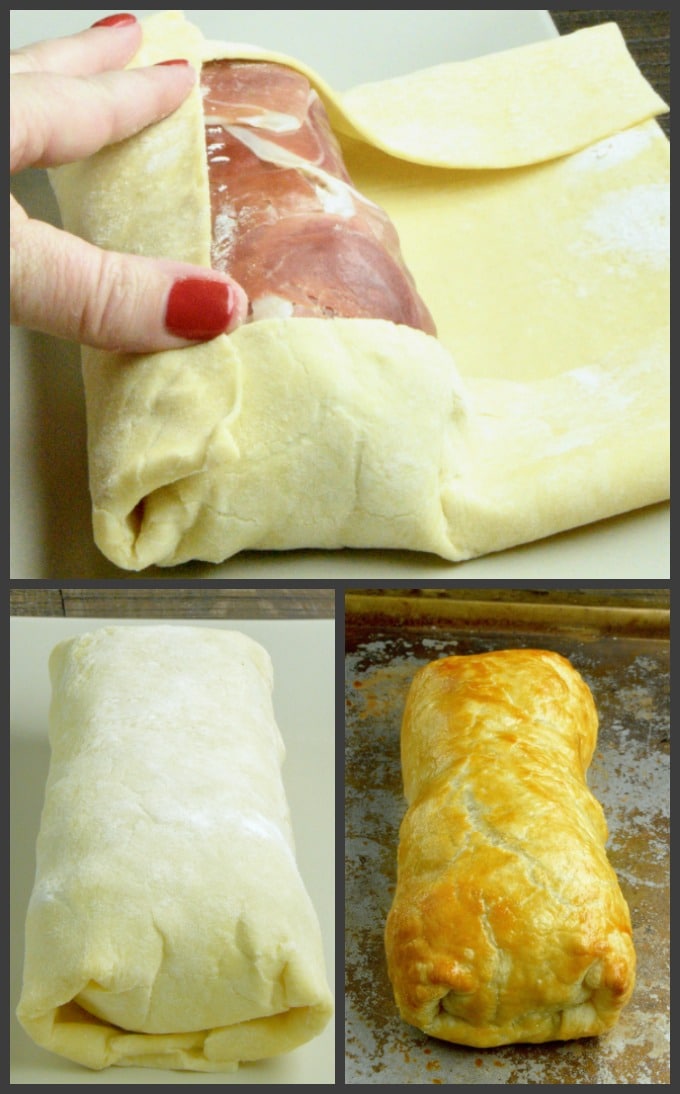 After you chill it it's as simple as rolling out the Puff Pastry and then enveloping the Beef Log completely in Pepperidge Farm® Puff Pastry.
Look how golden and delicious that looks when it is finished baking!
These Beef Wellington Appetizers are perfect for entertaining for the holidays when you have a bigger group of people. You can serve this special appetizer full of quality ingredients but because it's nice and filling you don't need a lot of it for your guests to fill up.
More Gourmet Recipes to serve for special occasion entertaining!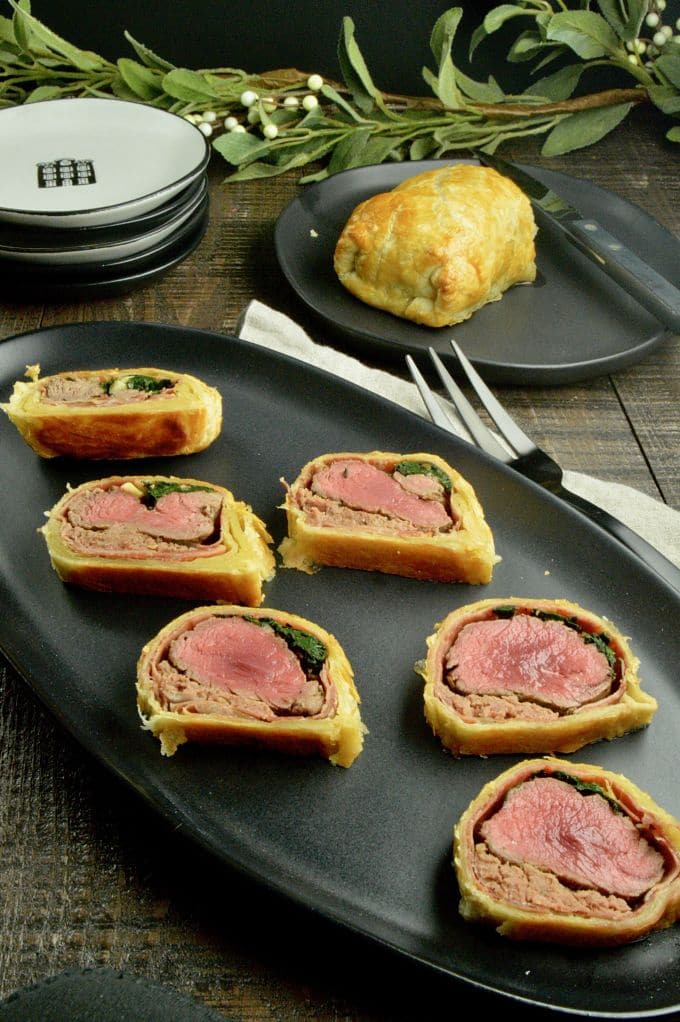 If you need more inspiration and entertaining tips for this holiday season please check out my Facebook and Instagram page. I share all sorts of fun tips and tricks to make entertaining easy and stress free!
Yield: 8 servings
Beef Wellington Appetizers
Beef Wellington Appetizers: Tender steak smothered in mushroom pate wrapped in prosciutto then surrounded by Puff Pastry that is baked to light and flaky deliciousness. Perfect for all special occasion entertaining this holiday season, but easy enough to have just because they are delicious!
Ingredients
16 ounce tenderloin,, trimmed of all fat
1/2 teaspoon salt
1/2 teaspoon pepper
2 tablespoons olive oil, divided, 1+1
2 cups spinach
2 cloves garlic, minced
8 ounces mushrooms
1 tablespoon butter
1 teaspoon dried tarragon
8 slices prosciutto
1 large egg, blended
1 sheet Pepperidge Farm® Puff Pastry, thawed ( follow instructions on the box)
Instructions
Before you do anything, read the instructions on the box of Pepperidge Farm® Puff Pastry to thaw one sheet of puff pastry. Each box contains 2 sheets, you will only need one. (Time for thawing the puff pastry is not included in the time for this recipe.)
Season all sides of beef tenderloin with salt and pepper.
Heat a skillet to high, then add 1 tablespoon olive oil to the pan and swirl it to cover the bottom.
Sear all sides of the meat, about 45 seconds per side.
Remove tenderloin from the pan and set on a side plate.
Using the same pan reduce heat to medium. Add 1 tablespoon olive oil and swirl to cover. Then add minced garlic and spinach and sauce spinach until fully wilted. Remove from pan, place on a paper towel and remove any excess water.
In the same pan, add 1 tablespoon butter and melt. Then add mushrooms and tarragon. Sauce until mushrooms are fully cooled and softened.
Remove from pan and set aside in a separate bowl.
Take out a sheet of plastic wrap and place prosciutto overlapped to cover an area just slightly larger than the tenderloin. (See picture in post). You will be wrapping the entire tenderloin in the prosciutto.
In the middle of the prosciutto, spoon the spinach in a line just about the width of the tenderloin and just under the length of the tenderloin. (see Picture in post_
Lay seared tenderloin atop the spinach.
Spoon on mushrooms to the top of the tenderloin.
tuck over the top the ends of the prosciutto. Then take the plastic wrap and use it to tightly seal the prosciutto to completely cover the tenderloin. You will probably need to pull back plastic wrap to use your hands to finish wrapping it. Then wrap the log into the plastic and place in the fridge for 30 minutes.
Preheat oven to 400°
While the log is chilling, on top of parchment paper, dust with flour and roll out the sheet of Puff Pastry. You will roll out the pastry to about 2/3 larger than what it starts out as.
After 30 minutes remove log from plastic and place on top of the pastry. You may need to trim away some excess. You want to wrap the ends up and then roll in the sides to completely envelope the log into the Puff Pastry.
Flip the log over and place the seam on the bottom.. Using the egg wash, brush all over the Puff Pastry. Where it is joining together brush in the seam so that it sticks together and won't pull apart during baking.
Place on a baking sheet and bake for 15-20 minutes until Puff Pastry is golden brown. Use a thermometer to check temp of desired meat. 120° rare, 140° medium 155° well done.
Remove from oven and allow to cool and for juices to settle. DO NOT cut for at least 15 minutes.
Cut into 16 slices, and serve immediately.
Nutrition Information:
Yield:
8
Serving Size:
8 servings
Amount Per Serving:
Calories:

327
Saturated Fat:

5g
Cholesterol:

63mg
Sodium:

336mg
Carbohydrates:

15g
Protein:

18g